WINSTON – Chef in Residence – A Restaurant by CAMERON MATTHEWS – Noosa Sound, Sunshine Coast, Queensland
WORDS: Elaine Millar PHOTOGRAPHY Supplied
Winston at Wasabi – a unique Chef in Residence experience – on the Sunshine Coast
One of the culinary stars of the Spicer's Group, Cameron Matthews, has returned to the Sunshine Coast from executive chef life in the Hunter Valley to pursue a more individual expression of his art. As the new Chef-in-Residence, Cameron's Winston Restaurant will be replacing Alana Sapwell's Esmay at the ex-Wasabi space on the Noosa River.
Wasabi may have closed, but in one of the few blessings of the pandemic, Danielle Gjestland's same incredible restaurant space and relationships with top local providers have been made available in a 'Chef-in-Residence' format and will continue to be featured, Winston-style.
Matthews says, "When you've worked in regional restaurants as long as I have, you realise what an amazing world there is beyond our urban area. It's where all your food comes from, and I want to be connected to that, and the feeling of place that comes from your plate."
The Winston dining experience is a set menu, with in-season extras, showcasing Matthew's obsession with the best, freshest Sunshine Coast produce prepared with utmost attention to sight, taste and texture, perfectly matched by a small, hand-picked list of beverages from the best regions in the country.
Why Winston?
During a stellar 11- year career with Spicers, Matthews' first role from 2009 as head chef of The Long Apron Restaurant and Cooking School in Montville, on the Sunshine Coast, saw it become one of Queensland's most awarded Two Hat restaurants, and inducted into the Queensland Hotels Association (QHA) Hall of Fame.
His leadership in the kitchen and vision for natural provenance paved the way for his elevation to Group Executive Chef.  In 2016 he revitalised the Hunter Valley operations with complete oversight of kitchen design, sourcing, menu and recruitment.
That same year, Matthews was one of 106 Australians from all walks of life who were awarded a highly regarded Churchill Fellowship by the Winston Churchill Memorial Trust to pursue and develop their passion overseas. During his few months in Europe and North America, Matthews took residence at some the world's leading restaurants committed to sustainability and environmental care and returned with new-found inspiration.
"What chef doesn't want the opportunity to have their own restaurant and realise their own vision?" said Matthews. "Winston is a first step for me, allowing me to express my true self, all whilst located on the stunning Noosa River".
Winston is the result of years of dreaming and planning, the culmination of decades of experience and the full expression of Matthews' food philosophy. Winston may be many elements sizzling in harmony, but ultimately, it's about an incredible dining experience that may never be repeated.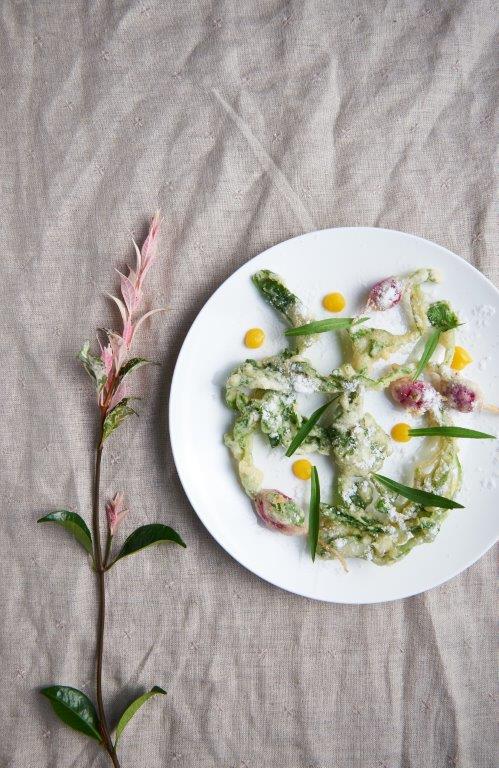 Cameron Matthews on a plate
Matthews has appeared at major food festivals and events and on national media and helped achieve an incredible swathe of awards and accolades for restaurants from Victoria to Queensland.
From 2012 to 2016, The Long Apron with Matthews as head chef maintained two hats in the Australian Good Food and Travel Guide and the Brisbane Times Good Food Guide and topped the QHA's Best Prestige Restaurant category.
"The Long Apron is a place of archly modern, elegant, mature and regionally inspired food … The inevitable conclusion is that he – Cameron Matthews – is someone who thinks deeply about the textural elements of his dishes, of which there are many. Grains, charcoal dusts, wafers, gels, creams and curds all interlace with vegetables and proteins in an impressive manner. A mature and creative manner too. There is real originality here … food that explores the boundaries, while still being anchored to the fundamentals of flavour and freshness, is just refreshing."
John Lethlean – The Weekend Australian
In the Hunter Valley, Matthews' influence extended well beyond the kitchen. Many of the Spicers head chefs he mentored helped their restaurants win their own good food guide 'hats', and brought his insight and experience to kitchen design, and identifying and recruiting key culinary staff.
Research, development and implementation of sustainable and environmental practices is an ongoing dedication for Matthews which aligns with his commitment to OzHarvest and Ronni Kahn in combating food waste and nourishing those in need.
To show his support of farmers, producers, fishers and makers, Cameron immerses himself in his role as the Queensland chief judge for the Delicious Produce Awards.
Matthews has also showcased his skills and ideas at the Noosa International Food and Wine Festival, and tirelessly promoted The Sunshine Coast Real Food Festival. Not shy of publicity, he's appeared on the Seven Network's Weekend Sunrise, The Great South East and Queensland Weekender, as well as Channel Nine's Morning Show and Today Show, showcasing the bounty of the Sunshine Coast to a national audience. More recently, he collaborated with Anthony Huckstep for a 'Deep in the Weeds' conversation.
Cameron is thrilled to he home again with his family on the Sunshine Coast!
WINSTON – A restaurant by Cameron Matthews
WHERE – 2 Quamby Place, Noosa Sound QLD 4567
OPENING – 9th December 2020
DINNER – 5pm Wednesday to Saturday | 4 course – $90
LONG LUNCH – 12noon Sunday | 6 course – $120
RESERVATIONS – www.winstonrestaurant.com.au