WHITES' HEALTHY LEGACY LIVES ON
WORDS: PHOTOGRAPHY
WHEN Terry and Rhonda White first became pharmacists six decades ago, they never anticipated their innovative ideas and approach to customer care would ignite a desire to franchise hundreds of stores around the country and pave the way for pharmacies throughout Australia.
When Terry married Rhonda in 1961, he had just purchased his first pharmacy at Woody Point on the Redcliffe Peninsula. They both worked hard growing their business over the next 10 years and their family of five and then decided to pursue further studies – Terry in Government and Rhonda in Psychology and Organisational Development.
Terry had a 10-year stint in politics. In 1980, he was a Queensland Cabinet Minister before going on to become leader of the Queensland's Liberal Party in 1983. "It was a great honour to be a Member of Parliament for a decade. It gave me a broad experience across so many issues – at the heart of it, like pharmacy, it's all about serving the community".
"There has been a lot of innovation in our professional careers. We've gone from being pharmacists who compounded most products – making ointments, creams and powders to where we are today – There is Always a Better Way".
When the flagship Terry White Chemists opened its doors in Australia Fair in 1990, the Whites were bombarded with interest in their revolutionary and cutting-edge design.
"There was nothing like it in Community Pharmacy in Australia," Rhonda said.
"It was the iconic store that pharmacists would come to from all around Australia to see. It was a pharmacy that carried an extensive range of health, wellness, preventative care, fragrance and beauty products, supported by systems and processes that assured a consistent standard of service and care which is still the focus today.
"A pharmacist manager is required to be responsible for what goes on in all parts of the pharmacy at all times. As an Organisational Psychologist it was clear to me that the only way to meet that standard in all our pharmacies was to develop documented systems and protocols by which all must operate.
"Some time in 1993 one of our managers called me to say, 'I don't want to manage anymore, I want to buy my own pharmacy, but I want to call it Terry White Chemists'. We had a well- developed format which we knew was of great support and value to pharmacies – so that's when the franchise began and the Brand took off."
Late in the 1990's, The Pharmacy Guild of Australia realised community pharmacy needed a governance and quality assurance programme. Rhonda subsequently gifted the Systems Manual she had developed for Terry White Chemists to the Pharmacy Guild. Her pioneering governance provided the beginning of what is now known as the Quality Care Pharmacy Program, the accreditation currently required for the over 6000 community pharmacies throughout Australia.
"Anything we do or have done in our business has been about our wonderful teams who we have worked with," Rhonda said.
"In those earliest days, the Australia Fair pharmacy team – every staff member- worked with me to develop our philosophies for the business. Our people working in those early pharmacies really felt they owned the business, and that built the culture of inclusiveness. We were very much a family business and the team knew it when they set down the first philosophy – It's the people who make the difference".
In March this year, the couple celebrated 60 years of marriage. Asked about their time working together while maintaining a relationship and having a family, they both admit the first few years were difficult.
"We've lived quite long, interesting lives," Terry said.
"Initially we had a few personality clashes in different areas of the business until we worked out our roles and learned to work co-operatively. Rhonda has always been the heart and soul of the brand, while my role was to grow the network."
Their biggest challenge was managing the financials.
"We were growing at such a rate. When you come from a small business background, no matter how persuasive you may be, it was always very difficult to convince people in the finance world we were bankable," Terry said. Pharmacy ownership is highly regulated with Pharmacist owners and limited numbers for each owner.
"Our Australia Fair pharmacy has always been important to us because it was our very first on the Gold Coast, and now there's 500 across the country! It put us on the map nationally and is where we made the decision to franchise the operation," Terry said.
The TerryWhite Chemmart brand is regarded as one of Australia's most iconic home-grown businesses. The franchise company is now owned by the EBOS Group and the independently owned pharmacies trade as TerryWhite Chemmart.
Looking ahead at the future, they both laugh when retirement is questioned.
"I think it's fair to say neither of us believes in complete retirement. We certainly have changed the intensity of what we do and spend more time with our Grandchildren who have started out on their own careers doing all sorts of wonderful things," Terry said.
Throughout the decades, Rhonda and Terry have been applauded for their dedication to the profession of Pharmacy and the community. Both have been granted numerous significant awards, including an Order of Australia for their specific contributions in their areas of specialty and they are lifetime members of the Pharmacy Guild of Australia.
"Some people believe once you're in the aging process, you no longer have anything to offer the community – which is wrong. So many aged people have a lot of experience. I believe as you get older, you ought to be able to use what you have learned in life and pass it on."
Rhonda added, "We have had the privilege of being able to mentor many young people from all areas of business and the professions. We will continue to do so as long as we can."
TerryWhite Chemmart Australia Fair is currently undergoing a complete transformation to deliver a world-class health, wellbeing, and beauty experience for customers, especially those living at the northern end of the Gold Coast.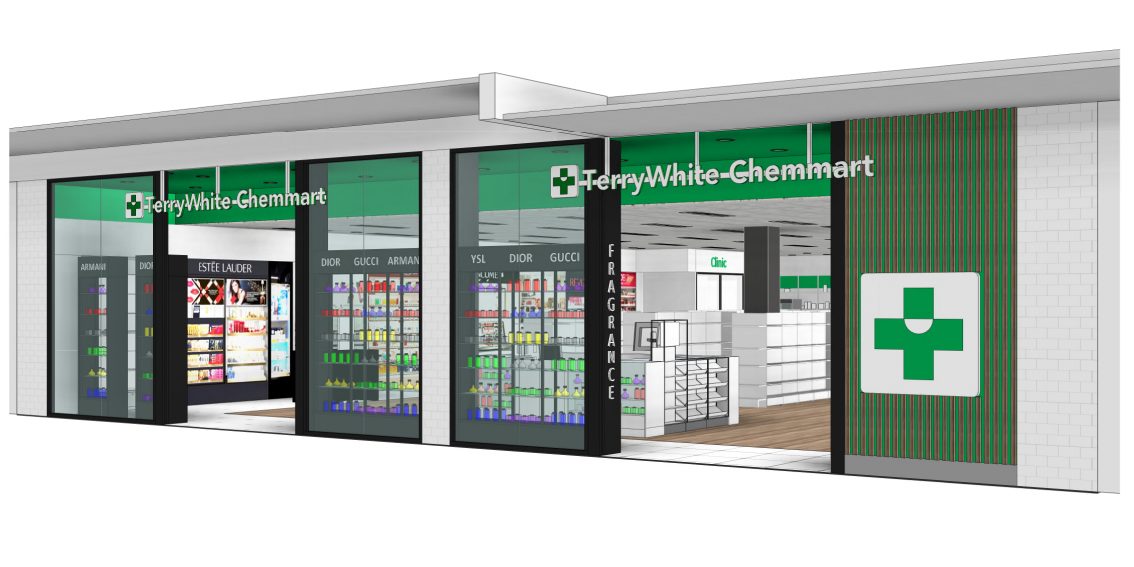 The rejuvenation of the store, set for completion in October, will reveal an enhanced health and beauty precinct. Increased wellness programs are supported by six pharmacists on the team with certified pharmacy assistants and pharmacy students. The beauty consultants will service a fragrance and beauty emporium with significant installations for premium cosmetics and skincare brands, including Estée Lauder, Lancôme, Clinique, Clarins, and new vegan cosmetic range Mellow.
This transformed pharmacy will complete their promise of a true community place.
TWC Philosophy
It's the people who make the difference
Everyone is a customer
Professionalism starts at the front door
There's always a better way