Tripping out in BELGIUM and GERMANY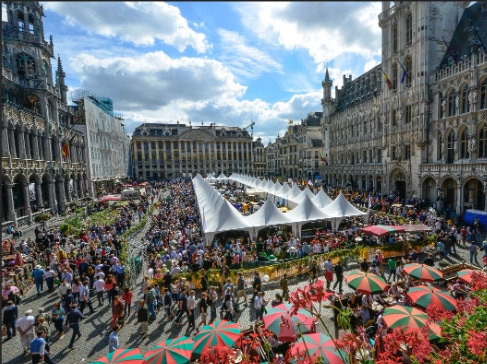 WORDS: Krista Hall - Certified Cicerone PHOTOGRAPHY Supplied
Our first day in Brussels set the tone for an unforgettable experience.
Going on any trip can often feel like a whirlwind, but going on a seven-day beer and brewery tour through some of Europe's oldest and most iconic breweries is a different kind of swirl.
I was lucky enough to go on a seven-day tour with a few workmates last September through Brussels and Germany that ticked off a few bucket list items.
I'd love to tell you about the whole trip, but you would be like reading a novel if that were the case, so I thought I'd tell you about our very first day.
We started in Brussels where I landed, and fresh off the plane went and checked into our accommodation to wash off the travel and jetlag.
Straight after that, I was whisked from the hotel and a stone's throw walk to such a beautiful beer festival in the Grand Palace Square of Brussels.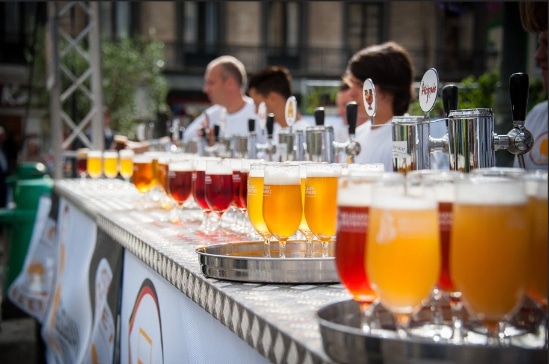 The festival was all open in the middle of the square, with no security, no fencing, no tickets to get in, just beer tents set up in two rows surrounded by some of the most beautiful architectural buildings everywhere you looked.
And, everyone was drinking beer out of a glass!  Living in Australia, we couldn't believe how relaxed everything was, glass on the cobblestone streets, no security, no strict rules to be able to come in and out of the festival and there was no two drink per person limit, it was a free for all.
There were over 50 Belgium breweries to sample from and showcasing their beers, which for me is heaven because I LOVE Belgium beers.
Being a Certified Cicerone, I shouldn't be biased, but Belgian beers and the complexity of them, the time and effort going into making the beers and the romance behind them really have a soft spot in my heart.
We grabbed some tokens and went up to the first beer tent that our brewer tour guide recommended to us.  You walk up to the tent and ask for fifteen beers and they start pouring them into their own branded glassware because every different style deserves its own glassware.
Not only do you have the luxury of drinking out of glass on the street, you drink out of different styles of glassware to make sure your beer gets the best representation for its profile, and I'll tell you what, it makes a difference.
We cheered our first beer which was an amber brown and soaked up the incredible atmosphere with some passionate brewers sharing their creations, drinkers appreciating and enjoying every sip and the wonderful energy that came with the whole festival.
After a few sips we heard a brass band of about eight guys playing and didn't realise it was moving around walking through the crowd.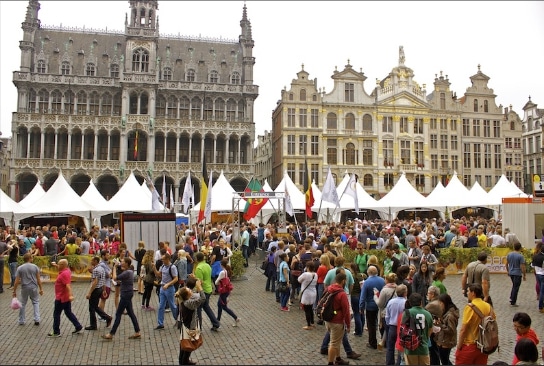 The band was incredible and did not look like easy work, they were all pouring sweat as they danced and played their instruments with such passion.  The music was contagious and the whole crowd was getting into it with everyone dancing and jumping around following the music.
These guys were sweating so once a song was about to be wrapped up, one of the musicians would wave down whichever brewery tent was closest and signal them for a round of beers to hydrate them before they went again.
We wandered around the tents tasting through a few more brews, chatting to the staff and sharing a laugh, every glass returned to the tent you got it from, you got a token returned and enjoyed the afternoon until the sun went down.
Being straight off the 30-hour adventure to get to Brussels, my only complaint was that there weren't any food tents or snacks to pair and help soak up the beers going down.
After everyone got hungry and the sun went down, we walked down the street and found a local restaurant to fill up on the infamous mussels and frites (fries) that Brussels is famous for, which went down an absolute treat.
Do yourself a favour: If you ever find yourself in Europe in early September, go and check out this festival, 'The Belgium Beer Weekend' located at 'Grand Place' in Brussels with over 50 breweries featuring over 500 beers to sample and try.  It is such a great festival and experience that I would go back for it in a heartbeat.