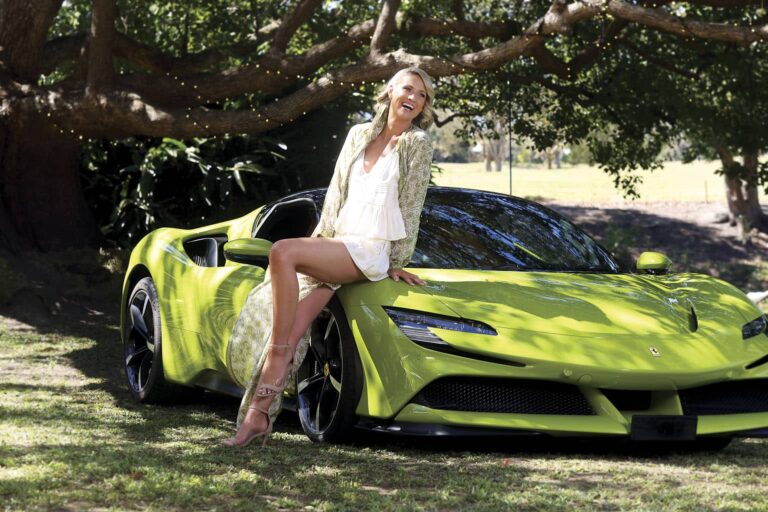 WORDS: Greg Pride PHOTOGRAPHY Brian Usher - www.usherusher.com plus Supplied
From car-loving tomboy to glamorous Miss Indy, race car driver, Surfers Paradise bar owner, supercar test pilot and reviewer, social media influencer and charity queen – Rachael Reid's story is remarkable.
WITH apologies to Tom Cruise's Maverick, Rachael Reid feels the need – the need for speed.
She has done so ever since she was a little girl when her older brothers used to push her down the hill near their home, at breakneck pace, in a wheelie bin. In her teens, she'd help them tweak and restore Holden VBs, VLs and Toranas.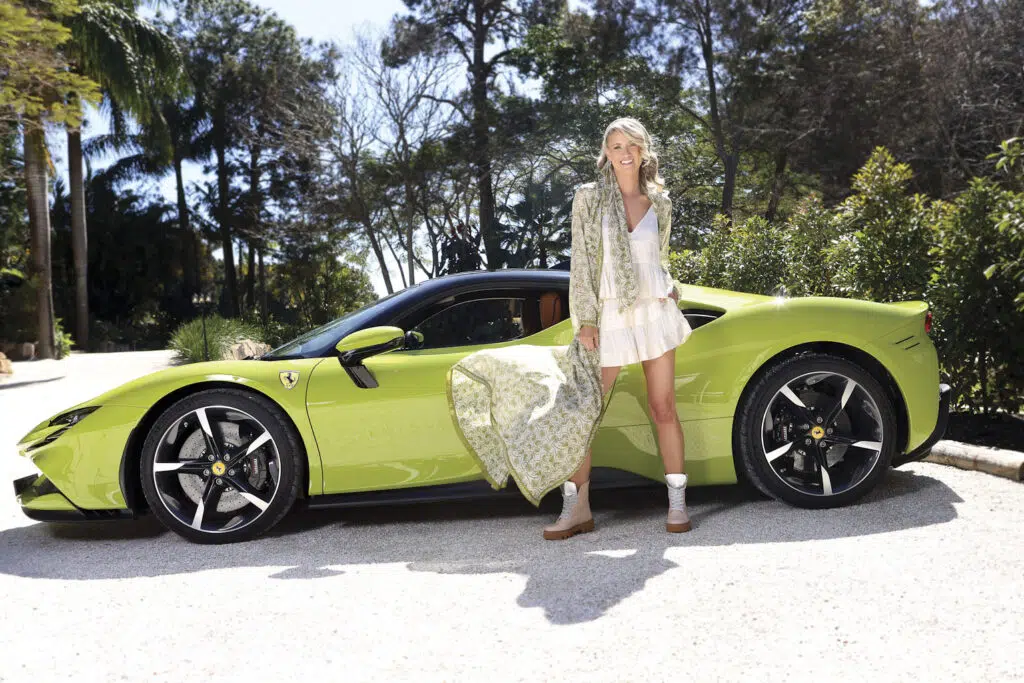 "Obviously having girl hands, I could get in there (under the bonnet) and change things," Rachael says with a chuckle. "I was always watching motorsport on TV."
Reid, the woman behind the hugely successful automotive lifestyle business Her Supercar Life, is speaking with Ocean Road at one of her favourite coffee haunts, Blackboard at Varsity Lakes. Her story is a remarkable one – from car-loving tomboy to glamorous Miss Indy, race car driver, Surfers Paradise bar owner, supercar test pilot and reviewer, social media influencer and charity queen.
The Her Supercar Life Instagram account boasts almost 100,000 followers and on any given day, Rachael can be seen zooming around the Coast in the latest Lamborghini, Porsche, Ferrari, Maserati or Aston Martin. Her reputation as a champion for female empowerment in the male-dominated automotive world has seen her invited to join luxury Italian carmaker Lamborghini's global female advisory board.
She's achieved all this as a mum-of-three and despite battling a crippling and frightening illness.
Rachael grew up on the southern Gold Coast, the daughter of a single mum who raised her and her siblings alone while working as a waitress at popular theatre restaurant Dracula's. After leaving Elanora State High, she went to work for Glitter Strip nightclub kings Tony and George Rigas, in their iconic Surfers Paradise establishment, Shooters.
"I worked in the office in the daytime and hosted VIPs at night," she says. "I had the time of my life and learned so much from the Rigas boys."
Rachael, who also had a stint working for entertainment power couple Billy and Jackie Cross, modelled from a young age and competed in the famous Miss Indy quests of the 1990s and early 2000s, up against the likes of former Miss Universe Jennifer Hawkins and Kylie Clarke.
Always a go-getter, she opened her own bar in Surfers Paradise, Kookoo, and even operated a popular watering hole on the Indy track at Main Beach called the Nitro Bar.
Rachael saved hard and in her mid-20s, became a partner in a popular go-kart track at Ormeau.
"This is when I met and got to know a lot of Australia's top racing drivers like Marcus Ambrose, Craig Baird, Jonathan Webb, Andy McElrea and Fabian Coulthard to name a few," she says. "It's where I got my deep passion for all things motorsport and automotive. It was just fun, exciting and I loved the adrenalin rush. To my surprise, I also had a natural ability for driving fast but in control."
After starting out racing go-karts, Rachael graduated to Formula 440 race cars. She initially bought five of them and converted them to race simulators, charging revheads $5 apiece to 'drive' them at motor races around Australia and overseas. After touring the simulators for two years, Rachael started racing the 440s at tracks around southeast Queensland.
"I even had the cars featured at events like Indy and the popular TV show at the time, Blokes World, promoted me as their 'burnout babe' – looking back, I have to laugh," she says. "Soon after, my good friend Paul Morris and the amazing team from Norwell Motorplex took me under their wing and taught me more about the racing craft, honed my skills and taught me how to hold my own against the blokes. It just clicked and I gave many of the boys a real run for their money.
"Obviously, I got to drive many cars during this period, including being introduced to a lot of high-end supercars. I very quickly fell in love with some of their brand stories, with most having come from a rich racing background. Being a history buff, the prestige and supercar segment just spoke to me. I learnt a lot about each brand's history with each having their unique quirks, benefits and nuances."
Rachael then married and had three beautiful daughters – Mia, now 11, Zoe, 10, and Ava, 4 – who she was determined to inspire and teach a 'girl power' mantra: "What you want in life doesn't have to be a dream and with some hard work and passion you can do whatever you want."
"My first car was a VW Beetle. By the time I was 21, I had a Mercedes C180, brand new," Rachael says. "I was like, goals! I'm trying to teach my kids the same thing – save, save, save to blow, blow, blow (laughs)."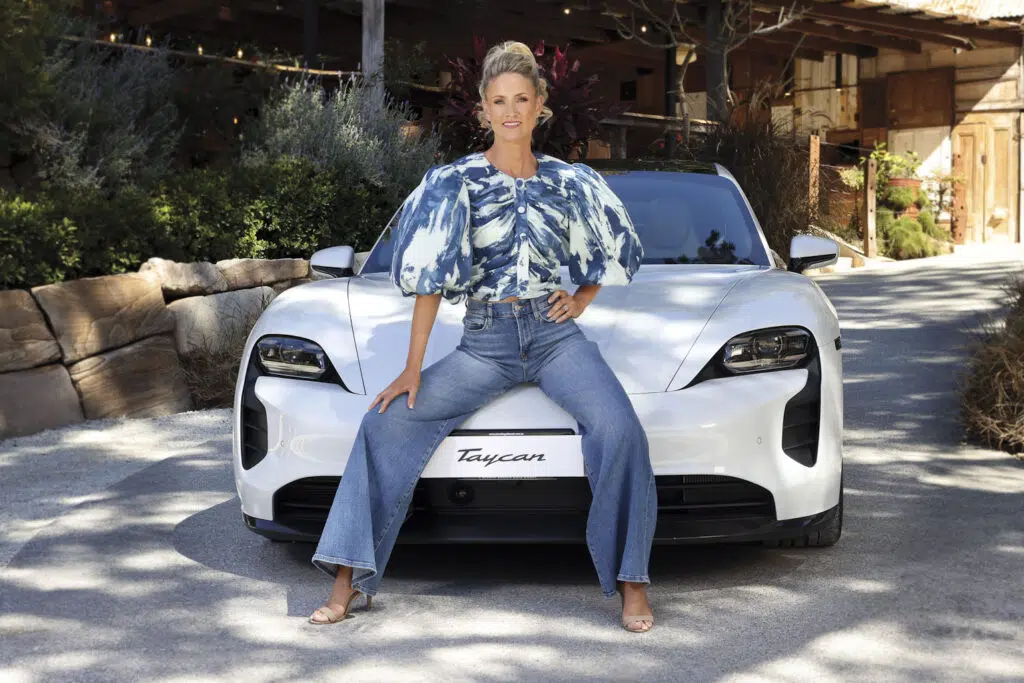 Before she married, Reid owned and drove a number of supercars, but it all had to take a back seat to family. As her girls became older, she decided she wanted to get back into the business. And what better vehicle than her passion, luxury cars. At first, she gravitated to one of her favourite brands, Porsche, 'which holds a very special spot in my heart'.
"As a young girl, I had seen a 911 and it was the first car I knew I wanted to own one day," she says. "As fate would have it, my husband grew up surrounded by them with his beautiful late father having owned a number of them and had one of only a couple of special edition 911s in Australia at the time. He had some amazing stories to tell.
It was also around this time that Rachael learnt a couple of incredible facts. The first was that 51 per cent of driver's licences in Australia were held by women; the second was the fact there are more female Ferrari owners in Australia per capita than anywhere else in the world.
"It got me thinking more about how many other females would benefit from my experience and passion," she says.
Her Supercar Life was born.
"Testing, reviewing and experiencing some of the best cars in the world sounds like fun but people don't see the hard work behind the scenes," Rachael says. "As with anything, it has taken a long time – over four years – to build the HSL brand and audience."
It wasn't long before brands started to take notice.
"A number of top-end automotive brands reached out. I am a very loyal person so I will always remember their early support," she says. "One was Michelin, who sent me to Malaysia and thanks to them I was able to fulfil a life-long dream to drive Formula 4 at the famous F1 Sepang racetrack where I met some amazing life-long friends."
In 2020, the second-in-charge at Lamborghini Global, Katia Basile, reached out to Rachael personally and asked if she would be interested in joining the prestigious Lamborghini advisory board, which would end up being responsible for the development of the Lamborghini Urus – the world's first super sport utility vehicle.
After about a year of building Her Supercar Life, Rachael started feeling unwell. She put it down to the flu or over-exertion.
"But after a while of not feeling any better, I decided to go to my doctor. After some tests I was given the shocking diagnosis that I had Stage 4 cancer, Hodgkin's lymphoma to be more specific (the same as singer Delta Goodrem has battled)," she says. "My world came crashing down and I was spinning, thinking about my very young family. It was an incredibly hard time for everyone."
Hundreds of tests and two major surgeries later – one to take lymph nodes from her neck and a second very risky one to take a biopsy from around her heart – revealed that while she didn't have cancer,  she did have a rare autoimmune disease known as sarcoidosis which affects the heart, lungs and other major organs and can be just as deadly.
"It actually took a long time for it to be diagnosed with a number of doctors around the world working on the case, with some still to this day not agreeing with what I have," she says. "Nevertheless, finding it early has helped us closely monitor it but I still need a barrage of tests every few months. This is my new normal but I am incredibly thankful I am here.
"I just try to stay healthy and not run myself into the ground, but I'd rather be busy than sitting around feeling sorry for myself.  I say to my girls when they're having a little moment, 'life is short, get on with it and enjoy it'."
Rachael's diagnosis made her look at life very differently.
"It also gave me a new reason for being– to use my passion and influence to at least try to help make a difference to anyone less fortunate," she says. "I decided to use my influence and to bring the somewhat segmented supercar community together and give them a chance to make a difference."
Reid launched Exotics and Espresso, a free car event for supercar owners to connect with like-minded owners and the greater car community, but most importantly to help raise much-needed funds for charity.
"Obviously car gatherings are not a new thing, but what is very different about Exotics and Espresso is the style of the event," she says. "I wanted to create a family-friendly environment that is inclusive of everyone. If anyone has been to a car event they'll understand what I mean. They can make you feel a bit of an outsider if you don't know the exact engine specs or rim size. They're admired from afar. They can tend to be a bit overwhelming, especially for females.
"Not at Exotics and Espresso. We have just as many females attending as males. The events are all about getting the owners to open their incredibly expensive and rare cars up for kids to sit in and if they're lucky, start.
"Just watching kids' faces light up when they get up close and personal with these incredible machines is priceless and makes it all so worth it. They will remember that experience their whole life and if brands are smart, these kids will become future brand ambassadors and buyers."
With so many families and kids enjoying the supercars events, it also made sense to Rachael to partner with a charity very close to her heart – the Make-A-Wish foundation.
"The work they do is incredible," she says. "After I learnt that the dream of many unwell kids, both boys and girls, was to sit in or have a drive in a supercar, it just made sense for me to really push this as far as possible to help raise much-needed funds for sick kids. I am proud to say we have raised quite a lot but I am determined to raise much, much more and I want to take it even further."
Rachael has also co-founded another exciting charity initiative called the Sunset Run, a one-day luxury lifestyle event bringing together male and female supercar owners to show off their toys and lap up exclusive VIP experiences. The first Sunset Run was held in January to raise money for LIVIN, with the renowned mental health charity on board for the second event in September.
Owners of about 40 supercars worth more than $15 million took part in the event, which featured a breakfast with the superyachts at The Boatworks, a scenic drive through the Gold Coast Hinterland including a coffee pit stop at Canungra Valley Vineyard, a chef's lunch at the hatted Social Eating House with Oracle Boulevard closed off for the occasion, a three-hour private sunset cruise, world-first Pink Flamingo Spiegeltent show on water with charity auction and exclusive YOT Club Sunset Run party.
In a thrilling development, Rachael and her business partner, East Exotics owner Ian Mclean, have been invited to take the Sunset Run to Miami, in the US, for the event's star-studded international debut.
Rachael is also a co-host of a new podcast called Supercar Stories, which is now available on Spotify.
"I am still trying to get comfortable talking to a microphone format but it's a great listen if you're interested in car content," she says.
While she often gets compared to another prominent female supercar influencer, Dubai-based Alex Hirschi, aka the Supercar Blondie, who hails from Boonah in the Scenic Rim, Reid says they are quite different.
"It's an obvious comparison," she says. "I think Alex is incredible and she has carved a new category for females in automotive and built an incredible multi-million dollar brand. We have exchanged messages on a number of occasions, however, we are both very different.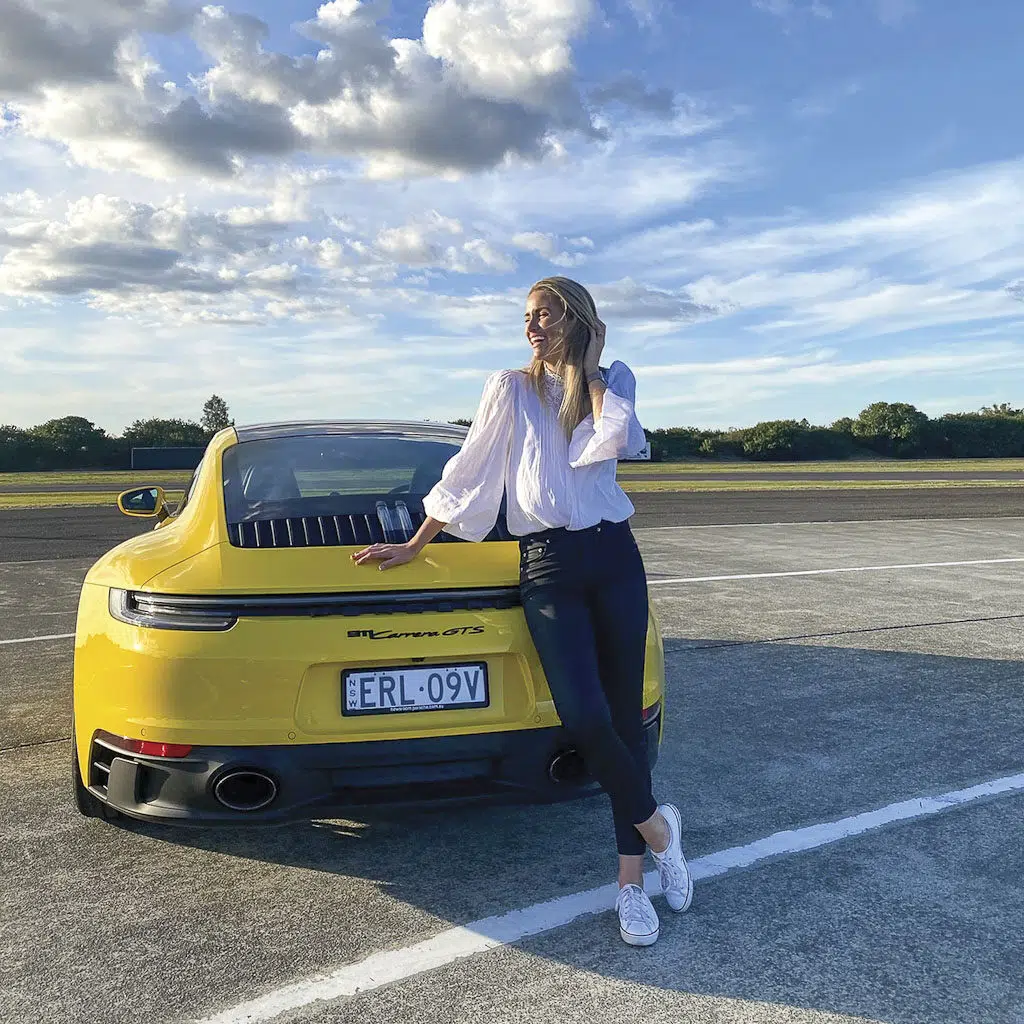 "Alex is a journalist who was introduced to cars through a radio sponsorship. I am a driver and car enthusiast first and foremost. Obviously, Alex living in Dubai also gets access to cars we simply don't get access to here in Australia so she appeals to a more aspirational audience where my audience is far more high-net worths and active buyers, which really differentiates us."
Reid, who has driven at speeds of more than 390km/h, says she has even jokingly challenged Hirschi to a race "but I'm not sure she's that keen (laughs)".
Despite having broken through the glass ceiling (or should that be the glass sunroof?) of the male-dominated motorsport/automotive world, Reid says she dislikes playing the gender card.
"I find it hard because I'm one of the boys," she says. "As a female, if you want to break through, you just do it. Don't play the gender card. It's like saying the person beside you is doing better because they've got money. You make your own path as you want it to be. I can't think of any other way of saying it. You literally are in control of your own path. If you want to stand out above the rest, just go for it. Get massive and explode."
For Rachael Reid, the road ahead is exciting.
"It has certainly been a wild ride, but I wouldn't change a thing," she says. "If anything, it has taught me that if you want something enough and you try your hardest even just a little each day working towards your goal, it will pay off.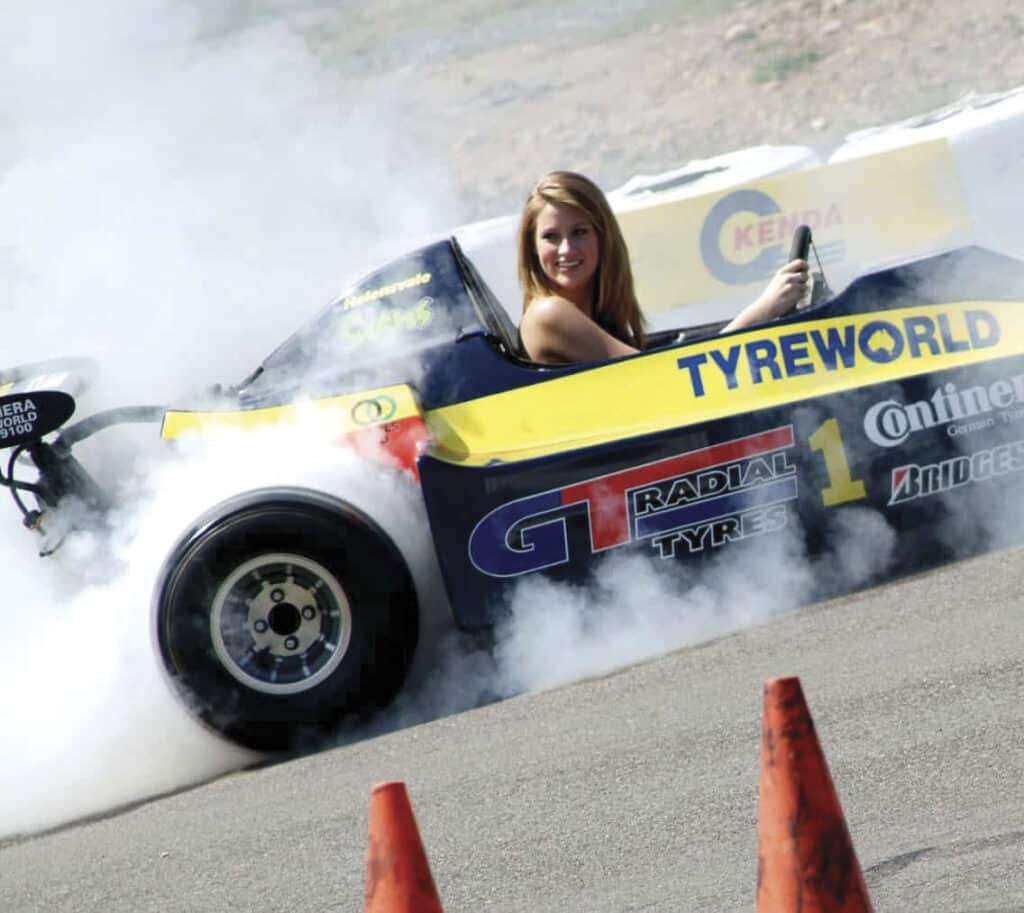 "Finally, if you see me out and about driving around, make sure you stop me and say hi – I might just let you jump in and take you for a drive!"