Top 10 New Year's Eve Events on the Gold Coast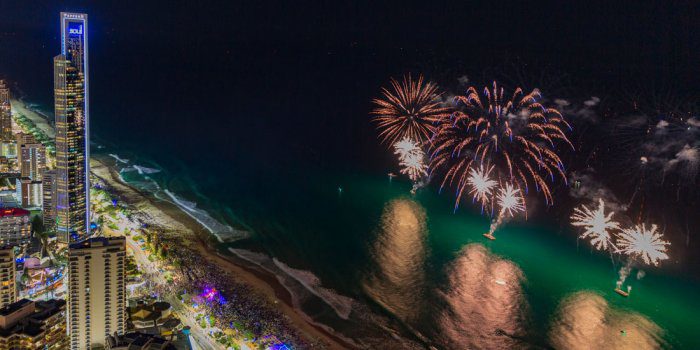 WORDS: PHOTOGRAPHY
What a year it's been! Pop the champagne and say goodbye to 2020 and hello to 2021 with one of our Top 10 New Year's Eve events on the Gold Coast!
1. Skypoint, Q1 New Year's Eve
Dust off your party outfit's and join us at SkyPoint as we raise one last quarantini to the year that flew by. Isolate yourselves with 360-degree views over the shimmering Gold Coast as we welcome the year 2021!
Ticket includes: Admission to SkyPoint Observation Deck
Complimentary Quarantini cocktail on arrival
2-hour Beverage Package starting at 7:30 PM – 9:30 PM
Time: 7:00 PM – 1:00 AM
Where: SkyPoint, Level 77
Book: Click here
2. Fireworks in Paradise at Paradise Point
If you are really keen to say sayonara 2020 in sensational style, Rick Shores is dishing up a fanciful degustation menu complete with a four-hour beverage package which includes N.V. GH Mumm Champagne, a selection of wines, beers, cocktails and spirits. Tickets are $350 per head however due to the exceptionally high volume of enquiries, bookings will not be considered confirmed until the team has manually contacted you regarding ticket payment.
If you would like to head along, email the team at [email protected]
3. New Year's Eve at Robina Town Centre
Bring in the New Year with live music, fire performances, food, and fireworks at The Promenade, Robina Town Centre on Thursday 31 December from 4pm to 9pm. Proudly supported by Division 11 Cr Hermann Vorster and Robina Town Centre.
Time: 4:00pm
Where: The Promenade, Robina Town Centre Robina Town Centre Drive
Book: See More Details
4. InterContinental Sanctuary Cove Resort Masquerade Ball
To celebrate 2020, InterContinental Sanctuary Cove Resort is introducing a show-stopping VIP Masquerade Ball designed to add unprecedented sparkle and mystery to your night. Located inside MacArthur's Ballroom, enjoy a four-course menu, exhilarating entertainment and a Premium Beverage Package. $299 per person including five-hour beverage package. Please note this event is adults-only.
Time: 6:30pm
Where: InterContinental Sanctuary Cove Resort Manor Cir Hope Island
Book: Call (07) 5501 9891 or Email [email protected]
5. The Lucky Squire New Year's Eve
The New Year is nearly here and you can't miss this celebration worthy of welcoming in 2021! We are all about those good vibes and great times so join us, dress in your best, boogie to the beats of live music, and enjoy your New Year's eve feasting on substantial canapés surrounded by your nearest and dearest.
Time: 7:00pm
Where: The Lucky Squire 3 Oracle Boulevard Broadbeach
Book: Click here
6. New Year's Eve LUXE at Stingray
With the Champagne is flowing, anything goes this New Year's Eve for LUXE at Stingray. This is the Gold Coast's most exclusive New Year's Eve invitation!
An opulent New York loft-style party for the who's-who and well connected. Fanciful entertainers and fashion aficionado's appear for a night of flowing champagne and cocktails, mesmerising music and a constant stream of the finest foods imaginable – all served on a silver platter by Stingray's eye-catching staff.
Time: 7pm
Where: Stingray Lounge 7 Staghorn Avenue Surfers Paradise
Book: Click here
7. Cabana Bar & Lounge New Year's Eve
Cabana Bar & Lounge is hosting a New Year's Eve Celebration event for those who prefer a more intimate, laid back atmosphere. A live DJ will provide the beats while you and your crew enjoy refreshing cocktails and Hawaiian-inspired tapas in one of our open-air cabanas.
Time: 7:30pm
Where: Southport Sharks Olsen Ave &, Musgrave Ave
Book: Call (07) 5532 1155 
8. The Island New Year's Eve
Celebrate New Year's Eve at The Island Gold Coast's glittering, super luxe, star-studded party! Castaway to exclusive insta-worthy locations set across three levels featuring exciting #islandstyle moments to capture as you savour premium drinks, delicious food and five-star entertainment along the way.
Time: 8:00pm
Where: The Island GC Surfers Paradise Blvd Surfers Paradise
Book: Click here
9. The Cavill Hotel Roaring '20s New Year's Eve
Get ready for the Glitz and Glamour of the Roaring '20s as we party our way into 2021 at The Cavill Hotel! Purchase our 4-hour food and drink packages to guarantee a decadent night out!
We'll be running venue voucher giveaways for best-dressed with live entertainment and count-down celebrations at midnight!
Time: 8:00pm
Where: The Cavill Hotel 46 Cavill Avenue Surfers Paradise
Book: Click here
10. New Year's Eve Nobbys Beach Surf Club
NEW YEARS EVE – Gaudion + Austin Mackay + special guests.
Join us this new year's eve at Nobbys Beach Surf Club! Entry is free, so book your table now!
Time: Free entry before 8pm $5 cover charge after 9pm
Where: 25 Albatross Ave, Mermaid Beach
Book: Click here
To stay up to date with the best events happening on the Gold Coast stay visit Ocean Road Magazine Events