Three Festive Cocktail Recipes Featuring Jumping Goat Coffee-Infused Vodka Liqueur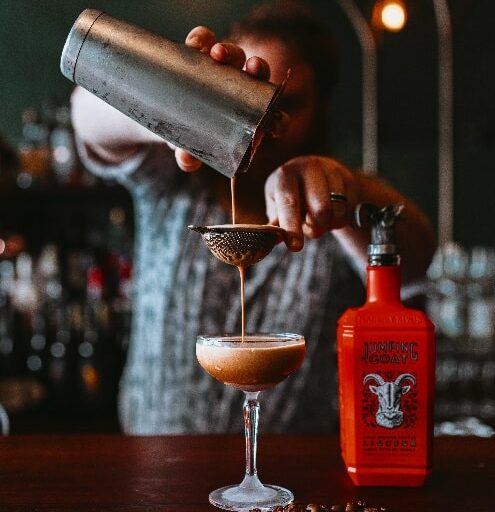 WORDS: Claire Cooke PHOTOGRAPHY Supplied
As we head into the busy silly season, many of us have many back-to-back parties, events and late nights. So, suffice it to say, most of us are not turning away those espresso martinis when they get handed to us. Thankfully, leading coffee-liqueur brand Jumping Goat has leapt into the Australian market in time for Christmas, with their simple 3-step Espresso 'Martin-Easy' recipe – allowing anyone to make a simple, but incredibly delicious espresso martini that can keep you dancing all season long.
Jumping Goat's story begins in Ancient Ethiopia, with a goat herder named Kaldi. Legend has it that Kaldi's goats loved munching berries, the kind that inexplicitly made them bounce about. Kaldi accidentally roasted the berries, and BANG, coffee was discovered. Fast forward a couple of thousand years, where a visionary from Kiwi-land had a dream to concoct a tasty elixir that would take inspiration from this story and create a modern-day pick-me-up…and thus, Jumping Goat's Coffee Infused Liqueurs were born.
Created in 2013 and now distributed across 12 countries, Jumping Goat offers two unique coffee infused varietals in Australia, including the Jumping Goat Coffee Infused Vodka Liqueur and the Jumping Goat Coffee Infused Whisky Liqueur. Jumping Goat Liqueurs start by using 100% organic, batch-roasted coffee beans from Papua New Guinea before being mixed with a blend of spices and either pure, redistilled NZ whey vodka or a premium blended whisky…the result? Two handcrafted, high-quality coffee-liqueurs with vibrant and playful attitudes, just waiting to become your new late-night staple or essential cocktail ingredient.
The Jumping Goat's 'Martin-Easy' will make hosting the Christmas festivities effortless, and need we have to say it, perfect for curbing those post-Christmas lunch nap cravings.
Jumping Goat's Martin-Easy
Ingredients:
60ml Jumping Goat Vodka Liqueur
30ml Fresh Espresso Coffee
Cinnamon
Method:
In a shaker mix Jumping Goat Liqueur with espresso coffee
Fill and shake with ice then shake like a madman
Double strain into a chilled coupe glass and garnish with a dust of cinnamon powder over the top. Finally, kick back and enjoy.
Peppermint White Russian
Ingredients
40ml Jumping Goat Vodka Liqueur
20ml of Peppermint Schnapps
To garnish:
Chocolate shavings
Candy cane
Method
In the shaker mix Jumping Goat Vodka Liqueur with the Peppermint Schnapps
Fill the shaker with ice and shake well and double strain into a chilled coupe
Layer cream on top and garnish with chocolate and a candy cane
Gingergoat Martini
Ingredients
45ml Jumping Goat Vodka Liqueur
30ml Vodka
30 ml Gingerbread Syrup or Liqueur
20ml Baileys Irish Cream
To garnish:
Whipped Cream
Gingerbread Man
Cinnamon Powder
Method
In a shaker, mix Jumping Goat Vodka Liqueur with Vodka, Gingerbread Syrup and Baileys Irish Cream.
Fill the shaker with ice and shake like a madman. Double strain into a festive glass.
Garnish with whipped cream, a mini gingerbread man and cinnamon powder.