The Wedding Of Tracey & Curosh – The Valley Estate, Currumbin Valley, Gold Coast, 5th August 2022
WORDS: Oean Road Magazine Staff writers PHOTOGRAPHY Aleisha Edwards
How did you meet…was it unusual?
In the digital realm, there existed an online world where virtual connections were made, and hearts could collide. It was within this vast expanse of pixels and emotions that our story began – love, laughter, and long-distance phone bills. Seventeen years ago, fate conspired to bring us together. As we roamed the vast plains of the digital space, our virtual paths crossed, and an instant spark ignited. It was a love like no other – not from first sight, but from first chat and call.
So, dear reader, never underestimate the power of an accidental detour in the vast online landscape. For it was through this digital serendipity that our hearts found their way to each other, proving that true love knows no boundaries, not even those imposed by distance and state borderlines.
How did the proposal occur?
After the pandemic, with the world opening, Curosh decided it was time to propose. He created a cosy atmosphere at home with candles and music. After enjoying a Thanksgiving dinner, sitting together on the couch, he held Tracey's hand and expressed his love and gratitude. Then, down on one knee, he asked, "Will you marry me?" Tears filled Tracey's eyes as she said "What took you so long? Yes!" and he slipped the ring on her finger. In that moment, surrounded by candlelight and our favourite song playing in the background, we both knew our love was meant to be.
Why did you choose The Valley Estate to host your amazing wedding?
Tracey's twin sister Shantelle found the amazing Valley Estate on social media. We visited the venue in the hinterlands of the Currumbin Valley – one look and we both instantly fell in love with the venue. The Valley Estate is known for its breathtaking natural beauty, from the gorgeous glasshouse to the white chapel and the exposed red-brick manor and terrace, including the lush greenery and picturesque gardens. It was an ideal romantic, unique and distinctive setting for our wedding – with both an elegant and relaxed atmosphere. Flexibility allowed us to create a personalised experience that aligned with our vision. Also, the outstanding professional services, especially when we were greeted by our lovely wedding coordinator Michelle and the convenient destination location too. The venue provided a sense of luxury and exclusivity, allowing us to focus on our special day – it created an enticing destination for us seeking a memorable and personalised wedding experience.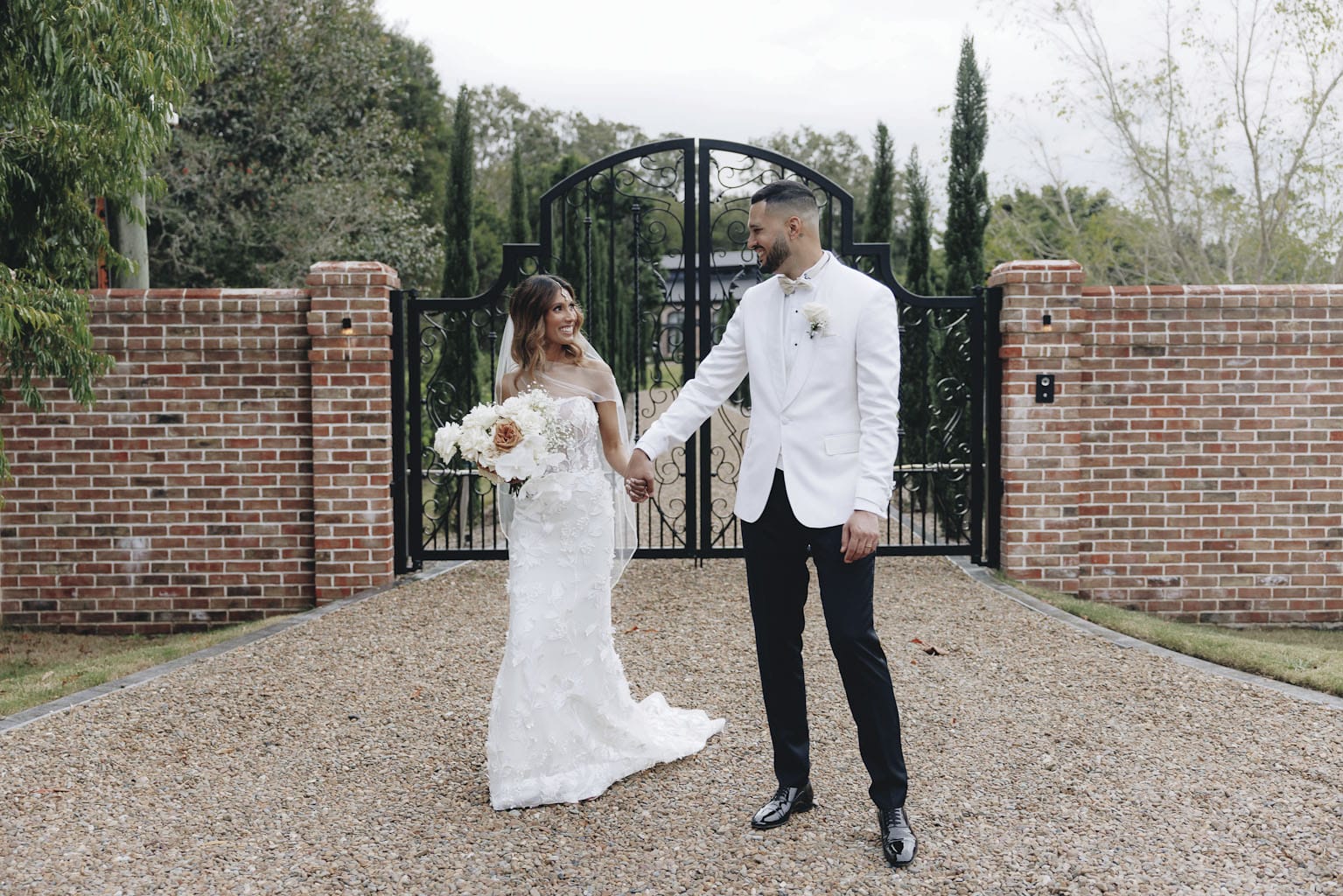 What inspired you to choose the ceremony location at The Valley Estate?
We were spoilt for choice with the multiple ceremony locations at The Valley Estate. From the glasshouse, the chapel, and the picturesque gardens, we chose The Chapel. Antique oak pews and lead glass windows framed the spectacular hinterland views, and we had kangaroos on our special day too. The simplistic, powerful style and the aesthetic created by The Valley Estate was just breathtaking so to be able to say 'I do' in The Chapel with our favourite people was a picturesque dream. It was perfect for our civil ceremony.
What is your fondest memory of the wedding?
The sense of unity, celebration and the coming together of both families, our favourite loved ones created a warm and joyful memory. We also created surprise elements for everyone on our special day, with three different outfit changes – to create a sense of excitement.
What was the inspiration behind your styling?
We embraced a timeless and sophisticated aesthetic with a classic elegance wedding style, opting for a neutral colour palette, elegant floral arrangements and refined table settings to achieve a sense of timeless beauty. For a clean and contemporary style, we also considered a modern minimalist theme, to achieve a modern and refined aesthetic.
Details of the wedding dress, brand, style, the process:
Wedding dress brand: Ella Moda.
A signature iconic gown represented romance and delicacy created for the modern romantic. It featured a subtle shimmering sequin tulle skirt with an exquisite 3D lace overlay, ending in a romantic train. The dramatic, slimming bodice met an asymmetrical tulle neckline to complete the modern romantic look –  I loved the process of customising my wedding dress!
Details of the suit, brand, and style:
Wedding suit brands: Calibre and Arthur Galan.
Nothing looks sharper than a custom-tailored suit and a personalised approach.
Your favourite dish of the night?
From exquisite fine-dining, The Valley Estate prides itself on producing the highest quality cuisine. The food was exceptional! Credit to the chef, Aaron Teece for creating and executing such a beautiful menu. It was so hard to choose one dish – our favourite dishes were our choices of canapés, both of our main dishes – the crispy skin barramundi and the grass-fed beef sirloin –  and the panna cotta!
Favourite photo location?
There are so many beautiful and picturesque locations at The Valley Estate. Our favourite photo locations were walking out of The Chapel, at the glasshouse and walking down the path to the gate with The Manor in the background. If only we had a picture taken on the bridge!
Words of advice for future couples who are planning their wedding:
Attention, future lovebirds planning their big day! Here's a bit of advice: remember, in the midst of all the wedding chaos – pour yourself a glass of your favourite beverage and embrace the planning process! Remember, the most important thing is that you're marrying the one you love, even if they have no idea how to fold a fitted sheet. Oh, and don't forget to sneak away with your loved one during the day for a special moment. It's your special day, so make sure it's filled with love, laughter, and just a pinch of delightful chaos. Here's to a wedding that's as unforgettable as your dance moves after a few glasses of bubbly – happy planning!
Photographer's name and company:
Aleisha Edwards: Aleisha is a true professional who showcased her incredible talent by perfectly capturing our wedding – with all of our favourite people, the emotions and joy throughout the whole day. We highly recommend Aleisha to be part of your special day.