The Wedding Of Shiying & Baron – The Valley Estate, Currumbin Valley, Gold Coast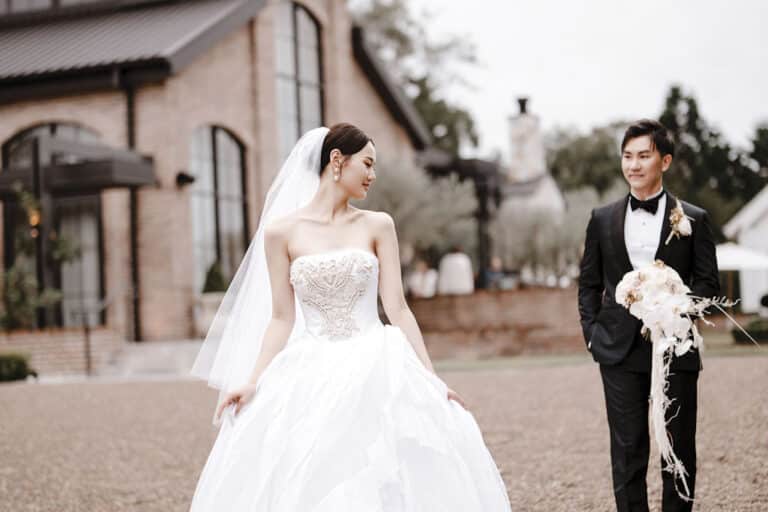 WORDS: Interview with Shiying & Baron PHOTOGRAPHY Andy - Evernew Studio
Nestled in the hinterland of Currumbin Valley, the bespoke, one-off space is crafted to inspire celebration and reflection with loved ones. Step into The Valley Estate and discover a truly magical wedding venue.
HOW DID YOU MEET?
Shiying took a break from her studies in Singapore to come visit her brother in Australia. Introduced through family and friends, Shiying needed a local tour guide and Baron was more than happy to be that. And so the relationship began…
THE PROPOSAL
On a short trip to Sydney, Baron organised a florist to transform their prestigious suite at the Sofitel Sydney Darling Harbour into an intimate proposal setting filled with roses and candles. Shiying was surprised and overjoyed and could not wait to share the news with her friends and family. Little did she know they were already at the hotel and were blessed to celebrate all together after he popped the question.
WHY DID YOU CHOOSE THE VALLEY ESTATE FOR YOUR AMAZING WEDDING?
"In our quest for the perfect wedding venue, we explored numerous options including various hotels, but our hearts were set on a place that would offer us exclusive use, privacy, and freedom to celebrate beside our loved ones with no interruptions. That's when our friend, Queenie, who raved about The Valley Estate after experiencing its charm and warm hospitality during a corporate event, informed us about this magical venue. The estate had everything we were searching for, all the essential facilities, easy accessibility, and a team of highly professional and supportive staff. By the end of our first site inspection, we knew we had found our dream location and locked in the date and venue."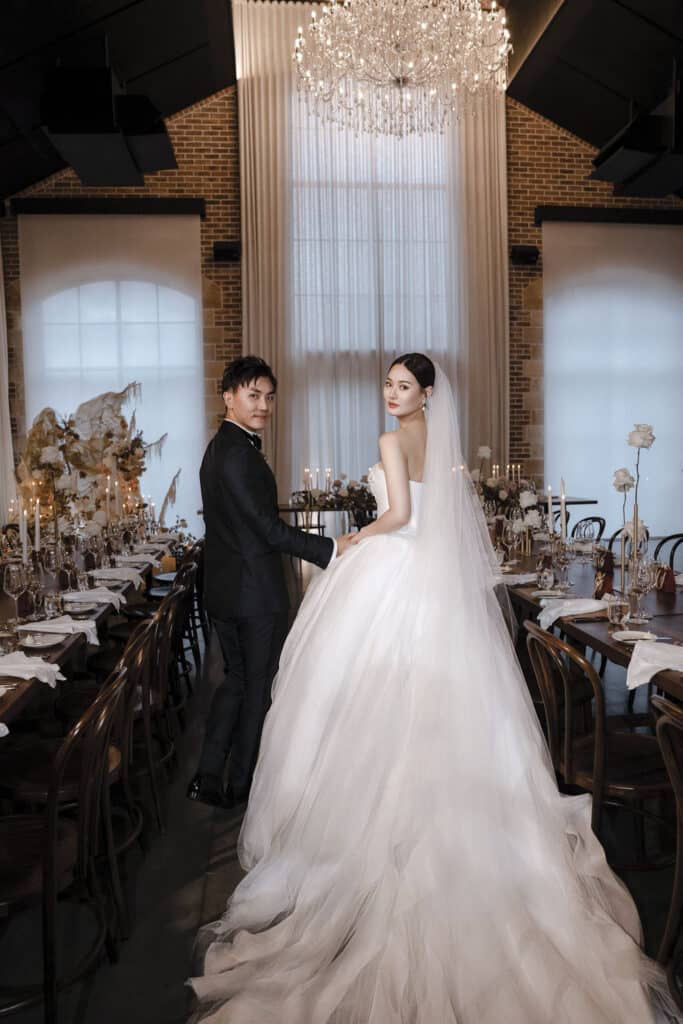 WHAT INSPIRED YOU TO CHOOSE THE CEREMONY LOCATION AT THE ESTATE?
"All the ceremony location options were beautiful, but we absolutely adored the Chapel with its romantic charm, tall glass windows and golden chandelier."
WHAT IS YOUR FONDEST MEMORY OF THE CEREMONY?
"Our fondest memory was when we walked out of The Chapel for the first time as Mr. & Mrs., hand in hand, with our friends and family showering us with confetti as the Chapel bell rang. In that magical moment, surrounded by love and laughter, we knew our journey together had just begun!"
WHAT WAS THE INSPIRATION BEHIND YOUR STYLING?
 "We chose a mesmerizing combination of gold/champagne and white colours to  complement Shiying's stunning gown perfectly."
DETAILS OF THE DRESSES, BRAND, STYLE, THE PROCESS?
 "A Vera Wang, 'Liesel', decorated with enchanting crystals. Anticipation built as we ordered the gown at the Vera Wang boutique in Sydney, six months before the grand day. Two months before, it arrived. Our journey to perfection didn't end there, as we had two more visits to their recommended alteration shop, sculpting the dress to an immaculate fit that left us awe-inspired and ready to walk down the aisle."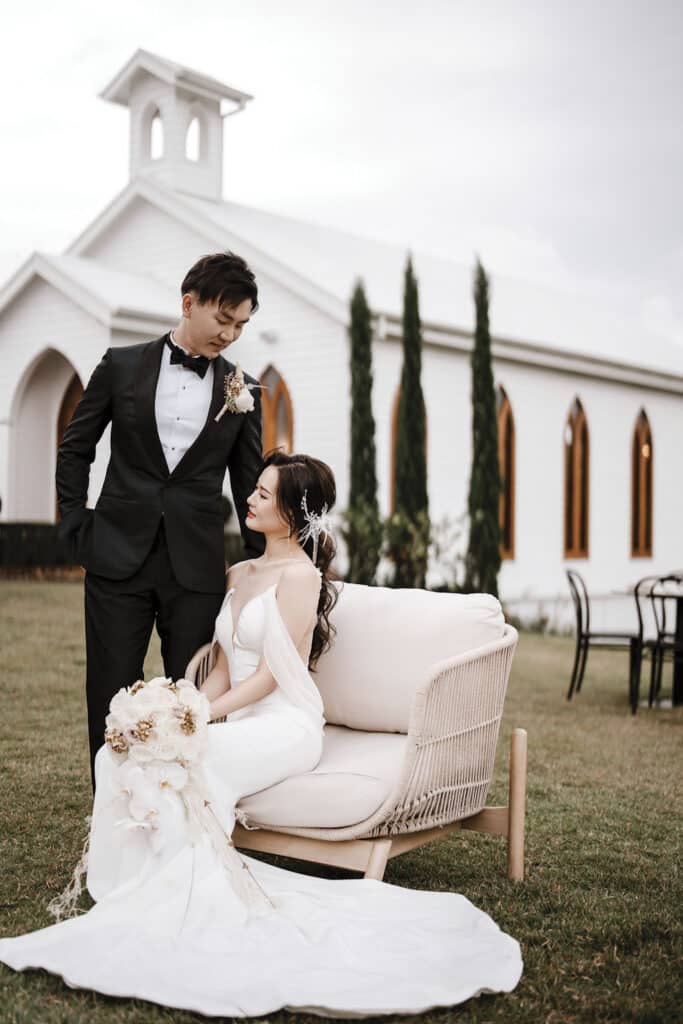 DETAILS OF THE SUIT, BRAND AND STYLE?
"The master craftsmen at Ermenegildo Zegna took centre stage, creating a bespoke outfit from the finest dark blue fabric. The result was a tuxedo-style ensemble, enhanced with a round silk collar, a vision of style on our wedding day."
YOUR FAVOURITE DISH OF THE NIGHT?
 "Our favourite dish was the succulent beef sirloin, served with a velvety potato puree. This dish was full of flavour!"
FAVOURITE PHOTO LOCATION?
 "There was an enchanting spot that we remember vividly, the night view outside the main reception building, where the twinkling night sky was our stunning backdrop."
ADVICE FOR FUTURE COUPLES PLANNING THEIR WEDDING?
"To remember that your wedding day is a day to celebrate your love and enjoy each moment, and the planning of it all should be fun!"
PHOTOGRAPHER'S NAME AND COMPANY?    Andy, Evernew Studio
THE VALLEY ESTATE
393 Currumbin Creek Road
Currumbin Waters Qld 4223
1800 908 090