The Tom Atkin Hall Rejuvenation Project
WORDS: Kelly Campbell PHOTOGRAPHY Supplied
A Southern Gold Coast community has come together to rebuild and upgrade the city's only publicly-owned hall.
IN 1947, a parcel of land in the Gold Coast suburb of Tugun was gazetted as a 'Public Reserve for Community Purposes'. By 1952, fundraising had begun to build a community hall for the village.
Using money raised by locals, a small army of weekend volunteers began construction of the hall in 1963. In 1967, the Tom Atkin Community Hall was officially opened and named in honour of one of Tugun's most exceptional residents.
In the 55 years since, the hall has stood strong, serving the community as needed as the only not-for-profit hall that is also publicly owned. However, the hall has arrived at a point where it needs some serious maintenance work to ensure its continued longevity. The bill for the structural, amenities, external and mixed ability access? A humble $360,000.
Off to a glowing start, the hall now wears a neon pink fuchsia sign, signalling a new era for the space as construction slowly progresses underneath. The exterior of the building is getting a fresh new face, reminiscent of a vibrant 1950s art deco cinema. The rebuild is also introducing a number of functional upgrades including a disabled access ramp, stage access and disability bathroom facilities.
The Tugun Progress Association (TPA) is the Trustee for the hall and takes care of the general operations and maintenance. Established in 1931, the volunteer committee was created to advocate for the local community and assist in the infrastructure development of Tugun.
Tugun Progress Association member Amanda Maynard says the TPA advocates for everyone in the community, to deliver their collective voices and opinions to local, state and federal bodies.
"I truly believe that the sum is greater than the parts when it comes to community initiatives because people often think their individual voice will never be heard so why bother? This should never be the case," she says.
The hall has become an unofficial voice and place for members of the surrounding community to discuss developments and matters that affect them, regularly facilitating conversation between the public, politicians and the council. But it's not all business. The hall is a place of creativity, play, expression and 'togetherness' too.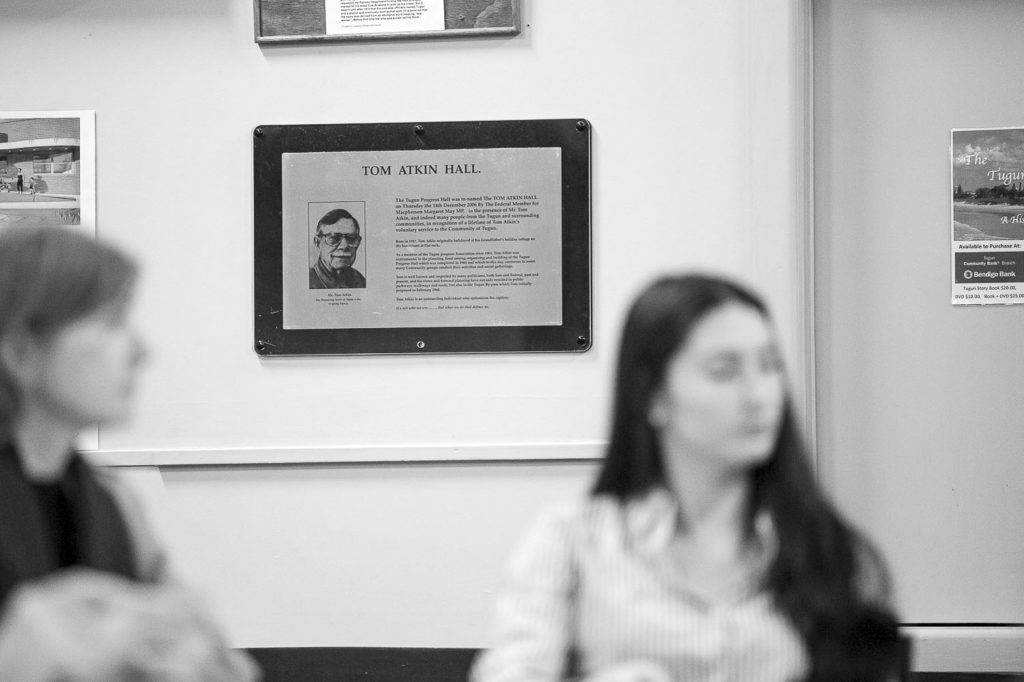 In addition to its use by private individuals for celebrations, workshops, performances, lunches and fundraisers, there is a growing list of groups that utilise the space on a regular basis.Debi Chalmers, from The Retro Dance Divas, says the group fell in love with the hall at first sight.
"The minute we walked into the Tom Atkin Hall we felt the familiarity of the timber floors that are just perfect for dancing on … along with the warmth of the beautiful velvet stage curtain which reminded us of our childhood dance performances in front of friends and family," she says.
Anne Ryan, from the Fasolati Choir, whose 35 members, aged 60 and over, now call the hall home, says it is vital the community has a facility such as the Tom Atkin Hall.
"Every Tuesday night, the neon sign of the Tom Atkin Hall at Tugun beckons them in.  They come together to sing, an activity which banishes any sense of isolation or loneliness," she says.
"There is joy in it and a sense of belonging. The things that foster positive mental health and physical well being. Something so simple as singing can maintain lung function equal to a brisk walk, and it can also reduce the risk of dementia."
Perhaps the richest part of this feel-good story is the hall's name. Tom Atkin was a tireless and persuasive advocate for the community who held friendships with politicians at all government levels and on all sides of politics. They each thought he voted for them. Recognised for distinguished wartime service during WW2, 'Tommy' was stationed in East Timor, observing Japanese naval operations while dodging Japanese army forces. It was a dangerous assignment.
Tom was a much-loved school teacher in Currumbin and famous for his discipline, and dedication, to those who needed a hand up. He convinced the City Council to purchase all the houses south of the Tugun Surf Life Saving Club, as far as Toolona Street, and demolish them to make a public park. As a result, locals enjoy a priceless parkland for recreation and events to this day.
As development booms across the Southern Gold Coast area, it is more important than ever to hold on to places of meaning such as this one.
"We shouldn't, as a city, underestimate the value of places," says Philip Follent, Contributing Architect & Vice President of the Tugun Progress Association.
"They might not be historically important places in the sense of being strong heritage pieces of architecture but they represent places where things happened that are meaningful to communities as a whole and to individuals. This means dad can drive past a place and say: 'kids, there is where I met your mum', so there is a link to events that happened that were meaningful to people. But once all those buildings or spaces are completely erased, it's harder to find those places that were landmarks in one's life experience."
Thanks to Tom Atkin's efforts, the land that the hall sits on can never be sold for development.
Descendents of Tom Atkin have reached out to share more of his history since the committee behind the hall launched its public donation appeal via social media and word of mouth. Members of the public have also come forward to share their own tales about Tom Atkin. Others have dug up old photo albums with images of Tugun's early days to be digitised and shared as part of the project.
What the feel-good project needs most however is support. The more people who know what the volunteer committee is trying to accomplish with the hall, the better, as without precious donations of just $5 or more, the project simply won't reach the finish line.
In remaining community-owned, every dollar must come from selfless donations from the public. The contributions to the project from just about every trade that was worked onsite, in either labour or a discount on materials, is humbling, to say the least, and reminiscent of the what-goes-around mentality of a time in history that feels so long ago.