Mark Cotterell is one of our region's most established and accomplished master jewellers – that much we all know. But who is the man behind the brand, what makes him tick and where does his creativity come from? ORM spent some time with the man who makes dreams come true…
"People often come in and say, 'I don't want an average ring, I want a real deal Mark Cotterell," says the man himself when we meet for coffee at Sheraton Mirage.
It's not hard to understand why; the master jeweller has built an incredible reputation for pouring creativity, love and devotion into every piece he creates. Building rapport with him is slick, easy and effortless.
Mark Cotterell is a Brisbane-based, hugely respected master jeweller, who has been perfecting his craft for an impressive 43 years (back in April).
He prides himself in supplying a standard of diamonds far above the norm, to compliment his dazzling, superior engagement rings.
That's just one part of the creative process.
Cotterell works closely with couples to create the perfect piece.
"My aim when I sell a piece is to capture the emotion. It is always about emotion; whether it's an anniversary or even death, it is always about love," he tells ORM. "What I'm trying to do is make the guy, because most of the time it's the guy who does the purchasing, look like a legend while the woman feels like the luckiest woman in the world. When there are tears of joy, we all win. I'm a chronic romantic – that comes out in my jewellery.
"I want the woman crying tears of joy, the guy thumping on his chest saying 'look what I did', while green-eyed girlfriends look on in the background."
Cotterell left school at 15 to pursue a jewellery apprenticeship, but he had grown up surrounded by creative flair.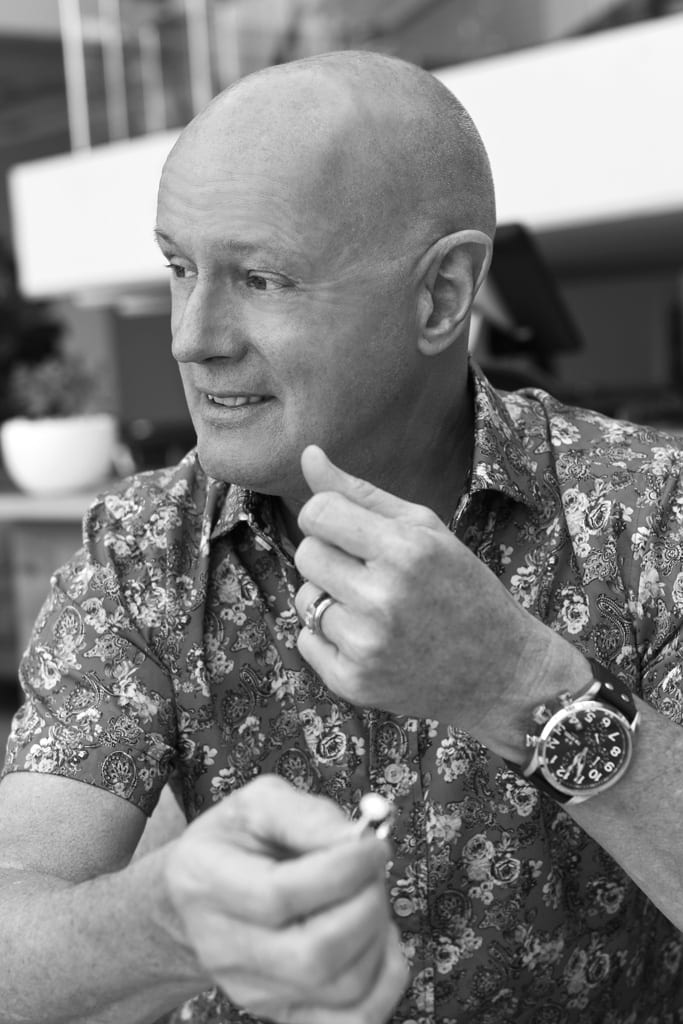 "My mum was an artist," he says. "Mostly oil and watercolour. My mum passed away five years ago. Her favourite colour was blue. The carpet in my shop is blue, and her piano stool still sits under my reception desk. I get emotional just talking about it… The hard arse side comes from my dad!
"My parents had a gem background, so I grew up trawling on my hands and knees looking for stones. But I was drawn to the jewellery apprenticeship because it was creative; most people who dream of being a jewellery designer have little idea about what it actually entails."
From his apprenticeship in Caloundra on the Sunshine Coast, Cotterell headed to Brisbane, where he still runs his shop at 3A/65 James Street, Fortitude Valley.
"Romance is always a blend of soft touches and hard edges, that comes through in my creations," he says. "I always say, 'I'm a real jeweller'. That rattles a lot of people, but I know I'm one of the very few who can actually sit and design a ring and then sit at the bench to physically create it. You would be surprised at how many who call themselves jewellers who cannot actually do that entire process. Honestly, some would struggle to make a simple wedding band!"
Cotterell's sketches are concept sketches, agreed in the knowledge that a million-minute decisions are made during the process of creating a stunning, unique piece. "Most engagement rings start in the mid three thousands, and we work upwards from there," he says, revealing that he's been asked to make a piece for an Asian princess and the Governor-General. "We're the real deal; other jewellers don't have that depth."
It's clear that Cotterell pours emotional investment into his clients. He regales story after story about happy customers who have come back into his Brisbane shop to introduce their new babies as their families grow. He also tells stories dripping in romance, dashes to airports to hand over engagement rings, and captivating love stories.
"I pride myself in that ongoing relationship with my clients. It truly is a journey, and many end up becoming friends," Cotterell continues. "One client sent me a photo from the Cairo museum – you can't take pictures in there, so that was pretty special. Another fiancée sends me photos all the time of her sitting in a brand new Lamborghini, wearing her engagement ring, with a little dog in her lap!
"I love seeing the families grow. When one member of the family comes to you, they become customers you keep, and you see their journey over the years."
Alonso, who's part Columbian, part Chilean and en ex-ballroom dancer, started working in-store with Cotterell as concierge last October. Cotterell describes this as a "necessary adjustment".
Outside work, Cotterell describes himself as "pretty straight" and "a rev head".
"I love good wine, food, race cars, race bikes… anything fast basically!" he says, adding that he started riding at 13 and racing at 16.
He's recently sponsored upcoming talent Broc Feeney, 17, who's currently competing in the Dunlop Super2 Series.
"He's only 17, he's still at school, but Broc's down to earth and grounded. I like real people.
"I've just put my bike back in the shed. I got rid of all of my toys, put them away, but now I've moved to Cedar Creek with my beautiful wife, Sarah, and its time to get them back out. Our new home is quite special; this morning we had a kangaroo outside our bedroom window, then a joey popped its head out. It doesn't get much better than that!
"COVID's changed a lot of things; it's made people think about what they want out of life. I'm a Gemini, so go through phases, but I said to Sarah recently, 'I'm not going to see this life out and die wondering. I want to live on the edge and enjoy it. She said, 'I'm on that train!"