THE HOTTEST HOMEWARES & SUMMER ACCESSORIES FOR THIS HOLIDAY SEASON
WORDS: PHOTOGRAPHY
SUMMER SOUNDS
JBL Flip 4 is a portable Bluetooth speaker the next generation in the award-winning Flip series. With powerful stereo sound and sporting durable, water proof fabric materials that are available in 6 vibrant colours. The flip 4 is the all purpose, all weather companion that takes the summer party everywhere.
JBL – Flip 4 – $149.00 – http://www.jbl.com.au/
RESCUE ME THONGS
Salvatos 'rescue me thongs' are the next generation in thongs, using an innovative recycled EVA sole that is shock absorbent. The EVA material is eco and vegan friendly, non-toxic and environmentally safer. Perfect for stashing in a carry-on for travelling, an overnight satchel, gym or handbag – they go absolutely anywhere and everywhere. RRP $29.99 www.salvatos.com.au
SMART WATER
321 Water is 100% Australian made, reusable 500ml water bottle with a unique patented tree plunger filter mechanism. Using carbon filtration tablets made from pure coconut shells, the filter absorbs impurities from tap water such as odours, tastes, organic compounds and residual chlorine, ensuring clean, pure and delicious hydration on the go. RRP 32 www.321water.com
HOME FRAGRANCE
The perfect summer diffuser for your home this season.
This elegant diffuser has fragrances infused with a fresh rose essence inspired by the magnificent gardens of Mt Macedon. MAINE BEACH RRP $39.95 WWW.COCCO.COM.AU
ORGANIC FUSION- AUSTRALIAN MADE!
Just in time for summer.
Natural Health Company is pleased to launch their new ORGANIC FUSION range, Organic Protein + Superfoods, the perfect choice for vegans and people with food intolerances, such as lactose, soy, and gluten. This delicious plant-based protein + superfoods is packed full of essential goodness for improved daily energy and vitality, and come complete with a combination of superfoods to improve overall health and wellbeing. Flavours Tropical and Acai Berry RRP $44.95 each www.naturalhealthcompany.com.au
REVIVE CANDLE
Restore your day with some peace and tranquillity. Aromatherapy Associates candles are hand-poured in the United Kingdom and made from the highest quality soy wax with unbleached cotton wicks. 100% GM free. Elegantly designed and beautifully embellished, this candle will create the perfect ambience in any room. (40 hours burn time)
WE LOVE REVIVE Candle For summer RRP $80.00
www.aromatherapyassociates.com.au
WALL ART
Caption details
Product name: Free Spirit | Photographic Print
Description: Stunning. Make a statement at home with this stunning photographic print.
FROM $332
Stockist information: www.atelierlane.com
Filename: AtelierLane_1831358_FreeSpiritPhotographicPrint.jpg
BEADED CHANDELIER
Caption details
Product name: Frill Clay Beaded Chandelier | Grey + White
Description: Clay beaded chandeliers, proudly hand crafted by the women of South Africa from Klaylife. Because sometimes, less is more. The perfect statement piece. Available in 4 sizes.
Prices from $2,390 Stockist information: www.atelierlane.com
BIRDS OF FEATHER ROUND TOWEL
Caption details
Product name: Zanui.com.au Birds Of Feather Round Towel
Description: Embracing holiday vibes in its tropical peacock pattern, the Birds of Feather Round Towel from Chuchka exudes relaxed style and soft cotton comfort. RRP $56.95 Stockist information: www.zanui.com.au
CUSHION CRUSH
Product name: Zanui.com.au Marble Cushion, Green 35.95
Stockist information: www.zanui.com.au
Caption details
Product name: Zanui.com.au Tarn Cushion Cover $49.95
Filename: Zanui_1787405_ZanuicomauTarnCushionCover4995.jpg
Product name: Zanui.com.au Zig Zag Indoor & Outdoor Cushion Cover From $79.95 Filename: Zanui_1885230_ZanuicomauZigZagIndoorOutdoorC
Stockist information: www.zanui.com.au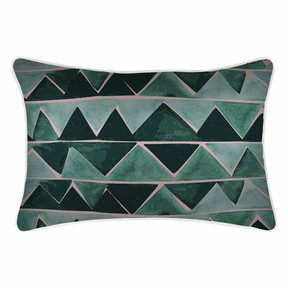 HANG AROUND THIS SUMMER
Caption details
Product name: Plantation Nest Hanging Chair
Description: Featuring: Plantation Nest Hanging Chair, Linea Tri Base Console, Saskia Fringe Cushion, Evie Knit Throw & Linen Cushion, Aura Round & Arrow Rug, Aura Plait Ottoman HORIZONTAL Plantation Hanging Chair RRP $1,330
Stockist information: www.globewest.com.au