WORDS: PHOTOGRAPHY
With the exciting transformation has come the arrival one of Australia's premier Japanese chefs and an extensive makeover of both the venue's interior and menu.
Opened during the Japanese foreign investment boom that hit the Gold Coast like a tsunami in the mid 1980s, Yamagen was a classic, traditional restaurant designed to cater as much if not more to Japanese tourists and businessmen as it did to the locals.
Fast-forward three decades and times and tastes have changed, as has the Coast's dining scene.

Catering to that ever-evolving sophistication, Yamagen has undergone a spectacular metamorphosis into an edgy izakaya-style restaurant. The funky décor, designed by internationally-renowned interior architect Nic Graham, fuses elements of the electric pop culture buzz of Tokyo's urban metropolis with the craft and tradition associated with classic Japanese fishing villages.
In a huge coup for the QT and its guests, renowned chef Adam Lane was lured across town from Kiyomi at The Star Gold Coast to become executive chef at the all-new Yamagen.

When it comes to modern Asian cuisine, Lane has one of the most impressive resumes in Australia, having worked alongside internationally-acclaimed chefs at star-studded restaurants including Sydney's Sake, Sushi E and Tetsuya's, London's Nobu and Nahm and Kiyomi (which he helped the renowned Chase Kojima establish two years ago).
Lane credits Tetsuya's legendary founder, Tetsuya Wakada, with teaching him his sophisticated approach to Japanese cuisine where tradition is deftly balanced with French cooking principals, where contemporary interpretation subtly flourishes and where some of the best produce in the world – found right here in Australia – is showcased to dazzling yet often superbly simple effect.
The 40-year-old has spent three-quarters of his 20-year cooking career specialising in Japanese, a cuisine he fell in love with at Tetsuya after completing his apprenticeship at top Sydney European-style restaurants Banq and GPO where rich butter sauces and pomme purees prevailed.
"Just the freshness and lightness of Japanese cuisine – it's something I can eat every day," Lane tells ORM. "The flavours can be very subtle and it just works well. There's a beautifully delicate balance in Japanese cuisine that I really like."
Lane arrived at Yamagen one day before the grand re-opening in July, attended by 400 guests including celebrities such as Hollywood actor Amber Heard, star of the blockbuster Aquaman being filmed on the Gold Coast at the time.
"Everyone thoroughly enjoyed the evening but I believe we've lifted the bar even more since then," Lane declares. "We've got an entirely new team, a new philosophy – we're basically doing new food. We're striving for a direction that Yamagen hasn't seen in 30 years."
Lane defines that direction as 'modern Japanese', fusing cooking styles from French to Thai with the exquisite flavours, textures and presentation of Japanese cuisine.
Yamagen's somewhat cliched teppanyaki grills, replaced physically by a hip new bar stocking Queensland's largest array of Japanese whiskies, have made way for the more contemporary robata (tosa binchota, or white charcoal grill) with a selection of mouth-watering kushiyaki (barbecued) dishes including yakitori chicken, pork belly and king brown mushroom.
Traditional Japanese favourites including sashimi, sushi, tempura and gyoza (hand-made by Lane's wife, sushi chef Yuka) remain on the Yamagen menu.
In fact, sashimi – with a twist – is one of the new Yamagen's signature dishes. The sashimi taco – salmon & spicy tuna, yuzu avocado, warm sushi rice, sesame, watermelon radish, house spicy mayo – comes highly-recommended by Chef Adam.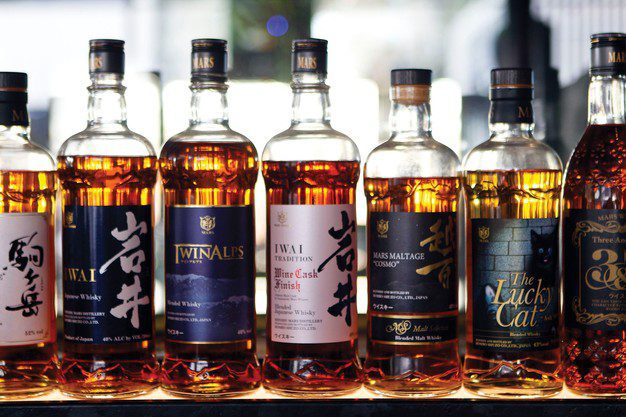 Other menu highlights include raw dishes such as Hokkaido scallops, Sakura smoked ocean trout, and the (almost too pretty to eat) thinly sliced snapper with truffled tosazu, shio kombu, ume boshi and yuzu sesame.
More must-try dishes include Ao Nori crispy skin quail served with dehydrated king brown mushrooms and sesame yakitori, along with the crispy salmon skin salad and mixed cress daikon, fennel, baby beets, yuzu and kosho dressing.
"Food needs to be fun and enjoyable for the customer and for me also," Lane says. "I love to experiment with new flavours and ingredients and the menu will be constantly evolving. I'm the sort of person who is never fully content with the status quo."
Having moved to the Gold Coast from Sydney with his family about five years ago, Lane has forged good relationships with quality local suppliers and has broadened his network of contacts at Yamagen.
"For me, my suppliers are absolutely critical, and I'm constantly working to build relationships and form a trusted supply chain to ensure the freshest, best-tasting ingredients for our customers from season to season," he says.
Adding further dimension, Lane has commandeered the QT's rooftop where he has established garden beds to grow Japanese herbs, exotic greens and edible flowers.
"It's at the experimental stage but I'm really excited about the potential," he says. "The fact that it's totally organic, picked and plated within hours… that's great stuff!"
The outstanding food at Yamagen is complemented by a sensational drinks menu overseen by charismatic young restaurant manager Jordan Melling, who helms a bar with no less than 82 Japanese whiskies on the shelf, a 60-strong wine list, and about 20 varieties of sake.
"The Japanese whiskey list is probably the most extensive in Queensland," Melling says. "We showcase the whiskies through cocktails and 'whiskey flights', a tasting experience of three whiskies designed to take our patrons on a progressive journey into the subtleties and complexities of this richly-flavoured Japanese spirit."
Served on a wooden board and with accompanying notes detailing each drop's nose, palette and finish, the whisky flight is served with pure, hand-cut ice (chiselled from slabs and sometimes impregnated with herbs or fruits) to enhance the quaffing experience.
"Japanese whiskey is probably best described as subtle and complex, rather than big, bold smoky flavours," Melling says. "It's a lot more delicate and balanced than many other whiskeys, which fits nicely with Japanese cuisine."
Yamagen also has an extensive cocktail list, with an emphasis on seasonal and sustainable ingredients.
"We recently introduced one cocktail that's a twist on a daquiri," Melling says. "It's got spiced rum, sake, apple liqueur, ginger syrup, Japanese pepper and then a few drops of sesame oil on top to add aroma and texture. You basically get hit from all senses."
Yamagen's signature cocktail is appropriately called The Yamagen and contains 21-year-old aged Japanese Ibiki whiskey, gyokoro tea, Japanese dwarf pine syrup, yuzu, orange bitters, nashi pear liqueur and half bottle of Mumm Brut.
End breakout
Bar and wait staff at Yamagen regularly undergo specialised beverage training, including seminars run by Australia's only sake 'samurai' (sommelier).
* Yamagen is open 7 nights a week from 5pm at the QT Gold Coast.