Spotlight on KRIS STEWART Artistic director-producer, QMusic CEO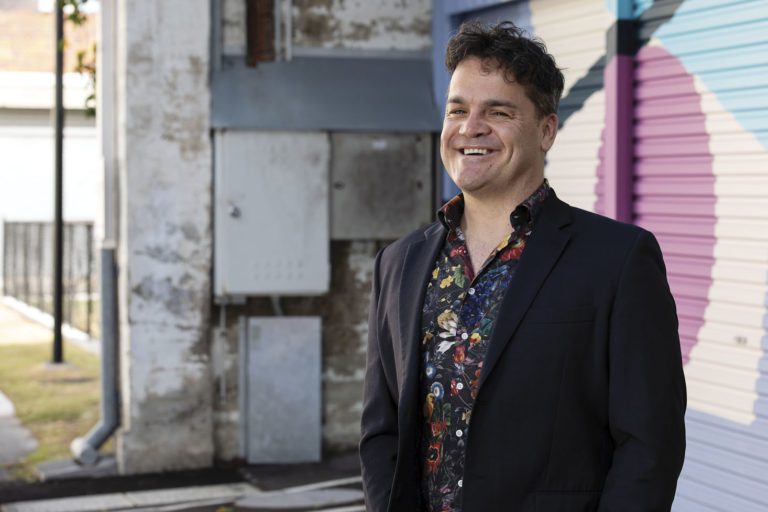 WORDS: Caroline Russo  www.hushhushbiz.com PHOTOGRAPHY Supplied
Kris Stewart is a multi-talented creative artistic director/producer who has helmed numerous productions both here in Australia and in New York. For the past eight years, he has served as a Creative Director at Brisbane Powerhouse, overseeing 2500 productions and ticket sales of more than one million. Kris recently took up a new role as CEO of QMusic.
Let's start at the beginning. What attracted you to the arts? 
I grew up in South Australia, born in Adelaide, in Salisbury East. In school, I was different from the rest of my family and friends and lucky that there was a program that identified kids in the arts in my school years _ SA youth company. At 16 years, I directed my first production and a few other things, which led me to be spotted by the Western Australian Academy of Performing Arts (WAAPA) and I did a post-graduate course and managed to work in music theatre directing. In 1995, I moved around a lot in other productions in Sydney and Melbourne.
Who was your greatest influence?
Roger Hodgman was one of them for sure. He was the artistic director of Melbourne Theatre Company who gave me a job as his assistant and I worked in 'school company touring' and directing for a couple of years. From there, I moved into working with Kevin Jacobson. Ideally, that was a different pathway but it leads me to experience further productions.
How did you arrive in New York?
I had a Churchill Fellowship and had already done two trips to New York and one was to a Murdoch prize received for three months, which I look back on now as one of the last things he has done that was good.
I had felt it was my opportunity to leave Australia and go to New York and after a sad break-up with my girlfriend at the time, I sold everything I had and off I went with two suitcases to live there. The first year was the hardest due to a lack of work for money. But I had a lucky break to do a gala festival for a small non-profit that led me to the National Theatre Network. I then founded, and continued from 2005 to 2009, as Executive Director of the New York Musical Theatre Festival.
What brought you back to Australia?
After working on a lot of musicals I was sort of getting burnt out and felt like I needed to return home and it was the production of Wicked for Gordon Frost Company that did it! From 2008 to 2011, I was the Resident Director. Then, in 2009, I founded The Sydney Fringe and acted as its inaugural Festival Director. Also In 2011, I relocated to Hobart to act as Artistic Director for the Festival of Voices.
Brisbane Powerhouse: What is the takeaway from all you have done there as Creative Director?
There are several things that we started. One is Melt, which is important for LGBTQI+ Voices, then IRL Gaming Cultural was a good one to work with as well as Curiosity, Wonderland. Getting to the fact we helped new artists and indie producers, BP was able to help to get these events up as international productions. Super proud that you can leave some of the legacies for creative industries that will continue.
What does it take to be a good producer and creative director?
I feel a good sense of adventure. Let's have a go and don't take the worry with you. It's about adventure and a great education to embark on as it is an investment in yourself and others. Also, having a strong sense of empathy for other people's taste as what you like, the audience may not, and creatives can choose to do things for "themself" but if you can measure the risk to know what size audience you have, and to work with and to speak to, is an important factor.
Tell us what drew you to your latest role, as CEO of QMusic?
I wanted to get back to a hands-on space as it was full-on at the Powerhouse, but there was only so much I could do in overseeing there. Whereas at Qmusic, this will be more enjoyable for me to get back to some of the events that are planned there and connect with people and be as helpful as possible in a hands-on way. I must say I do like to see myself as a bit of a rocker at times.
How do you see South-East Queensland in the next five years?
The growth is really strong and investment into the Sunshine Coast, Ipswich and Logan are growing, especially with the Gold Coast, which has brought in so much cultural infrastructure. I think the growth is going to keep happening for the State. The combination of touring shows more and the collaboration is something in Queensland that is growing in all accounts as the population has grown.
When you arrive at the pearly gates, what is the first thing you'd say?
I am genuinely surprised I am here and sorry I spent so much time not considering your wishes but I'm glad you let me in and on that note, if there are pearly gates that inside are the kind people and I do hope I am considered to be one of those when I am there!