Queenslanders on lookout for landmarks as Godzilla, Kong hit big screens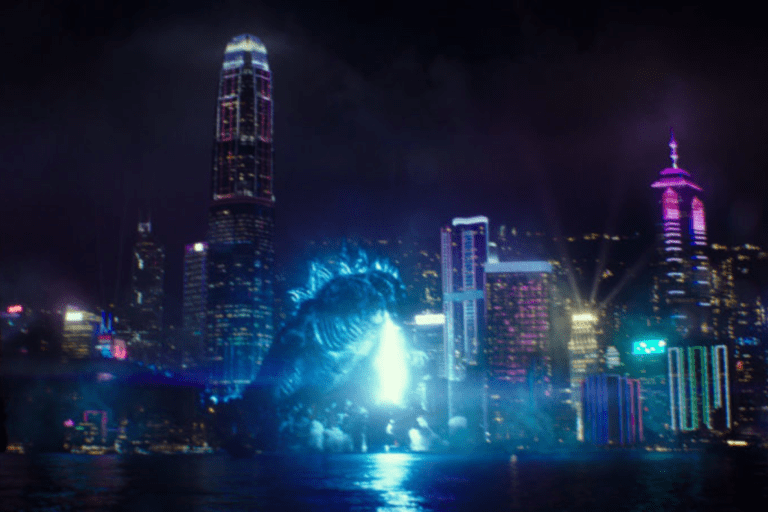 WORDS: News Leads PHOTOGRAPHY Supplied
The titanic monster clash movie Godzilla vs Kong, filmed in south-east Queensland, will hit Australian and international cinemas Thursday with keen viewers able to spot local scenes shot around the Gold Coast, Brisbane and Ipswich.
The film, that broke internet records in February as Warner Bros' most-watched trailer, also has another surprise in store for eagle-eyed viewers with the reveal of MechaGodzilla, a third classic monster featured in the movie.
The epic "clash of the titans" movie starring Alexandar Skarsgård, Stranger Things' Millie Bobby Brown and action star Rebecca Hall involved more than 1200 Queenslanders, including film crew, construction, cast, extras, and stunt performers.
The production was secured into the state by the Queensland Government via Screen Queensland's Production Attraction Strategy and injected an estimated $36.5 million into the Queensland economy.
Screen Queensland CEO Kylie Munnich said the movie was largely shot at Village Roadshow Studios on the Gold Coast. Other local locations included jungle in the Tallebudgera Valley, Miami High School, Bundamba Advanced Water Treatment Plant, The Roosevelt Lounge at Broadbeach, Chinatown Mall in Fortitude Valley, the ULTIQA Rothbury Hotel and Masonic Temple in Brisbane CBD, and the Workshop Rail Museum/Queensland Rail site in Ipswich.
"Queensland was selected for the production due to our stellar reputation in the international screen industry for being home to fantastic facilities like Village Roadshow Studios, highly skilled local crew and a huge range of diverse locations," Munnich said.
"This Thursday, Australian and global audiences can finally see the hard work of Queensland's talented film workforce, and join in the fun of deciding whether they're 'Team Godzilla' or 'Team Kong'."
Godzilla vs Kong was among recent Warner Bros productions filmed in Queensland, with the list including Kong: Skull Island, Aquaman, San Andreas and Baz Luhrmann's Elvis biopic that recently wrapped shooting.
Godzilla vs Kong wrapped shooting in 2019, before the pandemic crisis triggered the global shutdown of the film industry, but its planned November 2020 release was delayed. It will be released in the United States on 31 March.
In the action-packed film directed by Adam Wingard, mythic adversaries Godzilla and King Kong meet in a spectacular battle for the ages, with the fate of the world hanging in the balance.
Godzilla vs Kong will be screen across participating cinemas Australia-wide from Thursday.