WORDS: PHOTOGRAPHY
Gemology Cosmetics Paris has arrived at Australia Fair in Southport. ORM went to find out more about the unique skincare line and the Australian distributors Tania and Joel Turner and their team.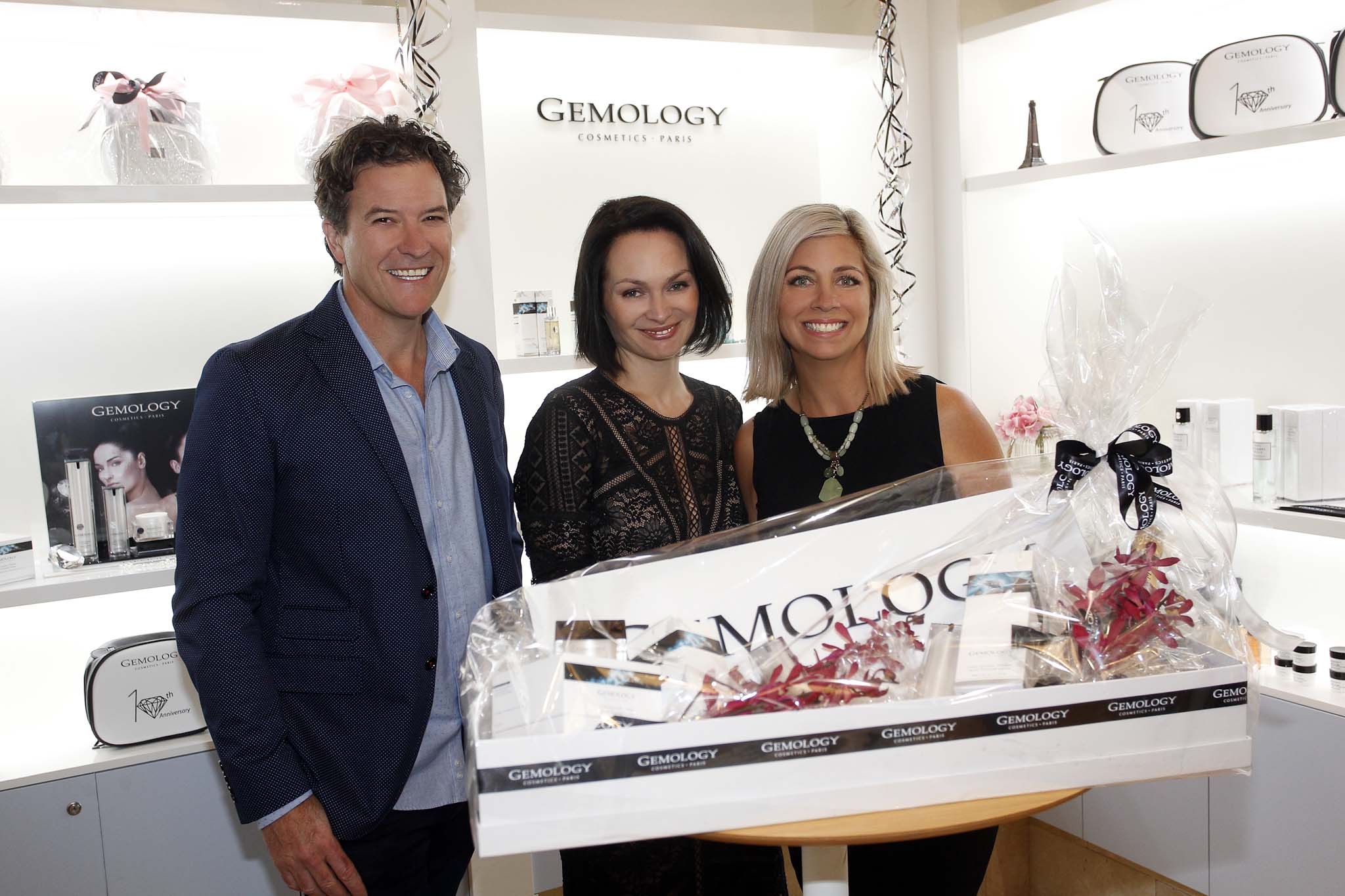 In a first for the Australian beauty industry, Gemology Cosmetics has been formally launched in Australia and New Zealand this week at the Shine Beauty Southport salon. Tania and Joel Turner, Founders of Shine Beauty have worked tirelessly over the past two years with Chrystelle Lannoy, the Founder of the Gemology range to bring this world class innovation in skin care to Australia and New Zealand.
Gemology was borne from Lannoy's great love of the beauty industry, combined with a unique understanding of the incredible and untapped power of gemstones to transform the skin at a cellular level.
Ms Lannoy flew from Paris to attend the Southport launch, and in person, she epitomises classic, elegant French beauty. Chrystelle had dedicated her professional life to prestigious and iconic skincare brands such as Clarins and Pevonia, prior to founding Gemology.
"When I conceived the idea to start Gemology, I wanted to create something truly unique," says Lannoy. "That is, the first cosmetics skin care brand in the world based on minerals from gemstones. I have long been utterly fascinated by the properties of gemstones to intensify skin cell regeneration, and virtually hold back time".
Lannoy had previously worked alongside Dr Jean Claude Bozou (a PhD in Biology and Pharmaceuticals), to create formulations for many prominent European cosmetic brands.
"Developing the Gemology extraction process and formulations took over three years because at the time, ingredients from gemstones didn't exist for this purpose", Lannoy said. "This work was highly visionary, and when we started to fully understand how these gemstones could help women to repair and renew their skin, we knew how ground breaking this work really was".
"Gemology is the centre of a major innovation," says Dr Bozou. "Our laboratory has developed a technology that allows us to extract and stabilise critical trace elements from precious and semi-precious gemstones. These trace elements have demonstrated their clinical efficiency at impacting skin cells".
Gemology Cosmetics laboratories extracted the natural minerals from 20 precious and semi-precious gemstones including diamonds, rose quartz, peridot, tourmaline and jade. These extractions include Iron, Zinc, Magnesium and Copper, which are essential for life and skin function. The result is a luxurious range of products which offer perfect solutions for all skin types and concerns. There are now 60 products available in over 30 countries.
The line was officially launched in 2007 in Paris, France at the Ritz Hotel, and today it is available at some of the world's finest international hotels, luxury resorts, prestige spas and iconic vacation destinations.

Gemology products contain no parabens, ethanol, propylene glycol, are gluten and lactose free, and are not tested on animals. The skin is left hydrated, revitalised and glowing thanks to the active ingredients. Ms Lannoy herself is certainly an ageless and vibrant endorsement of the products.
Just as Chrystelle Lannoy and her Gemology team have developed powerful and cutting edge skin care products for women worldwide, Tania and Joel Turner have created six luxurious salon spas in Brisbane, the Gold Coast and Sunshine Coast to provide lavish beauty treatments to their clients.
Tania initially started out with one small beauty room, where she quickly learned exactly what women were looking for from their treatments. "It is a wonderful privilege to have worked with women who have shared so much of themselves with me", she said. "I know that beauty treatments are a moment in time where women can relax and be pampered and nurtured in a way that often only happens in a salon. For that reason, our rooms provide a beautiful oasis for clients. Our products are innovative and world class, but most importantly, they make women look and feel younger". Today, Shine Beauty salons look after more than 45,000 people each year.
With a background in advertising and marketing, Joel has created a respected brand that is synonymous with luxury, and will provide the platform to bring Gemology products to the Australian and New Zealand markets.
In a highly competitive and fast paced industry, Shine Beauty has been acknowledged as a leader. Tania and Joel have won Business Excellence Awards three times and have also been inducted into the Hall of Fame (Sunshine Coast).
More recently, Tania was recognised with the Outstanding Business Woman of the Year Award (2016 Sunshine Coast). "It is exciting to bring such an incredible product into our business, and our clients are already raving about the results," Tania said. "Working in partnership with Chrystelle and Gemology is a dream for us, because we know that we are leading the way in the beauty and anti-ageing industry".