Phil Clayton and the Joy of Swimming
WORDS: Greg Pride PHOTOGRAPHY Brian Usher - www.usherusher.com plus Supplied
You don't have to be a fish to find out how simple it can be to change your life for the better – just ask Phil
IT'S a sublime summer's morning and I'm swimming across turquoise Tallebudgera Creek like a fish. Or is that a stone? A stonefish, that'll do.
My 19 fellow swimmers stroking effortlessly across the creek towards sun-bathed Echo Beach, at the foot of verdant Burleigh Headland, seem more like flying fish as I flounder in their wake.
Escorting us on his paddleboard as real fish slice through the crystal clear water below us is Phil Clayton – star ironman turned swim coach – who's guiding us through the hour-long session with a whistle around his neck and a beaming grin beneath his cap.
As well as being a former champion lifesaver, "Clayto", as he's affectionately known, also happens to be a champion bloke.
That's obvious from the moment I join the upbeat group on the southern shores of Talle Creek for one of the popular Phil Clayton and Co swim sessions, and experience the passion, positivity and good vibes he brings to the "little community" he's built.
Actually, I'm barely out of my car at the Talle Rec Centre after arriving to interview Phil when I bump into one of his pupils, singing his praises.
"He's amazing," says Andrew Stark, Gold Coast-based general manager (Australia & Oceania) of the World Surf League, still towelling off and pumped with endorphins after an earlier swim session.
Stark tells me he's been training with Clayton for several months in preparation for his annual surf trip to Hawaii's North Shore, and it's the best he's ever felt.
"I came for my first session in August and I was like 'oh my God, why haven't I known about this for years?'" he says.
"It's just such a beautiful, natural environment to swim in and Phil's just got so much great energy and ocean knowledge. He knows every nook and cranny of the creek. I'll never go back to swimming laps in a pool again."
How Clayton ended up here on the banks of Talle Creek has been one helluva paddleboard ride – from a frothing nipper in his native Wollongong to professional ironman (who even appeared on Baywatch with Trevor Hendy at the height of their fame) to farm manager after a gnarly financial wipeout to successful businessman and Olympic coach.
Clayton, 46, grew up in Wollongong on the NSW South Coast. His parents, Chris and Marie, were heavily involved in the North Wollongong Surf Club – Chris as president and Marie as head of the women's auxiliary.
"Dad had a history as a surf swimmer back in the day and I was always going to join the nippers," Clayton says.
"I really enjoyed it from a young age, all my mates and I just did it for fun. Then once I got to 15, I won my first Australian medal. At 16 or 17, I had my first crack at the Kellogg's Nutri-Grain and Uncle Toby's Ironman Series and spent the next 12 years as a professional ironman."
In his first year in what became the premier Uncle Toby's Ironman Series, Clayton finished third overall after beating the legendary Trevor Hendy to win the last race at Portsea in Victoria.
"I was the young kid who came into the series when Trevor had been winning it for a few years," he says.
"I had a great life. We did lots of races all around the world. I met a lot of people who are still fantastic friends today."
In 1996, Clayton's glamour ironman career took him to California, where he starred alongside Hendy, Crowe and Guy Andrews and the other Uncle Toby's ironmen in a fictional race against David Hasselhoff's Mitch Buchannon and his fellow Baywatch lifeguards (Google 'Baywatch, S7 E8 'Let the Games Begin', folks).
"It was hilarious," Clayton recalls. "CJ (Pamela Anderson) wanted to race against us men and I had to get dressed up as a girl for a scene about equality. Trevor had to pinch me on the bum".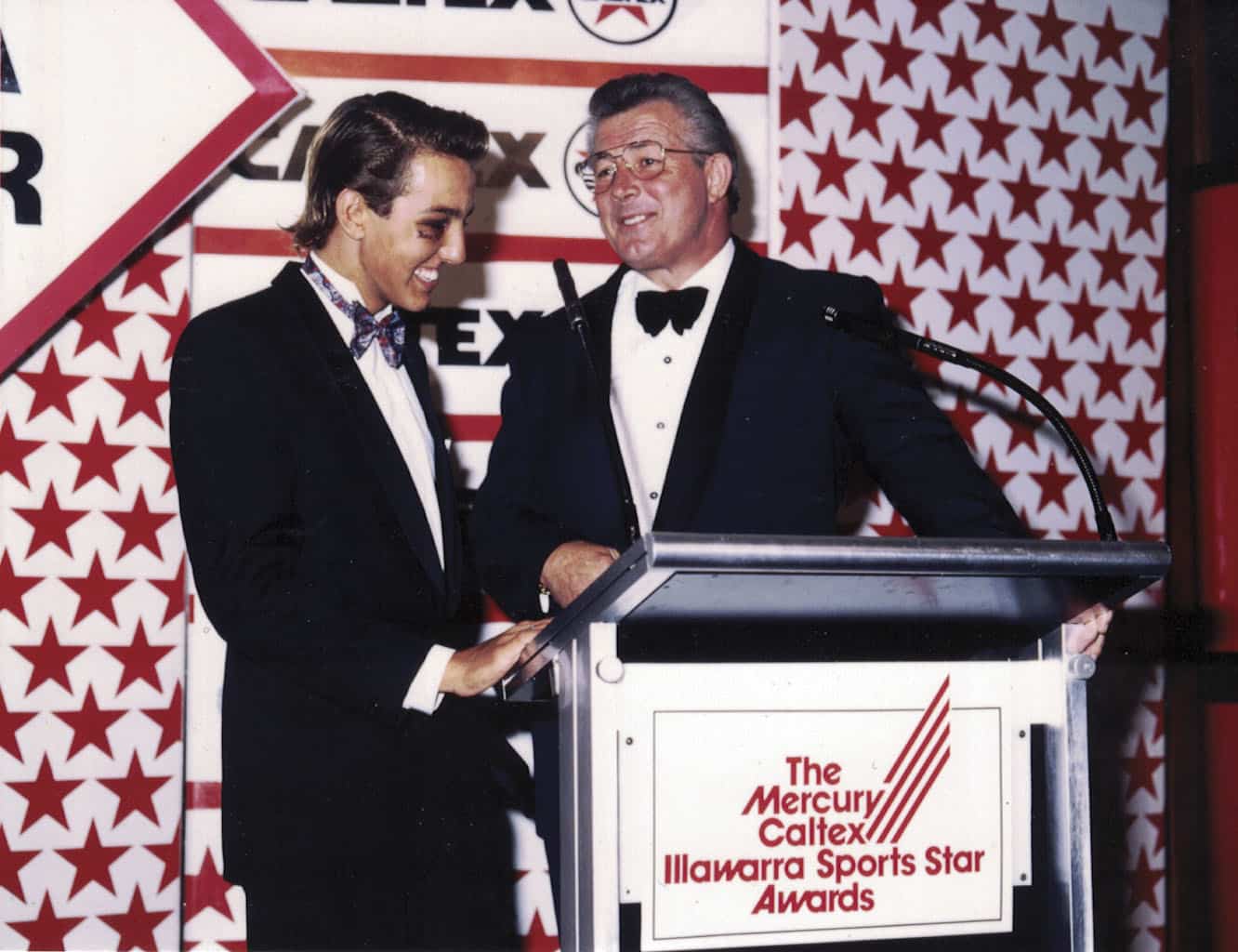 "I didn't realise how hard acting was. I was lucky I could swim because I was a terrible actor.
But it was an incredible experience meeting all the Baywatch stars and being on the show. The Hoff was a legend and he and the cast and crew welcomed us with open arms.
We visited Hollywood, Disneyland and (legendary Sunset Strip nightclub) the Viper Room. We went everywhere, it was an amazing trip."
Classic archival TV footage shows Clayton roller-blading along the Venice Beach boardwalk with Hendy and Co, and flexing with the pumped-up gym junkies at Muscle Beach.
The Aussie ironmen also took part in an actual round of the Uncle Toby's Series on Huntington Beach, with Pamela firing the starter's gun.
Clayton had set up a commanding lead and looked to have the race in the bag until he took a wrong turn and was overtaken by his training partner, Jonathan Crowe.
The same year, Clayton competed in the infamous Uncle Toby's race in Piha, New Zealand, where competitors were hammered by thundering 4-5m swells.
"We had to vote at the start whether to go out or not – I'll openly admit I voted no," he says with a chuckle.
"I didn't finish, I snapped my black Nike ski in the second round. Back then, I enjoyed big waves but Piha was scary. It was big, there were rocks, cold water and black sand.
"Now that I'm older, I'm confident holding my breath, confident swimming and I love big surf – the bigger the better."
That was highlighted last July when dramatic photos, splashed across the front page of the Gold Coast Bulletin, captured Clayton tackling huge waves off Burleigh Heads, alone on his paddleboard.
"It took me three attempts to get out and by the time I did, I was at 5th Ave (North Burleigh)," he recalls.
"I didn't realise how big it was until I got out there. I thought I was out the back (of the break) and these sets came. I just scratched over the last one and a shark buoy popped up next to me, which I thought had broken off. It was still anchored but the waves were breaking that far out – the shark nets are 400m out to sea. That just showed how big it was, and I realised I might have bitten off a bit more than I could chew".
"It took me about 30 minutes to get back up the point, but it was well worth it. I got a couple of screamers and had a great time. Water's water. As long as you hold your breath and you don't stress, you're okay."
Clayton moved to the Gold Coast in 1994 so he could train in warmer water during the winter.
He and many of the other Uncle Toby's athletes joined swimming super coach Denis Cotterell's squad at Miami's Pizzey Park pool, which included fellow ironman Craig Hackett and his brother Grant – then just a kid.
"Every day made you better and better – I love Denis Cotterell, I get along with him really well, he's a great bloke" he says.
"He got me. He understood how I worked and he could sell anything to me."
After his competitive lifesaving career ended, Clayton – who also won the 2000 World Ironman title in Sydney – returned to Wollongong to work in his father's real estate business.
"I just didn't like real estate and decided to move back up to the Gold Coast," he said.
Clayton got a job as an instructor and PT at the Casuarina Rec Club, owned by his mate Dave Simons.
He later joined Kurrawa Surf Club as a board coach before becoming head coach for nine years.
"I had a great time at Kurrawa coaching some wonderful athletes like Hayley Bateup and Ky Hurst, and we got some amazing results," he says.
"We built the club up into the second biggest in Australia behind Northcliffe. And we just had fun. It was just a really great environment with a lot of great people. I think I found my niche at Kurrawa. It was where I discovered that I loved coaching."
An ill-fated business venture, which Clayton is reluctant to discuss in detail, then saw him lose "a lot of money" and led him to leave the beach for the bush.
"It made me have a bit of a rethink on life, and we decided to get away from the world for a while and do some farm stays with my wife (Lisa) and kids (Jett, now 17, and Shia, 14)," he says.
The Claytons had seen online an opportunity to manage farms across Queensland while the owners were on holidays, and jumped at the chance for a fresh start away from surf lifesaving.
"A city slicker trying to run farms was quite funny, but we had a great time," he says.
"It was some of the best times of my life, hanging out with my wife and kids and just being at one with them. When you're a farmer, there's not much to do except work and spend time with the family. We went out west, up north to Gympie, managing properties for two weeks to two months at a time. Goats, cows, pigs, sheep, horses – we took it all on. We learned real fast how life's a little bit harder on the land, but it was the best thing we ever did."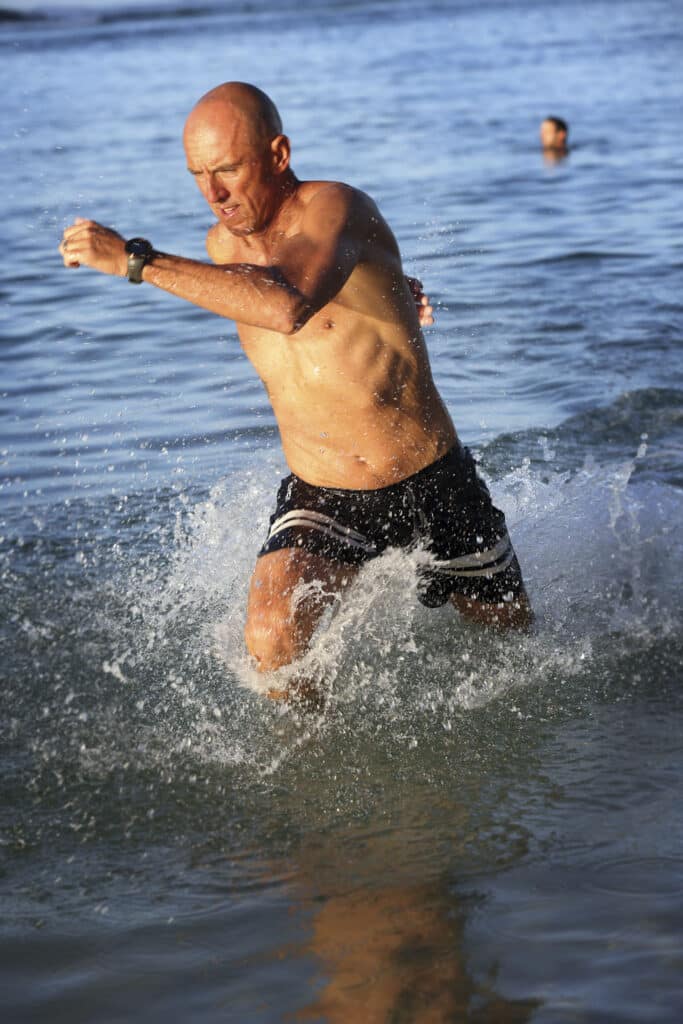 Clayton then got a phone call from Hendy asking if he'd come back to Surfers Paradise Surf Club to help out as the nippers coach.
"I was having a great time there, I love Surfers Paradise Surf Club, then Burleigh Heads-Mowbray Park Surf Club rang up and asked if I'd be the head coach," he says.
"I moved back there and two years into it, Covid hit."
With local swimming pools closing due to the pandemic, Clayton and his wife saw an idea for a bold new business venture.
"I'd gotten into swim coaching after Trevor Hendy asked me to run an ocean swim escape at Lord Howe Island in 2017," he says. "I had also been working with the Australian Olympic Open Water team leading into the Rio Olympics, then I was asked to teach the Australian Olympic triathletes how to body surf because the swim leg was at Copacabana Beach" explained Phil.
"I loved it. Then my best mate Ty Dowker, who'd been running the Burleigh Swim Run for seven or eight years, asked me to help out with his Wednesday morning swimming group. That just went from strength to strength and we renamed it the Saltwater Swimmers, which is still going. It's a harder session aimed at triathletes, surf club swimmers and mums and dads who have been swimming their whole lives. We have the likes of Hayley Bateup, Ky Hurst, Anthony Don, Karla Gilbert, Harriet Brown and Georgia Miller jump in as coaches."
Clayton now runs about a dozen swim sessions a week at Tallebudgera Creek, for beginners through to advanced swimmers, as well as specialised swim safety and ocean introduction courses, private lessons and group swimming escapes to major ocean swim events like the Bondi to Bronte and destinations such as the Whitsundays.
"We've just come back from the Bondi to Bronte Ocean Swim where we took 25 swimmers," he said.
"We had five days leading up to the race. We swam from Manly to Shelly Beach with (Coolangatta Gold legend) Guy Leech, did pilates and a swim session in the Bronte ocean pool with "Harries" (Anthony Carroll) from Bondi Lifeguard and a 'float to survive' session with (Bondi Lifeguard boss) 'Hoppo' (Bruce Hopkins). Then we raced on Sunday in the Bondi to Bronte, which had 2500 swimmers. Our group loved it, we had a great time."
Clayton recently partnered with travel company TripADeal to plan a week-long swim escape to the Maldives in October, swimming with whale sharks.
He has also come on board as a swim coach for the British Olympic triathlon team, which won gold in the teams and silver in the men's and women's at last year's Tokyo Olympics after a five-week training camp with Clayton on the Gold Coast.
He helped train the team for this year's world triathlon titles in Montreal, where they won gold in the men's (Alex Yee) and women's (Georgia Taylor-Brown) and qualified four athletes for the 2024 Paris Olympics.
"They're coming back out here in January for another four weeks," he says.
"For the first time ever, they'll be jumping in and doing a couple of surf carnivals. My job is to get them exposed to tough racing so that when they go and do their normal racing, it feels pretty easy. Australian surf lifesavers are very tough swimmers – they're hard arses"
"The Brits love it here. They stay at Burleigh and do all their swimming training at Miami under Raelene Ryan. They'll also jump into a few of my swimming sessions with the general public, so the public will get a chance to rub shoulders with Olympic greats."
Clayton also coaches Gold Coast triathlete Brayden Mercer, son of his late, great mate Dean Mercer, whose death from a heart attack in 2017 at the age of 47 rocked the surf lifesaving community.
"That cut me for a long time," Clayton says quietly.
"We grew up together in Wollongong and were great mates, it was a massive shock."
Since the tragedy, Clayton has joined with Guy Leech to sell defibrillators to the public through a company called Heart180.
"Guy had to do CPR on his best mate (Channel 9 reporter Charles 'Chucky' Stewart, who died on Manly Harbour in 2016)," he said.
"Five years on, the Heart180 defibs are saving on average a life every three weeks. It's not about making money, it's about getting them out in the community and creating awareness."
Participants in Clayton's core program, Swim Essentials (which I took part in for the story) have ranged from kids as young as 10 to people in their 80s, and come from all walks of life.
There's plenty of good-natured banter and laughter as we criss-cross the creek, with enough breaks to catch your breath, get some stroke correction tips, current movement advice or a joke from Phil before moving on to the next drill.
"The thing I love the most, and you saw it today, is the community," he says.
"We've created a little tribe down there at Tallebudgera Creek. It's open to everyone, it doesn't matter who you are. We don't judge you for your size, your age, your ability, Everyone is welcome".
"We swim about 2km every session. We work on their stroke, we cover sighting, kick, breathing and we help swimmers conquer their fear of the ocean.
"Since Covid when the pools were shut, everyone who's tried it is going to struggle to go back to the old chlorine. My one goal is to teach people so they're confident in the ocean and the creeks and can go swimming with the family without any hesitation".
"When we finish our sessions, everyone hangs around and has a coffee. And we just have a great time. We're all friends. Like-minded people having a great time. And the buzz you get lasts for quite a while."
Andrew Stark believes Clayton's success lies not just in his swim school's stunning location but in his ability to connect with people and articulate swimming techniques in a way that's fun and easy to absorb.
"Phil's one of those people who gets a real kick out of seeing other people's enjoyment," he says.
"He gets energy by giving energy. His passion is infectious. It's a special gift."
Clayton says he gets a genuine thrill out of seeing people conquer their fear of swimming in the ocean and grow in confidence with each session. Like the beginners swimming with us today, who have made it across the creek for only their second time. Or the lady who could not swim more than 10 strokes when she first started with Clayton, and recently completed a 2km swim at Hamilton Island without fins.
"When you grow up, you realise it's not about you, it's about others," he says.
"To see someone's face when they're petrified of the ocean – and you give them an explanation of why it's not that scary and then show them how to do it – is such a gratifying feeling.
"It's life-changing."
Quote by Ky Hurst – There's less than a handful of human's I've come across that have skill in the ocean like Phil Clayton. I was 16 when I first witnessed his masterclass at Portsea Victoria in the Uncle Toby's Super Series. Now well over 20 years later we are still playing in the ocean together, however the only time these days you'll see us in the water together is when there's a cyclone or we are coaching. Thanks for being you mate.
Click here for more info: www.phiclaytonandcom