ORM TURNS 10! Ocean Road Magazine – 2010 to 2020
WORDS: Brian Usher PHOTOGRAPHY Brian Usher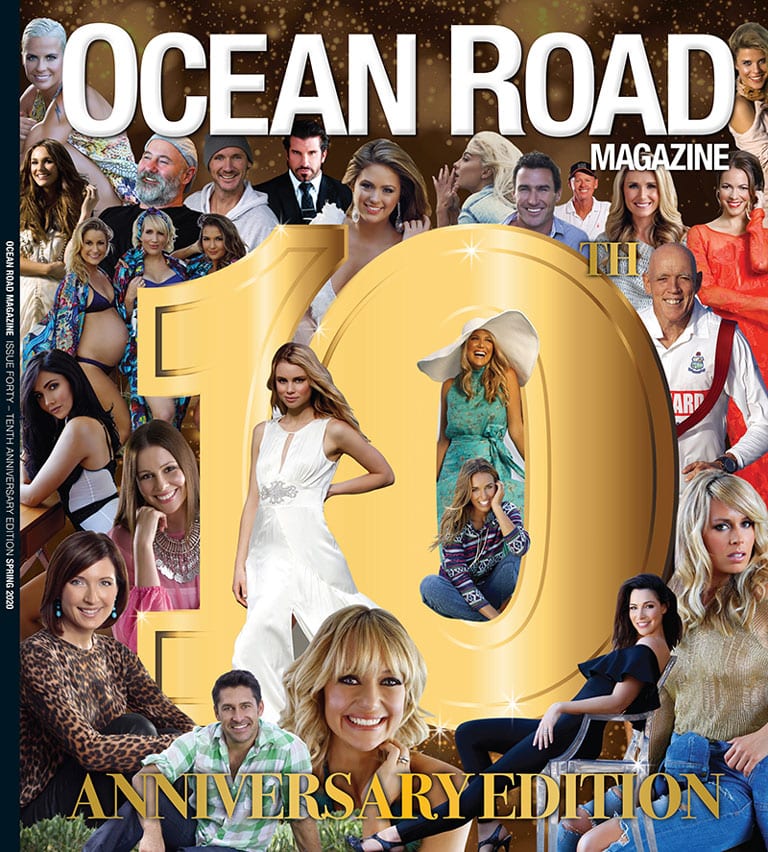 Ten years is a long time in any business, especially on the Gold Coast. And yet, in many ways, it seems like only yesterday that Ocean Road Magazine created its first edition back in the Spring of 2010.
At the time, my wife made a passing comment around my dissatisfaction with local magazines and their failure to grasp the importance of quality photography. "Start your own Magazine" was her comment.
So we did!
In the middle of the GFC, we decided to take on a magazine. I certainly remember a few people question my sanity at the time – but we went for it (giving the credit card the work out of its life). Needless to say, there were some sleepless nights but ten years later and as they say "the rest is history".
The journey has been truly amazing.
The people we have met and the places we have been to would never have happened without Ocean Road Magazine.
We certainly have recorded a broad snapshot of our region that we can all cherish and look forward to the next ten years.
Our business partner Dean McMurtrie has brought a wealth of experience with 25 years at News Limited, and some say, "ink in his veins". The combination of Dean's unique sales experience and customer focus with our passion for photography and storytelling has set a new standard for publishing in the region. The local businesses have identified the value in our approach, embracing long-term results-driven partnerships.
Twice winning Magazine of the Year and numerous Journalism & Photography awards, the past ten years has certainly been a decade to remember!
Moving forward, we realise the importance of embracing the digital age with a new website firmly in our sites alongside our growing social media presence. However, our flagship will always be our print version. People still love nothing more than kicking back and reading a quality magazine one page at a time.
Eyeballs on our pages means results for our partners and advertisers.
Magazines are still amongst the most trusted sources of news and information, considered far more reliable than anything the Internet has to offer.
There is no "Fake News" in Ocean Road Magazine!
A special thanks to our team of journalists and designers for their exceptional dedication to a product that is widely considered the best in the region. And to our advertisers and readers, we can't thank you enough for your support over the years. We are looking forward to another fantastic ten years, and we hope you are along for the ride.
Please enjoy some of our memorable moments and Birthday wishes!
Regards
Brian, Dean and Melissa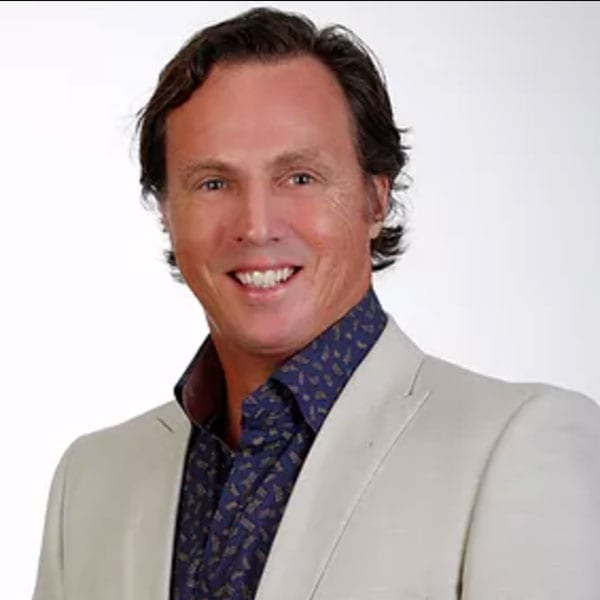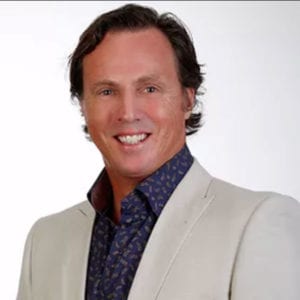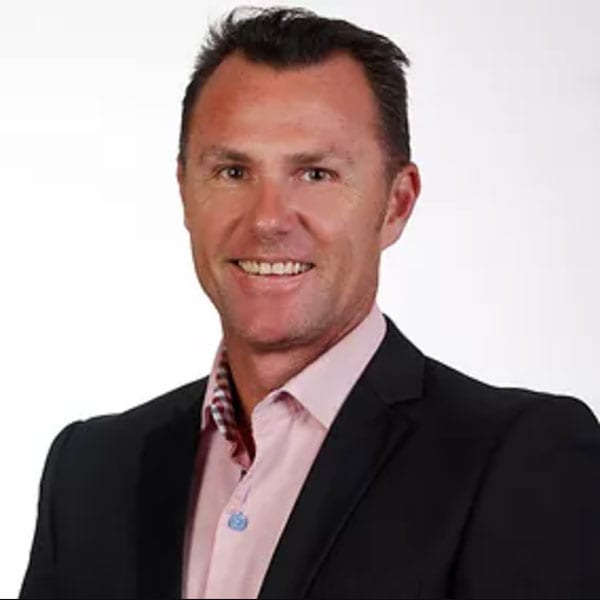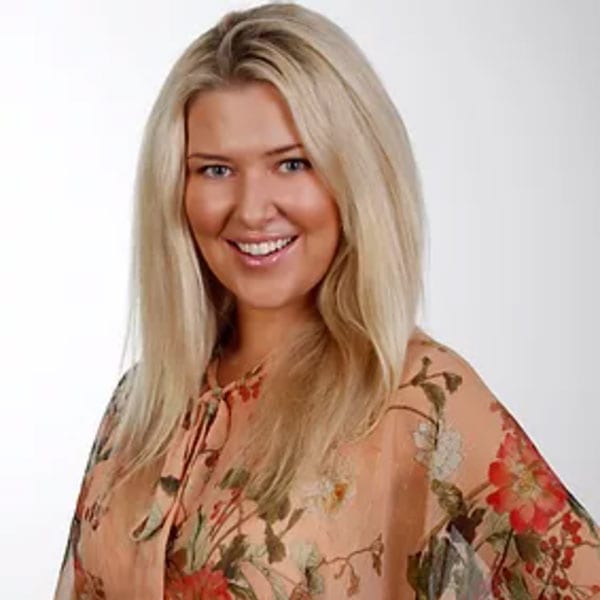 [elementor-template id="10261″]
101 Memorable Moments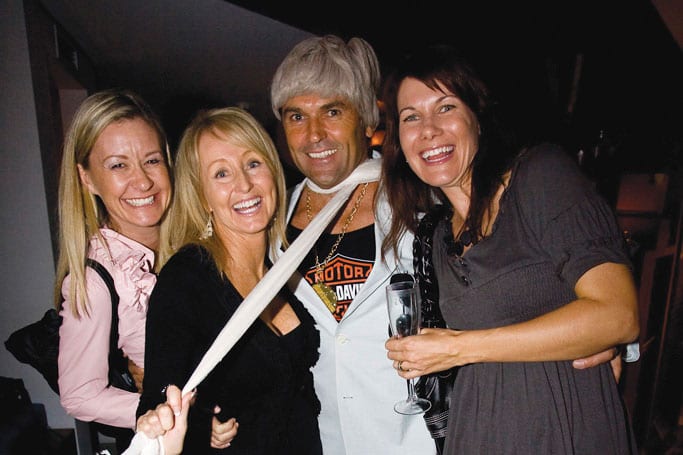 Launch Party
Our launch party was at the very new Komune Resort in Coolangatta. Owner Tony Cannon brought out his alter Ego "K Daddy" and cranked up the tunes on the turntables. We launched the new Magazine with a crazy portfolio of images showcasing the media of the Gold Coast, including ourselves.
Memorable – K Daddy. He walked out of the lift and made a B line straight for the decks. I had to look twice. A side to Tony I will certainly never forget.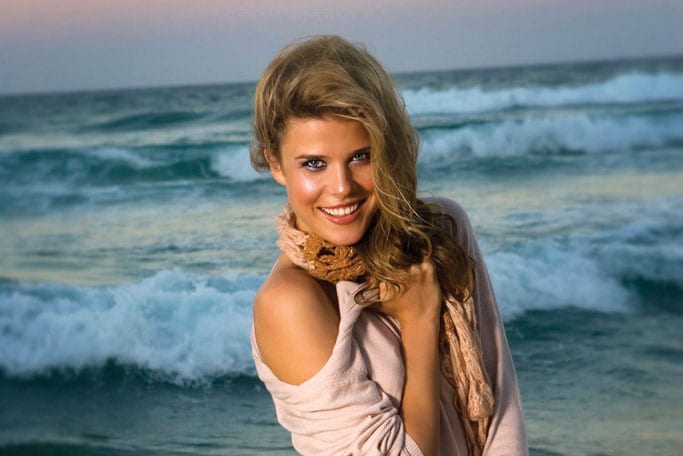 First Covergirl – Edition 1
Our very first Cover was local girl Jessica Lawson…
Where is she now ten years later? In her own words, "The last ten years have been an incredible and adventurous journey, I danced in the Moulin Rouge, then modelled and lived in Paris, Milan and Germany where I worked for wonderful clients and met some incredible people. My career then took me to LA, where I worked as a model and ultimately transitioned into my career as a filmmaker. I studied journalism online at Griffith University & travelled and worked as a documentary filmmaker. I feel that this growth has ultimately lead me to this point, where I can now apply all of the tools and knowledge to grow my full-service production agency. This is something that I am excited & passionate about." Jessica is now back on the Gold Coast for a catch up with family and friends. We wish her all the best in her new career.
Memorable – the day of the cover shoot was as good as it gets on the beach at Cabarita. Jessica was a joy to work with, and when we wrapped it up, I knew we had created some amazing images for the first edition.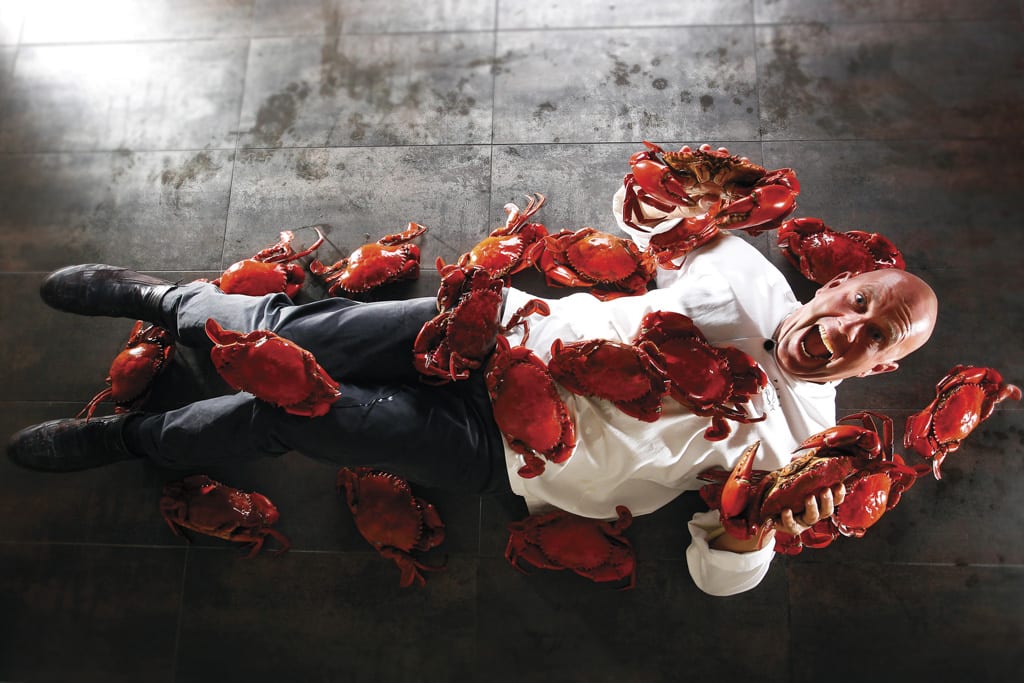 Celebrity Chef Steven Snow
One of the first guys to jump on board was Steven Snow, celebrity Chef from Fins Restaurant at Salt Village. Now here's a guy that didn't mind having his photo taken! Over the years, we have to say that some of the most memorable images we have created were with Snowy. (Nude covered in nuts, chocolate over his head, covered in crabs there is nothing he would not do!).  
Memorable – The shot of Snowy with the Red Crabs all over him. This image won ORM a Photographic award at the Media Club. Snowy did not like some of my ideas for a tag line to go with this image. I'll leave it to your imagination. Chocolate being poured all over his head was also a classic moment.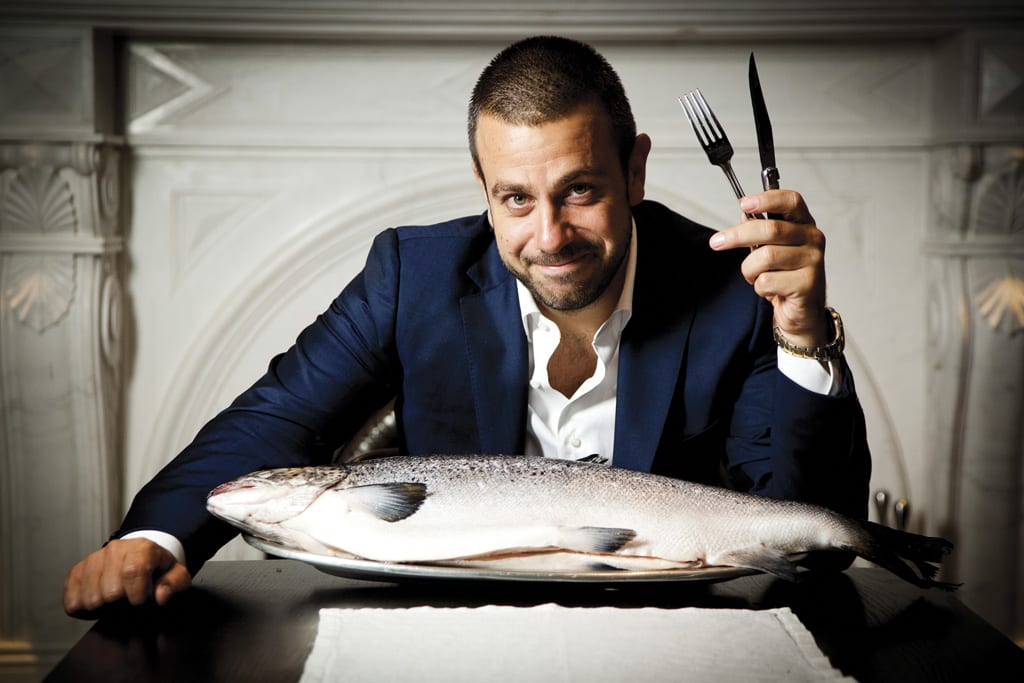 Hellenika – Simon Gloftis
No stranger to the media Simon has made a name for himself as one of the Gold Coast's foremost restaurateurs with iconic names like Hellenika, The Fish House and Level 19 at The Star all part of his long list of successful restaurants. We have enjoyed a great partnership with Simon over the years and have recorded some memorable interviews with numerous iconic Gold Coasters. Hellenika has moved up the Hwy to Brisbane in recent times but if I was a betting man I am sure he will be back on GC in the not too distant future.
Memorable – Every person Simon selected for the one on one talkfest was wonderful and made for engaging content for Ocean Road Magazine. The fact that it all took place with beautiful surroundings, gourmet food and matching wine was the icing on the cake!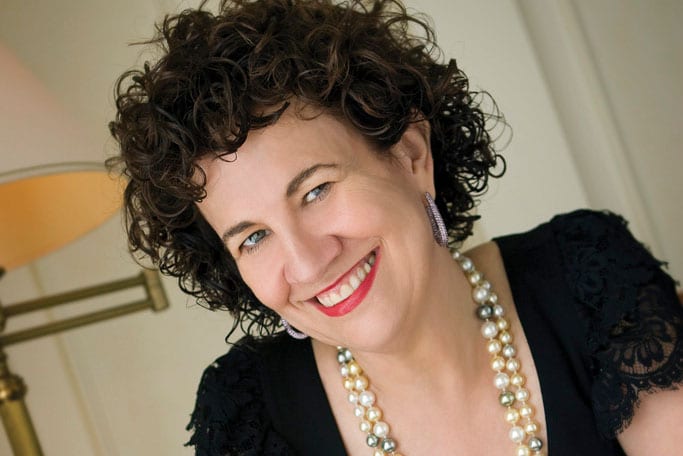 Our very first advertiser – Ann Middleton
Our first ever advertiser was the beautiful Ann Middleton. Jeweller to the stars and one hell of a table tennis player Ann has left this mortal world, but she will never be forgotten. A wonderful and talented woman. We can't ever repay her for her leap of faith some ten years ago.
Memorable –  The passing of Ann was undoubtedly tragic, but I would instead focus on the good times and wonderful memories of this talented and gifted woman. I remember challenging her to a game of Table Tennis, and she required the winner takes all prize to be a bottle of Bollinger Champagne. She did love her champagne.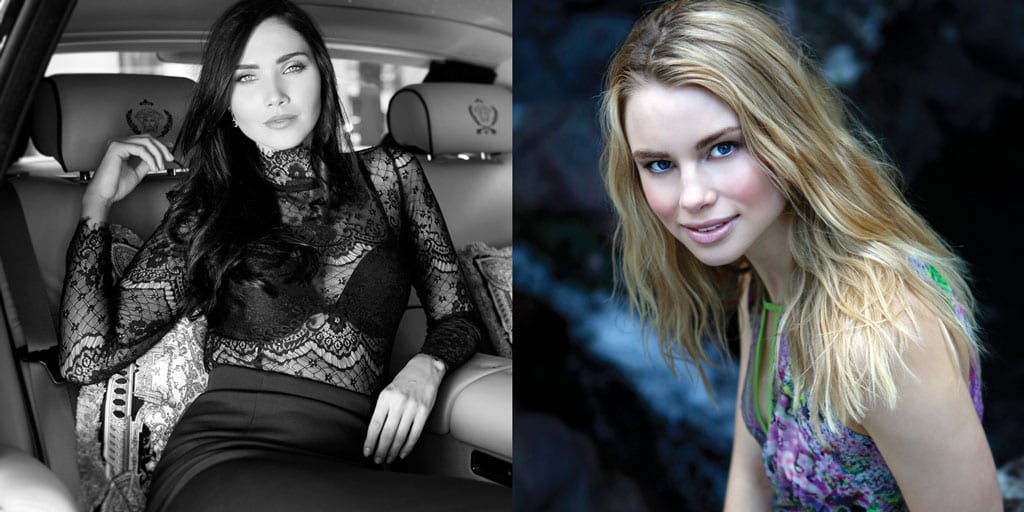 Rising Stars
At the time of their Cover shoots aspiring actresses Jessica Green and Lucy Fry both had big dreams. Both girls had done the hard yards and showed great promise. Lucy had just finished shooting her first starring role in Vampire Academy: Blood Sisters and Jessica's new movie Red Billabong was also about to release. The rest is history. Jessica finally got her big break in 2018 landing the role of Cleopatra in the Netflix Roman Empire Tv series season 2.
Lucy is also hitting it big in Hollywood with numerous TV series and major films such as 2019 She's Missing and being released in 2020 – Cleveland, Night Teeth and Last Looks. Home Grown Megastars!
Memorable  – The shoot locations could not have been more different for these two. Jessica was at the Versace Hotel, and Lucy was up the Tallebudgera Valley on an old dairy farm, but they were both a perfect fit. You could not take a bad photo of either of them, so my job was easy.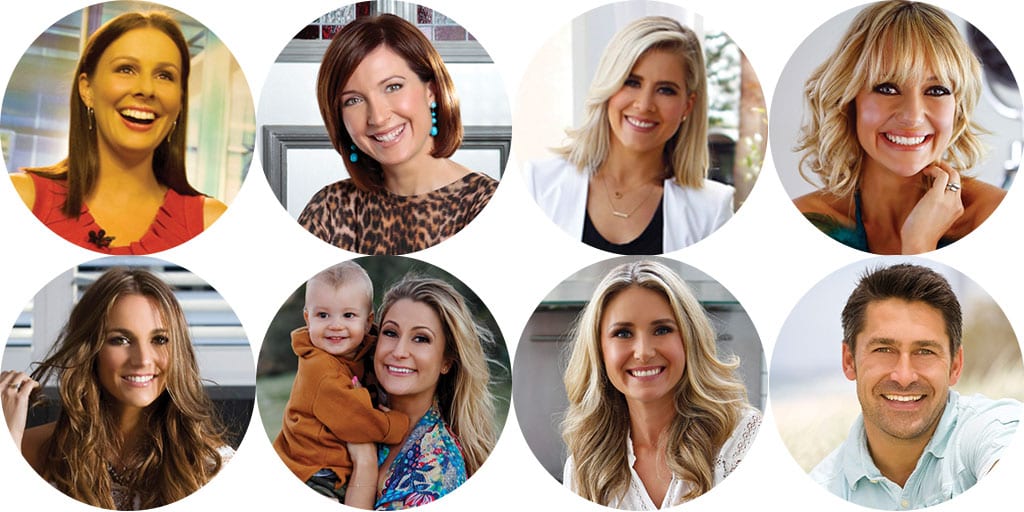 TV Personalities
We have been blessed with numerous TV personalities who have kindly given up their time and appeared on the Cover of Ocean Road Magazine. From Eva Milic (our very own Gold Coast News Presenter) to Melissa Downs, Libby Stone, Carlene Duffy, Melanie Symons, Shelley Craft, Natalie Gruzlewski, Liz Cantor, Magdalena Rose, Jesinta Campbell & Jamie Durie. The list is endless. In many cases, they opened their homes and their hearts to us, and for that, we will be eternally grateful.
A special note of thanks to Natalie, Shelley and Carlene for their ongoing contribution. Shelley looked after our Byron Bay content over the years, Natalie focused on travel and Carlene shared her expertise on Interior Design.
Memorable – Melissa Downs gave myself and Melissa a home-cooked meal after the Cover shoot, this was far more than we ever expected and it was delicious. Her husband D-J spent the whole day ducking and weaving to avoid the camera. I think we managed to get him in one shot much to his disappointment!
Jamie Durie gave us five minutes on the beach for the Cover shoot. And when I say 5 minutes I mean 5 minutes. He also instructed the girls on the reflector placement, which at the time was very funny. I'm sure he had plenty of practice back in his Man Power days!
Radio Personalities
We have had a great relationship with local radio stations over the years with Bridget & Spida from Gold FM (now Triple M) and more recently with Hot Tomato and their morning crew at the time Sean "Flan" Flanagan and Emily Jade O'Keeffe. Flan has become a great advocate for ORM and a regular contributor. We thank Emily for opening her home for her very pregnant cover shoot with Liz Cantor and Revie Schultz. One of our most memorable covers!
Memorable – As almost part of the Ocean Road team Sean "Flan" Flanagan has done so many stories with ORM over the past ten years I'm not sure which moment is the stand out as there have been so many. If I had to choose it would be the weekend at Mavis's Kitchen, or the staycation at Royal Pines or the Byron Bay weekend staying at The Marvel. All great fun and an entertaining read.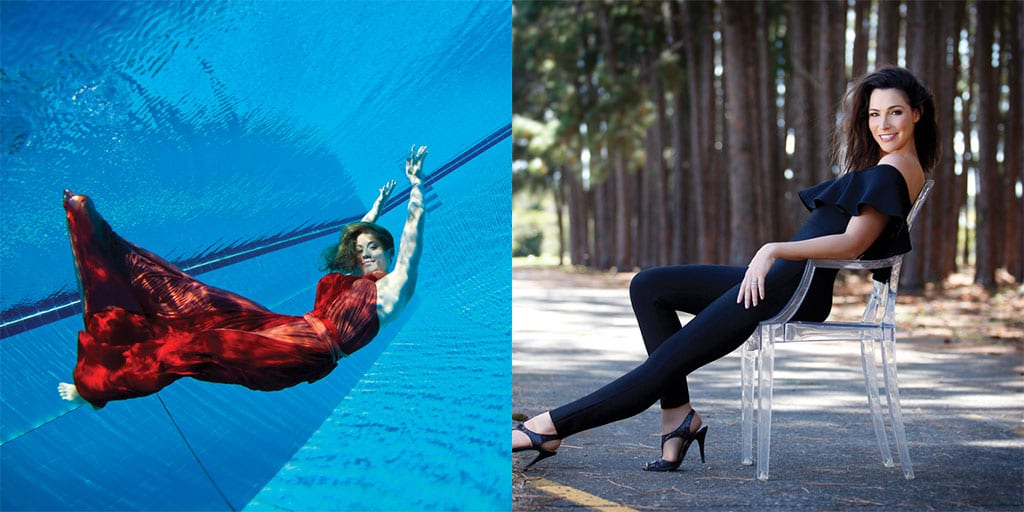 Olympians
The Gold Coast is certainly full of talented athletes, and we have had the pleasure of Giaan Rooney and Brittany Broben gracing the Cover of Ocean Road Magazine. Giaan winning more Commonwealth & Olympic medals than you could poke a stick at and Brittany the winner of a remarkable Silver medal for the Women's 10-meter diving event at the 2012 London Olympics at the tender age of 16.
Memorable – The Pine Tree Forest at Pizzey Park provided a location for Giaan which captured her grace and beauty. The images of Brittany diving and swimming underwater in a flowing red Lisa Brown dress was so memorable as an image-maker.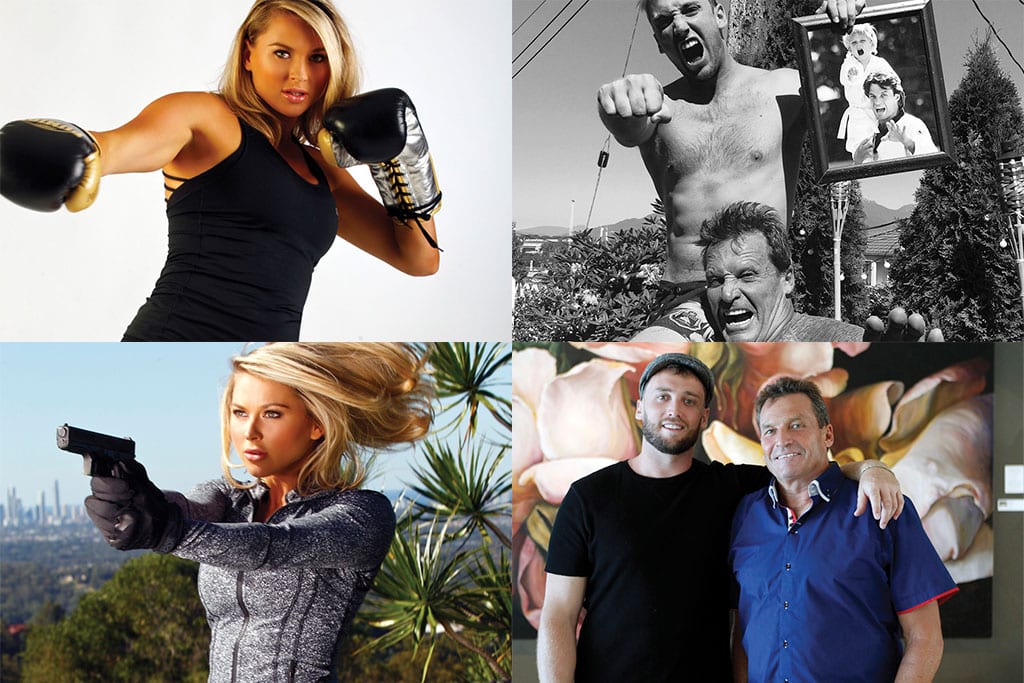 Stuntmen and Stuntwomen on the Cover
Hollywood on the Gold Coast. A little cliched but we certainly have a thriving stunt industry right here on the Gold Coast. Both our Stuntman Ryan Handley and Stuntwoman Ilana Collins honed their skills at the local Stuntpark run by Ryan's father, Colin Handley. A genuinely inspirational family not forgetting Ryan's sister Cheya who has also enjoyed a career in the stunt business.
Memorable – For both Ryan and Ilana, we set up a studio at home. Lights, camera, action. Leaping, jumping, rolling. You name it, and we did it.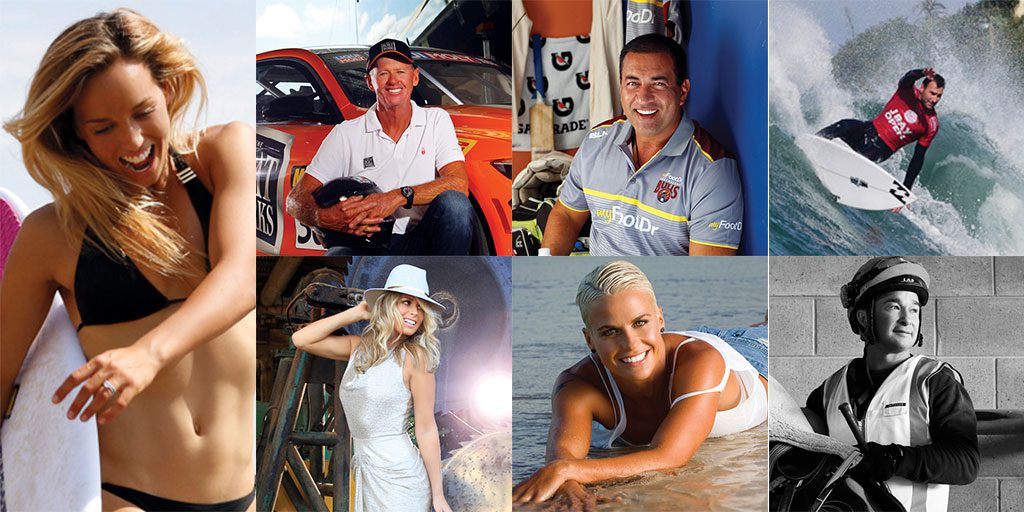 Elite Athletes
Sally Fitzgibbons, Parko, Courtney Hancock, Tony Longhurst, Jason Taylor and Adam Hollioake to name a few of the elite athletes that have graced the Cover of ORM. It is always remarkable the depth of talent here on the Gold Coast. Each with their own remarkable story of success in their chosen sporting arena. 
Memorable – Tony Longhurst is one busy guy, and we had limited time to shoot, Parko – Great bloke and lovely family, Adam Hollioake – enjoyed giving me a hard time. I'm sure he was just practising his cricket sledging.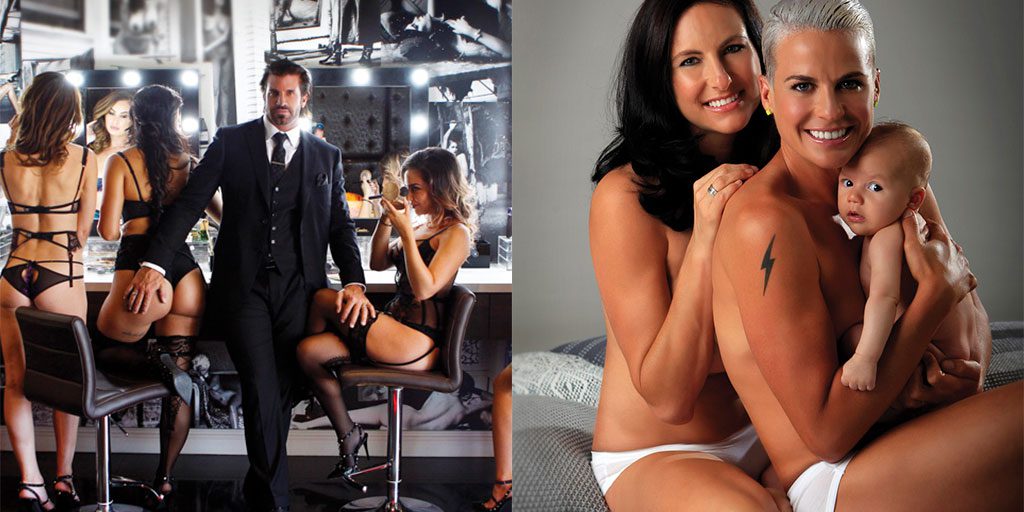 Controversial Covers
It's sometimes a fine line that you walk trying to avoid blending in with the crowd or selecting people and subjects that will undoubtedly evoke a response, be it positive or negative. Two such covers that certainly got our readers talking was the infamous Candyman (Autumn 2017) and Ironwoman Hayley Bateup and her partner April & son Baxter (Spring 2015). Be it their cleverly crafted public profile or their statement surrounding bringing a child up within a gay relationship; we decided that both had stories that deserved to be told.
Memorable – Travers Beynon (aka The Candyman) put the party on hold when ORM arrived. We had the run of the Candyman Mansion for the shoot and interviews. Travers was very different to what I expected, a very intelligent guy. Love him or hate him, you certainly won't miss him.
Hero's & Icons
The Gold Coast has plenty of them but few as Iconic as our very own Chief Lifeguard Warren Young. A regular on the Channel 9 News Warren has been in charge of the Councils Lifeguard services for as long as I can remember (45 years to be precise). Geoff Wilson is another Gold Coaster on a mission. Records continue to be broken as Geoff challenges himself with Arctic crossings pushing the limits of human endurance. The true-life story of war hero Matina Jewell is also up there in the Hero status not to mention homegrown legend, Trevor Hendy. The list goes on.
Memorable – It's not easy to run through the surf with a life-saving device and smile at the camera, but Warren managed it. I asked him to run up and down the beach so many times I was expecting that he would need a break. At 70 years young Warren didn't miss a beat, and we got the shot. Just another day on patrol!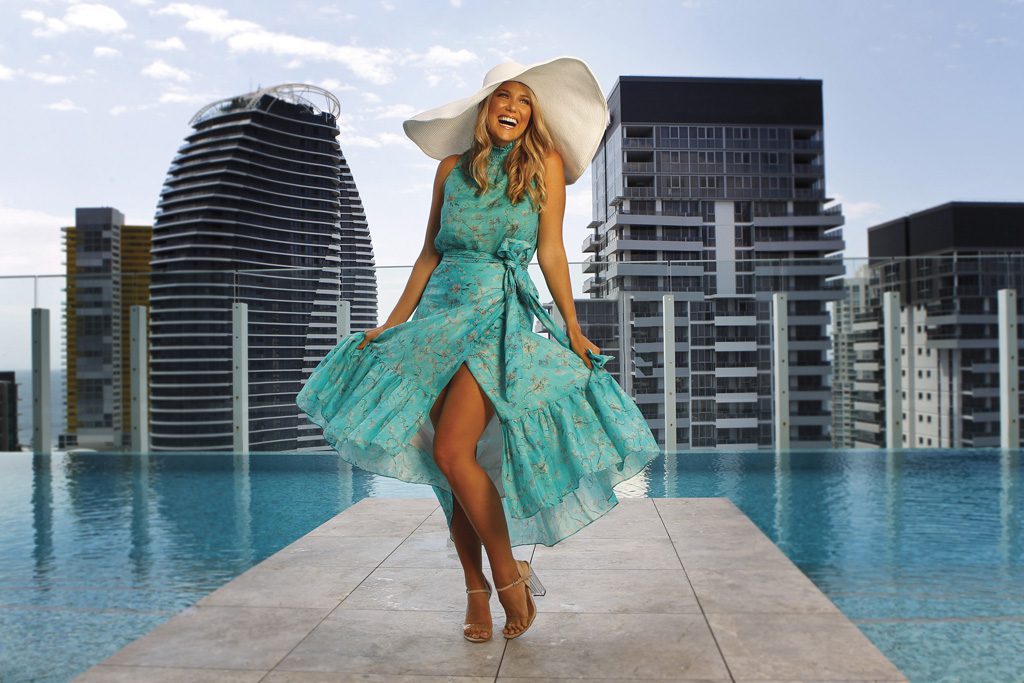 Emmy Award Winner
If you haven't heard the name, Amber Wyatt its probably because she spends most of her time travelling the globe making her Emmy Award-winning show "Private Island" for cable TV in the US. Yes, that's right, local girl Amber Wyatt and her husband and stuntman Karl are simply never here these days. Not sure why this wasn't big news here on the GC, but now Amber and the team have managed to win another Emmy in this year's awards.
Memorable – At the time Amber was waitressing at Shuck in Main Beach. The owner Scotty asked if I could do a few photos of Amber for a modelling competition. We were happy to help out, and Amber join us in Cabarita for the photoshoot. You've come a long way Amber!
Some Birthday Wishes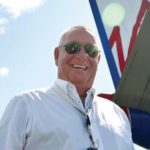 Paul Donovan, Chairman Destination Gold Coast
"Ocean Road Magazine is an iconic magazine that resonates with not only our local Gold Coasters but its wider audience. I personally find the articles published to be very interesting and of high quality, informative and excellently crafted. Dean, Brian and all their staff at the Magazine are always prepared to publish articles that are of interest to our local community and visiting tourists."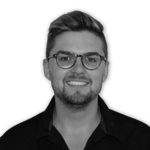 Oliver Bennett, Head of Marketing at JSW Powersports
"Since our first edition with Ocean Road Magazine, both myself and the team at JSW Powersports have been thrilled with the publication and overall results. Being the world's largest Sea-Doo dealership, it requires us to set the standard within the personal watercraft industry. Ocean Road assists us greatly to achieve this by delivering our key messaging while, of course, driving lead generation. Whether it be Sea Fox and Malibu boat reviews or attending our brand-specific events for there social pages, Ocean Road sure knows how to write and publish an attractive and successful article. I look forward to continuing the strong business relationship with Dean and the team at Ocean Road Magazine.
Here's to another ten years!"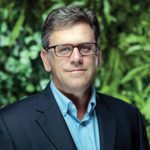 Jonathan Fisher, CEO Binna Burra Lodge
'From world-class surfing to world heritage rainforests, Brian and Dean cover it all! I remember our very first meeting, when I met a young and enthusiastic, (and clearly very cool Brian) at a Tugun Surf Club function early in my role with National Trust Currumbin Wildlife Sanctuary as he talked up the first edition which Currumbin supported and every edition since to my new role as CEO of Binna Burra Lodge.
Ocean Road established itself as a true champion of Gold Coast lifestyle, events and causes. I am particularly grateful for Ocean Road's commitment to the environment…their support by promoting the National Trust's Currumbin Wildlife Hospital treating over 12,000 native wildlife cases in the last year including drought and Binna Burra bushfire victims.
As Binna Burra Lodge looks forward a year on from the devastating Sept 2019 Bushfires to re-opening the five-star SkyLodges and family campgrounds and the access to the stunning Lamington National Park in early September 2020. I look forward to working for another ten years with the still cool Brian, the uber beautiful and talented Melissa (punching above your weight Brian) and 'Mr Smooth' Dean …helping to promote Binna Burra rising from the ashes. We have some exciting plans, an Australia first 'Via Ferrata' cliff face experience and world-class, authentic experiences to share…above all; the spirit of Binna Burra.
Congratulations Ocean Road on a fabulous ten years…it's a must keep Magazine and love you guys …here's to another 10!"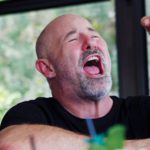 Sean "Flan" Flanagan, The King of Gold Coast Radio
"A huge congratulations to Ocean Road on ten years – 10 years in publishing is like 700 dog years – I've written for the mag for a fair while now, and I'm always amazed how many people say to me "I read your article in Ocean Road." It's a quality mag, highlighting great local experiences and something the Gold Coast can be very proud of."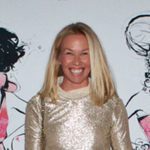 Lisa Brown, Gold Coast Fashion Designer
"Congratulations Ocean Road for reaching your 10-year Anniversary! We have been delighted to work alongside your wonderful team, gaining valuable exposure along the eastern coastline where we call home. How delightful it is to hear from new customers who discover us through Ocean Road! From one homegrown brand to another, we appreciate your dedicated support over the past decade and wait eagerly to see what the next ten have in store for us all."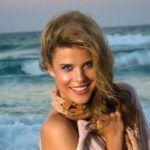 Jessica Lawson, ORM's first Covergirl
"The last ten years have been an incredible and adventurous journey, I danced in the Moulin Rouge, then modelled and lived in Paris, Milan and Germany where I worked for wonderful clients and met some incredible people. My career then took me to LA, where I worked as a model and ultimately transitioned into my career as a filmmaker. I studied journalism online at Griffith University & travelled and worked as a documentary filmmaker.
I feel that this growth has ultimately lead me to this point, where I can now apply all of the tools and knowledge to grow my full-service production agency. This is something that I am excited & passionate about."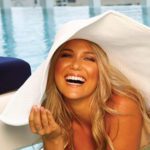 Amber Wyatt, Emmy Award Winner
"It's so exciting that Ocean Road Magazine is celebrating its 10-year Anniversary. That's about the time I did my first photoshoot with Brian and Melissa. Then more recently I was the front Cover of the Summer Edition for 2020. From then to now, they're just such great people to work with and make everything so easy and fun. I love the photo they used on the front Cover; I'm sort of dancing with a big smile on my face. They also included more 'serious' photos of me in front of camera working with my 4-month old son. They so perfectly captured my different roles and sides of me."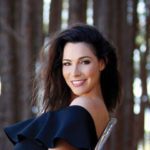 Giaan Rooney, Olympian
"Congratulations on ten years, a wonderful milestone for Ocean Road Mag! I had such a wonderful time working with the team from Ocean Road Magazine, and when you have so much fun, it results in beautiful photos! I am so grateful to live on the Gold Coast, and no one represents the true beauty of this place and its people like ORM."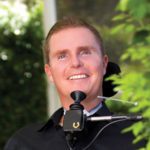 Perry Cross, Perry Cross Spinal Research Foundation
"Congratulations to Brian, Dean and the team at ORM on your birthday. Your commitment to get behind local Gold Coast organisations such as ours has helped us grow from strength to strength over the years. Thank you from the Perry Cross Spinal Research Foundation, happy 10th birthday and enjoy the celebrations!"
Simon Grigalius, My Little Kitchen
"I've been privileged to be part of the Ocean Road team and think the magazine has played an important role in highlighting the style that uniquely represents the Gold Coast region to tourists and locals alike."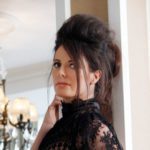 Dinka Dzubur, Actress
"Working with the Ocean Road close-knit team & family was a surge of passionate energy, starting with the warm interviewing approach to the styling and artistic collaboration and details – I knew from the first moment I met with the team that I was working with an extraordinary group of talented and supportive collaborators I could ever hope for—the outcome of our cover & feature story was precious, admirable and remarkable for its honesty and modernity. I'm honoured to take part in the celebration of Ocean Road's tenth Anniversary – Happy Birthday Team! "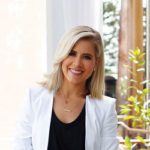 Carlene Duffy, Designer, Interior Stylist, TV Host
"Happy ten years servicing the glorious Gold Coast, Ocean Road. It's been a treat to be apart of the ride."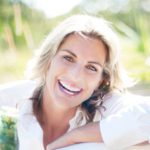 Sam Beau Patrick, The Health Queen
"Happy Anniversary Ocean Road! I was super excited to hear that Brian and Melissa started a high-quality Gold Coast based magazine. I look forward to reading each addition as there is an excellent variety of interesting stories about local personalities as well as places to visit and businesses to support.
My gratitude extends to having a few articles published. My favourites have been Lombok after the earthquake story and also the photo of my son and myself discussing the importance of Vitamin D. I look forward to continuing to contribute to this wonderful publication with my travel articles and art.
Well done Brian, Melissa and team. A fantastic achievement and a fabulous Gold Coast initiative.
Sam Beau Patrick (artist, naturopath)"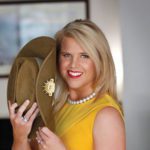 Matina Jewell, Leadership Strategist, Keynote Speaker
"As Australians, we are all so very fortunate in that we get to choose the lens through which we see the world each day. What lens did you choose today, and what perspective might you take for tomorrow and the future?" "Great to hear from you and CONGRATULATIONS on ten years!"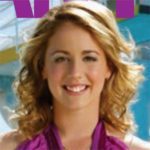 Brittany Broben, Olympic Silver Medalist
"As a 16-year-old, having the chance to be featured in a magazine was pretty amazing, let alone being on the Front Cover. The experience was one I'll never forget. The year of 2012 was filled with so many amazing opportunities for me after winning silver at the Olympics and looking back now; I'm so grateful. Ocean road was an amazing opportunity for me, and I absolutely loved the finished product and all the pictures. My favourite memory was diving off the board in a ball gown, something you don't often get to do. I'll cherish my ocean road magazine cover forever."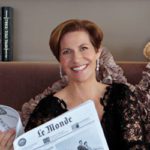 Amery Burleigh, General Manager Movenpick Hotel, Dubai
"ORM was quite simply a part of my GC family. It shaped my lifestyle, introduced me to people and places I would have never met otherwise, I gained wonderful partners and friends, and in a nutshell, ORM mirrored the life I loved living on the GC. When you marry high-quality production with uber-cool lifestyle features, you get the best in aspirational reading. Thank you, ORM, for letting me a part of your fabulous world over the past ten years!"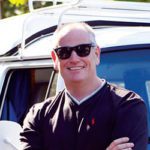 Dean Gould, CMO Southern Cross University
"Being part of Ocean Road Magazine is like being part of a family. It feels important. There are so few avenues to tell real stories these days that the long-form words and brilliant photography that ORM sets as a standard really makes it special."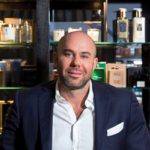 Nick Smart, Director Libertine Parfumerie
"Congratulations Ocean Road Magazine! 10 is a big number in the world of publishing. We're thrilled to have been part of your journey over the years and look forward to what the future holds."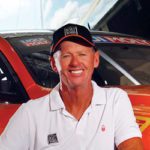 Tony Longhurst, Owner The Boat Works
'Congratulations on reaching a milestone 10yrs, We celebrate with you as the boatyard reaches its 40th year for 2020 plus we embark on a super new era with the opening of the new Superyacht Yard. Well done to Brian, Dean and the extended team. Love your work!'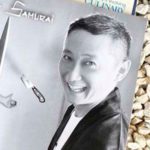 Masaaki Saito, Saito Knives
"Dear Brian, Dean, Melissa and the ORM team, Happy 10th Anniversary!! We are thrilled to celebrate your auspicious tenth Anniversary and are so honoured to have our handcrafted knives featured in the past! Ocean Road Magazine is something that we can't miss in our lives, and we look forward to celebrating again ten years later for your 20th Anniversary too! Thank you again and all the best!"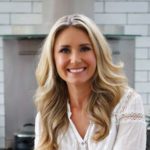 Magdalena Roze, TV personality
"Congratulations Ocean Road on a decade of supporting and championing voices in the local community. It was an absolute honour to be featured on the Cover! I still see that issue pop up in cafes! For the Magazine to have not only survived the last ten years but flourished in what have arguably been some of the most challenging times in the media and business at large, is a testament to the quality of the Magazine and the tenacity of the team. Cheers to another 10!"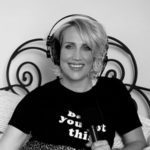 Emily Jade O'Keeffe, Hot Tomato Morning Crew
"I've been apart of many magazine covers and stories in my years in the media industry. But no Cover was more meaningful and beautiful than the experience of three locally known ladies and friends heavily pregnant and celebrating the miracle of creating life.
It was a world first, three pregnant women in bikinis on a cover, and with the magic of the Gold Coast beaches as the backdrop, the images were nothing short of breathtaking.
The heart of the story, however, was even more powerful, and that was acknowledging that every women's journey to motherhood is different. Some easy, some difficult, some incident-free and some perilous, but at the end of the day women supporting and uplifting women in this life-changing and challenging time is something to truly celebrate as much as the end result of holding a precious baby in your arms.
For me personally after such a heartbreaking journey to conception, and then a traumatic pregnancy nearly losing my baby and ten weeks of bed rest after surgery to save his life, being able to be apart of the shoot in the last two weeks of my pregnancy with friends who had sent me food and love and kept me company in the times when I was feeling overwhelmed and scared these joyful images will forever remind me never to give up and how phenomenal a women's body and mind is."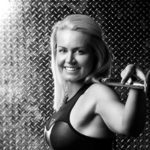 Karla Gilbert, Ironwoman, Nutrition and Health Coach
"Congrats on ten years of thought-provoking articles that push the limits with an element of surprise. Happy Birthday, Ocean Road!"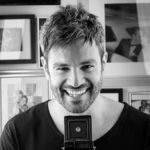 Georges Antoni, Photographer
"What a wonderful asset Ocean Road is to the great GC. I've had such a wonderful relationship with the Magazine as a contributor, as a reader and my family and I have even been featured in the pages. So it's an important part of the foundations of my career. I think my best memory was having to be photographed (which I usually dislike immensely – I know that's weird for a photographer) by my mate Brian in my mum and dads family home with my now wife – we shot for 20 minutes, we ate my mum's food for an hour, and we spoke for 2 hours – now that's my kinda shoot!"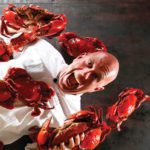 Steven Snow, Owner/Chef Fins Restaurant, Celebrity Chef
"Firstly huge congratulations on your ten year anniversary from the guy that when first asked to contribute to Ocean Road magazine said yes while thinking "wow, looks like a nice guy, I feel sorry for him". I'm so happy to be proven wrong!
Not only that, what a ride we have had.
This is probably the only Magazine that would photograph me in my birthday suit in a crate of macadamia nuts and then feature the picture. It continued from there to "chocolate head" and "covered in crabs". Unsure where we head from here but certainly looking forward to the journey. Hurray for Ocean Road and the Usher's."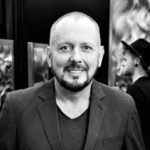 Oscar Cullinan, Owner Oscar Oscar Salons
"The Gold Coast is a place of paradise; it's where my brand is based, and it's of course where Ocean Road Magazine hails from. To be involved with a publication that speaks for the talent and diversity on this coastline and allows us to tell our story is an honour. Here's to 10 more!"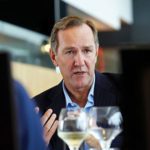 John Morris, General Manager RACV Royal Pines Resort
"In a landscape littered with failed publications, a decade on, Ocean Road stands tall, and that's a great testament to the vision, hard work, networking skills and flexibility that have positioned it as an integral part of the Gold Coast. The focus on local content and characters has been a great strategy, keeping Ocean Road relevant and top of mind – the fact that Dean and Brian are somewhat social, doesn't hurt either!"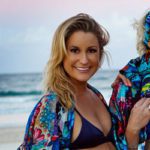 Liz Cantor, Channel 7
"Getting into a bikini for a cover shoot is intimidating at the best of times, but heavily pregnant, I found my thoughts didn't revolve around my body or any imperfections, my focus was very much on the incredible experience of growing another human and the privilege to be able to share that. Ocean Road gave me the opportunity to create a memory, a still image standing alongside two women I respect and admire sharing a similar point in their lives."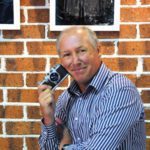 Tony Scott, CEO Quadrant Creative
Firstly congratulations to the Ocean Road team, ten years in publishing is a very long time and not too many make it, in fact not many make it past a couple of issues. My association with the Magazine goes back to close to inception. You've documented the ever-changing Gold Coast and Northern NSW coastal towns, through insightful articles and showcased the many interesting people of those places. Not just a magazine, this is a keepsake magazine, of quality photography and well-written articles.
I did like the interview over lunch style of article, giving an in-depth insight into the person. The advertising content never seemed out of place, but more so seemed to form a part of the content by design and quality advertisers. We always got good recall and feedback from the many advertisements we ran in the Magazine. Your team always offered my customers added value, by way of articles and coverage of events.
On a personal note: I thank you for your support of my chosen charity MOB, you provided space and a journalist to write our story and covered every event that we ran over the seven years that I was a Director. I look forward to the next ten years – and again thank you and well done, you're a vital part of our Gold Coast!"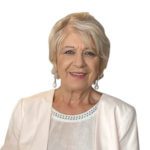 Lucy Cole, Managing Director, Lucy Cole Prestige Properties
Dear Dean, Brian and Melissa, Congratulations on your ten-year anniversary milestone. How quickly time has passed. You commenced the Magazine during the GFC, a difficult time, but your dedication, hours of hard work and enthusiasm has seen "Ocean Road" succeed where others have not. Keep up the excellent work! The lifestyle articles and significant achievements of people of the Gold Coast make it for wonderful reading, not to mention your social pages a must to peruse at who is out and about. Wishing you all the very best for the next ten years.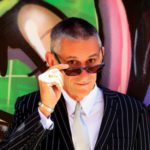 Chris Nyst, Criminal Lawyer, Novelist and Movie Maker
Happy 10th birthday, Ocean Road! Congratulations on your classy contribution to the Gold Coast throughout the past decade. I love the way you've showcased our unique culture and beach lifestyle, and our local personalities and businesses. I'm delighted to be able to contribute to this 10th birthday edition, and I wish you many, many happy returns.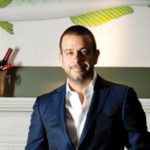 Simon Gloftis, Restauranter
I first partnered with Ocean Road back in the Winter 0f 2013. I have enjoyed a close working relationship with both Brian & Dean now over seven years and 28 editions of Ocean Road Magazine. I firmly believe it is the most read Magazine on the Gold Coast. I have always received remarkable feedback, and the editorial approach has placed my restaurant brands front of mind for all the Ocean Road readers. I look forward to enjoying the next ten years of an iconic Gold Coast publication. Best Regards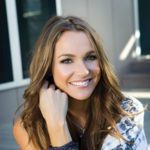 Natalie Gruzlewski, TV Presenter
Congratulations to the Ocean Road Magazine team in reaching your 10th birthday !!! I have wonderful memories of being on the Cover back in the Winter of 2011. We all had a fantastic day, and it was so special to be part of the Cover shoot and final story. Great to be involved in a local magazine focused on local content and local issues. Best Wishes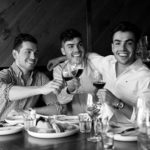 Paul, Alec & James Carney, Gemelli Italian, Broadbeach
Since opening on the Gold Coast, our goal has always been to serve locals the best Italian food possible, and we have used Ocean Road Magazine to tell this story since the day we opened to entice locals into our restaurant.
You can't beat fresh Italian Gemelli Food, and you can't beat Ocean Road Magazine. We have been a successful team and will continue to be. Happy birthday gents from the Carny Brothers.