On the road with The Feel Good Family – Top 5 destinations and experiences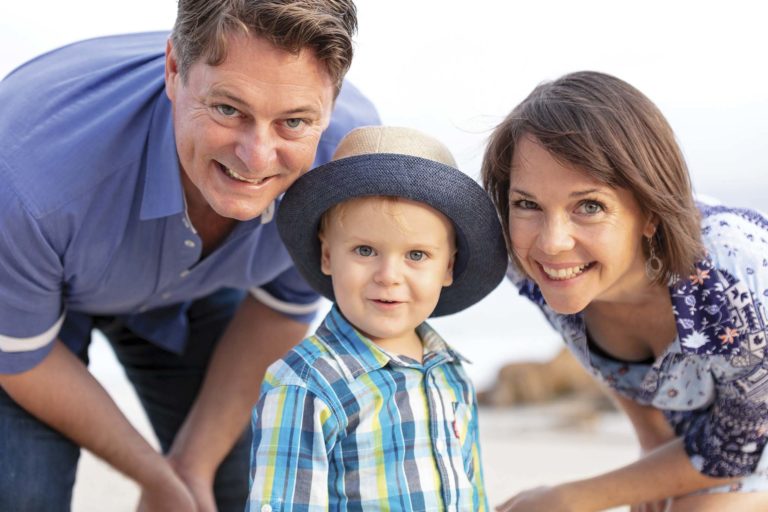 WORDS: PHOTOGRAPHY
The Feel Good Family — Paul, Katie, and their three-year-old son Jasper — are a full-time caravanning family from the Gold Coast, Queensland. Their weekly Family Travel Australia series on YouTube features Australia's best destinations, family-friendly experiences, and travel inspiration to get you out there and living your best life.
Six months on the road and we are well and truly settled into the routines and lifestyle that comes with living in a 17m2 home on wheels, in a new location each week. It's fair to say that coming from the southern end of the Gold Coast, where you are spoilt with a plethora of natural beauty and fantastic family experiences, the bar has been set high as a point of comparison when visiting new destinations and seeking out family-friendly experiences.
To date we have travelled more than 15,000km through Queensland, New South Wales, and Victoria, and have had the privilege of witnessing nature at its finest and participating in many incredible experiences.
Needless to say, there was some very healthy discussion when agreeing on this list, as we'd already created a highlights reel from our first three months travelling Queensland that included more than 30 experiences and destinations.
Nonetheless, we managed to narrow it down to our Top 5 that ticked off being both a destination and family-friendly experience.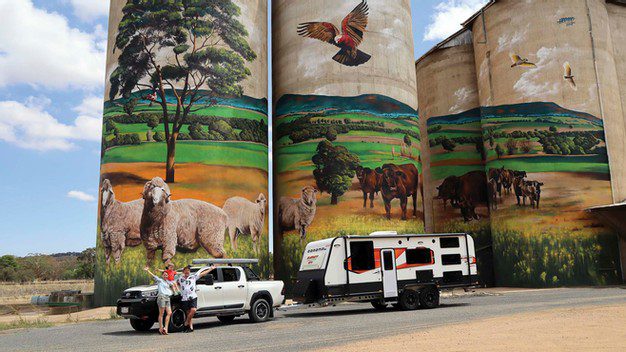 1. Carnarvon Gorge, Queensland
It has been said that Carnarvon Gorge is Queensland's answer to the Kimberley, with continuous breathtaking moments. From the beautiful landscape of towering sandstone cliffs of the Amphitheatre to the unrivalled Indigenous Art Gallery showcasing rock wall art believed to be more than 3500 years old, Carnarvon Gorge is nothing short of spectacular.
For those up for the challenge, the full-circuit walk at 87km in length has a range of options, from short strolls that are perfect for families to a truly challenging seven- to eight-day walk. We split our adventure over a few days and gave ourselves a rest day in between two walking days of approximately 12km each. With Jasper happily strapped into the backpack carrier, it made many areas of the gorge more accessible for us, and we passed many other families on the track with children of all ages.
There is a short 1.5km return nature track at the start of the Carnarvon Gorge trail that is perfect for families, and sightings of platypus in the Carnarvon Creek can be experienced here if you are lucky.
There are a number of camping options located within a couple of kilometres of the national park entrance, making it really easy to set up a base camp and daytrip into the gorge.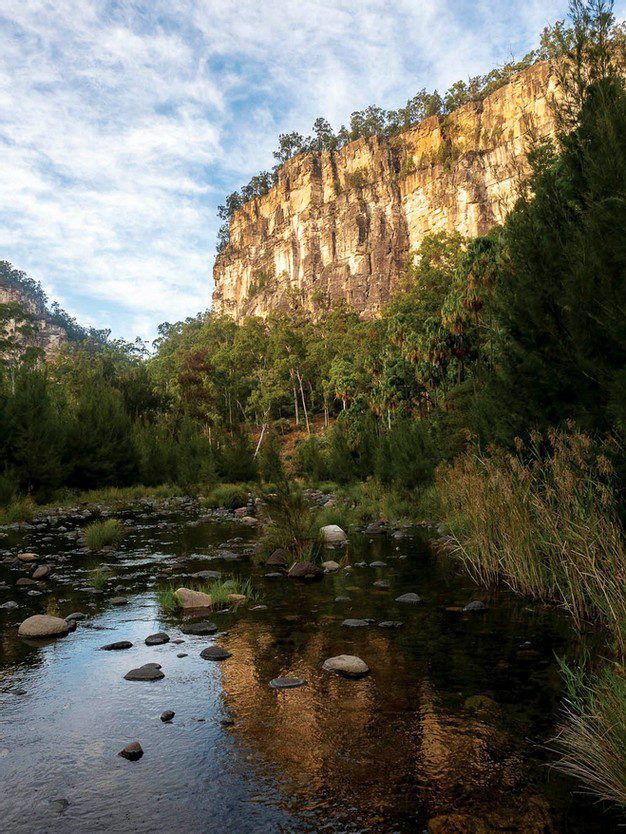 2. Capricorn Caves, Queensland  
With more than 400 million years of history, Capricorn Caves are an awe-inspiring example of nature at its finest. Located an easy 30-minute drive north of Rockhampton, the caves boast the highest concentration of fossils found anywhere in the world, and offer a number of different tour experiences that cater for every member of the family.
Visitors can choose from a range of exciting and immersive experiences, including daily wheelchair-accessible guided cave tours, wild caving adventures, and even abseiling.
With onsite accommodation options including self-contained cabins, the lodge, and a great bush camp with powered and unpowered sites for tents, caravans and motorhomes, it's the perfect location to stay a few days and immerse yourself in the natural wonders of the Capricorn Caves.
We stayed two nights and experienced the fantastic Cathedral Cave Tour, and even got a little courageous donning our hard hats and headlamps for a taste of adventure caving.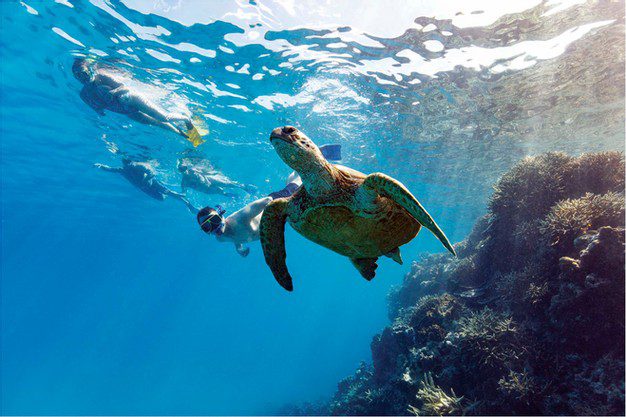 3. Lady Musgrave Island, Queensland
Set on 3000 acres of living reef with a protected lagoon, stepping foot on to Lady Musgrave Island is like stepping into a David Attenborough documentary!
Situated on the Southern Great Barrier Reef, just a stone's throw from the Bundaberg coastline, Lady Musgrave Island is accessible by boat from Bundaberg or the Town of 1770.
The protected lagoon is truly unique on this coral cay island, and offers an experience that is like nothing on earth. Teeming with bird life above the water and giant marine life below the water, it is a perfect spot for snorkelling with turtles, manta rays, dolphins, and even whales.
We joined the crew of Lady Musgrave Experience (ex Bundaberg) for a day trip, and enjoyed an island walking tour, glass-bottom boat tour, and incredible snorkelling during our full day eco-tour.
If sleeping out under stars on your own island paradise is more your style, then definitely put Lady Musgrave on your bucket list! It is one of the few islands anywhere along the entire Great Barrier Reef where you can camp out by night, and with a maximum of 40 people at any one time, it truly makes for an intimate and eco-friendly experience.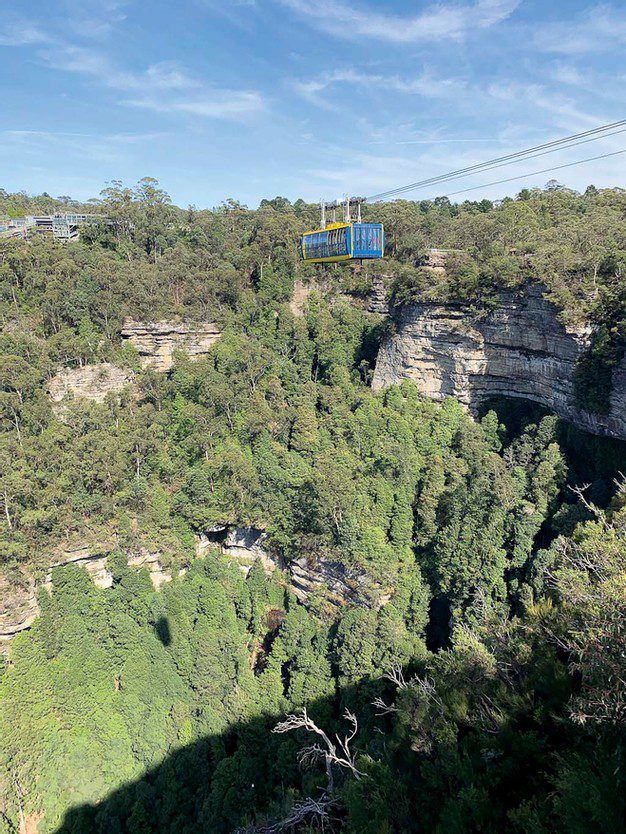 4. Blue Mountains, New South Wales
Just one of the many regions throughout Australia that has been affected by the recent bushfires, the Blue Mountains are #OpenForBusiness and ready for visitors to return and #HolidayHereThisYear.
With a blue horizon of eucalyptus trees that stretch further than the eye can see, the natural beauty and fresh mountain air of the Blue Mountains World Heritage area will captivate your senses and your heart.
The Blue Mountains is an easy 90-minute drive from Sydney, or two hours by train, and is home to some of Australia's most magnificent natural attractions and quaint little villages. With one million hectares of tall forests, sandstone cliffs, canyons, and waterfalls, and views spanning over the deep valleys that were formed millions of years ago, the view from pretty much anywhere on the mountain is incredible.
For nature-lovers, the lookouts at Wentworth Falls, Govetts Leap, and Echo Point offer spectacular vistas, and a day spent exploring at Scenic World, riding their Scenic Skyway, Railway and Cableway, will provide a vantage point and experience like no other.
The region has outstanding accommodation options from cottages and cabins to luxury resorts and a number of great caravan parks for those travelling on wheels. We enjoyed five nights at the Blackheath Glen Tourist Park in Blackheath, and were literally staying among the clouds!
5. Hunter Valley, New South Wales
Famously known as wine country, the Hunter Valley region offers plenty for the family to see and do — from cellar door experiences in Australia's oldest wine region to bushwalking in World Heritage wilderness or exploring engaging art trails.
The Hunter boasts a range of accommodation options to suit just about every need, and for those like us travelling with their own home, we stayed at Wine Country Tourist Park just outside of Cessnock and found this a great base to explore the region.
We spent a fantastic morning going behind-the-scenes at Tamburlaine Organic Wines learning all about the process from vine to glass, followed by a family-friendly cellar door experience, with Jasper enjoying his own cheese and juice platter while we sampled a range of Tamburlaine's award-winning organic wines.
We also spent an entire morning exploring the town of Kurri Kurri on a self-guided mural trail that includes more than 60 incredible artworks commissioned from professional artists, making it the largest collection of murals in Australia. This was not only a great way to learn the history of this quaint country town, but also an excellent way to walk off the calories consumed from our wine and cheese tasting at Tamburlaine the day before!
So there you have it! — our Top 5 destinations and experiences so far.
However, with two months touring around Tasmania during season two of our Family Travel Australia series, we may just have to create its own Top 10!
We are already buzzing at everything Tasmania offers its visitors, from built, cultural, and environmental heritage to food, wine, and family-friendly experiences.
Stay tuned for that in the next edition of Ocean Road Magazine!
* The Feel Good Family are proud brand ambassadors for Coromal caravans and the National Trust of Australia Queensland. You can follow The Feel Good Family on their two-year journey around Australia by visiting their website www.thefeelgoodfamily.com.au and subscribing to their YouTube channel.