On Board the World's Finest Cruise
WORDS: PHOTOGRAPHY
The Ocean Road travel team were again on the move as they set off on the next destination of Ho Chi Minh City – travelling on the Aqua Expeditions Mekong Cruise. This is the most luxurious award winning river cruise along the Mekong…
Aqua Mekong is an elegant ship owned by Francesco Galli Zugaro, chief executive and co-founder of Aqua Expeditions which has operated similar adventures along the Amazon for nearly 12 years. The clue here is in the name: Aqua Mekong is more of an elegant expedition than a traditional cruise which we found out first hand when we boarded our five-day adventure from Ho Chi Minh City through to Cambodia.
We chose the best airline in the world to take us on our journey, and I am of course talking about award-winning Singapore Airlines. Singapore Airlines is a journey unlike any other with their award-winning product and services.
Check-in was a trademark breeze and the staff most helpful before we continued through to the SilverKris Lounge in Brisbane airport where we were made to feel at home with all the breakfast options available prior to our departure.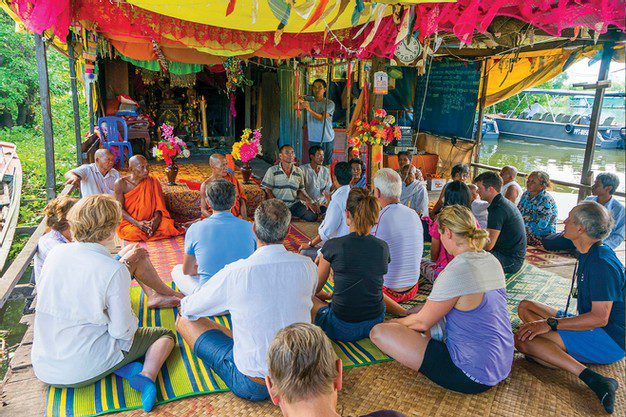 The SilverKris Lounge showcases Singapore Airlines' unique heritage distinguished by a customised batik design screen in the welcome foyer. Inside, we could look forward to the familiarity of home with unique spaces modelled around dining rooms and kitchens. There are specially designed productivity pods enabling you to work in privacy and comfort if need be. Customers can also look forward to a great selection of food and beverages as well as 'What a great way to fly' innovative cabin products.
Amenities include ergonomic seat design, 1K entertainment options, thoughtfully created menu with gluten free options, in-seat power supply and entertainment and movies to make the journey feel like half the time.
Our trip began on an early flight with a stopover in Singapore where of course we had to stay at Marina Bay Sands — otherwise known to Amber and I as 'our happy place'. With a very smooth flight — exceptional service and great food along the way, we were a step closer to our cruise that we were getting very excited about. With a short flight to Ho Chi Minh City again out of Changi Airport we arrive into our new city where the Aqua Mekong was waiting for us.
We were greeted by all cruise staff with their big smiles as we boarded the $11 million dollar cruise ship, where we were overwhelmed at the luxury of the finish on this vessel. There were cold towels to start as we entered the main lounge area with all other guests to start the formal proceedings and safety drills. As you could imagine a 205ft vessel needs strict procedures and this was delivered through a very nice presentation as we sipped our first drink and started to settle into our home for the next five days.
This is definitely not a conventional river cruise boat; more a contemporary floating five star hotel with all the modern cons. Each of the 20 rooms is roughly twice the size of its competitors. Eight have balconies; the others have full cabin river views, with the eight balcony suites having sliding interconnecting doors if a family wants to travel together.
There's a beautiful gym with views to the rear deck and cabana lounges, a large spa with a range of treatments including 'traditional Khmer massage' (with or without cream), a plunge pool at the front of the boat, adequate upper deck sunbathing areas, a DVD room, a library/games room, and, finally, a vast lounge/bar/meeting room/lecture hall on the top deck where everyone gathers before or after an adventure. The signature attractions include the formal dining area. Michelin-starred Australian-born chef David Thompson, has devised and, subsequently fine-tuned, the exquisitely Asian menu. This is one of the great points of difference between Aqua Mekong and its rivals: a world-class chef who has painstakingly invented a menu that makes the most of what the Mekong has to offer.
Surely you want to taste the produce of the local areas you are passing through, particularly when the freshness of the fish, seafood, free-range chicken and pork is so self-evident from your excursions… or even the Tarantula spiders that I will touch on later that could be added to your cocktails.
Cruise directors Nakey and Julianna were amazing and were quick to have us settled in our rooms and introducing us to our on board guides who were about to take us on an excursion to the shore. One guide per 10 people — it was very intimate which helped when answering questions as the guides had a depth of knowledge and were most helpful. Two were from Vietnam and two from Cambodia and they all accompanied us on our carefully crafted soft adventure itineraries. Three large skiffs were used to transport all participants to the shore. All with large bimini tops keeping you covered from the sun along with twin mercury outboards which helped power us to our destinations.
The formal dining area had a very clever layout, including tables of four or six and of course the couples tables of two. The larger tables were great seeing some of the guests sharing their travel stories over meals. The dining staff I thought were amazing — firstly they knew everyone's names and dietary requirements instantly. It was so impressive, every entrée, main and dessert was delivered and explained in detail, down to the ingredients used. If you didn't feel like what was being served — then you simply request something else and it was cooked for you personally and delivered with a smile.
The staff were so impressive and become very close to you on this ship which makes it feel very personal and similar to a large family all having lunch together. It became a very warm experience with everyone getting on so well and sharing their daily experiences and photos across these dining experiences.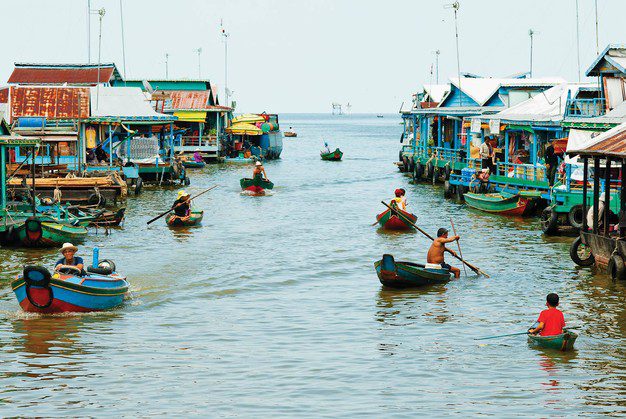 After lunch we were excited to explore the boat and start to view the many features this $11 million dollar 205ft vessel had on offer. Being a boating man myself I was keen to take up the offer of the personal engine room tour along with an explanation of how the generators work along with the fresh water systems and cold rooms all down on the lower deck away from normal viewing and access. Twin caterpillar motors push the Aqua Mekong along the river at 11 knots cruising speed with absolutely no rocking whatsoever. The boat is super smooth and very quiet.
We then moved to the upper levels experiencing our suite which I must say was simply amazing and very roomy. Huge bed, along with a large waterside lounge, huge storage space for clothing to be hung up along with a huge bathroom with twin sinks and double shower. Double sliding doors opened directly onto the river, which allowed you to be only metres from passing fisherman who were on the daily journey.
We continued our way around the ship viewing all of the bars — pool library, gym and home cinema room. I can't say I was a big user of the gym however it looked impressive to those who like to keep fit whilst travelling. We prefer to use the bar for our exercises each night although I did see many people use these facilities across the week.
Before long we were being called for sunset drinks on the back of the boat, another great opportunity to say hi to fellow guests and to mingle over cocktails and canapés.
Just prior to dinner each night there is a briefing of the activities for the next day — clearly outlining where to meet and the extent of the days planned activities — non compulsory, of course, if you want to simply stay on board and enjoy the boat's facilities.
Day 1
Settle into the cruise with lunch and a ship tour with sunset cocktails and beautiful welcome dinner.
Day 2
Mekong River – Binh Thanh/Sa Dec My An Hung
Beautiful day at Binh Thanh mat weaving village or opt to visit Sa Dec where you will peruse the vibrant market and see the famous house of Marguerite Duras legendary lover. In the afternoon visit a Mekong Village and we were invited into a locals home to taste locals fruits while hearing traditional folk songs performed followed by a unique unicorn dance. Finished with a a 17k bike ride which I can say we both completed.
Day 3
Mekong River – Chau Doc – Vinh Xuong – Ka'om Samnor Border
Travel by skiff along Bassac Canal to Chau Doc floating market then head off by van to Long Son Pagoda atop Sam Mountain. Return via the bustling morning market. Optional 18km bike ride or take rickshaw ride to visit Tan Chau Market with Chef. After lunch relax by the pool or learn to cook Mekong inspired dishes while we crossed the border into Cambodia.
Day 4
Mekong River – Koh Oknha Tey – Preah Prosop
We admire the Khmer artisans who dye and weave kroma. Choose to explore the riverbank on two wheels if you wish. Passing Buddhist temples and thatched houses on stilts. After lunch we head towards the tamarind trees at the remote village of Preah Prosop.
Day 5
Phnom Penh – Cambodia
We experience Cambodia's capital by motorized tuk-tuk, the Royal Palace, Silver Pagoda and National Museum, or a second choice is available, Genocide tour and a stop in at the Russian Markets for last minute shopping. We opted for the second option and found this to be the most amazing history lesson to date.
When writing this story I feel like I could have written 30 pages and still not touched on everything we achieved, however I have chosen to write about the key takings for me over the journey and will start with our Cambodian junior school visit.
We entered the school in Cambodia to see the children dressed very well, hair done nicely all in uniform and smiles that we will remember forever. They were playing outside at the time we entered running around barefoot playing soccer as boys do.
The children were so friendly and we had the pleasure of joining their classroom with both the principal and teacher. They were looking for one person to teach the kids something new — most guests of the ship all ducked for cover, however Amber was quick to be assigned to this role (by me) with her in depth teaching background she seemed the obvious choice.
Amber introduced herself with her name on the whiteboard and had the entire classes attention within seconds — the kids loved her and couldn't get enough, as she continued to teach them the famous song in English Head, Shoulders, Knees and Toes which they all sang at the top of their voices. They went on to be taught in English all of the animals on their mainland which again they loved guessing and interacting in class. The children were so polite and in class were separated on each side allowing the girls to be together without the boys — due to their traditional beliefs. This was an amazing experience for all who attended and although Amber was simply having fun with the kids — she was the absolute star of the show. It was great to watch, I was very proud of her…
Cruising the shores in the custom designed private tenders makes the journey much more real and comfortable for passengers allowing easy access to the floating markets. Allowing access to fresh produce to be purchased directly as we pulled up alongside many of the old boats selling their produce. No taxes are due as the government allow the less fortunate to trade on the water tax-free.
Experiencing how the country really lives are the memories we love to take away with us. The Monks and learning their daily living and set guidelines as they talked to the group prior to one of their blessings, the live produce in the markets where fish and chickens are all kept alive for customers to pick the healthiest catch. So very different to our living which makes these experiences ones we will always remember.
Cooking classes on the boat with head chef; watching the techniques and traditional cooking was fantastic and always had guest participation which allows for great entertainment.
Evening cocktails where Tarantula spiders were deep fried and offered to guests to try. Amber indulged for the experience and ate a leg of the spider referring to the taste similar to soft shell crab. I preferred to sit and consume the amazing range of Australian sparklings and white wines on offer.
Amber and I are both not active fitness people and to mention a 17km bike ride in a sentence to the both of us would most likely see laughter occur. However when offered a biking trek through several Vietnamese villages we accepted the challenge. Considering we both haven't ridden 17kms in the past 17 years today we were ready to take the challenge. And this became a highlight of our trip.
Riding through the streets of villages with children standing out the front of their homes waiving and yelling out "Hello" to us as we rode past, seeing these massive smiles and the joy on their faces was breathtaking. It was like we were rockstars — high fiving the kids as we rode through their villages. Again taking away memories like this as we photographed — high fived and smiled along our 17km bike expedition makes it all worthwhile.
After a day on the mainland something else was a huge highlight to me, Aqua Expeditions offer a complimentary shoe cleaning service and washing service which I must say was very helpful. At the end of each day not only were your clothes getting washed your shoes would be cleaned and left at your door ready for a new adventure. This was extremely impressive and just goes to show you when boarding the Aqua Mekong you are in good hands for the entire journey.
On the final afternoon of the cruise we were given an opportunity to kayak down the Mekong to a surprise destination. Again we tried to do as many of the activities possible and I am glad we did. Paddling down the Mekong and pulling up at a private sandy beach where we had private day beds, a cocktail bar, food platters and a magnificent sunset was possibly the best way to finish our last night on the cruise. Guests sipped Aperol Spritz cocktails as we shared our experiences with other guests and watched the sun set for the last time. Breathtaking comes to mind although this doesn't capture the true experience.
Aqua Expeditions is by far the best cruising experience you will ever have and the staff make it ever so special.
The head of dining -— Phal Phearak was our waiter each night and was so amazing that we would look at doing the cruise again just to experience his service. It was like no other and to be congratulated.
To the cruise directors Nakey and Jhuliana it is with great appreciation we thank you for your hospitality and wish you well for all future travels. We had an experience that will be forever held in our memories.
n For your chance to experience Aqua Mekong call Main Beach Travel 
07 55882500 or visit 
www.aquaexpeditions.com