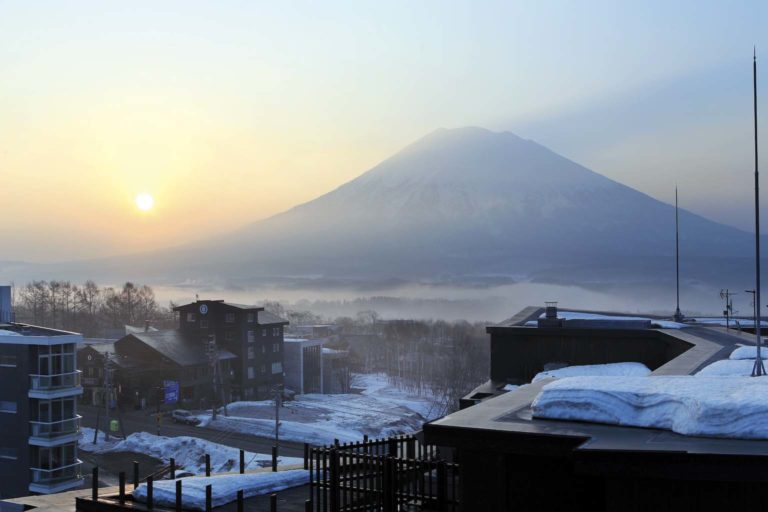 WORDS: PHOTOGRAPHY
IN our winter issue, we journeyed to Niseko, Japan, for Ocean Road's most far-flung and exhilarating travel getaway yet. In the second part of our feature, we take readers on a culinary tour of the streets of Niseko to showcase some of the many cool restaurants the leading Japanese ski resort has on offer.
AFTER a long day on the slopes of Niseko, you're guaranteed to have worked up an appetite – and there is no shortage of dining options in the village to satisfy your hunger.
From traditional Japanese cuisine to family pizza restaurants to fine-dining French eateries, Niseko has it all to suit any taste and/or budget. Most utilise fresh local produce from Hokkaido, renowned for its wagyu beef and vegetables, including potatoes.
Thanks to the good folks at skijapan.com, Ocean Road savoured a feast of different dining experiences during our stay. As it was late in the season, some restaurants had closed but they graciously re-opened for us so we could partake of their fabulous food and hospitality in traditional, atmospheric surrounds.
Niseko Pizza
IT'S hard to go past a pizza to restore your energy levels after a big day's skiing or snowboarding and to fuel up for the next day, Niseko Pizza is the perfect place to get a 'slice' of the action.
Conveniently located in the middle of the village, the family-run restaurant serves up superb wood-fired pizzas and other great food including home-made pasta, succulent Hokkaido steaks, ribs and delicious sides including hand-cut chips and freshly-made salads.
The two-level restaurant has an upmarket feel for a pizzeria including a glass wall wine cabinet, large bar and mezzanine dining level with cosy timber booths.
We feasted on a delicious selection of some of the more than 30 wood-fired pizzas on the menu (which include the famous apple pie dessert pizza), washed down by icy cold pints of Sapporo beer.
Open Weekdays: 5pm to 11pm & Weekends 11am to 11pm
Web: www.nisekopizza.jp
Tel: +81-136 555 553
Manpukutei
TUCKED away in a quaint, tiny Japanese cottage-like timber building in the lower part of Hirafu village, Korean eatery Manpukutei is small in size but big on taste.
The restaurant is run by Osaka-born, half-Korean chef Kenichi Takada, who first came to Niseko in 2001 to ride the epic powder. He managed a backpacker hostel but had always dreamed of opening his own restaurant to cook his mother's delicious oxtail soup … and Manpukutei was born.
The Ocean Road team was treated to a smorgasbord of superb Korean cuisine that was as pleasing to the eye as it was to the palate. Our dishes included Korean pancake, tofu salad with house dressing, grilled Rusutsu pork belly, Bulgogi (grilled beef ribs), Korean-style buckwheat noodles, and the stone-roasted mixed rice.
Open daily 6pm-midnight (last order 10.30pm)
Tel: +81-0136-25-4079
Otsukisama
OTSUKISAMA is a cool little Japanese izakaya (tavern-style restaurant), located above Bar Moon in the middle of the village.
The restaurant is renowned for its sukiyaki hotpots (which we sampled and found delicious) but the sashimi platter (served on a small timber boat) was spectacular, as were other seafood dishes including grilled mackerel, grilled scallops and tempura prawns.
The wagyu steak was also to-die-for, as were the yakitori (pork and chicken skewers) and chicken karaage (Japanese fried chicken). Our wonderful meal was complemented by lashings of Sapporo beer and some very fine hot sake.
As well as being one of THE places to party in Niseko, the Bar Moon downstairs is famed for its Devil Ramen (Japanese noodle soup), available in spice levels from a mild zero up to a nuclear-grade 20!
Open nightly 6pm til late
Web: http://www.facebook.com/barmoon.otsukisama
Tel: +81-136-23-2265
Le Cochon
FRENCH for 'The Pig', Le Cochon is run by former mechanic turned master chef Kazuhiko Kojima who trained at some of Tokyo's top French restaurants before opening his stylish Niseko eatery.
A passionate foodie even when he was studying mechanics, Kazuhiko sources 90 per cent of his produce from the pristine oceans and lush volcanic soil fields of Hokkaido.
His grandmother's recipes are a base for most of his dishes, many of which are slow-cooked and can take up to a week to prepare.
Kazuhiko served us a magnificent three-course banquet consisting of starters of chicken white liver pate, Hokkaido mugibuta pork rillete and Tasmanian Salmon confit with Hokkaido seafood sauce; mains of local Fish of the Day; Braised Tokachi beef cheeks in red wine sauce and sautéed Hokkaido pork spare rib with creamy mustard sauce; and for dessert crème brulee with orange flower honey ice cream, banana tart praline ice cream and warm gateau au chocolate with vanilla ice cream, and assorted sorbet.
Open nightly 6.30pm and 8.30pm sittings
Web: www.Lecochon-niseko.com
Tel: +81-136-23-22312
Senchou2
SENCHOU in Japanese means 'sea captain' or 'head of the boat' and the seafood here at this traditional izakaya is nothing short of sublime.
The bustling restaurant is owned by Mr Konno, a local fisherman and keen skier who opened the first Senchou in Niseko in 1995. It's success led him to open Senchou2 , specialising in share dishes.
We dined on a selection of superb seafood sourced from Mr Konno's 'secret fishing route', including a mouth-watering sashimi platter, fried scallops, seared Hokke fish and salmon hot pot.
With a stated aim to bring the best-quality Hokkaido seafood to Niseko, Mr Konno, his head chef Ishikari Nabe and excellent staff can proudly take a bow.
Open: 7pm-11.30pm nightly
Web: www.nisekosenchou.com
Tel: +81-136-22-5454
Bang Bang
THE quirkily-named Bang Bang is one of two hugely popular izakaya restaurants in Niseko (the other being Bang 2) operated by husband-and-wife team Masanobu and Toshiko Saitou.
In traditional surrounds, patrons can enjoy the theatre of Bang Bang's chefs char-grilling house specialties including yakitori skewers and kishu binchu (wagyu ribs). The venison yakitori is superb, as is the grilled seafood and fresh sashimi, while the keiji salmon and Akkeshi Kakiemon oysters also pull in the crowds.
We dined at Bang Bang on our last night in Niseko and plenty of Japanese beer also flowed to celebrate the end of a truly memorable trip.
Our next visit to Niseko will definitely include a visit to Bang 2, which operates as a ramen restaurant by day before transforming into an izakaya at night.
Open: Most days 11am-11.30pm
Web: http://niseko.or.jp/bangbang
Tel: +81 136-22-4292