National Trust Queensland's Great Walks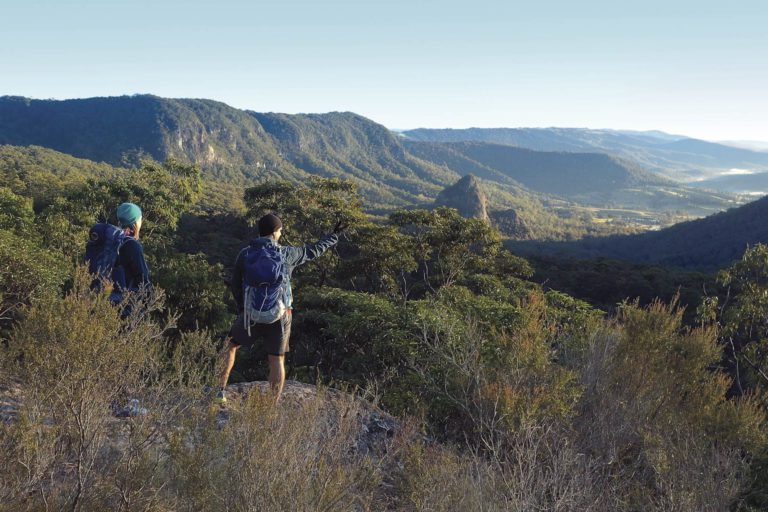 WORDS: PHOTOGRAPHY
The National Trust of Australia (Queensland) has partnered with Queensland Parks and Wildlife to explore some of the Great Walks of Queensland from Currumbin to Cooktown. The idea is to showcase the diversity of these majestic environments and encourage people to engage with Queensland's iconic backyard, supporting the National Trust's mission 'to protect, conserve and celebrate Queensland's environmental built and cultural heritage'.
As we wrapped the interview with Erica Deeral, an Aboriginal elder and traditional owner of Gungardie [now known as Cooktown], she took my hand and said, "You visited us as tourists… Next time, we invite you back as our friends."
When our group turned to walk the final few hundred metres back to our boat transfer and return us to Cooktown, her parting words seemed to grow in importance in relation to what we had all just been a part of.
The Gamaay Dreaming Track on the north shore of Cooktown was our final destination in a series of 10 Great Walks covered in only 10 days. Our Great Walks team of six included two camera crew, two volunteer support drivers, and two well-seasoned hikers, with the goal of capturing the highlights of each Great Walk into individual video packages that will educate and inspire both adventurist hikers and families alike to #thinkoutside and create #lifesbestmoments!
Our adventure commenced 10 days earlier on the Gold Coast at National Trust's flagship property Currumbin Wildlife Sanctuary, with a well-attended media call to launch the Trust's partnership with the State Government and other relevant sponsors. We packed up our two Apollo campervans and our journey of 4000-plus kilometres was literally on the road.
The sheer size of Queensland comes to light when you are faced with a road trip of such proportion, and our lead cameraman from the UK quipped that you can fit Great Britain seven times into Queensland!
With five of Australia's 11 World Natural Heritage areas and more than 200 National Parks covering 6.5 million hectares, you'd be hard-pressed to experience all that Queensland has to offer; however, choosing any of the Great Walks is a perfect place to start.
Each of the walks represents varying degrees of challenges, beauty, and diversity. All have their own unique flora and fauna and conservation concerns, while others lead the way with beautifully presented interpretation-sharing connection to country through Aboriginal lead narratives of the area. The Great Walks have numerous highlights; here are some not to be missed:
Gold Coast Hinterland Great Walk
The 54km Gold Coast Hinterland Great Walk is situated within the Gondwana Rainforest and protects the most extensive area of subtropical rainforest in the world, including numerous endemic species of flora and fauna, spectacular waterfalls, and nearly all of Australia's remaining Antarctic beech cool temperate rainforest. There are varying options of accommodation and camping throughout the area, with Binna Burra Lodge providing choices from luxurious apartments through to glamping and unpowered campsites.
The walk by Australian standards is a Class 4, suitable for very experienced bushwalkers with specialised skills, including navigation and emergency first aid, and offers a once-in-a-lifetime opportunity to walk along the rim of an ancient volcano. There are, however, shorter walks available for families, including the majestic Purling Brook Falls circuit. This 4km loop track is a must-experience and has excellent amenities, with a large car park, well-maintained toilet facilities, clear track signage, and breathtaking vistas.
Sunshine Coast Hinterland Great Walk
The Sunshine Coast Hinterland Great Walk is 58.8km with options to complete half-day, full-day, or the entire walk over four to five days. There are some stunning views, including lookouts, waterfalls, rock pools, Obi Obi Gorge, and the Baroon Pocket Dam and its catchment.
The entire area is protected within three beautiful national parks — Kondalilla, Mapleton Falls, and Mapleton. The walk includes sections of Class 2, 3, and 4 tracks, and has a number of bush campsites (bookings for these are essential). The best time to walk is from March to October, and be sure to allow extra time either side of your walk to explore the Maleny region and all it has to offer.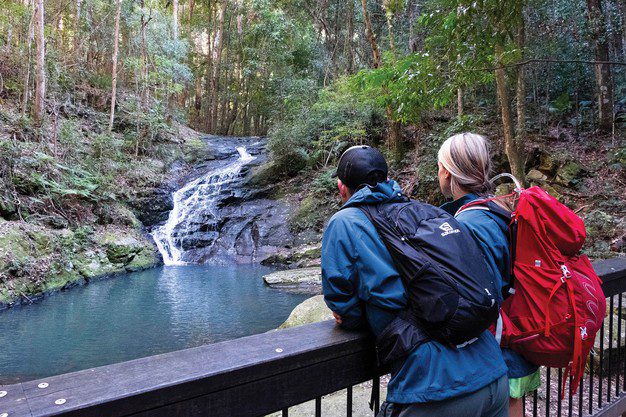 K'gari (Fraser Island) Great Walk
At 90km, the K'gari (Fraser Island) Great Walk is located on the world's largest sand island and can take up to eight days to complete. It boasts ever-changing landscapes, including coastal heathland, mangrove forest, woodland, subtropical rainforest, crystal clear lakes, and epic sand dunes, and has something to suit everyone. There are short-walk sections for families to full-day walks for the more adventurous.
Walkers' camps are available at eight locations across the island, with some fenced and others unfenced, and it is important to be dingo-safe by following the recommendations on the clear signage throughout the area.
Kingfisher Resort has a wonderful range of accommodation and dining facilities, and transfer to the island is an enjoyable journey from River Head on the mainland across the Great Sandy Strait via barge service. If you plan on taking your own four-wheel-drive, you will require a permit through Queensland Parks booking service, or vehicle hire on the island is also available. There are strict speed limits of 30km per hour inland and 80km on the beaches.
Carnarvon Great Walk
The Carnarvon Great Walk has become one of Queensland's great walking adventures, a truly majestic environment that has captured the human and natural history of Australia to create an experience you will talk about for years to come. For those up for the challenge, the full circuit walk at 87km in length has a range of options, from short strolls that are perfect for families to a truly challenging seven- to eight-day walk.
It has been said that Carnarvon Gorge is Queensland's answer to the Kimberley, with continuous breathtaking moments from the beautiful landscape of towering sandstone cliffs of the Amphitheatre to the unrivalled Indigenous Art Gallery showcasing rock wall art believed to be more than 3500 years old.
Registering your planned walk itinerary at least 10 days prior with the park rangers is a must to ensure your safety, and setting up a base camp at Takarakka Bush Camp is the perfect starting point for your adventure. Takarakka offer accommodation from safari tents and small cottages to powered and unpowered sites.
Carnarvon Gorge is located approximately 600km northwest of Brisbane and 300km southwest of Rockhampton, so make sure you make the most of your time as this may be a once-in-a-lifetime experience.
Whitsunday Ngaro Sea Trail
The Ngaro Indigenous people have inhabited the Whitsunday Islands for more than 9000 years. The Sea Trail is 50km in its entirety and is readily accessible from Airlie Beach or Shute Harbour, approximately 12 hours' drive north of Brisbane and eight hours' south of Cairns.
The trail provides an enticing mix of scenic walks and waterways across the Whitsundays, with ever-changing landscapes and breathtaking environments. One moment you can be walking through open forests, white sandy beaches, grasslands or rainforest and the next climbing rugged peaks to gain a 360-degree view of the entire Whitsunday Islands.
There is an abundance of marine life that changes with each season and an endemic Whitsunday bottle tree that calls the islands home. The crystal-clear turquoise waters create an unforgettable backdrop, and the hardest part of visiting here is having to leave.
Thorsborne Trail, Hinchinbrook Island
Hinchinbrook Island is located 8km off the Queensland coast at Cardwell and appears Jurassic in its dominating rise from the Great Barrier Reef. The challenging Thorsborne Trail stretches along the eastern side of the island for 32km, and it is recommended to allow a minimum of four days to explore all this living environment has to offer.
From every angle, this island is spectacular and at times awe-inspiring with its endless natural beauty and towering rugged mountains. There is a wealth of diverse and fragile ecosystems, with more than 30 species of mangrove encompassing the island, and the local estuarine crocodiles are there to remind you how wild this part of the world can be.
Walker camps for hikers are available at 16 sites throughout the trail, and bookings (well in advance) are essential, with only 40 people allowed on Hinchinbrook Island at any one time.
If you're seeking a secluded natural escape, you will be totally captivated by Hinchinbrook.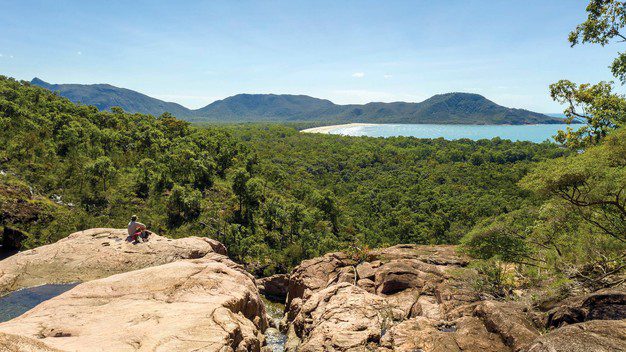 The name 'Great Walks' certainly captures the type of experience you will have in its title; however, many other words can best describe these walks. At times they were breathtaking, exhilarating, extraordinary, moving, timeless, and Jurassic, but most of all they are accessible to anyone looking to create a memorable experience in Queensland's world-class backyard.
The key to creating a memorable Great Walk experience is in the preparation and planning. Details of each walk plus what to expect, what to bring, safety, and recommendations can be found on the Queensland Parks and Wildlife website at www.parks.des.qld.gov.au
To support the National Trust and enjoy free access to more than 800 properties worldwide, including Currumbin Wildlife Sanctuary and James Cook Museum in Cooktown, visit www.nationaltrust.org.au/qld