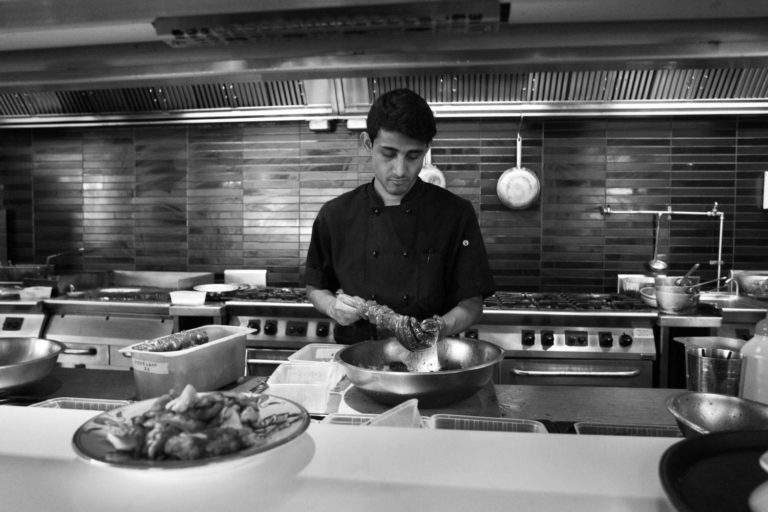 WORDS: PHOTOGRAPHY
There's something especially exotic about setting foot in a Middle Eastern restaurant.
Arabian cuisine and décor tend to transport the senses to faraway lands like perhaps no other kind of ethnic dining, floating you on the aromas and atmosphere of this ancient culture like some sort of magic carpet ride.
So it is with Mecca Bah, 'sister' Middle Eastern restaurants located at Broadbeach on the Gold Coast and Fortitude Valley in Brisbane.
To step into Mecca Bah is to immerse yourself in an authentic Moroccan/Middle Eastern dining experience, rich in the flavours and ambience of one of mankind's oldest, most food-loving civilisations.
Arabesque screens and lanterns, intricate mosaic features, colourful tagine pots and other Middle Eastern touches including a spectacular stylised data palm bar in the Brisbane restaurant make Meccah Bah an inviting oasis for diners seeking a relaxing escape from the hustle and bustle of City or the busy tourist playground of the Gold Coast.
Both Mecca Bahs are located in buzzing dining precincts – the Brisbane restaurant in the exclusive Emporium building in the Valley and the Gold Coast eatery in the Oracle Boulevard in Broadbeach – and both provide a modern interpretation of Moroccan and Middle Eastern dining.
Both are fully licensed and offer cosy indoor and al fresco dining to make the most of Queensland's balmy climate, as well as catering for functions and popular cooking and cocktail classes.
The menus are laden with delicious and exotic fare, including an extensive selection of mezze tasting plates beautifully presented on hand-made serving dishes from Tunisia. Mecca Bah's mouth-watering mezze menu includes Harissa-marinated mixed olives; traditional favourite Hummus topped with spiced lamb, pine nuts and herbs and served with Lebanese za'atar bread; Sweet potato falafels with tahini sauce; Moroccan potato cakes filled with goat's cheese and pine nuts and Baked haloumi with pomegranate, mint salad and lemon.
A selection of Middle Eastern salads are available as side dishes or a healthy light main, including Moroccan cous cous and shrimp salad with tomato, cucumber and corn; Roasted pumpkin, mixed quinoa, snow pea tendril, asparagus, fetta cheese with apple balsamic dressing; Pearl cous cous with merguez sausage, tomato, rocket, onion with lemon dressing and old favourite Fattoush (Lebanese bread salad).
No Middle Eastern spread is complete without a tagine and Mecca Bah does not disappoint, with a sumptuous selection of dishes cooked in the uniquely-shaped earthenware pots that enhance flavours, textures and tenderness.
The tagine menu boasts dishes including Lamb with preserved lemon, green olives and harissa; Chicken with cinnamon, raisins, almonds, sesame and honey; a Seafood tagine of barramundi, mussels and local prawns with harissa and tomatoes and, for vegetarians, Roasted Seven Vegetables flavoured with chermoula spices.
If that's not enough to whet the appetite, Mecca Bah's flavour-bursting Turkish pizzas are the restaurant's signature dish, according to Brisbane manager Felipe Rizzi.
"The pizzas are our most popular, especially the Spit-roasted lamb (with rocket, yoghurt and sumac)," Felipe tells ORM. "We spit-roast the lamb in-house and the pizzas are cooked in a wood-fired oven. Turkish pizzas are completely different to Italian pizzas in that the sides are folded, and we use a lot of spices and herbs to create a really unique, sensational taste."
Other pizzas on the menu include Cauliflower, merguez sausage, roasted capsicum, fetta and tomato sauce; Harissa spiced tomato, haloumi, parsley and eggplant; Roast zucchini, Middle Eastern cheeses, lemon and mint, and Spiced chicken with eggplant, rocket and tahini sauce.
Mecca Bah also has a range of melt-in-the-mouth grill dishes available, including Moroccan-spiced calamari with Turkish bean salad; Spiced lamb shanks with pearl cous cous, tomato, cucumber, onion and parsley (another house specialty); Vine leaf wrapped barramundi fillets chargrilled with hummus, parsley, artichoke & olive salad; Garlic chicken kebab with mjaddarah and tabbouleh, and Tunisian salmon fillet served with pearl couscous, rocket, fetta, tomato and lemon.
There's also a spectacular 12-course banquet for four or more people. Parties of two or more can also choose the knockout Baharat spiced lamb shish with bell peppers and onion, Lebanese flat bread, fattoush salad, fresh herbs and fragrant pilaf rice.
Mecca Bah's dessert menu is to-die-for and include Turkish coffee ice cream; Cinnamon and honey sticky date and banana pudding; Yoghurt, semolina and pistachio cake with rosewater syrup; Flourless orange and almond cake and the signature Chocolate and Turkish delight brownie.
"Everything at Mecca Bah is made in-house, from the ice-cream to the sauces," Felipe says. "Our chefs source the freshest ingredients daily and we try to use local suppliers as much as possible."
There's a comprehensive beer, wine, spirit and cocktail list to accompany the food at Mecca Bah.
Cocktail and pizza-making classes are extremely popular, especially for events like hen's nights.
"They're really fun nights and give guests a hands-on, behind-the-scenes look at how our expert chefs and cocktail mixologists weave their magic," Felipe says.