Mahala Measures Up To Buyer Expectations Downsizers looking to upsize their lifestyle are making the move to Mahala Mermaid Beach, which boasts apartments up to 60 per cent larger than the Gold Coast average, according to new research.
WORDS: PHOTOGRAPHY
A new report by independent property analyst Michael Matusik shows Mahala is bucking the trend towards smaller apartments, with about 70 per cent of new units being built on the Gold Coast offering under 100sqm of living space.
By contrast, more than a third of Mahala's 94 residences are 150sqm-plus, giving buyers more room when making the transition from the family home to an apartment.
Mr Matusik says 100sqm-plus units are in demand, accounting for some 60 per cent of all apartment resales on the Gold Coast over the past three years.
"Most owner occupiers are looking for an apartment equivalent in size to a small home, and this is also true for downsizers, who want the space and privacy of a family home without the upkeep," he said.
"In recent years most apartment development on the Gold Coast has been geared towards the investor market, but this is starting to change, with new projects like Mahala offering bigger floorplans in a boutique building.
"While the size of apartments is important, buyers are equally focused on location and views, with an unobstructed water view potentially increasing the value of an apartment by up to 80 per cent."
Two of the latest purchasers at Mahala, Tim and Sandra Roux, were attracted to Mahala for its coastal lifestyle.
"We have always loved living on the water and appreciate the way Mahala is designed to suit its beachside location. We are looking forward to gaining a whole new perspective of the Gold Coast as we enjoy a glass of wine on our new wrap-around balcony which will overlook the ocean, city and hinterland," Mr Roux said.
"We decided to shift to apartment living because we are at the stage in our lives where we don't want to maintain a property on our weekends. We just want to enjoy where we live.
"We are already imagining spending our spare time relaxing by the pool and entertaining guests in the private poolside dining room, or taking the dogs for a run to the park and along the beach.
"Mahala's inclusion of a dog wash area, surfboard storage, two parking bays and a secure delivery room for online orders makes us feel like we won't be missing out on anything when we downsize.
Colliers International Residential Director Andrew Roubicek says a sense of community is an invaluable part of any new project.
"Pindan, the developers of Mahala, have gone above and beyond to create a friendly atmosphere at Mahala, which actually translates as 'neighbourhood'," he said.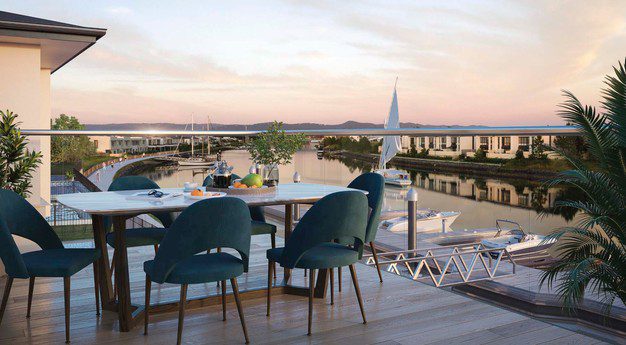 "Mahala has a number of spaces that encourage people to socialise, including a residents' entertainment terrace which boasts a pool, barbeques, cabana, lounges and private dining room.
"Pindan has also recently sponsored the Mermaid Beach Surf Life Saving Club to ensure that all members of the wider community can enjoy safe access to the ocean, which is just metres from Mahala's doorstep."

Pindan boasts more than 40 years' experience, including expanding its operations from Perth to the East Coast over the past five years. Its funds management arm — Pindan Capital — is overseeing $1.7 billion of development projects across Australia.
Mahala's two bedroom, two bathroom, one car bay apartments start from $595,000, with three bedroom, two bathroom, two car bay apartments available from $1,385,000.
The remaining four bedroom, 3.5 bathroom penthouse is priced at $2.7 million.
For more information, visit www.mahalamermaidbeach.com.au, or visit the on-site sales centre at 15 Peerless Avenue, Mermaid Beach.