Luxury Broadbeach Residences launches to become a Gold Coast Landmark
WORDS: PHOTOGRAPHY
A $52 million luxury apartment project being launched on the Gold Coast today is set to become one of the city's enduring landmarks.
Brisbane developer Bottega Group will today take the wraps off one of the most unique residential structures the city has seen – an ultra-luxury collection of "vertical beach houses" known as 123OBR.
"Our whole philosophy has been to incorporate a unique interpretation of the modern beach home into an apartment building," said Nick Malloch, co-director of the Brisbane-based Bottega Group.
"From the outset we wanted to embed that philosophy into a group of exclusive residences with like-minded people in a vertical village that would stand the test of time.
"We certainly believe we have done that and the inquiry and interest prior to launch has reflected that."
123OBR has been crafted by esteemed Australian-founded, international award-winning architects Woods Bagot to capture the essence of a bygone era when the coastline was once dotted by humble beach houses.
123OBR will see 14 whole-floor apartments, with a two-level pool house on the ground floor and topped by an ultra-luxe two-level penthouse. A whole floor resort deck features at the midway point of the tower.
Priced from $2.9 million, a typical whole-floor apartment at 123OBR will offer 224sqm of living space with three bedrooms with walk-in wardrobes, 2.5 bathrooms, spacious dining room and living areas providing wide vistas through full-height glass windows.
Living areas are complemented by an extended balcony overlooking the ocean shaped like a ship's bow and an idyllic enclosed retreat inspired by the veranda of a traditional Queenslander.
Interiors offer French oak timber floors, stone benchtops, timber joinery, terrazzo tiles with a superbly appointed gourmet kitchen complete with V-Zug appliances and bespoke champagne coloured fittings.
Bathrooms featuring natural stone finishes, integrating function, beauty and sculptural forms inspired by the hammam, or Turkish bath.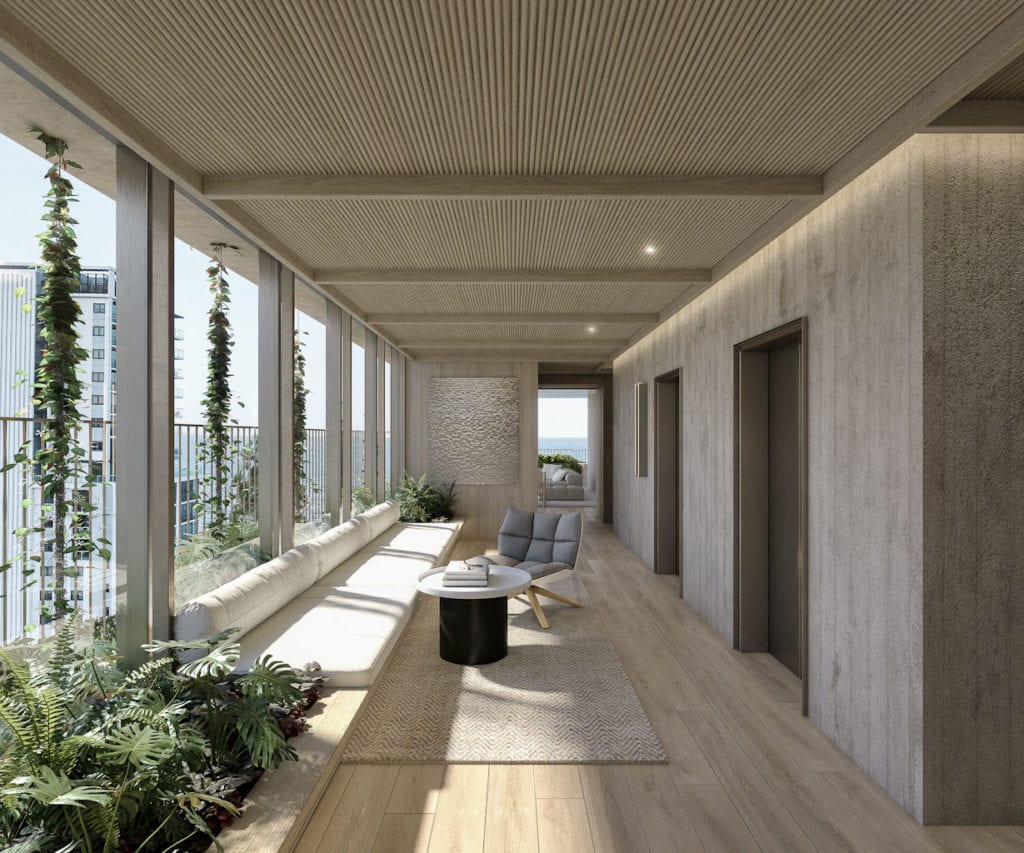 The apartments are accessed by two single-journey express passenger lifts, offering secure private access and entry, with secure basement parking for min two cars.
The pool house spans 388sqm over two levels from the ground floor offering five bedrooms with walk-in wardrobes, two powder rooms, a separate laundry, with the added touch of a home cinema/family room, a wine cellar and a private pool, garden and balcony.
The two-level penthouse provides another level of opulence across 384sqm with four bedrooms, each with walk-in wardrobes, plus three bathrooms, two powder rooms, two internal verandas and two separate living and dining areas.
The penthouse has been crafted with a generosity of space that offers dynamic interior volumes through double-height ceilings and gallery wall corridors, all bathed in bountiful natural light.
Added finesse can be found in a cosy fireplace and a stairway created as if by poetic insertion, but which proves to be both purposeful and practical.
The penthouse delivers all the luxe amenity expected of a grand residence with a glamorous ensuite and walk-in wardrobe in the mezzanine bedroom, plus access to a private study and gym. There is also secure basement parking for min three cars.
All residents of 123OBR will enjoy five-star resort amenities on Level 6 with a poolside retreat adorned with curated artwork.
This space provides residents an extension of their private living spaces with the inclusion of additional facilities such as a commercial kitchen, space for a shared home office or library and private dining for guests.
Woods Bagot's lead designer David Lee highlights the freedom of expression afforded by Bottega Group that has given rise to the unique design of 123OBR and the founding principle to create a series of vertically stacked verdant Queensland beach houses.
"Bottega came to us with an open brief without parameters that allowed us complete flexibility with how to define the site," said Mr Lee.
"This unique approach to collaboration really allowed us to sequence the space in a way that allowed us to design residences like private homes.
"The interior layouts of the homes are carefully separated into private sleeping quarters looking towards the Hinterland, and active and functional living spaces towards the ocean."
The 123OBR development, located at 123 Old Burleigh Road, Broadbeach, is a project for Bottega Group, headed by Nick Malloch and Louis Mennes.
The company provides a dedicated platform for design-led collaboration where specialists are encouraged to craft bespoke expressions of distinction.
Bottega recently announced a second project for Brisbane planned for a riverside site in Bulimba.