WORDS: PHOTOGRAPHY
Lisa Brown's personal love of fashion is blossoming into a burgeoning business. Originally born from her creative flair for creating her own individual looks, her eponymous label is inspired by vintage collectibles, fluid fabrics and unusually accessories found in the most unlikely places. ORM caught up with Lisa at the Mercedes Benz Fashion Festival where she unveiled her Summer 2014-15 collection.
Backstage at Brisbane's iconic City Hall, a petite figure moves gracefully amidst racks of shimmering garments with an air of concentration. Lisa Brown looks the epitome of a successful fashion designer in gold mesh top and white pants, but her calm exterior belies the nerves of showcasing her collection at Queensland's premier runway fashion event, the Mercedes-Benz Fashion Festival.
"I always get nervous before a show. It's that feeling that all of your garments are being judged by thousands that's a bit daunting," Lisa says, as she rifles racks of clothing making sure outfits are in order.
The buzz of the runway audience settling into seats around the supersized catwalk filters behind the curtain separating backstage bustle from show time, and Lisa takes a deep breath. This is her third appearance at Mercedes Benz Fashion Week, she explains, and the stakes are high.
"It's a very prestigious event," Lisa says. "Mercedes-Benz Fashion Festival is nationwide, so to be involved is an honour. It really helps drive the fashion retail side of the business which is so important."
In the audience tonight are Lisa's supportive husband Tim, a school teacher, beloved mum Yvonne who has travelled from the Hunter Valley and daughters Lilli-Rose, 14, and 13-year-old Evie. Lisa's collection is appearing in the Mercedes-Benz Group Show alongside other celebrated labels such as Sacha Drake, The 400 Co and White Label Noba. It might be a cold dreary night in Brisbane, but when Lisa's collection hits the runway it's like a giant sun lamp has been turned on … the mood turns carefree-beach chic as models sashay forward in Lisa's signature boho dresses, fluid silk tops, vintage patterns and earthy Summer separates in beautiful shades of melon, citrus, white and oatmeal.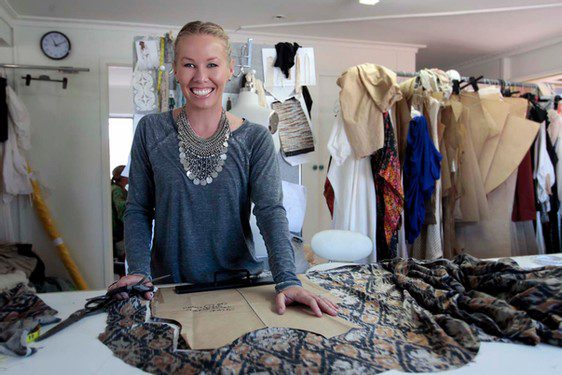 As Lisa takes a bow after her collection showing, it's clear from the whistles and applause that Queenslanders are readily embracing this designer on the rise.
Since officially launching the Lisa Brown label in 2006 after a glowing reception at Sydney Fashion Week, Lisa hasn't looked back. In 2008, she entered the NRA Australian Fashion Awards. Lisa was not only a finalist in the Lifestyle, Bridal, Formal and Children's categories, but won the overall Prestigious Supreme Award.
"It was overwhelming. I didn't think that I had the ability to do it," Lisa recalls. "The judges were unanimous: they loved it. I was so happy because I won a car. We were battling along, and every little cent that I was making was going straight back into the business, so the car was an absolute bonus."
Fast forward to 2014, and Lisa's stunning garments are now stocked in 70 stores throughout Australia and there's interest offshore as well. Her feminine, edgy and original designs are not only popular with brides and women of all ages, but are sought by high-profile clients Shelley Craft, Marcia Hines and Natalie Gruzlewski for red carpet events. Her signature dress, the silk Poppy v-frill long dress with halter neck and braided ties, has been her runaway best-seller – worn to formals, weddings and black-tie events all over the country.
"That's been the bread and butter," Lisa says of the Poppy design. "It's now being copied by dressmakers in Bali, which is frustrating."
Lisa's success is all the more remarkable considering she had only a handful of sewing lessons and didn't complete a formal fashion design course, relying instead on natural design flair and learning on the job.
Raised in Maitland in the Hunter Valley, the youngest of six children, Lisa was a tomboy more interested in skateboarding, surfing and playing rugby league with nearest sibling Shay, than wearing dresses.
In her teens though, Lisa started experimenting with her creative side, seeking out vintage clothing and wearing her Dad's white dinner shirts to school, accessorised with a mock croc briefcase as her schoolbag, of course.
"I was always interested in fabrics and fashion but I didn't have the budget to buy what I actually liked, so I had to become clever about it and make my own," Lisa says.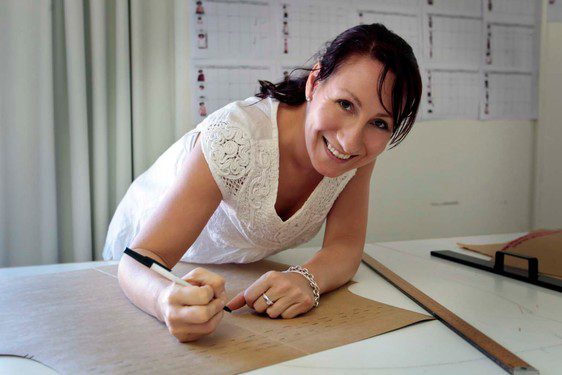 "Before I could sew, I was bleaching and dyeing, slashing jeans and putting fabric under the jeans, and getting mum's skirts out of the cupboard and tying knots in the bottom so that I could be different to the rest of the crew at school," Lisa laughs.
Lisa's real creative genius emerged when she began designing unique pieces for herself to satisfy her own individual fashion taste. Constantly approached by people asking 'where she got that dress,' Lisa started designing one-off pieces for customers, and eventually, her first range was born.
Taking a rare break at her Mermaid Beach design studio with golden retriever Chloe lounging at her feet, the warm and humble Lisa is quick to dispel any notions that the fashion industry is glamorous, citing hours of sampling, designing and a fickle retail market as hurdles faced by every designer.
"Everyone thinks that you're doing so well financially and that you must be living the high life, but we're just a normal battling family paying our bills and working hard to send our children to a great school," Lisa says.
"It is a tough game. You're outlaying so much in advance. You're paying all your machinists as the work comes in and I'm on a monthly account with my fabric suppliers. It takes a few months to produce all of the garments and deliver it, so you've outlaid and paid for all of that … and then the retailers can be slow paying.
"It might take you another six months to get the money in the door for the one collection. It's a real drawn-out process so you have to watch yourself along the way … and meanwhile you're trying to order for the next season on top of that," Lisa explains.
Lisa prides herself on employing Gold Coast and Brisbane machinists to assemble her creations and her sister Kerri works as an agent in Melbourne for the Lisa Brown label. When Ocean Road Magazine visits, it's a hive of activity with the design studio team busy making preparations to send out three big orders to retailers.
As Lisa introduces ORM to her valued team she apologies for the "mess" in the studio which is bursting with bolts of gorgeous fabric and racks of beautiful dresses, skirts, pants and blouses. And while the finished garments look flawless, she says the transition from creation to the runway is not always so seamless.
"We had a big show in Melbourne which didn't allow the designers out the back," Lisa says. "We had to send photos of the garments on all the models so the dressers knew exactly how to dress them.
"One of the dresses – I was mortified – because the girl came out with her head through the armhole and I don't know how she got into the dress because it was a one-shoulder thing. So she had the flounce as a sleeve and the head through the armhole … I was nearly in tears because it was such a big show and it just looked wrong and no-one even noticed other than me and the staff.
"They must have thought it was a really odd design," Lisa says, laughing at the memory.
Lisa is soon to launch an exclusive bridal and bridesmaid range, utilising the Glenelg Avenue shop space below her studio to showcase her beautiful creations. She's also begun a sideline business as an agent for luxury New York denim label D-ID and sells a jewellery designer's distinctive hand-made range, Singular.
With so much on her drawing board, it's little wonder Lisa likes to escape the pressures of running a fashion business with a hit of morning surfing whenever she can fit it into her schedule.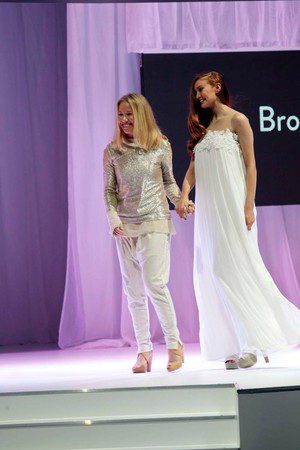 "Normally my husband takes the girls to school, so I can be in the water by 7.30am and out by half past eight and still make it to work by nine. The housework suffers," Lisa says with a laugh.
With a healthy work-life balance, a grounded attitude and a seemingly endless source of design inspiration to draw upon, Lisa seems destined for success and longevity in the fickle world of fashion.
"You've got to hold your head high keep plodding away and hope that it all pays off in the end."