Learn the Sport of Bouldering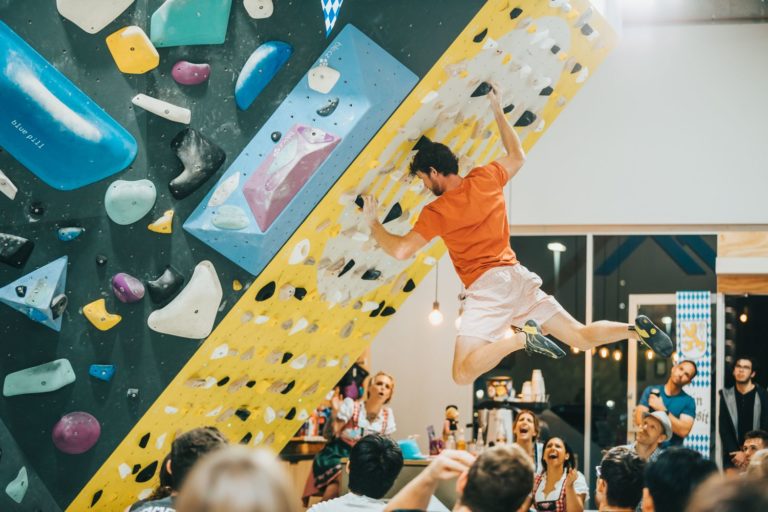 WORDS: Christian McEwen PHOTOGRAPHY Supplied - Alpine Indoor Climbing
When the term "Rock climbing" comes to mind you naturally visualise huge rock faces, entangled ropes that resemble a noodle soup, all bundled into a broth of extreme risk, one arm holding on as you cling for dear life from a overhang with at least a five hundred foot free fall if your fingers loose grip like many Hollywood films dictate.
That's usually enough motive to generally leave it to the more experienced in that field and possibly just settle for a days abseiling with a tour operator to get anywhere close to "Rock climbing". Whilst that might be exactly what you're looking for.
For many, including myself you may be seeking out what it actually feels like to climb and experience the movement and all it has to offer. What if I was to say you don't need ropes, harness and all that safety equipment along with the important  knowledge on how to use it. Well you just want to climb right? Well you can and much more!
Welcome to the sport of Bouldering!
Bouldering in physical terms is Broken down to a set number of technical climbing sequences or moves in order to solve the problem and get to the top of a route commonly known as a' top out' or a 'send'. Although I would not completely define it as a sport as the aesthetic movement resembles an art form and you can certainly feel that aspect when you get it right, much like the perfect golf swing you go the distance with minimal effort through perfect technique.
Bouldering is generally in a low set environment and pinpoints the focus on these physical, technical and mental aspects of actually climbing.  Best of all you can most likely do it today!!
Let me tell you a secret place that I'm actually reluctant to tell you about because I want to keep it all to myself, and those that also know about it may feel the same way because it's like hitting the jackpot!
Introducing Alpine Indoor Climbing a boulderers heaven located in Robina on the Gold Coast you can climb with no previous rock climbing experience! There's lots of easy climbing mixed in with intermediate and advanced routes and problems, so don't be afraid if you have never climbed before. You don't need to be super strong and fit to start climbing – in fact, climbing is one of the best sports to improve your full body strength and fitness.
Simply follow the coloured holds and the grading scale to progress yourself to more difficulty climbing levels as you go.
The first experience I had at Alpine was close to 18 months ago, to say the least with no "exaggeration" pretty much life changing!! On entry your senses are hit from all angles, as the fresh geometric walls and climbing holds of every shape, colour and texture stand off the wall just begging to be climbed. The insane cool air of the Air-Conditioning surrounds you as if you're actually standing on a mountain in the alps.
As your energy levels start to rise, you take a deep breath and prepare yourself and then bang! You get a fresh hit of aroma from the espresso machine as you witness the steam rise up like an alpine mist, in a way it's kinda like a right of passage, all this before you even put on your climbing shoes. I'm positive you can't get any better than that, and the experience just builds from that point.
The owners Kirsty and Jamie Booth, pictured above have successfully created a climbing community at Alpine that has no end in sight. Their collective passion for all things climbing have introduced so many new climbers to the sport, including myself, where you feel like a family, everyones treated equally and pushed to do their very best at all levels heckles aside, their focus and words of encouragement seem to just appear at precisely the right time.
This type of commitment and dedication to personal progress of others seems to be very common amongst the climbing community and Jamie and Kirsty are flying the flag in that department.
Alpine provides climbing assessments to begin your training journey, understanding range of movement, endurance and strength to get you off to the right start.
Yoga sessions that are all round specific for climbing mobility and general health, also running climb fit (climbing training) classes that are the perfect workout to develop your climbing prowess. Alpine also has Gold Coast's first and only Moonboard. With LED and full spec, their set-up allows you to connect your phone to the bluetooth app and light up your own projects. Test yourself against identical climbs the best in the world train on. so you can climb what the pros climb, the possibilities are endless!!
Enter the beast mode!! At Alpine by (beast maker) a system board approach to training, yet with enough creativity to stop it feeling like work. The symmetrical board offers a varied mix of hold styles full of mirrored variety, all this and so much more!! I guess I'll see you down there, and did I mention they have coffee!!