JW Marriott's modern and mindful makeover
WORDS: Suzanne Simonot PHOTOGRAPHY Supplied - JW Marriott
The JW Marriott Gold Coast Resort & Spa's $35 million rebrand and refurbishment has delivered the perfectly placed property and its guests a swish new look and a host of new experiences.
ONE of the most-loved properties on the Gold Coast is positively sparkling after a $35 million transformation.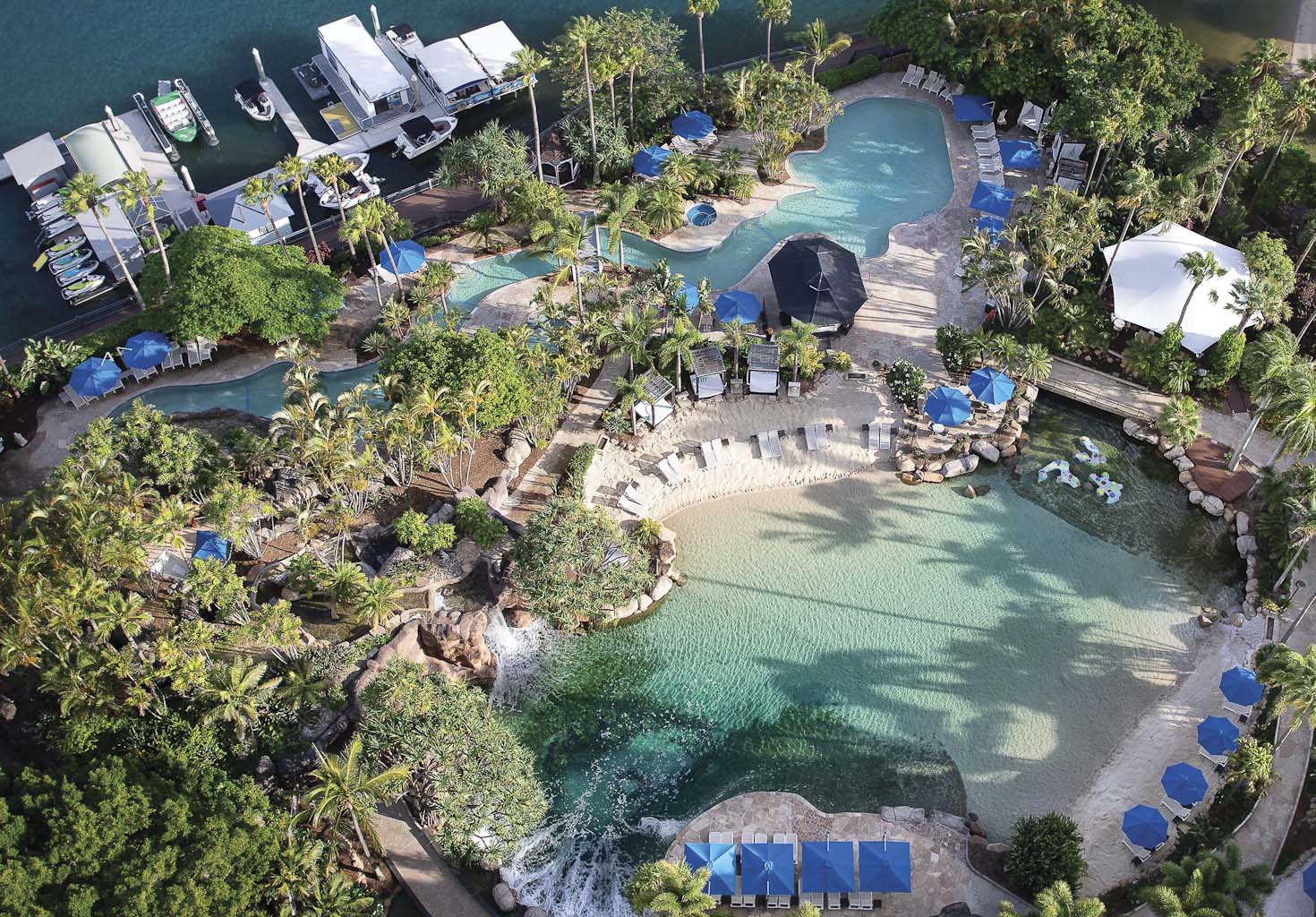 Now known as The JW Marriott Gold Coast Resort & Spa, the iconic, perfectly positioned drawcard, which offers panoramic views of both the Hinterland and ocean, has been a firm favourite with locals, families, tourists, business people and dignitaries since it opened in 1992.
The resort enjoys a stellar reputation for 5-star hospitality in a warm and relaxed atmosphere, with 223 rooms and suites, sparkling lagoons, white sandy beaches, cascading waterfalls, quiet pool zones and unique aquatic experiences.
Its modern and mindful year-long refurbishment has been overseen by the building's original architects and interior designers, Australian design studio DBI.
Their transformed JW Marriott Gold Coast Resort & Spa is a paradise within a paradise, with quiet spaces to hide away indoors and out, unique and individual restaurants to suit every taste and spaces for work or play.
The redesign's theme reflects the beauty and mindful pace of urban beachside living and flows throughout the property's public spaces, guestrooms and food and beverage venues, carrying through to its famous outdoor lagoon area.
DBI Director Susan Rossi, who worked on the original design concepts for the property in the lead up to its opening in 1992, spearheaded the hotel's revitalisation and rebrand to JW Marriott.
"The theme of 'nature' was central to the hotel's design when we first worked on the property in the '90s," she says. "Revisiting the luxury resort today, we wanted to retain a focus on its striking location and views of the beach and hinterland, as well as respect the hotel's original fabric in the most sustainable way."
The refurbishment is evident from the moment guests arrive with a modern new stone and timber porte-cochere and reception area with lush planting, textured vessels and rough-hewn materials creating a natural setting that recalls the rainforest.
The reimagined heart of the hotel, the lobby is luxurious and welcoming, with a timeless palette of soft taupes and earthy tones, accented by lush green features, existing flagstone paving and timber veneer finishes. The hero in this space is the new Lobby Lounge and Concierge Library Experience – a spacious room providing a guest only sanctuary for both gathering and reflection. The library has been curated to provide a quiet guest space for research, with reading and reference materials focussing on local culture, culinary insights and wellbeing. JW Marriott's signature Secret Spots also feature throughout the hotel, providing guests with thoughtfully designed resting nooks and secluded spaces to take pause.
JW's mindful, five-star service focuses on creating the perfect space for guests to savour the lush amenities in elegantly appointed guest rooms and then head out for an indulgent bite of the freshest cuisine at Misono, Citrique or Chapter & Verse lounge and bar. The guest rooms feature a composition of lightly toned, natural timbers, fluted glass, locally sourced stone and soft forms with a consistent palette of light blues and greys.
The pool landscape – surrounded by a central outdoor living space with lounge areas, dining options and cabanas – includes the world-renowned saltwater lagoon, streaming with more than 300 tropical fish, and a freshwater pool with a children's slide accompanied by an aquatic centre for the use of snorkels, flippers and underwater scooters.
Guests can also walk through the new-look property's farm-to-table program JW Garden to see the sustainable way JW's chefs elevate the resort menus with seasonal herbs, edible flowers, fruits and vegetables.
Expanded experiences also include Family by JW, an interactive program of family interactions for children and adults created around culinary experiences, activeness and creativity.
The day spa experience – from express treatments to full-service indulgences – is customised to provide a holistic approach to wellbeing with soothing, sensory environments wrapped in neutral tones, considered lighting and aesthetic details while the gymnasium is designed to reinvigorate, recharge and help maintain your daily workout routines away from home.
The JW's conference facilities, on level two of the property, are a hub for large events, private celebrations, weddings, corporate gatherings and everything in between. With 2000m square of event space and 10 scalable spaces, the facilities can cater for all event requirements. The pillarless 715 square metre JW Grand Ballroom features vehicle access and is geared for large-scale exhibitions and product launches while the junior ballroom, a new addition to the property, is a blank canvas flooded with natural light and pool views, providing a stylish space for creative meetings and events.
JW Resort general manager Ravinder Dhesi says the renovation and rebrand mark yet another significant chapter for the building and for Marriott International here on the Gold Coast.
"It holds a lot of fond memories for both locals and visitors," says Ravinder, who worked closely with DBI on the refurbishment. "Our guests are really responding to the resort's elevated design, our enhanced food and beverage venues, signature JW Experiences and the warm and uplifting service of our highly trained staff."
Visit www.marriott.com.au/hotels/travel/oolsp-jw-marriott-gold-coast-resort-and-spa/ to book or visit www.jw-marriott.marriott.com for more information on the JW Marriott brand.