WORDS: PHOTOGRAPHY
Some stores are all about fast turnover. At the opposite end of the spectrum, there's Pampa, which is rich in purpose and focused on finding products drenched in fascinating culture.
Any project that truly comes from the heart is going to make an impact. Pampa, which launched in 2013, is a homewares brand based in Byron Bay. But the heart comes from Chile and its culture. The team works directly with skilled craftsmen in remote and rural Argentina to bring fine quality woven textiles to the GC. 'Pampa' means 'plain between the mountains,' in the Quechua language.
The overarching idea driving the company's owners Victoria Aguirre and her partner Carl Wilson is retracing and reconnecting heritage.
"I met Carl overseas in Chile," she tells ORM. "I'm Argentinian, he was travelling for an extended period in South America when we met. He was on a solo trip along the Pacific Latin American coast, covering it for an adventure magazine.
"After a year he had to come back to Australia and asked me to go with him. I said yes. I moved here and pretty much left everything behind. I became incredibly homesick, more than I would ever have imagined. It's hard adjusting to a new way of life and we wanted to start a business together that would connect me to my culture regularly.
Partner Carl had worked in the air-conditioning business for twenty years and decided on a complete change of lifestyle – and focus. He quit his job; they packed their bags and started exploring Argentina together.
"Along the way we met some amazing artists. We saw real talent but locals were suffering from bad trade, not getting paid well, they were struggling and we saw that as a good opportunity to start our project, which comes from our hearts. It is a beautiful way to bring my culture here."
For Carl, the inspiration emerged from his childhood memories of exploring the Australian bush, freely riding his bike, and getting lost in the outer areas of Brisbane.
Aguirre was a successful photo journalist, she photographed with a journalist's eye which shows in the images on their website. They tell a story, they have depth, they are not just about the product. Everything about Pampa is expressive.
"A few years ago I started writing a book about the Pampa, the place where I grew up in Argentina and the connection my family has always had to horses and working farm life. The solitude and beauty found in those eternal sunsets, the power of finding yourself at home and never letting go… Now we get to bring together both our passions: Carl's explorer mindset and my desire to represent culture and art. We express this through many ways, through photography, through writing, through weaving, through creating ethically and conscious goods."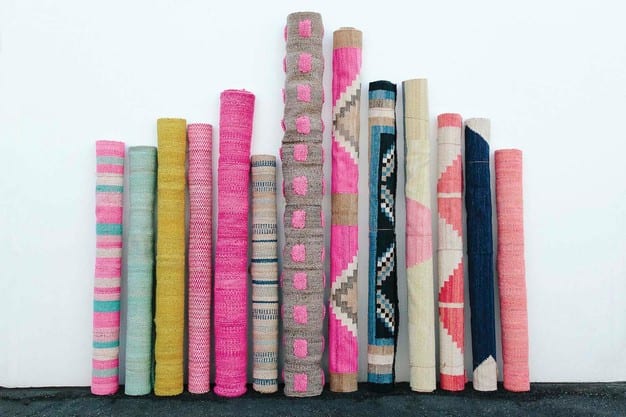 The couple started running their business from their small apartment in Palm Beach before heading up to Byron Bay to open the store. They go to Argentina two or three times a year for 3-4 weeks to source one-of-a-kind rugs, throws, cushion covers and accessories.
"We're really not city people. The Gold Coast around Palm Beach has lots of city tourists. We prefer life at the Byron pace! We're both laid-back and relaxed. Byron fits our vibe really well. We work a lot, six days a week but we both love what we do. It's good to have a shared goal and vision for the future."
Byron's are perfect for one half of a couple who likes to kick-start each day with a surf, and another who enjoys long walks with their dog. "We have a chocolate Labrador called Poncho," she says, with a warm laugh. "Then I bring him to work. This year we're expanding our team. We're hiring staff, introducing more products, and expanding our trade, working with some new designers."
Step inside the Pampa showroom
Where: Unit 4, 57 Centennial Circuit, Byron Bay, NSW 2481.
When: Mon-Fri 10-5pm, Sat 10-4pm, Sunday closed.
Call: +61 432 982 746
Make it your own
You can design your own Pampa rug, email: [email protected] for more info about this service.