Holiday Here This Year: Queensland – Our Sunshine State
WORDS: Caitlin Hawkes Roberts PHOTOGRAPHY Caitlin Hawkes Roberts plus supplied
Unless you've had your head in the sand or somewhere else – newsflash! – most international travel is on pause at the moment. We Australians are great travellers and renowned adventure-seekers, so what does one do in this predicament?
Rather than twiddling our thumbs, many are embracing domestic getaways – not only for ease and accessibility, but with the conscious goodwill of supporting local economies by driving tourism to places that need it most. Whilst it may be distressing that your Eurotrip is cancelled (for the second year in a row!), perhaps the pandemic has served as a wake-up call to gently remind us that exploring the wonders of our unique and ancient continent is, really, rather wonderful – exploring our own backyards is the travel trend du jour, and we are being encouraged to "holiday here this year", as Tourism Australia has coined it.
Still, there is the ever-present shadow looming over domestic travel, as snap border closures and state-wide lockdowns are now significant considerations for any prudent traveller. The safest and most reliable way of getting on that holiday is to plan a trip in your own state, and we are lucky that Queensland has an abundance of places to go and things to see to suit all tastes and budgets.
One of the most rewarding ways of embarking on a great Aussie adventure is to jump in the car and drive. Quirky motels in rural towns, old weathered pubs for a quick schooner or two, having a good chat with a friendly local, sampling regional produce, and seeing the country change in colour and texture whilst flashing by before your eyes.
This year, why not head to Stanthorpe instead of Sri Lanka, Rockhampton instead of Rome, Bundaberg instead of Bali, or Townsville instead of Thailand? Think of it as an opportunity to broaden your (Aussie) horizons, load up the car with some vegemite Shapes and a packet of Tim Tams (or smashed avocado on a gluten free cracker and a can of coconut water if that's your thing) whack a bit of Kylie, INXS or John Farnham into your playlist and set your GPS to take you somewhere you've always wanted to go.
My English husband, Nick (sporting his new Akubra and obligatory sunstroke), and I decided to hit the road in late March and head north from the Gold Coast, where we're based. Just how far north we would drive was to be determined, but we had a rough idea that we'd like to be away for around 7-10 days and stop off in a good handful of places. This was the result. If you fancy some winter sun, or want to plan ahead for the upcoming spring, this is a good itinerary to follow.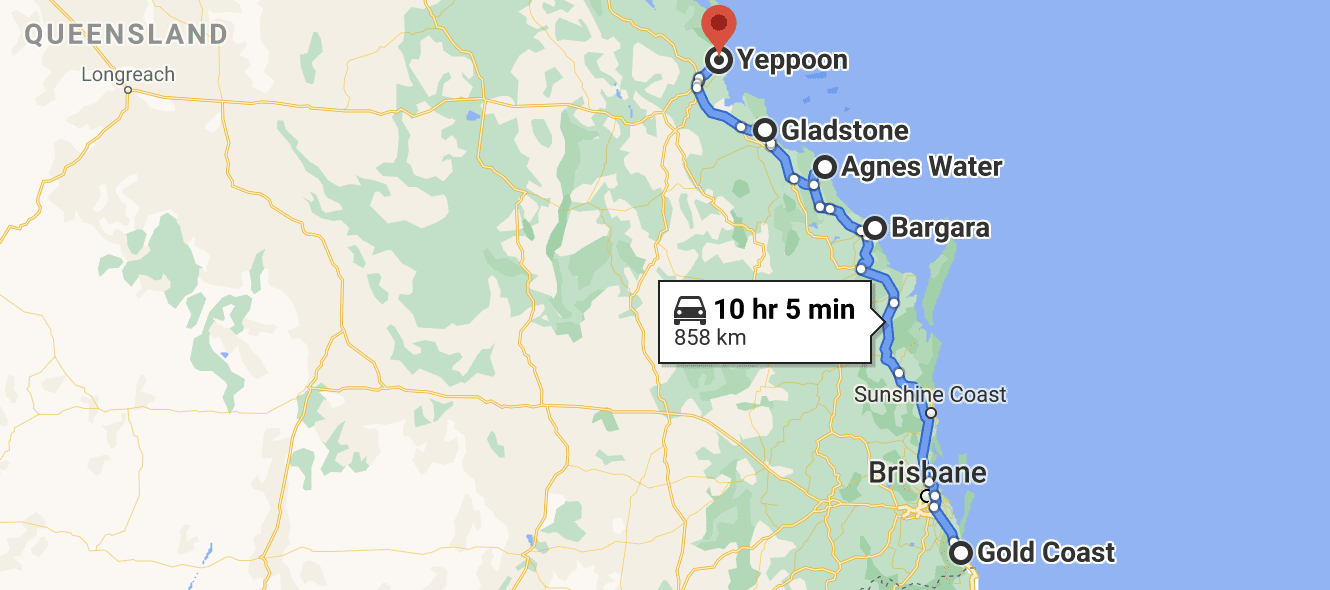 Gold Coast – Bargara
6 hour drive time
Stop at Yatala Pies for lunch along the way, you've got a long drive ahead of you!
Stay: Kacy's Motel, Bargara Beach
Must do: Mon Repos Turtle Encounter (November – March) – the current season has finished, but next season's tickets will be on sale in September and they sell out quickly! If you've ever wanted to see turtles nesting or hatching, this is the best place in Queensland to do so. Kacy's Motel is a 10 minute drive from the Mon Repos Turtle Centre.
If you're not visiting in turtle season, Bargara is still a really lovely place to stop – it has a small, tropical, seaside vibe – just the colours of the earth and sky, towering palm trees and humid air when you're nearing your destination is enough to make you feel very far away from the Gold Coast and ready for your first holiday cocktail!
Bargara  – Agnes Water/Seventeen Seventy
Grab a coffee at the surf club on the way out of Bargara and head to Agnes Water and Seventeen Seventy – the town of the second landing of Captain James Cook in Australia. If you can, stop here for a night or two – the beaches are situated on the edge of the Southern Great Barrier Reef and are pristine, there is an abundance of wildlife to see, and great activities available including diving, snorkelling, sailing; plus visits to distilleries, spas and walking trails.
Agnes Water/Seventeen Seventy – Gladstone
Gladstone is actually a great place to stop off for a night. A young and vibrant town with plenty of watering holes to satisfy even the thirstiest of travellers, make sure you treat yourself to a cocktail or two at Auckland House at sunset. We were lucky enough to have a local host/friend to show us around and take us out on his boat around the Curtis and Facing Islands, but Curtis Ferry Services has a few different options if you're keen to spend some time on the water.
Gladstone – Yeppoon
Easily one of the loveliest motels we've stayed at, the Surfside Motel in Yeppoon is the place to be with its chic and clean rooms, laundry facilities, central location and complimentary bikes for guests to use. Actually, we really loved Yeppoon in general with its casual seaside-town vibe, great coffee, wine bars and restaurants – there's lots to do, so bunker down for a few nights and let yourself relax and enjoy. Don't miss out on a sunset cocktail on the balcony at The Rocks Bar & Restaurant, and move into the dining room for dinner – the locally-caught seafood dishes are fresh and delicious.
Yeppoon – Great Keppel Island
There are only a few places to stay on Great Keppel Island, and we stayed at the back-to-basics, free-spirited, barefoot commune, Great Keppel Island Hideaway. A true desert-island experience that feels very far away from the rest of the world (apart from your friendly fellow castaways), but with all of the activities at your doorstep to keep you busy – snorkelling, kayaking, diving, bush walking and bird watching. Make sure you settle in at the Hideaway Bar & Restaurant overlooking the Southern Barrier Reef in the late afternoon for Happy Hour, which will easily stretch into dinnertime with a side of live music if you're lucky – which we were!
Great Keppel Island – Yeppoon – Hervey Bay
What a face lift Hervey Bay has had since I visited 10+ years ago! Quite a charming little town now, with lots of places to eat and drink along the beachfront promenade. We stayed at Freshwater BnB, run by Scott who has thought of all the tiny details that matter (fluffy towels, welcome cookies, Google Play, a fabulous breakfast spread and late checkout of 12pm). He recommended both Enzos and Tres Salsas to us for dinner on our two nights in Hervey Bay, and both were well worth a visit.
Hervey Bay – Lady Elliot Island
If there's one thing on this itinerary you must try and do, it's the Lady Elliot Island day trip. Departing and returning from Hervey Bay airport, everything is organised through the lovely team at Lady Elliot Island Eco Resort who arranged our charter flights and day itinerary. After an early start and a quick drive from Freshwater BnB to Hervey Bay airport, we were whisked off on a scenic charter flight to the island paradise that is Lady Elliot Island. Included in our day was a glass-bottom boat tour, lunch and lots of free snorkel and dive time, where we swam with manta rays, tiger sharks, green turtles, reef sharks, eagle rays, giant clams and a million brightly coloured fish and coral. It was one of the best days Nick and I have ever had – a truly special and indescribable experience that we will remember forever. Side note – these day trips also depart from Bundaberg, Brisbane and the Gold Coast, if that fits in with your itinerary better.
Hervey Bay – Gold Coast
After a lazy morning at Freshwater BnB due to Scott's lavish continental breakfast spread combined with his late check-out time of 12pm, we stopped at Enzo's for a coffee (because we're AllPress addicts) and started our journey back home to the Gold Coast. If you've got time and the season is right, Hervey Bay is a popular destination for whale watching. Add it to your itinerary before making your way home.
From start to finish, we spent 10 days on the road in total. This made for quite a leisurely drive, without too much rushing around or stopping in a different place every night. It gave us a chance to get away from our everyday Gold Coast life and have a proper break – even though we were safely in our home state with no risk of flight cancellations or border closures. If you are considering a trip in our glorious Sunshine State this year, do yourself a favour and hit the road. With nothing but the mostly-always-blue sky above you and the gritty red soil below, it's a sense of freedom that you might have felt was otherwise lacking in your life and travel plans lately.