WORDS: PHOTOGRAPHY
It's the spectacular crowning glory of The Star Gold Coast's new 'six-star' luxury hotel tower known as The Darling – and locals and tourists are going to fall in love with it. Called Nineteen at The Star, the rooftop restaurant and lounge bar – operated by the Greek 'gods' of Glitter Strip hospitality, Simon Gloftis and Billy Cross, in partnership with The Star Entertainment Group – has just opened to rave reviews, right on cue for the Commonwealth Games. Ocean Road sat down with Simon, Billy and The Star's Queensland boss Geoff Hogg to talk about how this 'game-changer' venue came about.
When The Star Entertainment Group decided a few years ago to build a rooftop restaurant and bar atop a new hotel tower it was developing as part of an $850 million transformation of the 30-year-old Gold Coast casino property ahead of the Commonwealth Games, it sought out two locals who knew a thing or two about dining and entertainment.
Simon Gloftis, through his iconic eateries Hellenika and the Fish House, and Billy Cross – founder of global hit male troupe Thunder From Downunder (formerly Manpower), major music festival promoter and former Surfers Paradise and Las Vegas nightclub king – were brought in to stamp their distinctive style on the 19th floor venue fittingly named Nineteen at The Star.
Boasting a lavish $20 million fit-out, Nineteen at The Star features a 110-seat restaurant complete with, 30-seat private dining room complete with featuring a floor-to-ceiling wine wall, lounge bar with VIP mezzanine floor and stunning infinity pool with semi-submerged day beds and sprawling balcony affording jaw-dropping ocean vistas up and down the coastal strip.
Over coffee in The Star's Garden Kitchen and Bar just before Nineteen opened, Geoff Hogg explains to Ocean Road how the partnership with Simon and Billy evolved.

"For us, we were going through a transformation of the property focused on getting completed before the Commonwealth Games," he says. "It's a great time to showcase not only the city but also this property. With a strong focus on our culinary experiences and launching new outlets, the signature piece was always going to be the opening of the new The Darling hotel.
"As we started to evolve that project, the opportunity for the rooftop became quite obvious. We started to think about concepts and how it would work. Very quickly we started engaging and talking with Billy and Simon about the opportunity for us to work together."
He points out that, traditionally, The Star has owned and operated most of its own food and beverage outlets. However, it broke new ground by bringing in celebrity chef Chase Kojima as a partner in its acclaimed Japanese eatery, Kyomi, and decided to do something similar with Simon and Billy.
"We'd been saying for two or three years that it wouldn't be too bad to do some business together some time and when the rooftop restaurant and bar concept evolved, it became an easy decision for us," he says. "The Gold Coast has an amazing climate and one of the things we were focused on was, when the property was built 30-odd years ago, there were no outdoor dining areas. The Garden Kitchen and Bar changed all that, but the rooftop will literally take it to a whole new level. It's just an amazing location and showcases what's great about the Gold Coast."
Billy: "Simon and I always wanted to do something together and we were looking for opportunities. When Geoff and his team asked us, we were quite humbled. I always say this but The Star's investment in that new tower and the rooftop is a real game-changer for the Coast. We haven't seen anything like it in the 30 years I've been here and that's what got Simon and I excited. The Star has created this high-end, sophisticated, six-star tower with us having basically the cream on top of the cake with the rooftop. Rooftop venues are huge overseas and for us to have pretty much the first one here on the Gold Coast is hugely exciting for us."
Simon reveals he agonised over selling the wildly successful Fish House, famed for attracting some of the biggest-name celebrity visitors to the Coast, to invest in Nineteen at The Star.

"To be honest, I had to really think about it because, rightly or wrongly, my reputation is very important on the Gold Coast," he said. "Everyone thought I'd lost my marbles selling the Fish House and I probably wouldn't have done it for anything but this (Nineteen). When it was The Star and Billy Cross and this location, I thought 'that's it, I'm in."
One of the attractions in partnering with The Star, Simon said, was its gravitas in the hospitality and entertainment industries.
"We haven't had the opportunity on the Gold Coast to have something on this scale before," he says. "The money's there to do it right all the way through. We don't have to think 'should we put this (high-quality) steak on the menu?' We just put the steak on the menu. As an individual, you'd never be able to do it."
Billy concurs.
"It's a huge investment for a food and beverage outlet, and a show of faith in Simon and I," he says. "To look at that investment and see it come to fruition, it's quite amazing. What it's going to create pre-Comm Games, during the Comm Games and post Comm Games is incredible."
Billy described Nineteen at The Star as 'high-end but accessible luxury'.
"Obviously it's high-end, but it's not somewhere you only go to once a year for a wedding anniversary or whatever – it's somewhere you can go every week and enjoy Simon's food and the amazing lounge experience," he says.
Simon: "That's really important – I think Billy and I have a pretty good feel for the local market. I want to make sure our locals – business people, families, couples going on a date – can feel comfortable coming here on a Tuesday, Wednesday or Thursday, having a nice dinner and then doing it again the next week. I don't want them to feel as if they're eating dishes so fancy that they think it's a once in a lifetime experience. It's not like that. You don't need a food dictionary to read the menu, it's going to be pretty self-explanatory. But behind the scenes, the work that goes into everything is pretty crazy."

Billy: "It won't be cheap but it'll be accessible. For example, you pay $9.50 for a vodka, lime and soda in most venues – we're going to charge ten bucks but it's going to be Belvedere. You're paying that extra 50 cents but you're getting a quality vodka. And people don't mind paying that little bit extra for quality. We'll have Veuve as our house champagne. That will be our level of luxury but you're not going to be paying stupid prices."
Simon's focus on high-end produce and attention to detail is such that the duck he'll serve in Nineteen will have been hand-reared on strawberries to optimise the meat's flavours and textures. The week after the Ocean Road interview, Simon was flying to Sydney to visit quality meat supplier Vic's Meats. "We're choosing our beef, they're stamping it for us and aging it. Then on opening day, we start flying it back. So the back end is a real machine, it's hard, hard work. But when it's on the plate, hopefully the customer just goes 'well, that's a nice piece of steak'."
Nineteen at The Star's menu was still being fine-tuned as Ocean Road went to press but Simon revealed tantalisingly: "One of signature dishes is probably going to end up being our lobster spaghetti bolognese."
Quality service has long been a hallmark of The Star but Geoff said having Simon and Billy on board would help lift service standards to an even higher level.
"People are going to notice the attention to detail from a service perspective, as well as great food and a great physical venue," he says. "That's one of the exciting things about this project. Our culinary team is going to learn a lot from Simon, our operations and bar and marketing teams are going to learn a lot from Billy. From our perspective, we get this great outlet but we also build more depth and knowledge in our team."
Billy says Nineteen at The Star's lounge bar will be aimed at over the 25s set whose clubbing todays were largely behind them.

"You go to dinner somewhere, but where do you go afterwards? There's nowhere to go," he says. "Everybody you talk to, that's what they're excited about with the rooftop. We know the restaurant will be pretty much booked out every night but just having that lounge experience – having dinner at Kyomi or anywhere else in the casino or even out of the casino – you're going to come to this place post-dinner and you're going to have a really great time."
DJs will be spinning the decks but Billy said the music will be 'a bit old-school' in keeping with the target 'mature' market.
"It'll have have a disco funk about it which is really popular in the rooftop bars of New York and throughout Europe – that fun, old-school disco vibe, lounge sound," he says. "We've had so many calls from people wanting to book functions, including some southern celebrities and entrepreneurs. The demand has been crazy. And with the Logies being held at The Star in July, it's going to be awesome for the after-party!
"People are looking for that exclusivity and high-end experience and the indoor/outdoor offering is something the Gold Coast hasn't had. What they're getting with Nineteen is a beautiful restaurant and lounge bar experience combined with amazing rooftop with basically the best views on the Gold Coast. It's quite special. Nothing even comes close to it on the Coast, probably in Australia." Nineteen at The Star is aimed as much at the local market as it was at tourists, Geoff says.
"All the tourism stats and data highlight that what people are looking for when they have holiday experiences is to go to places that locals love," he said.
"For us, everything we're doing is about making experiences, which locals will enjoy and appreciate. You go to places like New York and you might do a couple of touristy things but then you want to go and dine like the locals. It's no different when people come to the Gold Coast. We're very focused on creating an outlet that our locals as well as our tourists will really enjoy. At the end of the day, we're creating an outlet that's for everyone."
Nineteen at The Star's target market will include the lucrative convention sector, described by Geoff as 'really, really important' for the Gold Coast. With many national and international companies holding conferences at The Star and adjoining Gold Coast Convention and Exhibition Centre, Nineteen promises to add a new 'wow factor' to the city's tourism offering.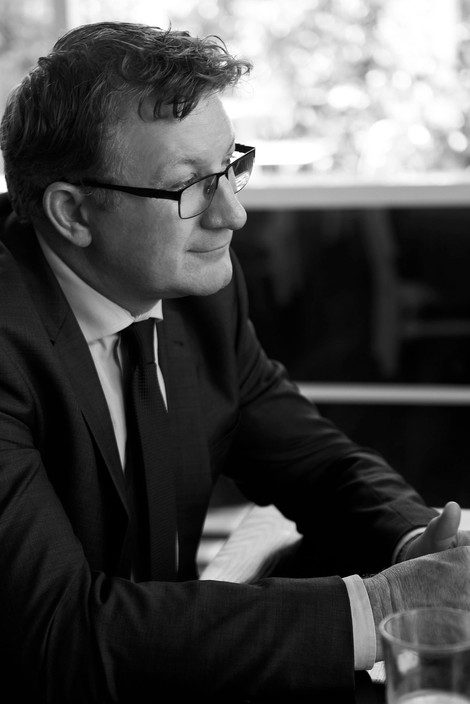 "The convention centre is a wonderful asset for the city and when you get a large global group, with hundreds of people coming to stay, the opportunity's there to book out the rooftop for a major function," he says. "You give them an experience like that and it makes them come think about coming back to Australia, and the Gold Coast, very quickly. It literally grows the pie. The tourism opportunities for the city are fantastic."
Nineteen at The Star's dazzling infinity pool will be accessible to The Darling hotel guests in the mornings, and to the public when the restaurant and lounge bar open.
"The pool area itself is very relaxing," he says. "It's a great place for guests who want to have a swim in the morning and then come back for lunch or dinner in the evening, or a couple of drinks. It's been designed so people can just sit in the water and relax and have a drink and feel like you're looking across the Coast and the ocean while on top of the world. Or they can lounge around the pool and not get wet."
Geoff says The Darling and Nineteen at the Star were a strong sign of confidence in the future of the Gold Coast beyond the Commonwealth Games.
"We're making this significant investment because we're really confident about the growth opportunities in tourism post the Games," he says. "These investments make a return five or 10 years down the track. And we've all got a lot of confidence in what the Gold Coast is going to drive a decade after the Games. We're very excited about the next 10 years and beyond."
Simon concludes: "This is the first time we've had a drawcard of this magnitude on the Gold Coast and I think it's just the beginning. The recipe's right for the Gold Coast now to go forward. The Coast won't turn backwards now. It's the old cliché but it's so true… our best days are in front of us."
Nineteen at The Star will be open seven days for lunch and dinner, with the lounge bar open from 5pm until 10pm Sunday to Thursday and 'til late on Friday and Saturday night.