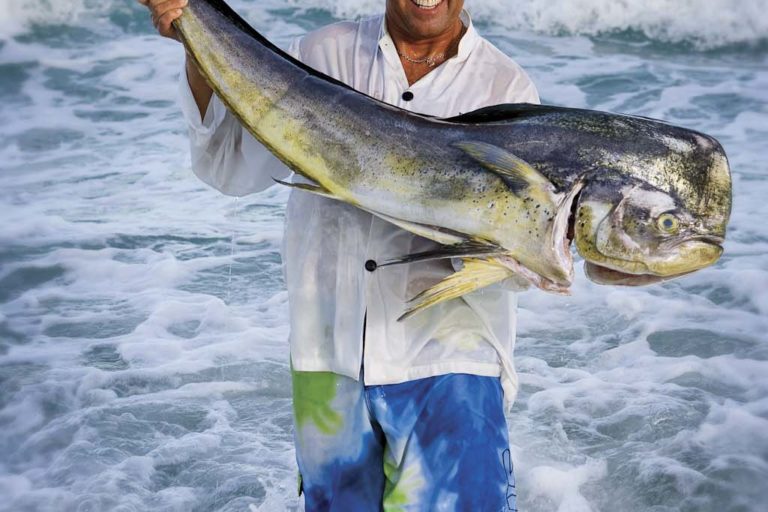 WORDS: PHOTOGRAPHY
Celebrating 21 consecutive years of being "hatted" by the Good Food Guide, Steve Snow shares the secrets of Fins' success.
I tell everyone my Steve Snow story.
A few years ago, my friend was turning 50 (no names, but let's call her 'Jo'.) Jo loves food and she loves cooking. So her husband (not-his-real-name Jeff) suggested we surprise her by getting a chef to come to their house to cook dinner for a small group. Could I ring Steve Snow?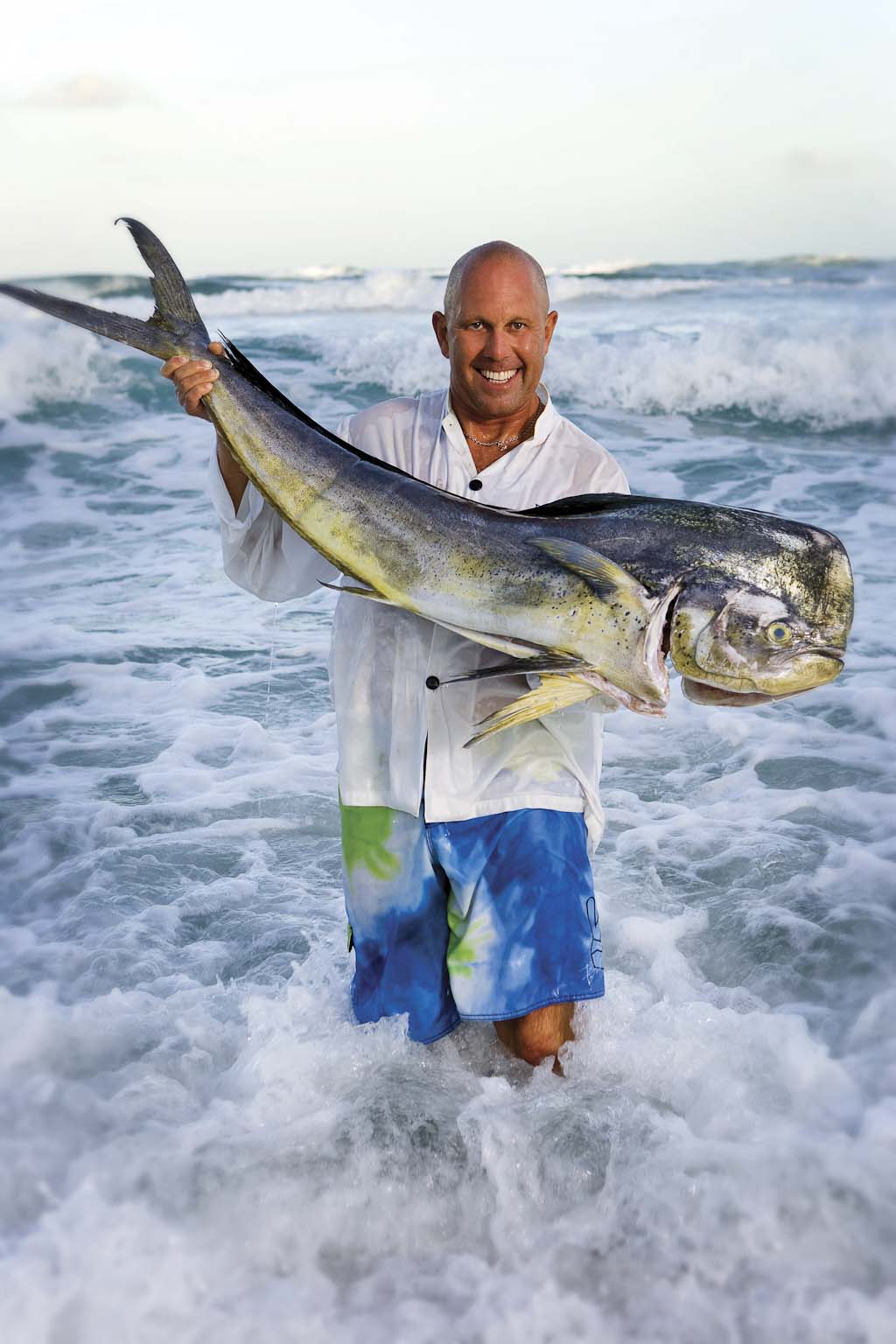 Now I knew Steve… sort of, kinda. I'm pretty sure he had no earthly idea who I was when I called him up out of the blue to ask this random favour.
He sounded a tad surprised… perhaps a little hesitant. But fortunately, he knew Jo (she knows everyone!) and was happy to oblige.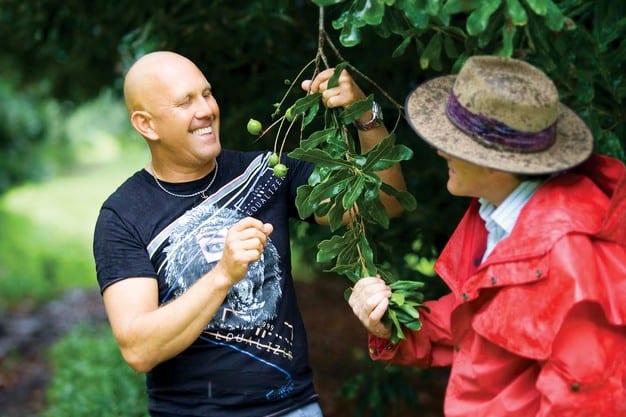 He duly turned up, full of enthusiasm and carting what seemed to be boxes and boxes of food into Jo's kitchen. As he set about slicing and dicing, I ventured to ask: "So do you do this sort of thing very often, Snowy?" He looked puzzled. "You know – get asked to cook dinner like this in people's homes?"
"Oh… um… well, sometimes," he answered, ever so politely. "I think the last time was for the King of Morocco."
I was hoping the floor would open up and swallow me. Here's this lovely man who gets flown around the world to cook for royalty, happily whipping up a feast in my friend's kitchen and chatting away to us all like he does this every day of the week.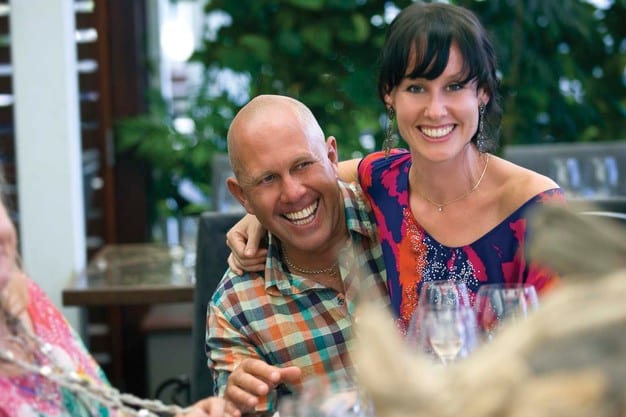 To me, this story says everything about the kind of guy he is; totally unpretentious and willing to do anything for a friend. He's comfortable with any crowd; a what-you-see-is-what-you-get, thoroughly nice bloke.
He was exactly the same when I caught up with him again recently to talk about his incredible achievement of 21 consecutive years being 'hatted' by the Sydney Morning Herald's Good Food Guides for his various incarnations of Fins Restaurant.
These are serious accolades. The Good Food Guide judging is based on unbiased, anonymous, expert reviews, totally divorced from any public, peer or social media voting system.
And, yes, Snowy was pretty excited for his northern NSW restaurant at Salt Village to have been honoured for 21 years straight.
But not nearly as excited as he was about the icetub of freshly caught fish he'd just picked up from the local trawler and deposited in the kitchen.
"Wow, Karen – you should see them! Fantastic!! We should've got Brian down here today to take a photo. You just can't get fish like this anywhere else in the world!"
In fact, Snowy is so attached to our local seafood, he now takes it with him on his travels. Yes, seriously.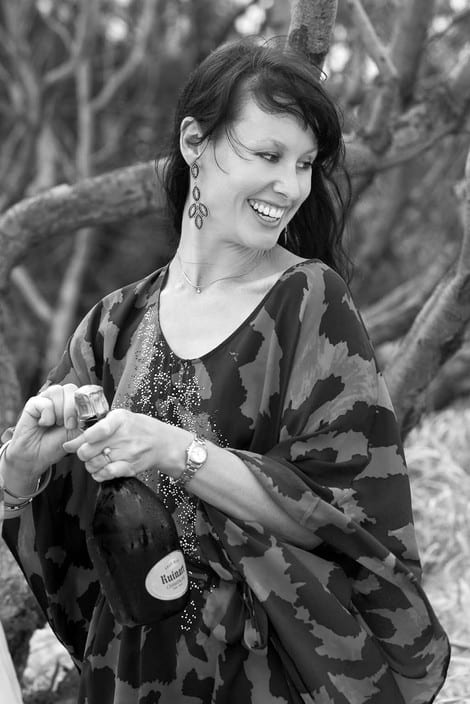 "I get asked to cook at gourmet events where people are paying up to $1000 a head to eat my food because I'm the 'seafood guy'. Then I look at the fish they give me to cook with and say 'No way! Are you joking?' So now I take my own fish."
It's hard to believe anyone could be so piscatorially passionate after 20++ years in the game.
But whether he's talking about surfing, yoga, meditation or getting the perfect texture in the glaze of a sauce, passion and enthusiasm are Snowy's hallmarks.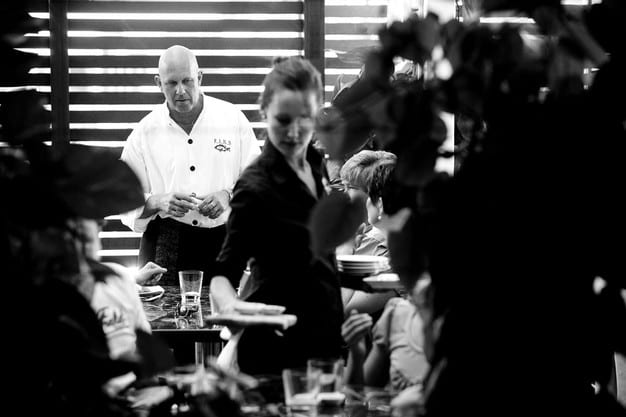 "I started out studying law and commerce then switched over to a degree in business," he says. "I got a job in the corporate sector and I was great at the creative side but I just couldn't cop it. I wanted to work with food.
"I can imagine what my mother thought when I told her I was going to quit and become a cook: 'You can't be serious? You've got a university degree, a great job, and you want to give it all up to turn hamburgers??' Of course, she's all good with it now."
But getting to the "all good" stage involved plenty of those "you can't be serious" moments.
Like when Snowy decided to buy a run-down former restaurant at Brunswick Heads back in the early 1990s.
"Everyone said I was mad. It had been shut down for six months and they reckoned the place was jinxed. Even the landlord had come down with food poisoning after he ate there."
One well-placed review put Fins on the radar and Steve suddenly found himself welcoming serious diners who'd flown up from Sydney and Melbourne to see what all the fuss was about.
The first Good Food Guide 'hat' arrived soon thereafter and Fins became the foundation of the far north coast's reputation as a foodie destination.
It looked like the jinx had returned when the Brunswick site was reclaimed for a highway upgrade but north coast locals and loyal customers, John Cornell and Delvene Delaney quickly found a place for Fins in their iconic Byron Bay Hotel.
There were more hats – year after year after year. More accolades. More awards. Fins was named Best Regional Restaurant and Best Seafood Restaurant so many times that Snowy's lost count – "I'm hopeless at keeping track of things like that," he says.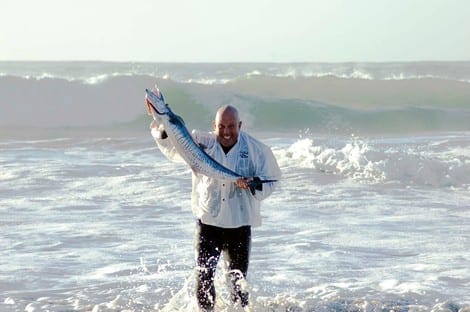 So let me help: Fins holds the record as the most awarded regional restaurant in Australia.
When John and Delvene sold the pub, Steve's next move involved yet another "What the…?" moment: Relocating to what was then the very new – and very off-the-beaten-track – Salt Village development.
He didn't miss a beat. With barely more than a handful of families living within coo-ee, Snowy put the Fins magic to work. His loyal customers followed. New friends became new fans. And the hats kept coming.
With a resume that includes writing, TV presenting, conducting masterclasses and travelling all over the work to cook for VIPs, Snowy is as much in love with life as ever.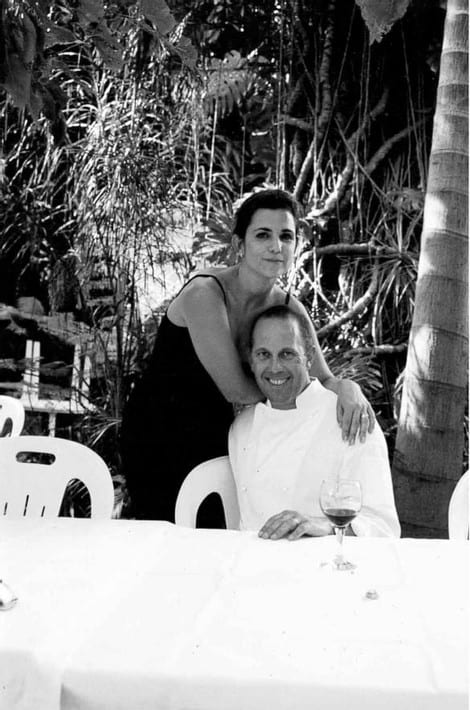 He says he's a different man these days: Calmer, happier, more centred thanks to taking up meditation and yoga, and getting out for a surf as often as he can.
But when you ask him the secret of Fins longevity and success, he has one very simple answer: His wife, Morgan, Fins sommelier and General manager of snowy and the Fins group.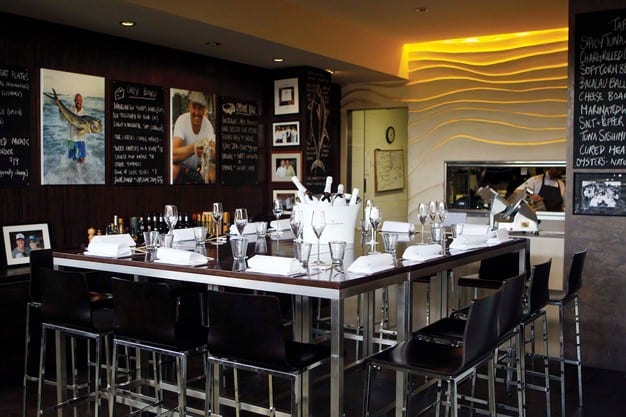 "For a long time, it was all about me but it's not like that any more. We're really a team. And I'm not saying that to be nice … or because I want to stay married! It's a fact.
"Fins wouldn't be where it is and I wouldn't be where I am without Morgan coming up with a whole heap of great ideas – particularly to do with relevance and what's happening right now.
"It was Morgan's idea to turn the bar into a pop-up restaurant … and it's gone really well. We started with Pequena Portuguese because I'd had a restaurant in Portugal. Then we switched to Japanese street food – followed by The Greek Kitchen and The Butcher's BBQ.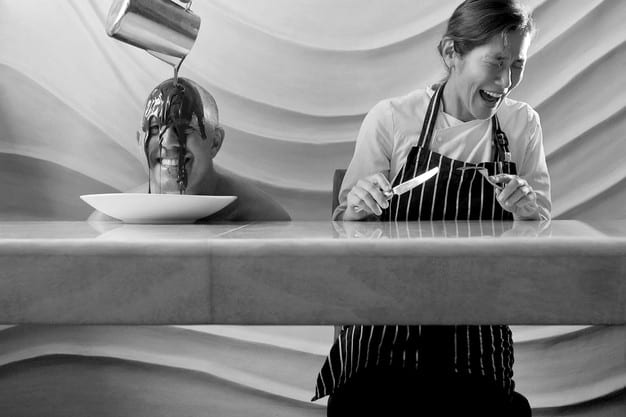 "We've just closed The Local after three months where everything on the menu was locally grown, and we've opened Raw Bar which is perfect for summer with lots of oysters, carpaccios, sashimi and other ocean treats.
"It's a lot of work, redesigning the pop-ups each time. Morgan gets in with the paintbrush while I create the menus and train the staff. But they've all been wildly popular – especially for the younger people who might not have been to Fins."
While Snowy shows no signs of slowing down, he does have a dream of taking Morgan and their two-year-old daughter to live on a tropical island one day, where he can open a simple restaurant and surf every day … but I don't think it will happen for a long while yet.
Just in case you're thinking of asking Steve to cook at your place one night, I'm pleased to say… you can! Details are in the Weddings & Functions section of Fins' website – www.fins.com.au.
I wonder if I can take credit for inspiring him to offer this… or do you think it might have been the King of Morocco?