WORDS: PHOTOGRAPHY
Once upon a time there was a girl who left the bright lights of the city and found happiness. She found herself happy, whole and utterly content in Byron Bay. ORM spent a beautiful day with the gorgeous Magdalena Roze.
There are some houses that you walk into that immediately make you feel calm. Magdalena Roze's pretty home in Byron Bay is one of those.
White walls meet white floor and together, it all creates a feeling of space and contentment. She describes it as "studio feel, kind of beach chic."
Walk through the sitting room through into the large open kitchen and marble top stretch round while cooking books sit patiently on shelves. Plants hang from tall shelves, sun streams through the windows and the entire space feels welcoming.
All this peace and serenity is a new discovery for the award-winning television presenter and meteorologist. Having studied at the University of Sydney, she headed to Macquarie University to gain her Diploma in Atmospheric Science.
For ten years, her life was a whirlwind of reading news and weather on breakfast and prime-time bulletins. She became a researcher and producer on travel programs for the Nine Network and BBC in London before a TV executive convinced her to be on-air. She went on to co-present Network Ten's The Project, covered two Olympic Games and covered some of the biggest natural disasters in Australian history.
"If you'd have told me a few years ago that this would be my life I wouldn't have believed you," she says with a big smile. "I never would have imagined I would be living in Byron Bay and I'd be a mother. No way! I feel like I've lived two lives."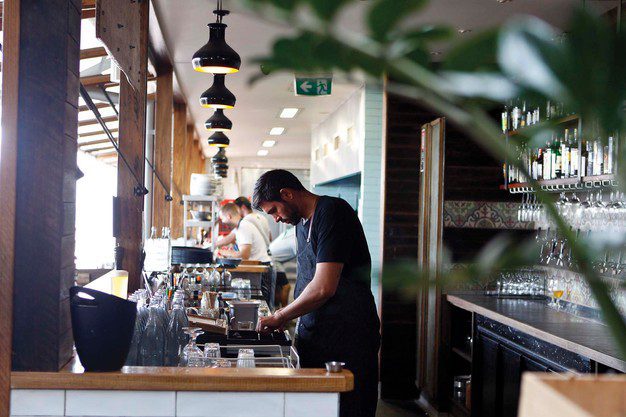 In her 'old life' she was a fast-paced career girl working at Channel ten in north Bondi. "I was up at 3:30am to host brekkie, I'd fly to Melbourne to co-host The Project at 9pm I was really burning the candle at both ends.
Honestly, seven days a week I was non-stop. It was so much fun, it never felt like a chore. It feels like it was a different me who was whizzing around in cabs, researching topics on the go. I'd arrive in Melbourne from the airport with my makeup three-quarters done, straight into voiceovers, into production meeting, finish off my makeup, then we'd do a full run-through and then we were live. The concentration it demands being on live TV, talking through opinionated often controversial topics, is intense. It still gives me butterflies just thinking about it. You've got to be really switched on.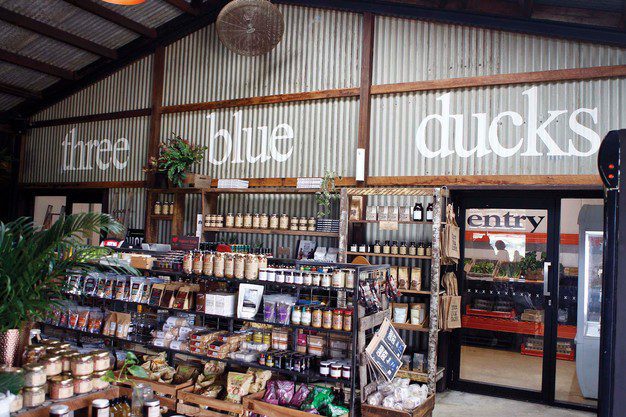 Then came a date with celebrity chef Darren Robertson. Their first holiday together was a trip to Byron Bay. Dreams grew of owning a restaurant on a farm and the fairy-tale continued with an engagement in 2015. The location of the restaurants on a farm? Byron Bay.
"For a while, we split our time travelling between Sydney and Byron," says Magdalena. Sydney was fast-paced and I grew more and more attracted to the vibe and pace of the lifestyle here in Byron. The greenery is incredible and I love the sense of community and abundance of produce. I like having such incredible balance in my life – and being make-up free. It feels good!"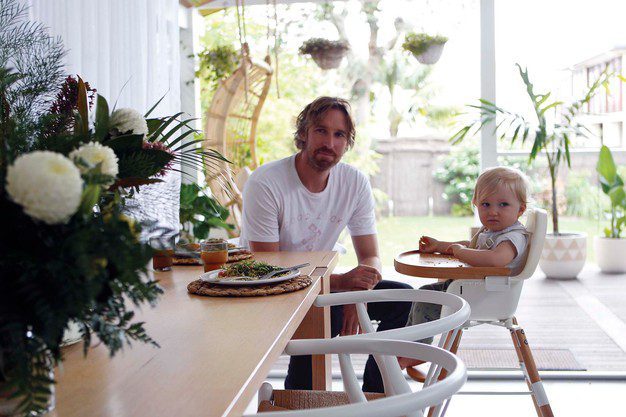 The couple had their first child Archie last December. "My life before Archie was like a completely different life. I feel like I'm rediscovering life through Archie's eyes," she says softly. "The spectrum of emotions is far greater than anything I've experienced ever before. I love wandering around farmer's markets with him and just taking it all in. Everyone's marriage is different, ours is one of constant collaboration. We have coffee every morning as a family and do the crossword together. We discuss our projects in great depth."
There is some overlap, now, with their projects of course. Magdalena's cook book was an unexpected opportunity but one that Robertson encouraged from the start.
"It was never my intention to write a cook book! It's funny because Darren's now on his third. Sometimes I'll be writing on my laptop and close it down saying, 'no, you can't see, don't look'. There's cross over, it's funny. He often cooks at home and we both try out recipes on each other."
Her own cookbook is themed around the weather, making sense of her extensive knowledge and background. She chooses not to focus on seasons, rather the actual weather. "The seasons here in Australia don't really describe the influence of the weather as much as what it's actually doing. Is it rainy, sunny, humid or cloudy? It's the weather that affects our senses, our lifestyle and decisions. It evokes certain moods and feelings – and it also guides our appetite. Certain weather makes you crave soup or salad, for instance.
"I love how my book has come together. It's food focused with lots of recipes but also weaves in other parts of my new life. It reflects what my life is all about now; there are chapters on wellness and motherhood. It captures some soul, I hope, as well as the cooking aspect.
Darren's restaurant is the Three Blue Ducks on The Farm at Byron Bay. It also opened a sister restaurant in Bondi this year. He's worked at renowned fine dining restaurants all over the world.
Walk into the Byron Bay venue and prepare to be impressed. Produce is on sale to take home and there is a real celebration of sustainability, farm produce and food education. He and his business partners use local suppliers where possible. A diary down the road supplies fresh milk for them to make ricotta. You can take a seat, sit and enjoy a meal at lunch or dinnertime.
Much as this lifestyle may sound idyllic, it's certainly had its moments. "I remember Archie sitting on the kitchen floor when I was doing the book, he was surrounded in pots and pans. There was some chaos, for sure. I was testing recipes whenever I got the chance, then during nap times I'd write. It was such a surreal time; I don't even remember how I managed to get it all done to be honest! He was up three or four times a night and therefore, so was I. No one else could breastfeed except me! When I first became pregnant I remember thinking, 'oh, I'll be fine. I've worked long hours before… little did I know!"
Magdalena Roze's debut cookbook is all about enjoying food, the natural way. It is also about achieving a balanced lifestyle with simple rituals that nourish the body and soul, and teach us the importance of slowing down, bringing an element of simplicity and wholeness into our lives.
Magdalena's food is simple, nutritious and delicious. Many of her recipes are based on traditional wholefoods or 'foods with a function' that not only taste great but also have great health benefits.
HAPPY AND WHOLE
Wholefood recipes and ideas to nourish the body, soul and home.
RRP $39.99 / Paperback
When she's not busy being a mum, testing new recipes, or wandering around farmer's markets seeking inspiration, Magdalena also finds time to host events. She's recently hosted events for a range of clients and charities including Qantas and UNICEF. She's passionate about the environment, an ambassador for Earth Hour, Planet Ark and RSPCA's 'Set A Sister Free' campaign. Read more on Magdalena's blog: http://magdalenaroze.com