Gold Coast Sporting Hall of Fame Induction 17TH NOVEMBER 2021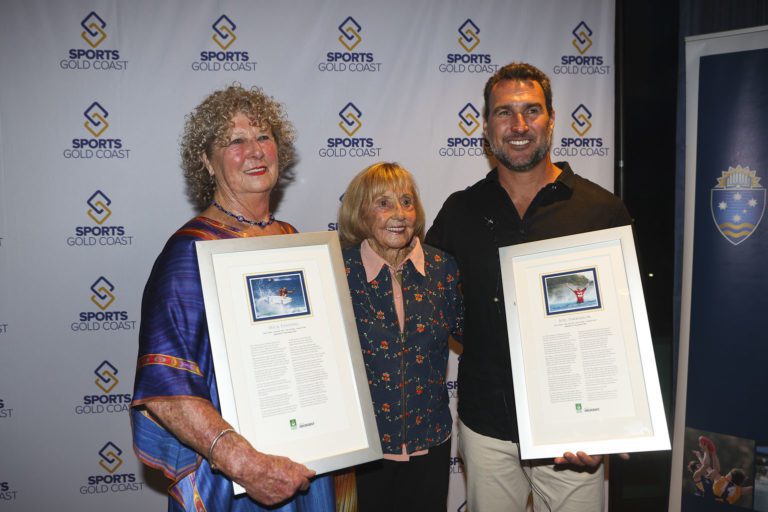 WORDS: Sports Gold Coast PHOTOGRAPHY Brian Usher - www.usherusher.com
Gold Coast Sporting Hall of Fame Induction – Mick Fanning & Joel Parkinson
Meet Mick Fanning
I was born in the Western Suburbs of Sydney in town called Penrith, the youngest of five kids.
The beach was a two hour drive away. Our mum would load us into her little red bomb, radio blasting with old rock songs, and drive us down the coast. We didn't have much but we didn't need much, we had each other and that was plenty. With three older brothers competition was a part of life when we were kids. We battled for everything: food, toys, and eventually waves. I think that's where my competitive nature comes from.
My parents separated when I was three and we moved north. Hard times made a little easier because we were living on the coast. My three big brothers started surfing and, as little annoying siblings tend to do, I followed them. Life was great and got even better when Mum took a job on the Gold Coast. I started competing in junior events and getting results. Pretty soon sponsorship contracts began coming my way and becoming a pro surfer became the dream.
My older brother Sean had the same goals and it bound us. We dreamed of making the tour together. He encouraged me and looked out for me. Sean was just 20 when he died in a car accident. We were out at party together but got split up. I walked home, Sean jumped in a car with friends. On the walk home the police picked me up and told me Sean was gone. I was burdened with the news and had to tell the family he'd been in a car accident. I locked myself in my room and didn't leave it for a week.
Not long after I was travelling the world surfing against Kelly Slater, Mark Occhilupo, Andy Irons, Shane Dorian, Rob Machado, Taylor Knox and the rest. I finished fifth my first season and claimed Rookie Of The Year. In 2003 I went to fourth. Mathematically I was close to title contention but to be honest I was nowhere near it. I had the desire but not the dedication. I wasn't world champ material.
In 2004 a career threatening injury made me realise that. I tore my hamstring off the bone completely on a surf trip in Indonesia. I was told I might not ever get back to my best. I'd taken my good heath and my position to potentially win a World Title for granted. Even before the  injury I had weaknesses in my surfing and my attitude. Something had to change. I began to understand my body and myself better than I ever had. I wanted to be a World Champion and I became 100 per cent committed to reaching that goal. 2007 was the year it all came together. On the day I won the title in Brazil there was a dolphin out there in the line up. It wasn't part of a pod, it was cruising around solo and kept popping up during my heats. I felt the presence of my brother, Sean. It was the best and I got to dedicate it all to my brother.
I won a second world title but it took its toll on me. I was winning but felt like my relationship and friendships were suffering. A third world title in 2013 was more fun. I could flick the switch and get into competitive mode but could also zone out and enjoy the world around me.
I was in contention again for a few years there and 2015 felt like another world title year. At J-Bay I felt unbeatable and going into the second half of the year determined this as my event to charge ahead on the ratings. That's when the shark popped up and in a matter of seconds altered the course of my life giving me perspective I'd never had before. Dealing with an outrageous level of public and media interest along the way I went into the final event, the Pipe Masters, leading the world title race. Everything felt right… a fourth title was right there.
On the day it was all set to go down at the final event of the season I was woken early by a knock on my door. My mum was standing there, tears in her eyes and clearly hurting, I knew it was bad news. She told me my eldest brother Pete had passed away. The morning I found out he'd died friends were comforting me telling me I didn't have to do go out if I wasn't up to it. I knew what Pete would want.
To win the World Title I had to place ahead of Adriano de Souza. I was up for the challenge but had to overcome the two greatest Pipe surfers of all time in Kelly Slater and John John Florence to stay in contention. The waves were firing and we all had excellent rides. I won the heat but eventually lost the title to Adriano. Losing the title didn't hurt. At the end of the day I only had my Pete in my thoughts.
Kelly is the greatest of all time and John is without question the best surfer in the world right now. That heat win was the hardest and most satisfying of my entire career and no heat from then on could match its significance or my desire to win. It's the moment I'm most proud of in my career and the ultimate dedication to my big brother. Before the 2016 season kicked off I knew I didn't want to compete but wasn't entirely sure I wanted to retire for good. I surfed in a five events to keep a spot for 2017 and buy some time to consider my next move.
 For over 20 years my schedule has been dictated by event dates and locations. Now I could go wherever I wanted, explore new places and experience new things. The only event I really focussed on in 2016 was J-Bay. I had so many good memories of that place and felt I had unfinished work after the final was canned due to the shark in 2015. The victory over John John in the final is what got me thinking about having another shot at the tour. I didn't want to be sitting around in 10 years time wondering if I'd retired too early.
I signed up for 2017 but soon realised I don't have that drive for competition anymore. Early 2018 I announced that the Rip Curl Pro at Bells Beach would be my final event as a full time campaigner on the Championship Tour. Now that I've moved on from competition I want to experiment with different equipment and enjoy a fresh approach. The main goal is to be a better person, a reliable friend, a loving son and brother and raise awareness of the challenges facing our environment. I reckon that will keep me pretty busy.
I wanna thank everyone that has been part of my trip so far I can't wait to see where this new road takes me.

Meet Joel Parkinson
Joel Parkinson is a 17-year veteran of the Championship Tour. He is regarded as one of the most naturally gifted and stylish surfers to grace the sport, and his authenticity brings people even closer to him. The legendary surfer from the Gold Coast of Australia has 12 CT victories to his name. The first came at Jeffreys Bay in 1999, where competed as a wildcard.
His latest came at the Oakley Bali Pro in 2013, where he earned one of the few perfect heats seen in history – masterfully pairing two 10-point rides. Parkinson's remarkable career includes four runner-up finishes to the World Title (2002, '04, '09, '11). In 2012 he finally nabbed the title he so deserved, edging 11-time World Champion Kelly Slater to get it done.
It was sweet redemption after his stinging loss in 2009. That year, Parkinson had what appeared to be an insurmountable lead thanks to three wins during the first half of the season. But during the mid-summer break, he injured his ankle, and it showed. He suffered three early-round losses while his longtime Gold Coast sparring partner, Mick Fanning, won three events of his own. Fanning snatched the World Title (his second) in the final event of the year at Pipeline.
Amazingly, Parkinson has never taken a year off since joining the Championship Tour full time in 2002. In 2018, however, Parkison graciously made his retirement announcement at Jeffreys Bay to commemorate his 1999 wildcard appearance at the peeling right-hander.
Ultimately, parko decided to put his competitive surfing career to rest at the Pipe Masters so that he could cherish each Tour stop one last time in a jersey. Despite bowing out in Round 4 at Pipe, Joel finished his last year as runner up for the Vans Triple Crown.