From Little Things, Big Things Grow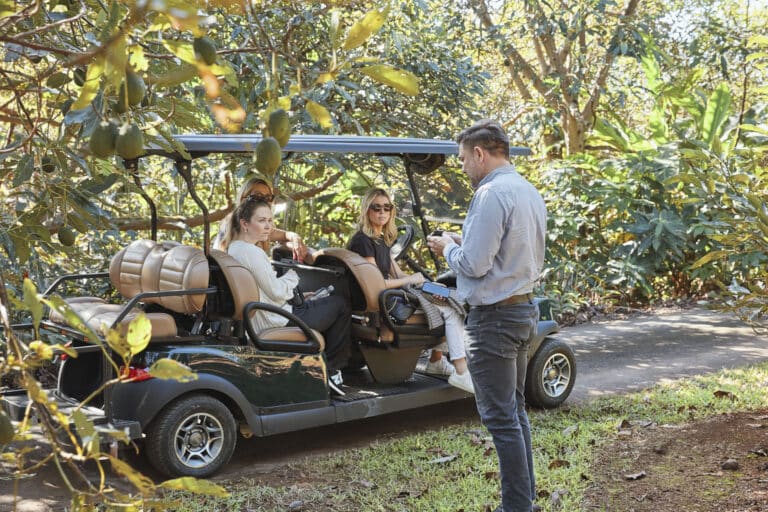 WORDS: Ocean Road Magazine Editorial Staff PHOTOGRAPHY Tropical Fruit World
You may be familiar with Tropical Fruit World, if not for their vast array of exotic fruits, educational tours and tastings, then perhaps for their treetop café or bespoke retail marketplace. Yet, within this lush paradise that celebrates 40 years of business this year, they're set to introduce an extraordinary layer of luxury, leaving visitors wondering how this slice of the Tweed Valley is still undiscovered by so many.
This pioneering agri-tourism business has been reinvented post-pandemic and their new offerings are exactly what the doctor ordered. Their luxury tour package takes you on an intimate exploration of scenic landscapes to places not accessed by the public, on a private buggy journey led by one of the knowledgeable guides. Each tour is customised to cater for your curiosity. If you're interested in native botanicals they'll show and discuss many; if apiary is of interest they'll take you to their hives; all enhancing your understanding of their unique agricultural techniques, local heritage, and the plethora of fruits grown in the rich volcanic soil.  You'll then get a chance to take a break in the picture-perfect tamarind cathedral for a leisurely long lunch. A seasonal menu offers an unforgettably unique flavour experience with exotic curated dishes featuring harvests from the farm — such as locally sourced fish with tangy pickled wax jambu or succulent charred mamey sapote labneh. The true paddock-to-plate experience.
Indulge in this one-of-a-kind immersion into nature with family and friends, or purchase as a special gift to someone — you're sure to ignite your imagination and feed your senses.
For a more casual exploration, the Duranbah Road Farmers Market is the perfect place to savour some of the region's finest produce and enjoy this unique market vibe. Proudly hosted by Tropical Fruit World each Saturday from 8 am until 11 am, this market is a must-visit weekend ritual.
Tropical Fruit World General Manager, Aymon Gow said the team loves bringing the market to life every week. "As farmers ourselves, we're passionate about bringing the very best produce and artisan products to our community to enjoy and this is another way for us to do that"
Here you'll discover a treasure trove of farm-fresh fruits, locally grown vegetables, vibrant flowers, delectable baked goods and a myriad of handmade delicacies and artisanal products — and you can shop as you bop with their live music each week.
Market Manager, Elke Robinson is focused on creating a vibrant and inclusive market "Our stallholders and entertainment crew are such a wonderful group. They're so supportive of our market ethos and making this a weekly shopping destination, a place for people to spend time together".
Stay in the loop with the latest activities and featured produce by following the Duranbah Road Farmers Markets on Instagram @duranbahroadfarmersmarket. Discover what's fresh, exciting, and enticing each week, to ensure you never miss out on what's happening.