Football club enjoys MAGIC touch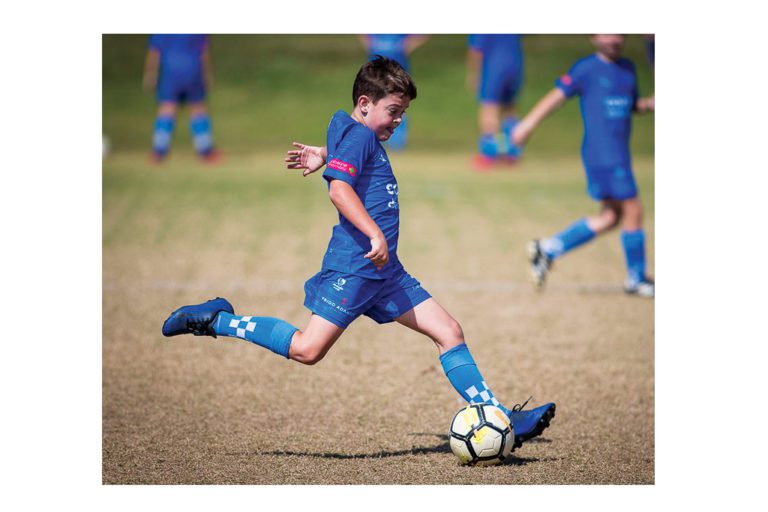 WORDS: Andrew Robinson PHOTOGRAPHY Supplied
Peter Fenton, Vice President, Magic United 
On behalf of the committee of Magic United FC (Magic), we're delighted to announce we have obtained a QPL 2 Senior Men's Licence for the 2021 season, as announced by Football Queensland. This means our Senior Men's team and Under 23s will now play in this new League which sits above the local zones _ in our instance, Football Gold Coast.
This will be a fantastic challenge for our seniors that will also give our juniors at Magic the opportunity to strive to play in a Queensland competition.  Our ambition will be similar to that of other clubs also granted QPL status _ to achieve promotion to QPL 1.  Promotion would extend our footprint and open this pathway up for Magic to have SAP U9 to U12 and U13 to U18.  If the Club was to remain in QPL 2 in 2022, we would include an U18s team.
Adem Poric, CEO, The Magic Group
I'm delighted for the committee, players, families and coaches involved with Magic United.  I also extend my congratulations to the other seven clubs that have achieved QPL 2 status.In terms of development for players who participate in the Gold Coast competition, this will be an added pathway to play at a higher level. This is fantastic news for the Gold Coast football community and the Magic family.
Andrew Robinson, General Manager, The Magic Group
We're delighted to announce the opportunities at Magic United which will see Senior Men's and Senior Women's teams play for Magic United in 2021.  The committee at Magic United is working closely with Cr Bob La Castra, City of Gold Coast Council Sport and Recreation, local State MP Meaghan Scanlon, club patron and State MP Ros Bates and Federal MP Angie Bell to build a new, fit-for-purpose clubhouse that will meet the needs of all members of Magic United. Our current facility does not have enough changing rooms. The club is also reviewing and trying to secure extra playing space to accommodate our members. We are fortunate to have many members in our Magic Group in Business (MGIB) who are passionate about helping the club develop. This support in turn supports all of our members. Email [email protected] to find out more.
Robbie Smith, Technical Director – Boys, Magic United 
On behalf of the coaching staff at Magic United, we are delighted to offer a senior program at the club after being granted an FQPL2 license for 2021. After the great success of our junior teams in recent years, we now have a fantastic pathway and opportunity for our young stars to continue their development and transition into senior football. With coaching offered to all players at Magic United from the age of five, we are determined to help all players reach their potential and continue their journey in football with our club.
Danny Morton, Technical Director – Girls, Magic United
Magic United is delighted to announce a Senior Women's team will also enter Football Gold Coast in 2021. We are delighted with the progress and growth at the club during the past year.  Two years ago, we only had two girls' teams participating in the Gold Coast competition. We now have more than 100 girls participating and a full resume of teams from U8s through to U17s.
Our Under 17s teams finished 1st and 2nd in the league and played each other in the grand final. Our under 15s finished 1st in an undefeated season and our Under 13s and 14s girls finished 2nd and 3rd in a 14s' league. Overall, it was a very successful season.
We are delighted to announce the next logical piece of the puzzle will be to start a Senior Women's team. The team will play inside the Football Gold Coast Competition. In 2020 we also had great support from Valcon Homes, Corpsure Insurance Broking & Priceline Pharmacy.
Danny also introduced Sapphire Bennett, formerly of Arsenal and Chelsea ladies.  Sapphire will represent the women's team and she will also coach our girls' MiniRoos and competition teams alongside Danny Morton and Michael Robinson. If you would like to express your interest in representing the U17s team or senior women's team, please click on this link.
Bob La Castra, Division 8 Councillor, City of Gold Coast
Congratulations to Magic United FC on securing a QPL 2 license. As the name aptly reflects, this is a club that's truly united in its ambitions to reach great heights on and off the field, for male and female club members, throughout the age groups.
The granting of a QPL 2 license adds more worthy and significant recognition of a club that's going places.
Ros Bates
State Member for Mudgeeraba
Shadow Minister for Health and Ambulance Services
Shadow Minister for Medical Research
Shadow Minister for Women
Magic United patron, Ros Bates MP, says the inclusion of the Senior Men's and Women's teams in the 2021 season is great news for the Magic family, the community and football as a whole.
"Peter, Adem, Andy and the team at Magic work around the clock to provide opportunities for their players and this triumph is evidence of that hard work," she says.
"As the Shadow Minister for Women, I'm so excited to see the Senior Women's team enter Football Gold Coast next year.
"Magic has been kicking goals when it comes to female representation in the sport and I'm so proud to work beside them as they grow opportunities for women.
"I'm looking forward to cheering on Magic United in 2021."