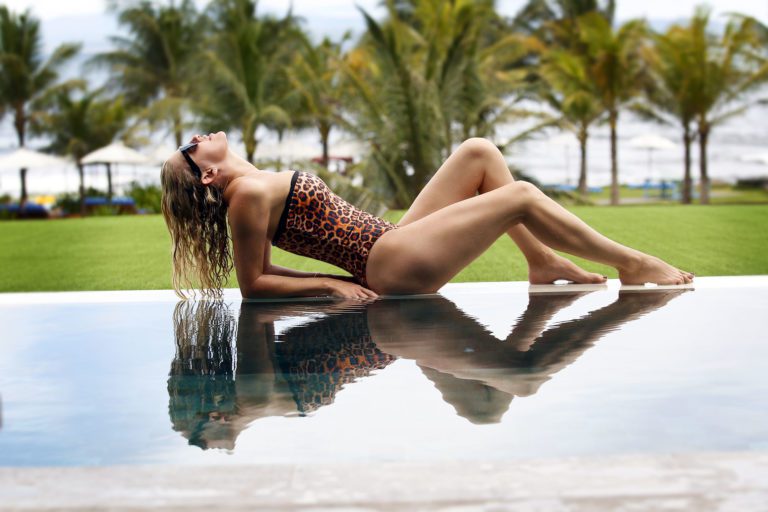 WORDS: PHOTOGRAPHY
With its world-class break and impressive facilities, including its ability to stage unique night surfing under lights, Komune is proving to be a destination of choice.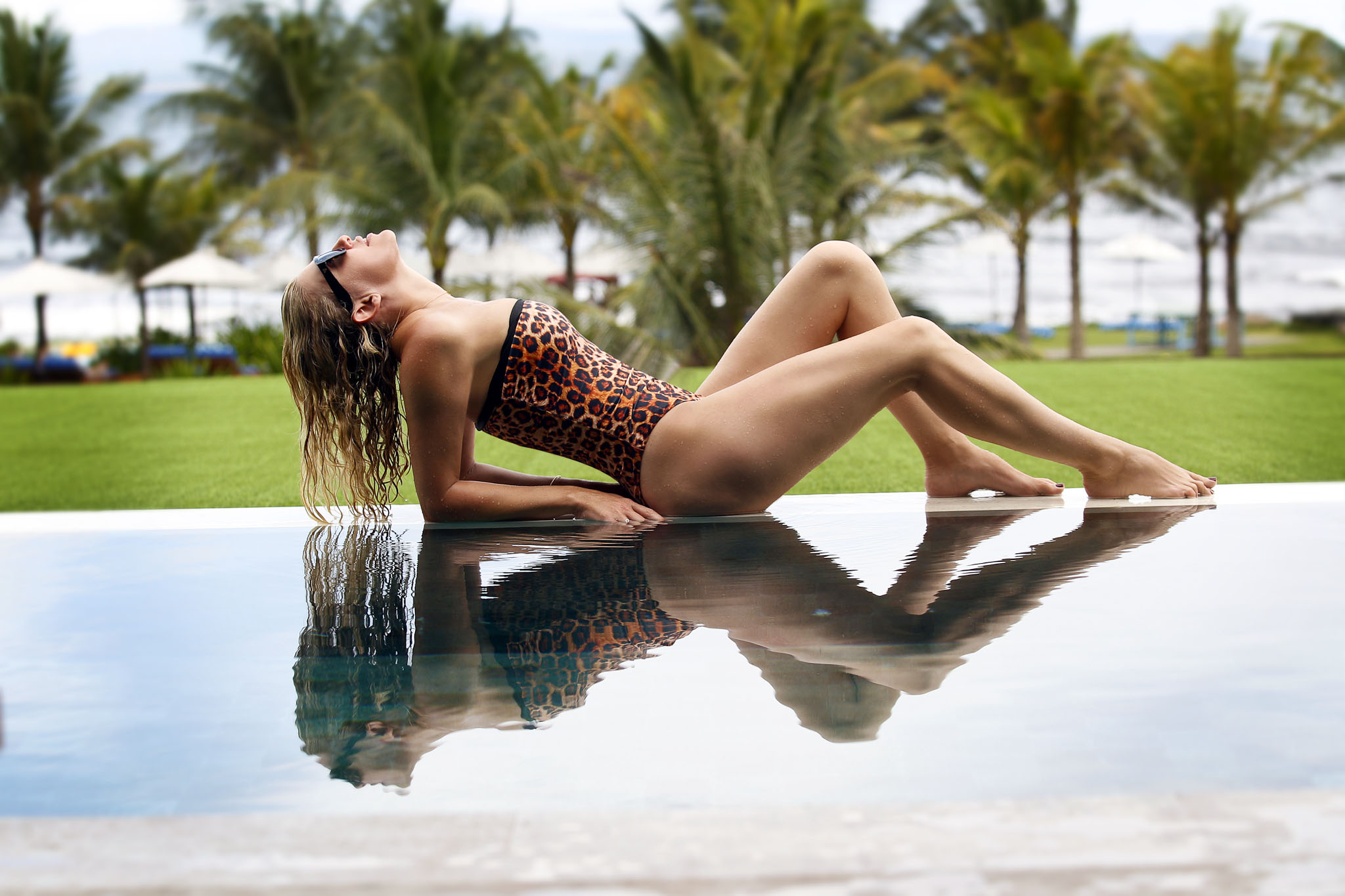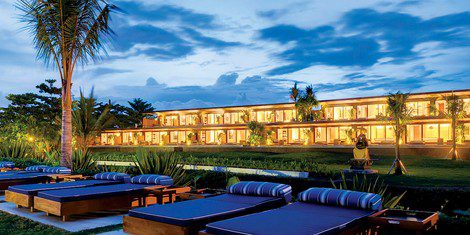 The holy white snake came slithering through the rice paddy next to the Balinese temple at just the right moment for Tony Cannon.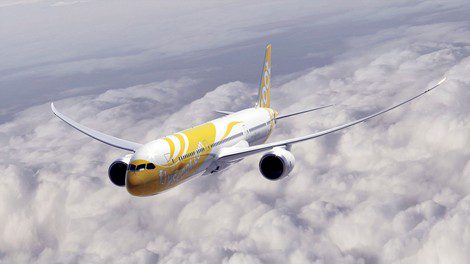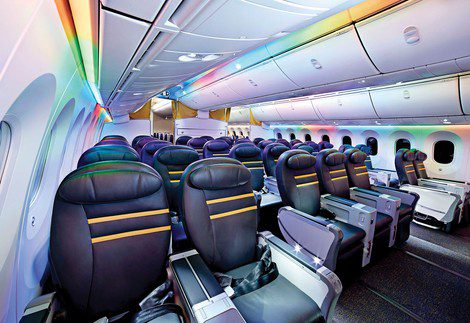 It was 2008 and Cannon was scouring Bali's East Coast for a block of dirt on which to build the Hotel Komune. A keen surfer, Cannon – the joint founder of Komune's original Gold Coast namesake, at Coolangatta – had read a surfing magazine article about an awesome reef break that had recently been 'discovered' on the 'island of the gods', a long-time mecca for surfing pilgrims from around the world. It sounded like a prime spot for a surf resort that Cannon had long dreamt of developing in Bali. But as he gazed over the rice paddy, seeing no wave to write home about breaking on the volcanic sand beach beyond, he realised he was in the wrong spot.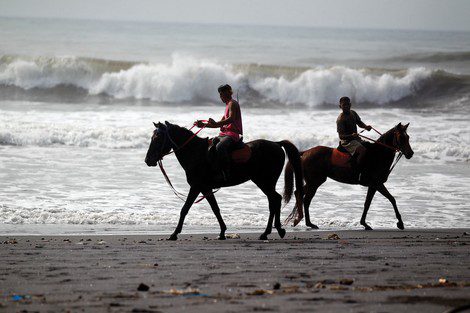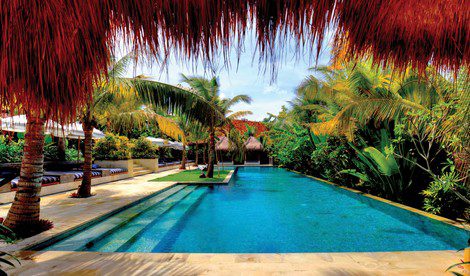 "I'd been coming to Bali for basically 30 years," Cannon recalls, speaking to Ocean Road over frosty Bintangs in the Beach Bar of his now-realised dream hotel.
"I started surfing up at Ulus (Uluwatu) and remember seeing the land jump in price from ten grand to 50 grand," he says. "Then, going back ten years later, it was like $1 million-plus. I remember reading this surf magazine story where (surf film-maker) Taylor Steele and (the late three-time world champion Andy Irons) were flying around Bali and found this magical wave on the east coast. I said to (wife) Alana 'I'm going to get on the next plane over and see if I can find it'.
Cannon flew to Bali the next day and hired a driver to take him up the coast.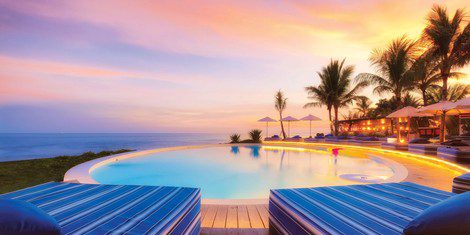 "He was driving me around everywhere and took me up to this big temple, where they (the locals) were trying to sell me the land right next door, which is completely illegal – you can't build on it," he said. "Suddenly, I saw this white snake coming over the rice paddy next to the temple. As soon as I told the locals I'd seen the snake, their whole mindset changed. They got all goosebumps and stuff and said to me, 'that's the temple snake'.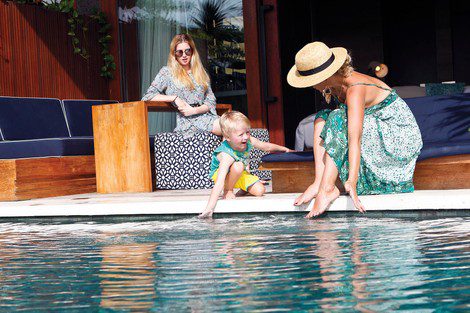 "Then other people came and started talking to me and asked what I was doing there. I told them I was looking for this spot called Keramas."
The locals pointed him about half a kilometre down the beach, where he entered a beachfront warung (traditional Indonesia stall). Inside, he met a local who told him his family owned the land and offered to take Cannon to the village to talk business.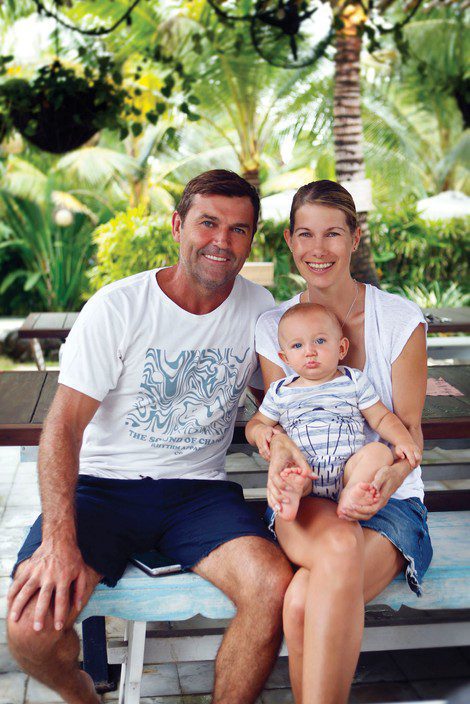 "I spent the whole day in the family home – they were like the head family in Keramas – and crunched a deal with them to buy the land," he recalls.
Cannon bought an initial plot and has since more parcels to expand the beachfront site where Komune now sits to 4.5ha. He had worked extensively with the late Gold Coast developer Brian Ray developing luxury ski accommodation in the Victorian snowfields, and wanted to do something similar but in a surf setting.
"Surfing has always been close to my heart and I wanted to develop something that was aligned to that passion – somewhere I could come with my family to holiday and do my job at the same time," he says .   
"Coming to Bali for so long, I'd always seen a need for a place where the guys could surf but their families are really, really happy – not just a second thought.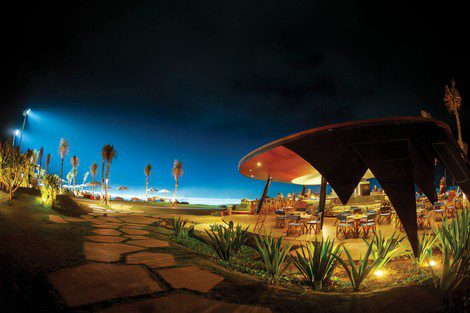 "The whole idea with this place was to make it somewhere where you can surf but your family's really well looked after, with facilities such as the Day Spa, Kids Club and children's playground. Komune is built around the concept of communing with your loved ones and friends."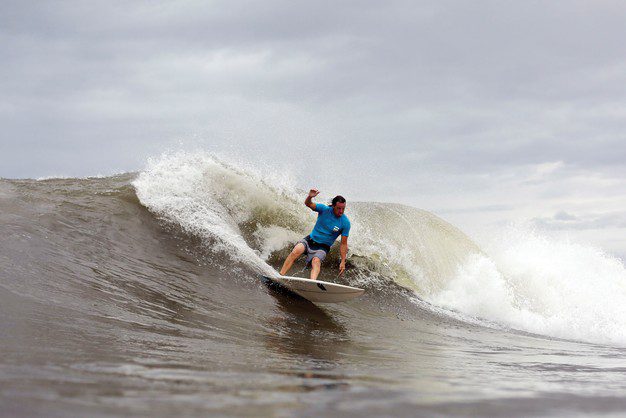 Initially, Cannon says, he was planning a 'small, low-key surfers resort'. But friend and business associate ex Fitness First CEO Tony De Leede, who owns the renowned Gold Coast health retreat Gwingana, was keen to come on board as a partner and the Komune concept grew. Tony has been instrumental in developing the fitness and wellness elements of the business . Former top professional surfer Luke Egan was also brought in to help deal with the sensitivities of developing a resort at a little-known break prized by Balinese locals.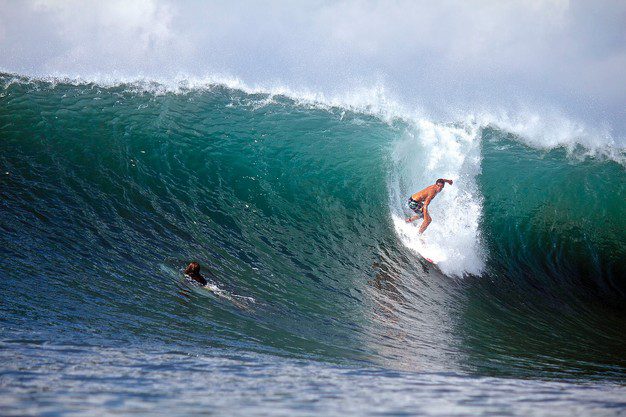 "At some stage, this site was always going to be developed and it was important for the locals to know that we wanted to build something special and respectful rather than some of the horrible stuff we've seen in other parts of Bali," Cannon says. "We wanted to ensure we had respect for the wave and for the local people. As surfers, we wanted to protect it and make it more beautiful than it was, not less."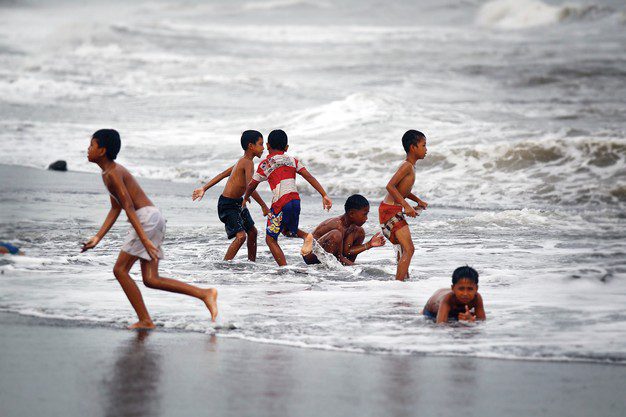 After meeting with the Indonesian Surfing Association, the owners
resolved to keep the charming beachfront warung as part of the Komune development so local surfers would have a place to grab a cheap post-surf meal and hang out for the day, and allowed the warung owners to maintain an ongoing business with income streams from food and drink sales, board hire and repair and surfing photo sales. Local surfers were also trained up and employed by Komune as lifeguards.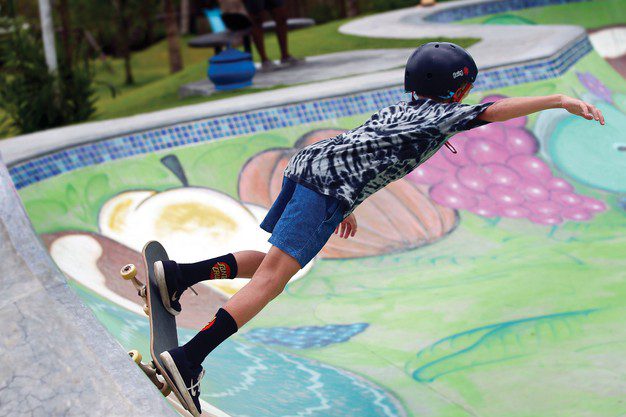 It's part of a 'giving back' program that also sees Komune donate a percentage of net profit to the local community, and employ 70 per cent of its 200 staff from the surrounding village. Staff are also put through hospitality training college and university at Komune's expense.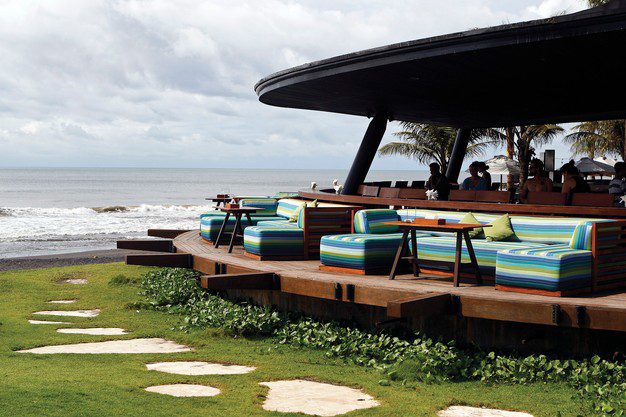 Having savoured the sublime Komune experience, we can attest that the staff are without doubt one of its greatest assets – and that's saying something given the resort's stunning setting and fabulous facilities. Whether the staff member is a Wayan, a Ketut or a Made – and there are many given the Balinese tradition of naming all children in order of birth – guests are greeted with a warm smile, courtesy and first-class service."That's our number one comment – how good the staff are, how happy and conscientious," Cannon says. "They remember all the guests' names, they know your children's names. We have a huge number of repeat guests. There's a real hierachy in Bali where the boss wouldn't normally talk to the staff but Tony D and I have taken a very different approach," adds Cannon, who is known as 'Mr Tony' to his Balinese team.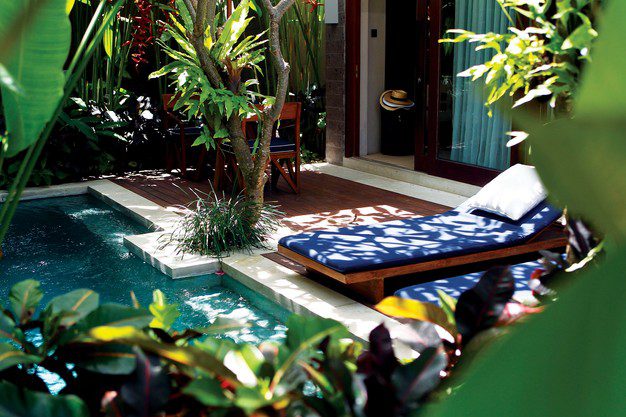 "We worry about the staff as well as their families, pay their medical insurance and so on. Before we even started developing Komune, we sent quite a few of the locals  to hospitality training school in Sanur and we have excellent staff as a result.
"Many of them were working in the warung before we even opened, serving us mi goreng and what-not, so there's a real sense of ownership and pride in what they do here. We have very, very little staff turnover."
With its sensitive locale beside Keramas River, there's also a strong focus on environmental sustainability at Komune.
Australian engineers were commissioned to design robust sewage, kitchen grease and wastewater treatment systems. Gates were also installed on the river to trap trash that sadly often ends up in Bali's waterways, and an entire team of staff is dedicated to sorting and recycling the rubbish removed.
"Our wastewater is tertiary treated and pumped around the whole site for irrigation so it doesn't go back in the river. The river is what created this surf break so we really wanted to make sure we weren't polluting it," Cannon says.
"Our theory is that if everyone looked after their own little patch, the rivers in Bali could be kept clean. We have a 'no plastic' policy, with only glass bottles (stamped with Komune's cool logo, an upside-down palm tree) and biodegradable straws. We have our own water bottling and purification plant, taken from a deep well, so guests are served only the purest water.
"We're trying to show people how to do development in a green way, and still do well out of it."
Komune is located about one hour from Denpasar Airport, but is a world away from the hustle and bustle of Kuta, Legian and Seminyak. This south-eastern part of the island still resembles 'old Bali', with none of the hassles of the typical tourist traps.
"This part of Bali is just so much more laid-back," Cannon says. "When you're over here, you just don't deal with all the traffic and congestion that you deal with on the other side (around Kuta). This area (Gianyar) is one of the old cities of Bali – they've got proper infrastructure but it's never been over-run by tourists.
"They've been able to watch what happened down the other side and not repeat those mistakes."
While there is no shortage of day trips and activities within easy drive of Komune, there's no need to even leave the resort with all its facilities and comforts.
"My wife goes up to Ubud (about 45 minutes' drive) shopping a bit but I don't leave unless I have a business meeting or am going for a surf somewhere else," Cannon says. "We get so many guests who come here for a week and have a week booked over the other side (of the island). They spend two days there and ring us up and say 'can we come back?"
With self-contained facilities including the day spa, hair and beauty salon and Health Hub complete with open air yoga pavilion, Cannon says Komune has become a popular wedding destination in its own right, hosting about 50 weddings each year.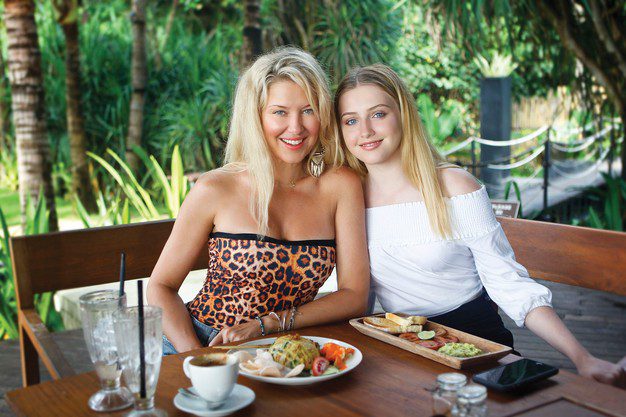 Couples can tie the knot on the lush green lawn overlooking the glistening resort pool, or in the rustic beachfront warung.
"We've tried to create this culture of a 'wedding week', where wedding groups come to Komune and stay for a week of celebration rather than just turn up for the ceremony and reception," he says. "You're here with your friends and family and you want to spend time together so why not turn it into a bit of a festival? 
"We'll host a welcome dinner for the group and arrange girls and boys days leading up to the actual wedding. So the girls might go up to Ubud shopping and get their hair done, and the boys might go surfing down to Nusa Lembongan, or go-karting or paintball.
"After the wedding, we'll organise a recovery day for everyone to chill out before heading home."
With it's world-class break and facilities, including its ability to stage unique night surfing under lights, Komune is also proving a destination of choice for the World Surf League.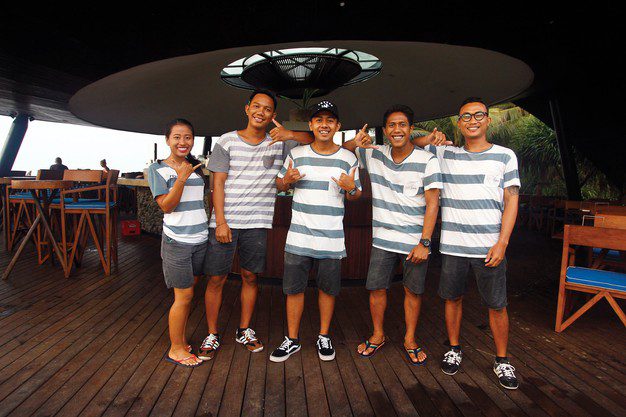 After successfully hosting the Oakley world junior titles in pumping surf just after it opened in 2013, Komune stepped it up by teaming with Gold Coast lads the Mad Hueys to stage the Komune Bali Pro world qualifying series event. This year, the resort is going all out, hosting a men's and women's world championship tour event, The WSL Bali Pro Keramas from May 27 to June 9.
"It's a plug-and-play surfing contest venue and the WSL has recognised that," Cannon says.
Making the most of Komune's superb Health Hub, the women's event will feature a health and wellness component, with morning yoga and fitness sessions for the ladies.
A new sports field and clubhouse that was recently completed next to the Health Hub, and designed for team sports such as touch football, cricket and soccer, will give the WCT surfers (and other Komune guests) the chance to get their competitive juices flowing out of the water.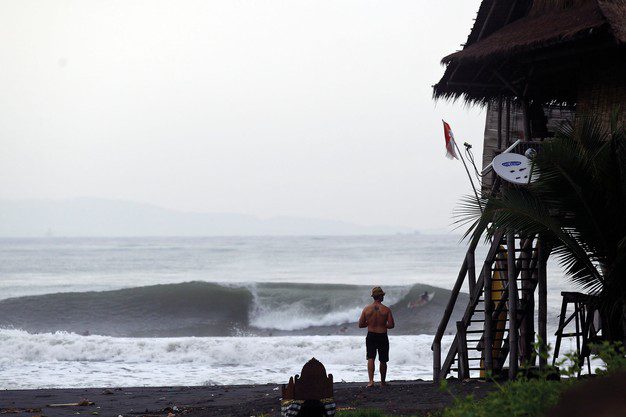 Cannon says Ocean Road publisher Brian Usher and his family are the perfect example of one of  Komune's target market and why the resort offers something for everyone.
"Dad (Brian) is surfing-mad, mum (Melissa) and daughter (Porscha) are right into yoga and the day spa activities, as well as the shopping in Ubud," he says.
"The eldest son (Hunter) can't get enough of the skate bowl and the little boy (Noah) just loves hanging out in the pool or at the Kids Club," he says. "The whole focus of the place is providing a holiday experience that's about being active and having fun, be it as a family, a couple or a single. We started calling ourselves a surfing lifestyle resort but we're really an active lifestyle resort."
THE ACCOMMODATION
Komune boasts a total of 56 stunning resort rooms, 38 magnificent beachfront suites, 10 luxury family suites and one spectacular three-bedroom villa (where lucky members of the Ocean Road team 'slummed' it for part of our stay), complete with its own private pool.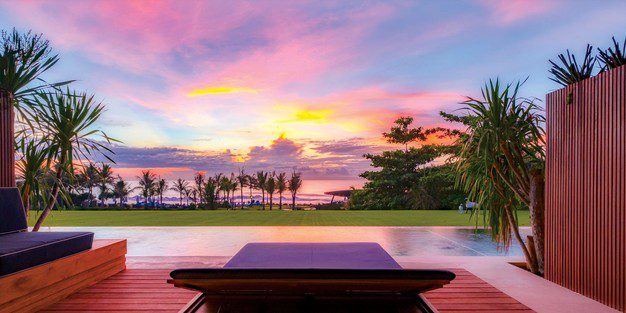 Most of our stay was spent in the ultra-luxe beachfront suites, which open out through huge timber and glass doors onto private balconies and a dazzling infinity pool terrace wrapping around the resort. From your suite, you look out over swaying coconut palms to the main surf break, and circular resort pool surrounded by relaxing day beds – perfect to kick back on with a Bintang between surfs.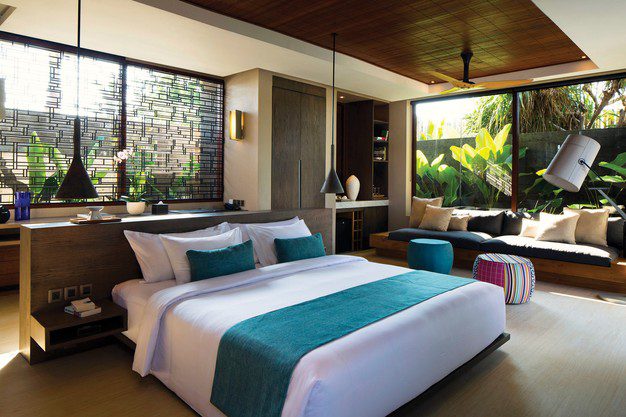 The immaculate suites are air-conditioned and feature stylish designer finishes of stone and timber, a king-sized bed with ocean views, huge ensuite with spa, big-screen cable TV and fully-stocked mini-bar.
Komune is set amid magnificently landscaped grounds, designed by landscape architect turned resort general manager Wayne Moffatt, who worked with Brian Ray and Cannon on projects including the luxe Bale Resort in Port Douglas.
Guests enter the resort via a nondescript, typical Balinese laneway and into an open-air lobby that sets the vibe for the laid-back holiday that lies ahead.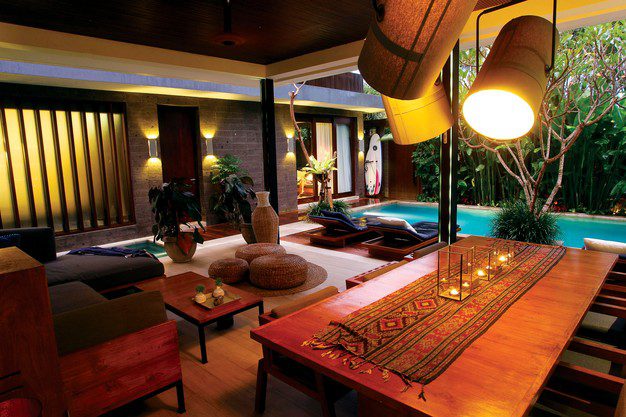 Gravel and volcanic stone pathways meandering through lush tropical gardens lead you to your accommodation, past traditional-style Balinese resort buildings including the Health Hub, the day spa and resort boutique.
Arriving at Komune past midnight after a late flight, I was nevertheless greeted by smiling staff and a refreshing tropical drinkthe moment I set foot in the lobby, before being checked into my room with effortless efficiency.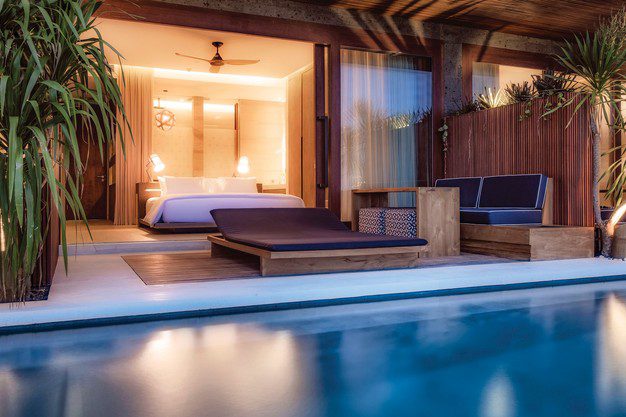 After a refreshing night's sleep in as comfy a bed as I've ever laid my weary head, I awake to the tantalising sounds of crashing surf, peel back the curtains and see a perfect 1.5m wave rolling down the reef beneath the horizon's pink smudge of dawn.
After a quick wake-up coffee, my board's waxed and I'm out there … setting the pattern for our idyllic week at Komune.
THE FOOD
HIS huge smile is rivalled only by the size of his sumptuous servings.
Komune executive chef Sungga Wayan is responsible for one of the resort's main attractions, its fabulous food.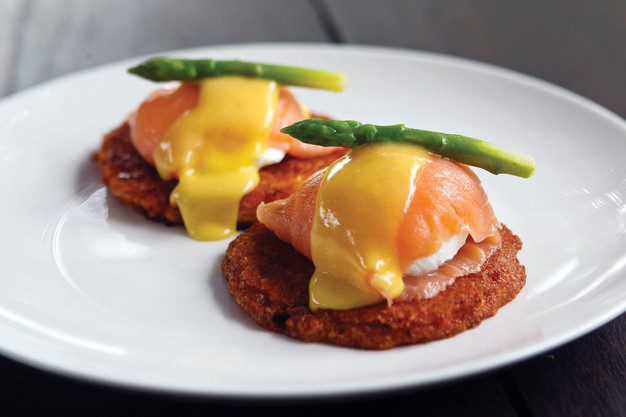 Having worked in some of Bali's finest hotels and luxury private villas, Sungga has been with Komune since it opened. Together with resort general manager and dedicated foodie Wayne Moffatt, he designed the mouth-watering menus for the resort's Beach Club, Health Hub and in-room dining.
While he brings in beef and lamb from Australia, Sungga says he likes to use the freshest and healthiest local ingredients, including produce cultivated in Bali's fertile volcanic soil.
'Rich flavours and tasty' is how he describes the vast array of delectable dishes he and his team create, from traditional Balinese fare through to western-style meals, all beautifully presented and served with a big smile.
The Ocean Road team dined mainly in the Beach Club but also sampled some of the even healthier (but equally delicious) meals in the Health Hub garden courtyard restaurant.
Some of our dinner favourites included the exceptional Green Seafood Curry, melt-in-the mouth Australian lamb shank (12-hours slow-cooked in yellow curry with vegetable, and served on a bed of cous cous) and superb Balinese ayam betutu (steamed then baked chicken cooked with traditional spices).
Asked to nominate his signature dishes, Sungga names the lamb shanks and the duck breast with gnocchi and oriental sauce.
And for dessert? Sungga's says his specialty is the Komune Cigar, a 'fine crispy mesh filled with vanilla chocolate mousse'. (Our pick was the Burbur injin – sticky black rice with served with vanilla ice cream).    
Our breakfast faves included the satisfying brekky burrito, healthy choice sweet corner fritters (served with chunky avocado, tomato salsa, steamed asparagus and a dollop of sour cream), heavenly banana pancakes and the hearty Mexican breaky (chilli tomato stew with Mex spices, chorizo slices, and an inlaid egg served in a pan).
For lunch, we savoured dishes including the tangy sesame tuna (sashimi grade tuna over a nicoise salad of olives, green beans, soft-boiled egg, potato, tomato and fresh herbs with homemade mustard dressing), roasted cauliflower salad (cauli  florets fire-roasted and drizzled with Indian spice seeds mized in yoghurt and topped with almond slivers) and Nasi Campur (grilled squid, chicken, fish, egg, organic vegetables and sambal with aromatic steamed white rice).
There are also weekly events such as Chef's Pasta Nights, Indonesian Menu Night with active cooking demonstrations and 'Sangria Sunday' featuring poolside wings and monster kebab barbecue, with live entertainment. 
Boasting an extensive cocktail, beer and wine list, the Beach Club is the perfect spot to watch the sun go down over Happy Hour drinks while taking in the chilled house music vibes.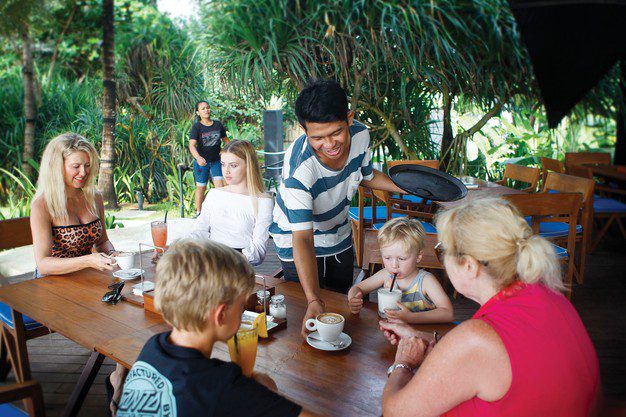 Sungga says his staff are critical ingredients in his recipe for success at Komune.
"Our job is to keep guests happy, so we have to give service from the heart – it's not just about cooking and putting the food on the table," he says.
"If we serve something with a smile and happiness from the heart, I'm sure we can touch the heart of the guests."
THE HEALTH HUB
THE sweat's dripping and the heart rate monitor is in overdrive – who said anything about a laid-back holiday?
But I'm feeling fit, healthy and alive as I'm put through my paces by Mark, Komune's excellent personal trainer, in the resort's fitness centre.
The impressive facility is spacious and air-conditioned and has every piece of equipment you'd find in a top commercial gym at home, from a complete range of free weights through to pin-loaded machines, cardio equipment, boxing gear and even spin bikes.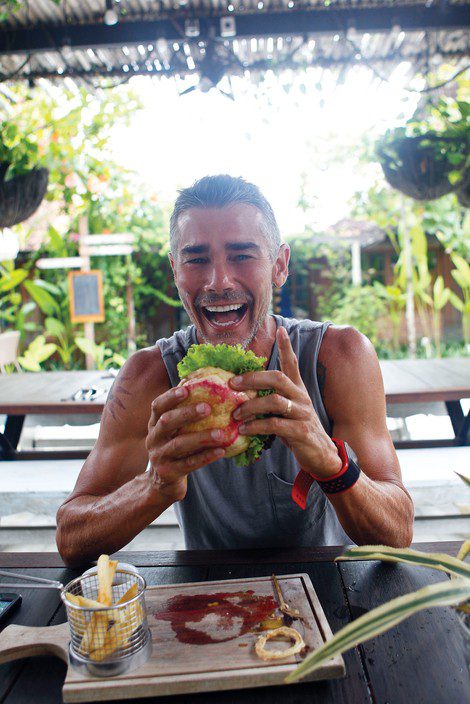 A superfit and amiable South African, Mark runs twice-daily sessions at the fitness centre with a range of scheduled classes including HIIT (high intensity interval training) functional circuits, boxing, body weight and core and spin classes. He can even take you on a beach run and is available for one-on-one PT sessions.
The Health Hub also features a 25m lap pool for an invigorating water workout or just to cool off in after a hard gym session – perhaps on one of the semi-submerged daybeds!   
Surrounded by tropical gardens, the pool is also a tranquil hideaway to relax with a coffee or freshly-made cold-pressed juice from the Health Hub cafe.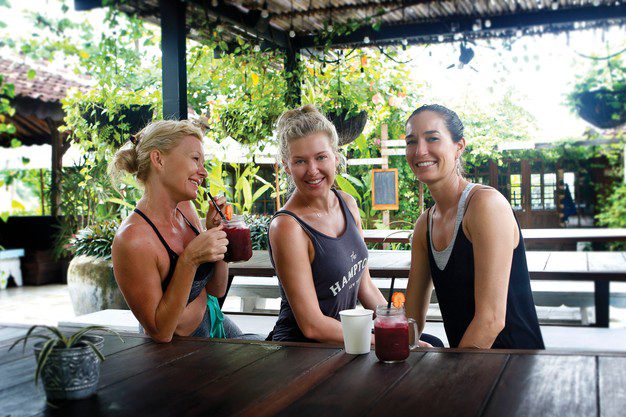 The Ocean Road girls and I also took part in some of Komune's wonderful yoga sessions, run three times a day by the resort's resident yoga instructor, the lovely Nicole.
A range of yoga styles are offered in the large, open air yoga pavilion, from traditional vinyasa through to the bold new aerial style where you'll find yourself hanging upside down like a trapeze artist. Challenging but fun, it's yoga with a twist!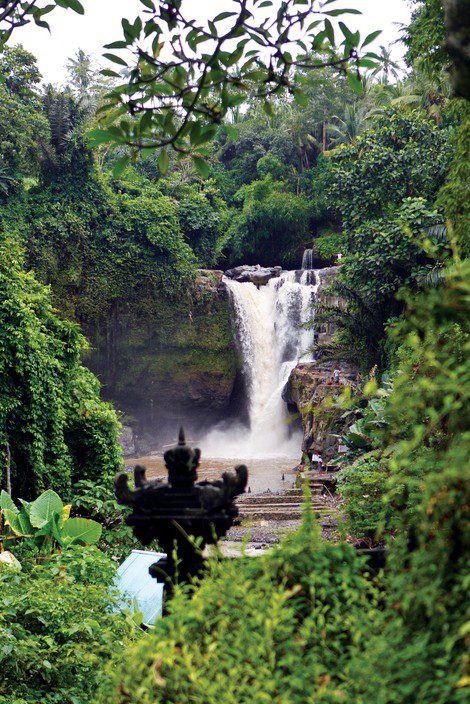 The late afternoon mediation and pranyama breathing sessions in the Health Hub will have you floating to sunset cocktails and dinner.
DAY TRIPS
KOMUNE offers a fully self-contained holiday experience, with almost every whim and desire catered for on-site.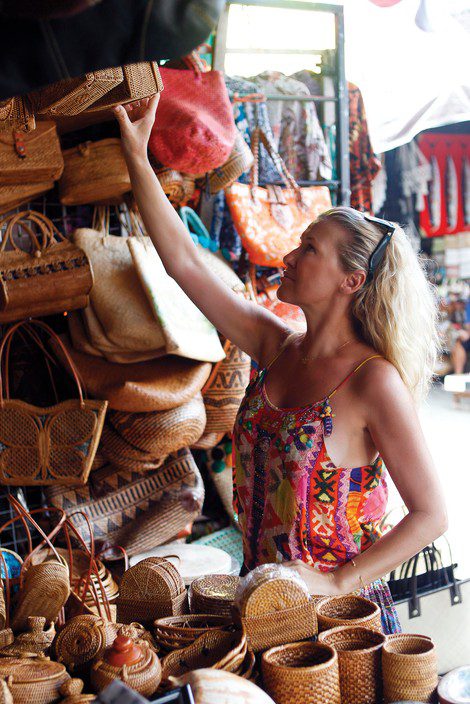 However, should you choose to leave the resort's all-too-easy embraces, there are no shortage of sights and activities within an easy drive.
The Ocean Road  team enjoyed several sojourns into the beautiful Balinese countryside during our stay at Komune.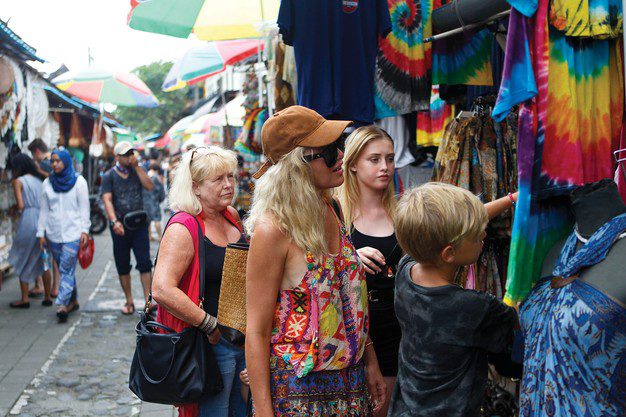 On one morning, with the surf at Keramas not at its optimum, we ventured with Komune owner Tony Cannon to a semi-secret break just up the coast.
Tony's local knowledge proved spot-on – the waves were pumping!
It's one of a few hidden surfing gems around Komune, he tells us – with thinly-veiled threats of physical harm if we disclose the location within these pages!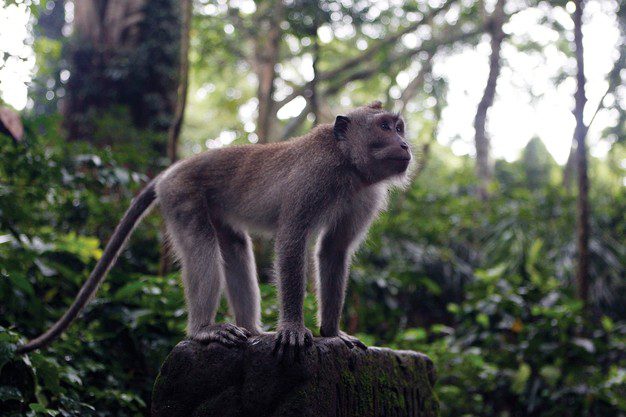 This was a boys' jaunt, but the girls happily accompanied us on some other day and half-day trips.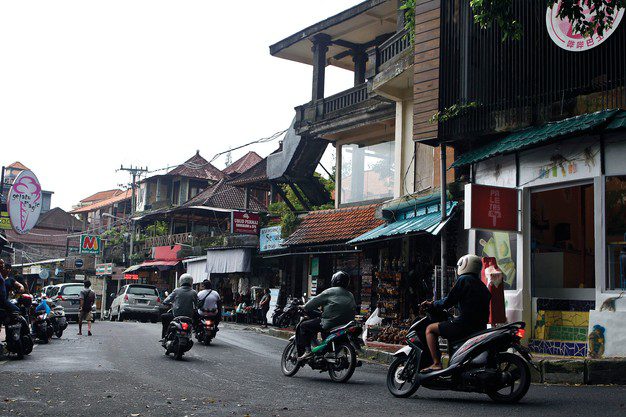 These included a visit to White Sand Beach, about 90 minutes from Komune.
While most of Bali's beaches are black volcanic sand, White Sand Beach is, as the name suggests, an oddity – but a beautiful one.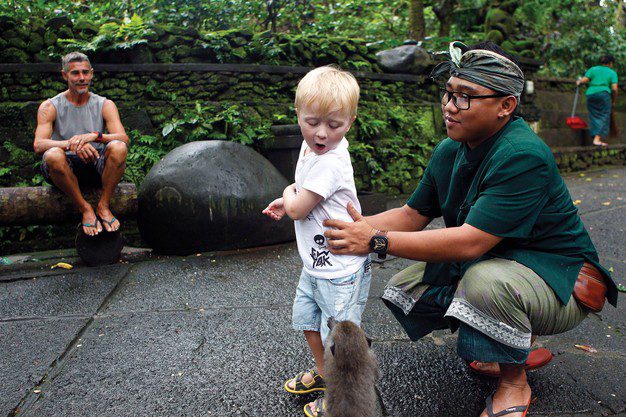 Nestled between two steep headlands, the gleaming sand stretches for about a kilometre along a picturesque bay of calm, crystal-blue water.
The beach is dotted with colourful umbrellas and sun lounges, where you can relax between refreshing dips with a cold Bintang and grilled seafood from a small row of beachfront warungs.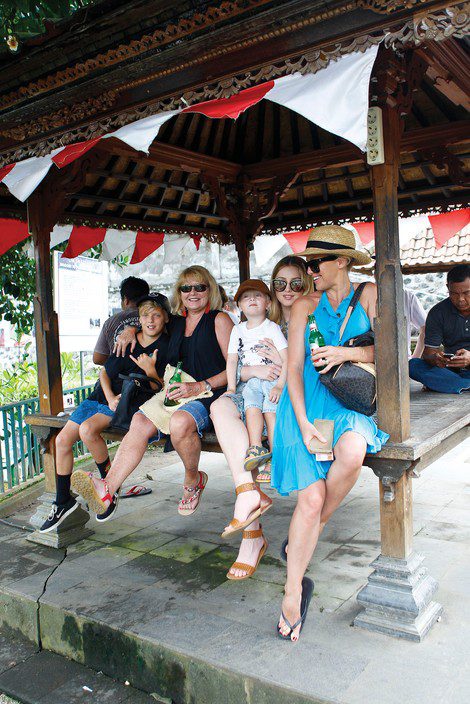 We also took a drive up to beautiful Ubud, with its fascinating array of shops, markets and restaurants, and paid an entertaining visit to the amazing Monkey Forest where cheeky monkeys leap at you from all directions of the lush jungle.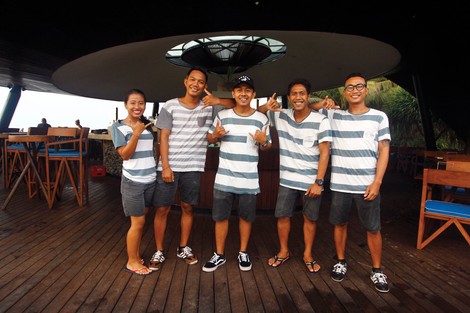 Another highlight was a stopover at Ubud Me Sari, an agri-tourism attraction showcasing Bali's prized luwak 'kopi' (coffee).
Luwak coffee is produced by the civet, a small nocturnal mammal native to Asia and Africa, which eats only coffee beans. The partly-digested beans, once excreted by the civet, are collected and hand-roasted to create arguably the world's best (and most expensive) coffee.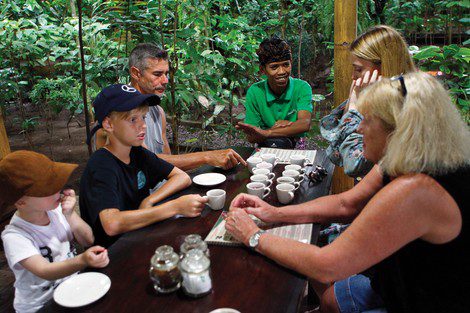 We sampled the sensational luwak coffee, and a selection of other delicious Balinese brews, in a thatched pavilion amid the Ubud Me Sari's verdant rainforest setting.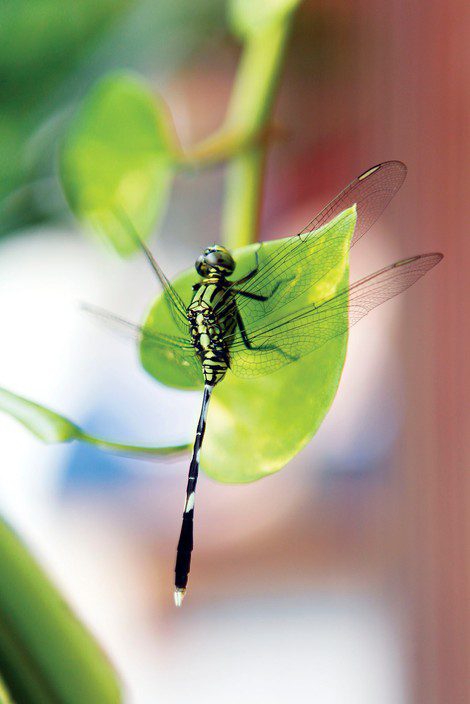 Our drive also included a visit to spectacular Tegenungan Waterfall, where the sacred Petanu River cascades over a towering jungle cliff and before tumbling into a deep swimming hole.
There are plenty of other tours and activities recommended by Komune, including: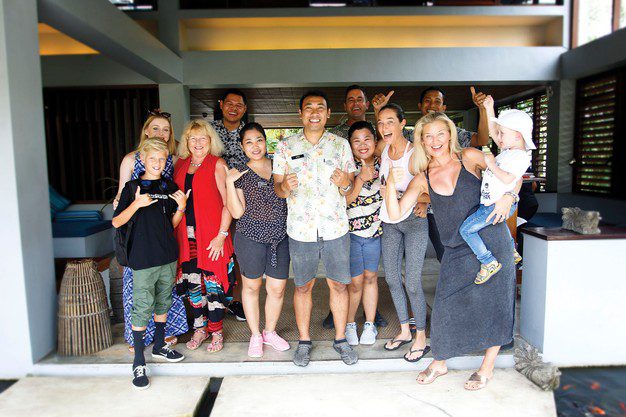 White-water rafting in Ubud

Visit the Goa Gajah (Elephant Cave) or Goa Lawah (Bat Cave) or spectacular Royal Water Gardens at Tirta Gangga – one of the last Kings Palace grounds fully restored after the 1963 eruption of Mt Agung

Hang out in Sanur – great shopping, restaurants and water sports such as paragliding

Take in the exotic wildlife at the Bali Safari and Marine Park or Elephant Safari Park.

Catch a boat to the nearby island of Nusa Lembongan for a day or surfing, snorkeling and fun in the sun

Visit the local Gianyar markets, venture through a rice paddy and take part in a  Balinese cooking class

Jump aboard a traditional jukung fishing boat for a ride up to Tulamben to dive the USS Liberty WWII warship wreck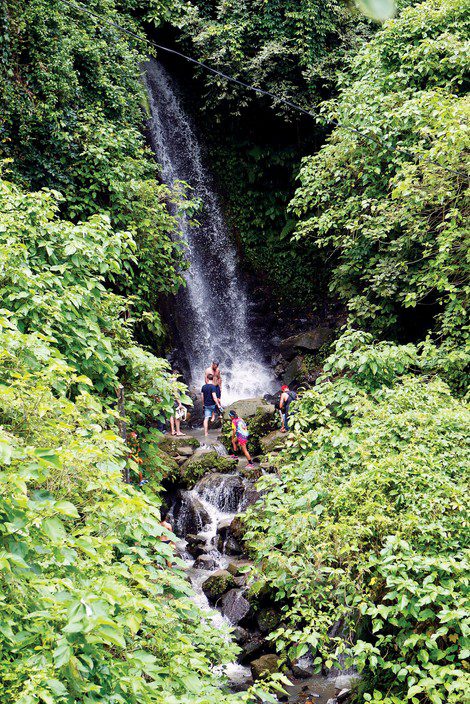 Climb Mt Batur to take in a spectacular sunrise over the Island of the Gods.