CHEF'S PASSION SET TO IGNITE SPICERS TAMARIND RETREAT COOKING SCHOOL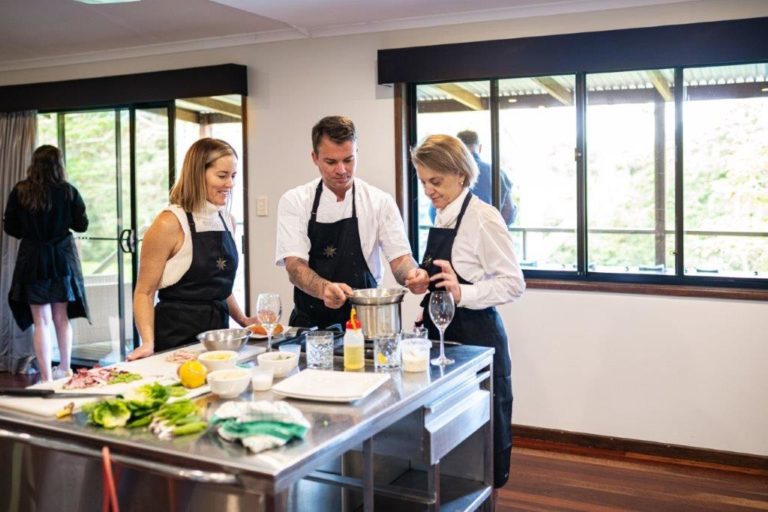 WORDS: Elaine Millar PHOTOGRAPHY Supplied
The Tamarind Cooking School at Spicers Tamarind Retreat, nestled in the verdant hills and rainforest of the Sunshine Coast hinterland, is welcoming new Head Chef Terrence Alexander, who's passion for his art and unique cooking school pedigree are giving friends, family and foodies every reason to book in for a weekend trip to culinary paradise.
Terrence is taking over cooking school duties from local favourite, Dan Jarrett, Head Chef of the retreat's award-winning The Tamarind Restaurant, who is thrilled to have Terrence join their culinary team.
Situated near the town of Maleny on a picturesque 18-acre property next to Gardner's Falls, Spicers Tamarind Retreat offers intimate, rainforest-fringed luxury infused with the seductive spices of Asia.
At the Tamarind Cooking School, Head Chef Terrence runs 4-hour classes on Saturdays or Sundays from 11:00am to 3:00pm, for $195 per person. Classes in September explore French cuisine on Saturday 4, Thai on Saturday 11, Italian on Saturday 18, and South East Asian on Sunday 26. Guests will be imbued with Terrence's infectious appetite for great food and experience working with cooks and cuisines from around the world.
"Our guests will find that I'm very hands on at every station, giving tips and help where needed," says Terrence. "Although I share a lot of information, the recipes are easy to follow and have been tested to perfection."
Tamarind Cooking School changes menus with each of the four seasons, so guests in September will be the first to try the Spring menus.
Head Chef Terrence says, "My classes are very informal and a lot of fun. We take a tour of the kitchen garden and pick our own herbs for the class."
After class, guests are seated on the open deck to enjoy the dishes they have just created, along with a glass of wine.
"All our guests receive a Tamarind Cooking School apron and a recipe pack to take home, to inspire them to share the love by creating these dishes for family and friends," says Terrence.
Home is where the kitchen is
"I have always been into food," says Terence, "I started cooking family meals when I was very young, even if it was just putting a chicken in the oven. My motivation is still my family. Like every father, I want the very best for my family, so the harder I work, the more I can benefit them, which is very rewarding."
"After high school I bounced around from place to place and job to job until I found my home in kitchens. From a career perspective, it was the only place I have ever felt I belonged."
From his home in South Africa, Terrence travelled to the UK to gain experience in London before returning as an executive chef in major hotels and resorts. But it was his decision to join the cruise industry in 2013 that saw his career really take off. On the P&O Britannia, Terrence managed more than 120 cooks and chefs, four specialty restaurants and was the Culinary Lecturer for the Cookery Club – Marco Pierre White's single culinary school at sea.
"Marco Pierre White's 'White Heat' is one of my favourite cook books, 'Classic' by Pierre Koffmann is another. Both have been around for years, but I still find them inspiring," explained Terrence.
Working at sea, Terrence immersed himself in cuisines and cultures from around the world. "My favourite destinations for inspiration are Spain, Portugal and the south of France," says Terrence. "The simplicity of those cuisines, using the best ingredients, really blows my mind, and makes me so motivated to share this incredible food."
Escape the daily grind
Just an hour north of Brisbane and 3km east of Maleny, Spicers Tamarind Retreat is an Asian-influenced oasis of natural beauty and tranquillity that makes you feel like you're a world away from the daily grind.
The Tamarind is an award winning modern Asian restaurant with a Thai heart. Led by Head Chef Dan Jarrett, The Tamarind has earned an enviable reputation for quality. Awarded one Chef Hat in the 2020 Good Food Guide, as well as one Chef Hat in the Australian Good Food Guide for 2018, 2020 and 2021, The Tamarind menu effortlessly combines sweet, sour and spicy flavours with the freshest local produce.
Spicers Tamarind Retreat offers intimate accommodation in five one-bedroom villas, seven two-bedroom villas, a studio room and the fully self-contained Orchard Villa that hosts up to 12 guests, as well as meeting facilities and two venue spaces with room for 70 guests.
Guests can enjoy the outdoor swimming pool and spa, take a dip in the popular Gardner's Falls next door, or venture into the local region to continue their culinary adventures at local wineries and the Maleny Cheese Factory. Those looking for more action can visit the world-famous Australia Zoo, go bush walking, mountain biking or take the Glasshouse Mountains scenic drive.
Founded by Jude Turner in 2002, Spicers Retreats has grown its portfolio to nine luxury retreats and eight fine-dining restaurants, set among nine glorious country estates and leafy inner-city oases across Queensland and New South Wales. It also operates the iconic Scenic Rim Trail, Queensland's only Great Walk of Australia, and in September 2021, launched Private Collection by Spicers.
ESSENTIAL DETAILS
The Tamarind Cooking School, Spicers Tamarind Retreat –
Western luxury blended with eastern tranquillity.
WHERE                   88 Obi Lane South, Maleny QLD 4553
COOK SCHOOL   HERE
THE RETREAT          HERE  Accom P 1300 311 429
THE TAMARIND     HERE  Restaurant Dining
WHEN                    Dinner – 3 or 5 course a la carte. Wed to Sun from 5pm
Lunch – 3 or 5 course a la carte. Sat and Sun 12pm to 2pm
DIETARIES              Please advise dietaries at time of booking.
ROOMS                 HERE
OFFERS                  HERE
EXPERIENCES        HERE
SPA ANISE             HERE