BRISBANE…It's gone to the DOGS
WORDS: Phil and Caitlin Hawkes PHOTOGRAPHY Supplied
Winter staycation? Feel like a few days away to de-stress, close to home? There's never been a better time, with lots happening in our northern outpost up the M1, including concerts, plays and musicals at QPAC; and at GOMA in Southbank there is a much-anticipated exhibition "European Masterpieces from the Metropolitan Museum of Art, New York" from 12 June. Famous paintings such as Titian's 16th century "Venus and Adonis" will be a popular drawcard and if you look closely at it, what do you see in the frame? Yes, a couple of hounds, looking discreetly away from the lovers. Such is a dog's life, always there for us.
And should you venture to Brisvegas for a day or three, what to do with your best pal… I don't mean your partner! If you have furry friends, it's now paws-able to take them with you to a pet-friendly hotel in the city, to enjoy the same benefits as their relations in France and elsewhere in Europe where hairy hounds are welcome everywhere. Even restaurants, where you might see a poodle at a table enjoying a dogustation. No problem with Workplace Health and Safety…they're probably at the next table. It beagles my mind to watch this slice of French life.
We took our spoodle Tara for a luxury overnight stay at a boutique hotel, Inchcolm by Ovolo in Spring Hill… you can book a "VIPooch" package for a small extra cost. All Ovolo hotels are pet-friendly and team members are just as well trained as your dog, except that they're unleashed. Queen Victoria of the Lobby and Ivan the Not-So-Terrible greeted Tara with hugs and kisses (somehow I missed out) and she was in doggie heaven…she's 16 and deserves the finer things in life like sharing our room with a cosy bed and blanket; bickies and chicken jerky treats; food and water bowls; plush toys; and one of those fake bones to chew on.
"Inchy", as it's known, is the perfect place to take a "paws" from the daily grind. It's located just a short walkie from Cathedral Square, where the grassy lawn welcomes those of canine persuasion (leash required). Business concluded, you can both park yourselves at the hotel's lobby balcony and admire the city traffic rushing past. Order an excellent breakfast with Fonzie Abbott coffee (try the house-made granola with yoghurt and fruit) while your friend contemplates the lush life in her Brisbone sanctuary. It's a dog's life.
Not so bad for humans, either. Ultra-comfy beds, large TVs with Apple connectivity, free social hour, free mini bar, coffee pods and snacks, free breakfast, free wifi, free 24hr gym and even a free self- laundry. All the usual Ovolo perks.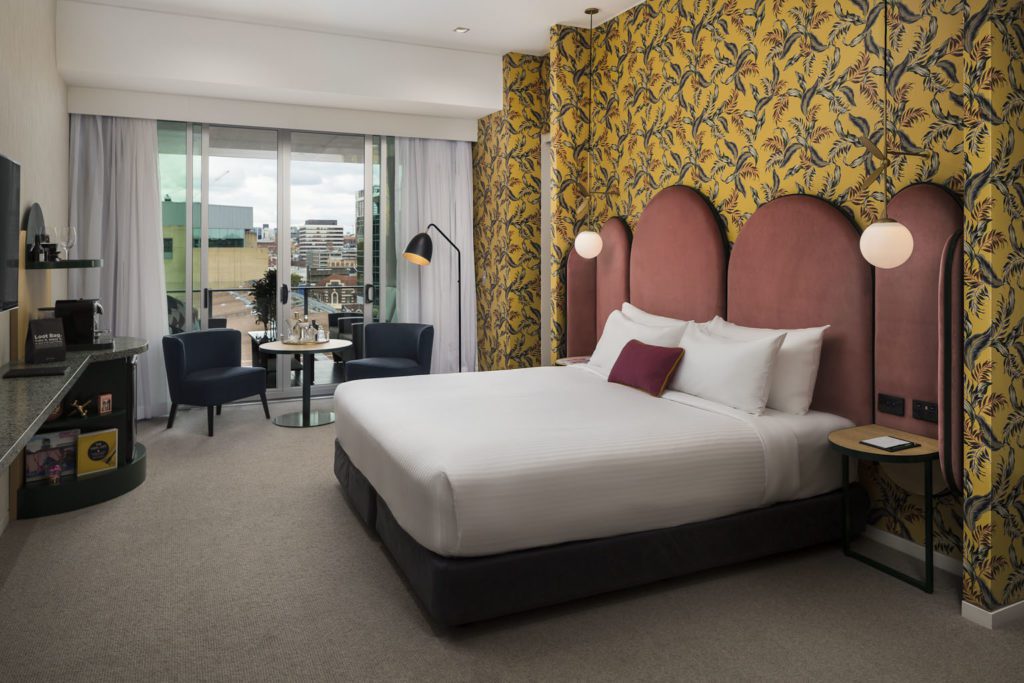 If Fortitude Valley appeals, there's also Ovolo The Valley near James Street, Brisbane's trendy shopping mecca and foodie haunt with vibrant night life to match. This hotel is also pet-friendly with the same perks as its Spring Hill sister, with valet or street parking for your dogmobile. And it's not far from there to New Farm park, where the grass is greener and up to the sniff test for your friend. A taste sensation can be yours, too, in the hotel's exotic Middle Eastern/Mediterranean ZA ZA TA restaurant and adjoining Bar KAZBA, 100% vegetarian and focussed on ethical eating and conscious cuisine.
It would be a doggone shame to leave your loyal companions at home, so give them a treat they deserve…you'd be barking mad not to.
Inchcolm by Ovolo – https://ovolohotels.com/ovolo/inchcolm/
Ovolo The Valley – https://ovolohotels.com/ovolo/thevalley/
If you're planning to be in Brisbane on Saturday 26 June, here's something exciting to add to your agenda. World famous Indigenous didgeridoo player and composer William Barton will be performing at QPAC with the QSO (afternoon and evening). This concert, Epic Sounds, will feature the premiere of William's concerto for didgeridoo and orchestra together with works by Verdi and Sibelius. Book a dogsitter at the hotel, leave the pups for a while and enjoy this very special occasion. www.qpac.com.au