Becoming A Breast Cancer Warrior
WORDS: Corrine Barraclough PHOTOGRAPHY Brian Usher - [email protected] and Supplied
Breast cancer, chemotherapy, a double mastectomy, reconstruction surgery… It's been a long road, but Corrine Barraclough wants to share her story in support of other women who may be feeling the loneliness and fear of a breast cancer diagnosis.
There is a quote that I often see whizzing around on social media that says, "You never know how strong you are until being strong is your only option". It's become a bit of a cliché, but it certainly sums up the last 18 months of my life.
Last February, I went for a routine mammogram in Southport that changed my world – and then my body – beyond all recognition.
Listen to the Lift The Lid interview here:
An ultrasound followed, then a whirlwind of 12 biopsies down at Tweed Heads, a breast cancer diagnosis, consultations with surgeons and an overwhelming mountain of information.
I was diagnosed with Stage 2B breast cancer, which had spread to my lymph nodes. I thought the worst; I tried not to, but that's where the human mind wants to go. I found I had to actively push back on those negative thoughts.
Waiting for the results of a PET scan (PET stands for Positron Emission Tomography, an imaging test that uses radioactive material to assess the spread of cancer), which tells you if the cancer has spread to other parts of the body, was surreal rather than agonising. It's hard to breathe when you think you may be told the cancer has spread, is raging around your organs and the outlook is bleak.
Thankfully, the results from that scan were good and the specialist team at Robina decided they would pursue "a cure" for me. Honestly? I didn't believe them. I thought they just said that to everyone.
So it began. On Wednesdays I had blood tests, Thursdays I saw my oncologist, Fridays I had treatment. It became a full-time job.
C Block at Gold Coast University Hospital became my second home. I knew the nurses, I had chats with other patients, it stopped feeling weird and became my new normal. I had 16 cycles of chemo on that ward. I lost my hair on that ward. I also ate lots of delicious cheese and biscuits, held lots of hands and had some good laughs on that ward.
Battling cancer is not all bad. I actively tried every day not to walk around feeling sorry for myself 24/7. Writing a weekly blog for ORM helped to keep me sane, present in each day and feel connected to the normal world.
I had my head shaved at the brilliant Toni & Guy Broadbeach before I started chemo and I wrote about it because it broke my heart to see other women in tears about losing their hair.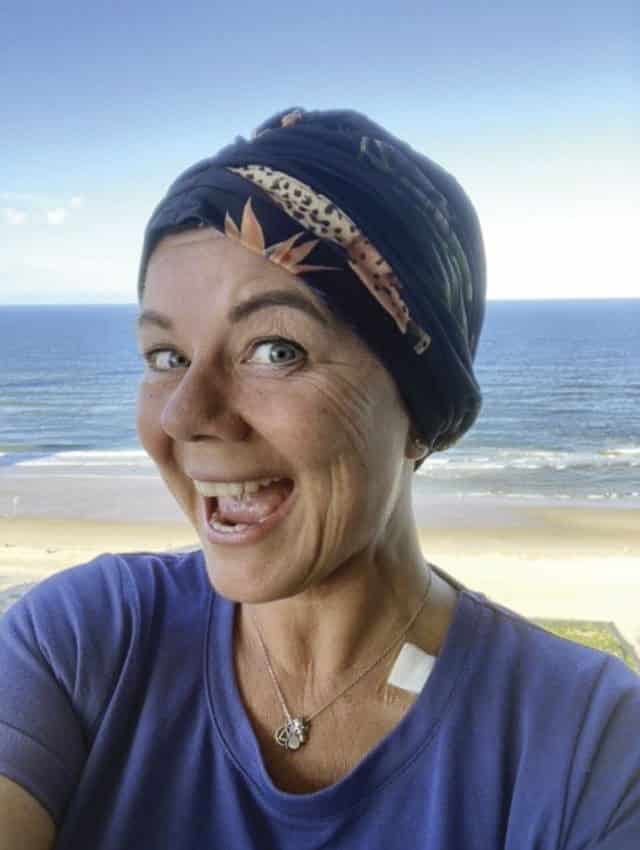 I loathe that societal conditioning runs so deep and strong that many women never accept losing their hair. I felt very strongly that my hair did not define me.
Don't get me wrong, I had always loved my long hair; it was down to my waist, but I knew that being sentimental at this particular juncture was not going to help me. I had to literally get into the right headspace for the fight for my life.
In the week following my diagnosis, I lined up a string of consultations with a range of surgeons who practise privately, as well as going through the public system. I wanted to arm myself with as many facts, opinions, options and costings as possible so I could feel like I stood a chance at making good decisions. I don't have private health insurance but I considered taking out a loan if that would mean the difference between getting the treatment I needed to save my life or not.
I was extremely happy with the standard of care I received within the public system, the whole way through.
The public health system we have here in Australia is first-class, the chemo ward at GCUH is incredible, the nurses are angels, the oncology team fantastic and the surgery team at Robina also get a big gold star.
Honestly, if you've just been diagnosed and are trying to work out what the hell to do next, please let me reassure you that if you're going to get cancer, the Gold Coast is a good spot to do it. I know that sounds flippant, but believe me when I tell you that positivity is a constant choice and it has, without doubt, helped me through this challenging chapter.
Chemo was tough. I cannot and will not sugar-coat that. But I had a super strong support system of friends who held my hand every step of the way. Being able to watch sunrises on the beach and go for beautiful nature walks around the Coast – it all helped to pull me through, one day at a time.
Initially, I hoped that I may be able to have a lumpectomy but it very quickly became clear that wasn't going to be an option for me. So, I had to wrap my head around a double mastectomy. As a woman who had always loved her boobs, this was incredibly hard to even imagine.
Again, I can't sugar-coat this… nothing quite prepares you psychologically for looking in the mirror after having both breasts removed. I took photos that have taken me more than 12 months to look at. Now, the trauma and shock of it all has settled and I feel more at peace with what is.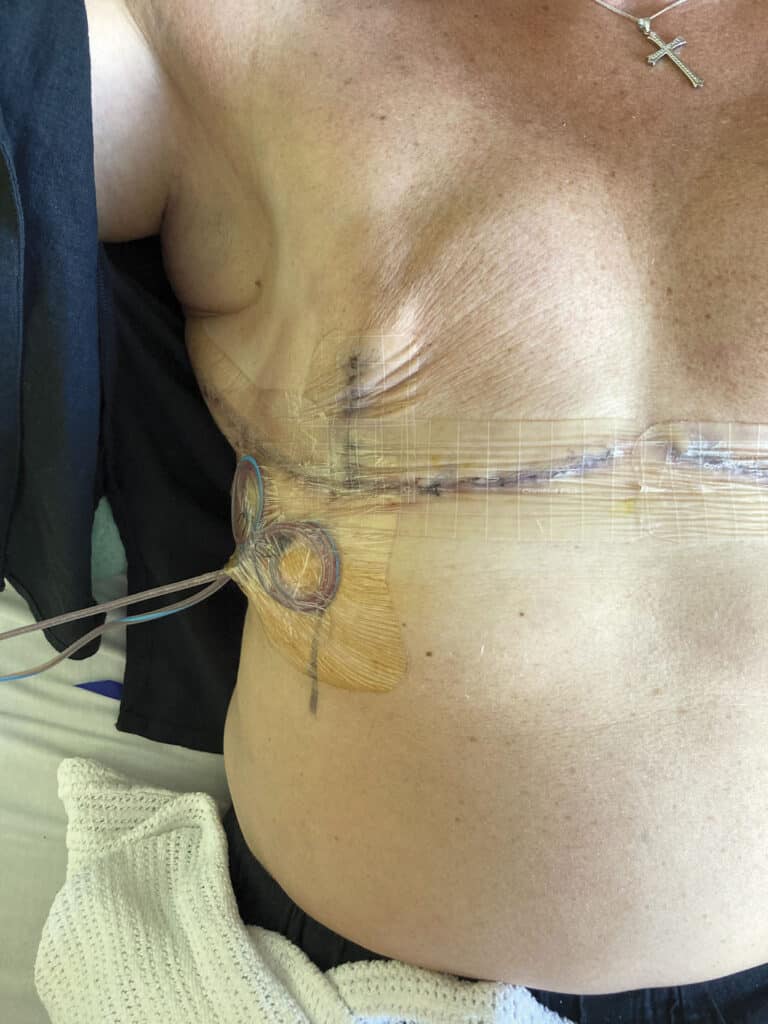 Mind you, ten years ago, I had to have a large 15cm non-cancerous tumour removed via a hysterectomy, which left my stomach sliced right across and my body has never felt like mine since.
I used to be a hard-drinking party girl. My boobs were part of that persona and I tried to frame this as letting go of my old self.
Many women are choosing to stay flat after breast cancer mastectomy surgery. I completely understand that.
It's an entirely individual choice, everyone is different, and I just knew that it wasn't for me. So, I had a tissue expander inserted into my chest in the same surgery as my mastectomy which then led to several fluid injections at Robina over the next few months. They were not fun. I won't say more than that because I don't want to scare anyone, but we're talking about a very large needle.
After one visit to the ominously named "wound bay", I remember walking through the exit and collapsing on the floor in tears.
There are days where it all gets too much – and that's okay too.
If you're thinking about whether or not to have a tissue expander, I'd like to just put on the table some of the challenging realities that I did not comprehend before I signed up for it.
It hurts. It feels like someone is standing on your chest. When I rolled onto my side during the night, the pain woke me up. The expander on my right side rose very high and the left side twisted. That was painful too and I looked very wonky. My surgeon often told me to think of "sisters not twins", but at times I looked at myself in the mirror and thought they would barely pass for cousins… thrice removed.
So, having waited nearly 12 months to have the exchange surgery, which swaps the expander for implants, I hoped I would be waving goodbye to my wonky boobs.
When I came round from surgery in the first week of August, the first thing I did was peek down at my chest. Still wonky. Still, cousins trying to pass themselves off as relatives. What a nightmare!
My heart sank and I wondered if they hadn't managed to operate for some reason.
I was assured this was all very normal, the implants were indeed in, and my new boobs would settle over the coming months.
MONTHS?
This is not easy to accept for an impatient patient!
But, as the days have ticked by, I've adjusted to my new, new normal because that's what we do as human beings going through life. It just happens that, for now, my new normal consists of being strapped into a surgical compression bra and Velcro strap.
It's more comfortable than the tissue expander, I will tell you that for free!
I stopped replying to friends' messages asking about my new boobs.
I didn't get the implants I wanted, I didn't choose any of this, I have no nipples, I never planned to have both of my breasts removed, and I haven't been in the mood to answer ridiculous questions.
When I was voicing concerns at the hospital after this reconstruction surgery one of the nurses said to me, "You do realise that reconstruction is a process of surgeries?"
I did not.
And for me, no it is not.
I do not see the point in putting myself through surgery after surgery, after anaesthetic, after another recovery, chasing a body that few women at my age have.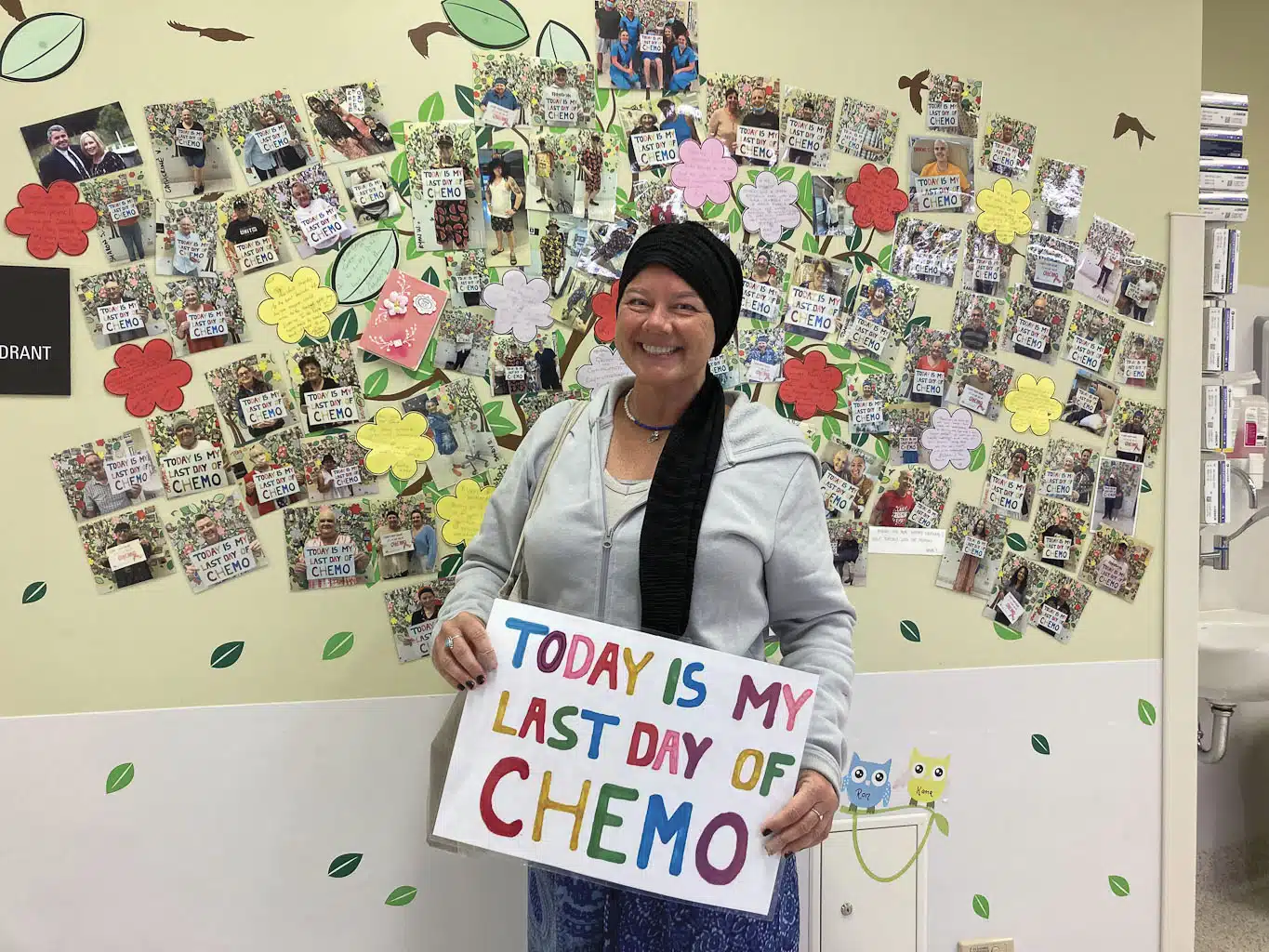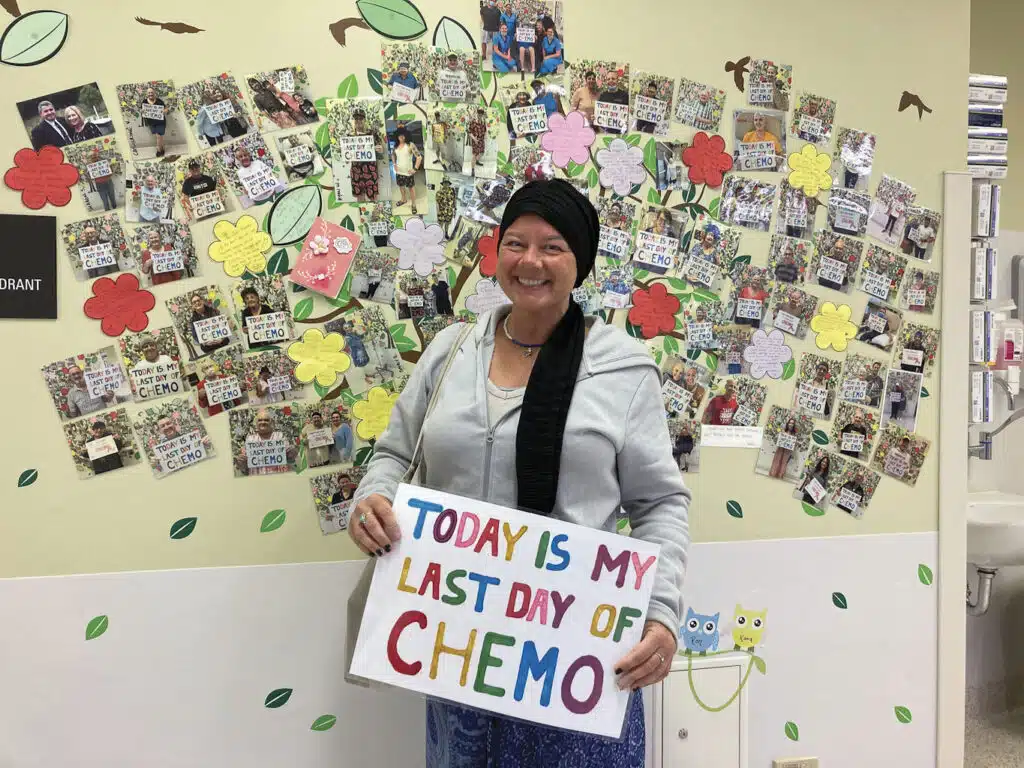 I had a great body in my twenties, my boobs had lots of fun, I strutted around more than my share of European beaches topless, I danced on tables and then I hit a wall and got sober. Looks like my boobs had enough too.
I drank every day from the age of 17 to 40. For 23 years, hard drinking and hard partying were my life.
I just don't care about my looks anymore!
I walk my beautiful little rescue dog several times each day, and that's enough for me just to know that I'm healthy.
I love my daily mental health walks; they've been an important part of my recovery from alcoholism and my recovery from surgeries on the Gold Coast.
My body is just a vessel – a rather messy, patchwork vessel with random marks and scars – but it's healthy, cancer-free and it serves me just fine.
I will turn 50 next April and I feel so thankful to have weathered this storm, as with the many intense storms that have shaped my life.
I have found serenity and I do know peace.
I'm incredibly thankful to have found a wonderful sober fellowship of like-minded folk here on the Coast. If you're wanting to get sober, this is a great place to do that too!
The Gold Coast is a great place to do many, many things. I've travelled the world but I've finally found a place to call home.
And as the saying goes, "there is always, always, ALWAYS something to be grateful for".
If you've just received a diagnosis and it feels like your whole world has fallen apart, please reach out. There are plenty of local women who have walked this path and will assure you that, although you may not be quite the same person that you were before diagnosis, life can be just as full, just as joyous and happy as ever.
Here's to living and loving life beyond breast cancer!