ALL THE SHOWBIZ WITH CAROLINE RUSSO
WORDS: PHOTOGRAPHY
Spotlight on CEO of Screen Queensland Tracey Vieira.
Tracey Vieira joined Screen Queensland in February 2014. Prior to this Tracey led Ausfilm's Los Angeles office as the Executive Vice President – International Production – a position she held since 2004. Tracey has held a number of senior roles in the entertainment industry including as the Executive Manager of Locations and International Production for the Pacific Film and Television Commission (PFTC) and as a senior team member at Queensland Events Corporation where she was responsible for the marketing, corporate branding and communications of the company. Tracey is the current Chair of Australians in Film and is a Non Executive Director on various Boards including Ausfilm, RSPCA QLD and Qmusic.
1.When did you begin working in the industry of entertainment and what was your first role and was there anyone that inspired you to come into the industry of entertainment?
My passion for film and television really started in high school where one of my classes was Film and Television. I then went on to do a Bachelors degree at QUT with a double major – one in English and the other in Film and Television. After graduating I worked in a variety of roles but it was really heading up the Los Angeles office of AusFilm and working with the US Studios and producers that fueled my passion for the business.
2. Having lived in Los Angeles when you were the Executive Vice President in Ausfilm no doubt gave you a great insight to the operations to work with productions what was you main challenges you had to face there and do you miss living there?
In Los Angeles, there is no question that entertainment is a business. Quite literally everyone you meet and every place you go in that city is connected to the industry in some way. The biggest challenge during my time in the US was that the Australian dollar went through the roof and that made it hard to get productions to consider Australia or financing for Australian films. I would go into meetings and hear time and time again that Australia was too expensive and even where it was an investment in an Australian film or series, that the change to the exchange rate now left a hole in the budget.
I do miss living in a city where this industry is so prevalent and where the business aspects are so clear in the decision making process.
3. On receiving the CEO role of Screen Queensland on looking back now did you have a grand plan in knowing how you wanted to make and improve the changes you have made?
Queensland is my home and it broke my heart to see the industry remain so stagnant for so many years when there is such talent here. I did have a clear vision for where the organisation needed to align with industry and jointly make changes to ensure the future success of Queensland creatives. I recently read back over an interview I did when I started in this role in 2014 and I can proudly say that we have delivered all those early initiatives including having television drama and comedy back in the state.
4. Last year saw the beginning of blockbuster films commencing with "Pirates of Caribbean", how did this all fair out as to investment and return so far, and employment of our industry here?
The Pirates of the Caribbean franchise is a global blockbuster and brand and it has truly made people realise that Queenslanders can do that scale of production. It definitely changed the landscape in how the industry in Queensland is perceived and it touched many people and businesses along the way. When you think that more than 5,000 companies were engaged for some service on the production, that is a lot of people impacted by the scale of this film. Add to that more than 900 Queensland crew and that Disney have now returned to Queensland through their Marvel business for Thor: Ragnarok, I can confidently say that this had paid dividends for the state.
5. With the factors of the Australian dollar going down how much increase has developed to make films here in Queensland?
There is a misconception that the dropping Australia dollar will see a rush of productions but the truth is that New Zealand, Canada and every other country has also dropped against the US dollar. Our Federal incentive for Offshore Production is lower than any other region at this point and so it's a lot of work to make the combined creative and economic reason to Studios to bring there work here. The fact that we have world class facilities including the Village Roadshow Studios, crew, actors and such diverse locations really is important in being considered.
6. Last year's announcements of THOR being made on the Gold Coast at Village Roadshow studios was a great excitement call! What did it cost to secure a film like this, and what sort of return can it attract and does it result to having the Queensland crews being employed and others in the industry and will this impact on tourism dollars for us here?
Two films (Thor: Ragnarok and Aliens) were announced by the Federal Government last year as being secured to Australia and then the following day, the Queensland Government under Premier Palaszczuk announced that Thor: Ragnarok would shoot in Queensland. Aliens was later confirmed to New South Wales. Essentially that tells you that it takes a joint effort to get these films to the country and Marvel's representative stated during the Queensland announcement in large part, the great experience during Pirates of the Caribbean is what drove the decision to choose Queensland. As part of our role at Screen Queensland we work to maximize the opportunity in the state including to industry but also to the larger community. This means we leverage jobs, spend in the state and opportunities to utilize the film to drive tourism across the state. Without this film, at least $100 million in new money to Queensland would not be getting spent here.
7. Can we expect now that the success of what has been secured even like productions that have been here on locations shots as to "Kong Skull Island", and "Nest" will this or could attract more blockbusters and other noted interested productions companies to produce films here in Queensland and is there any other news you can share as to future announcements?
We have had a very good year in Queensland in terms of big films but also in our local industry. While Pirates was here, out in Middleton in Outback Queensland, Ivan Sen was filming Goldstone, an Australian western feature film with an amazing cast. We also had the third series of Mako Mermaids filming and of course more recently we have had Seven's series Wanted starring Rebecca Gibney which is the top rated drama in the country and which shot completely in Queensland.
8. The Chinese box office is now noted as to being bigger than Hollywood, it being said that they are the next Hollywood do you agree with that and what are you views ?
Queensland has been at the forefront of the Chinese / Australian relationship in terms of film having had Bait 3D, Sanctum and now Nest film here. Bait and Sanctum did so well in China and there is confidence that we can deliver the films that Chinese audiences are responding to. It's a key market for us and has grown as a priority. It is estimated that the Chinese box office will be bigger than the US in 2017. You can't ignore that.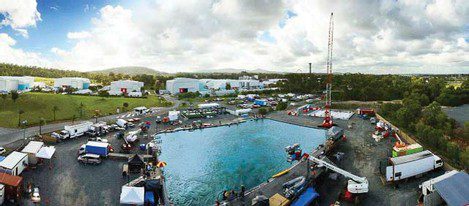 9 How do you foresee the future for Australian films and how do you see the box office in the future ?
Australian filmmakers need to understand their audiences and the marketplace. Its really hard to get a low budget Australian film into a cinema and go up against a US blockbuster. The marketing dollars behind those big films are there to drive audiences to their films. The most critical thing is understanding that if you are making a film for cinema that it is a full cinematic experience and delivers for the audience with story, sound, visuals and so on.
If a film can't do those things, then they need to consider how it will be release and ensure the budget matches the potential audience in a real way.
10. In today industry of film and for anyone that wanted to get in what advise do you give them?
The most important way to learn is on the job in this industry and the roles that are desperately needed may not be what you think. For example, on one particular film the crew shortage was in costume in terms of specialists for dying fabric. There is also the Art Department on a film where you need graphic design experience on a range of programs and the ability to draw.
11. What is your all time top 5 favourite films made in Australia and actors?
I'm a huge fan of Priscilla Queen of the Desert, Muriel's Wedding, Mad Max: Fury Road, The Dressmaker and The Great Gatsby.
In terms of actors, I adore Cate Blanchett, and Deborah Mailman, and I am loving Ben Mendelsohn in Bloodline at the moment. Jason Clarke is going from strength to strength and of course my husband Joey Vieira who I met in the US where he worked on shows such as The Shield, Kitchen Confidential and The Simpsons. I married him so he is definitely my favorite actor.
For more on the local entertainment, arts & film scene go to www.hushhushbiz.com