A Rich Italian Heritage. Passed down from generation to generation
WORDS: Greg Pride PHOTOGRAPHY Brian Usher
It's Friday lunchtime and our alfresco table at Gemelli, Broadbeach, is bathed in early Spring sunshine.
The beers and sumptuous Italian fare are flowing as Gemelli's exuberantly youthful owners, Paul, James and Alec Carney, chew the fat over a subject close to their hearts – salami…
…Specifically, authentic, home-made Italian salami.
"It's what we grew up doing," James says, sipping on a Corona as platters of Gemelli's signature wood-fired pizza and mouth-watering antipasti arrive at the table.
"Growing up in Griffith, it was just the normal thing to do, even as kids."
Griffith, where the Carney brothers hail from, is a regional city in the Riverina region of southern NSW, about 200km from Wagga Wagga.
It's also home to a large and vibrant Italian community, with some 60 percent of the population laying claim to Italian heritage.
Griffith's rich Italian culture, together with its cool climate, make it the perfect place for salami-making and the Carneys have fond family memories growing up learning the art from their parents and grandparents – from hand-mincing the pork to selecting and adding the spices and then hanging the finished salami in the backyard shed to cure.
"It's something we all did together as a family, helping our Nonno (grandfather) make the salami as well as pasta sauce," Paul, the eldest carney sibling, recalls.
"Salami-making is a simple pleasure, but it's also something the people of Griffith take very seriously. The town even has a Salami Festival each year where all the Italian families compete."
Held each August, the Salami Festival – or Festa delle Salisicce – attracts thousands of people to enjoy home-made Italian cuisine, local wines, entertainment and of course, lots of salami.
"In Griffith, you start making your salamis around June so they can cure ready for the festival," Alec says.
"We can remember having to hang the salamis in the back shed in below-freezing temperatures. Winters in Griffith are bloody cold, but ideal for making salami."
James says: "We got asked to be special guest judges at last year's Salami Festival, but unfortunately we were too busy with the restaurants (Gemelli Italian Broadbeach, Gemellini at Nobby Beach and Roys by Gemelli at Sorrento) to make it down there. It's something we'd definitely love to do one day."
Sadly, strict food hygiene laws means the Carney brothers are not able to hand-make salami at Gemelli, but they source the finest from a quality smallgoods supplier.
They do, however, make their own in-house pasta daily using oo flour and free-range eggs as well as the delectable sauces for dishes such as the house speciality, Rigatoni Ragu (8-hour slow-cooked oxtail and pork shin ragu with crushed San Marzano tomato).
Their passion for salami-making reflects a primal food philosophy: to create authentic, simple, yet delicious cuisine from their ancestral homeland, and serve it to their loyal customers with love.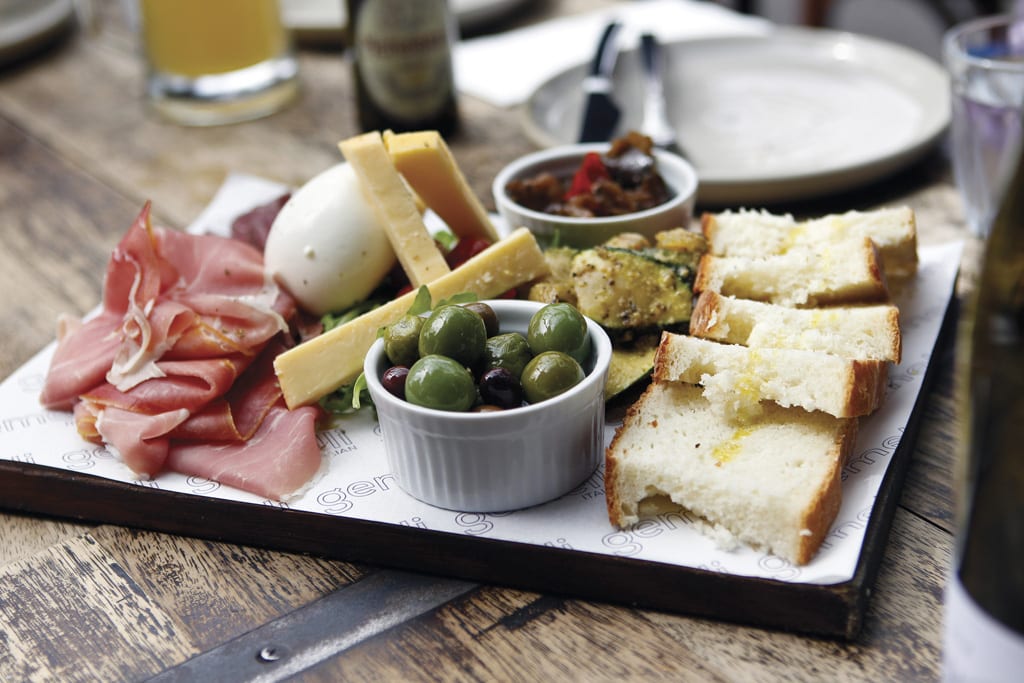 "We were brought up to appreciate simple, fresh, traditional, hand-made Italian food and we haven't changed our approach one bit since we opened the restaurants," Paul says.
"In Griffith, you go to our Nona's house every Friday night for family dinners. We'd eat bread with olive oil and peaches soaked in wine.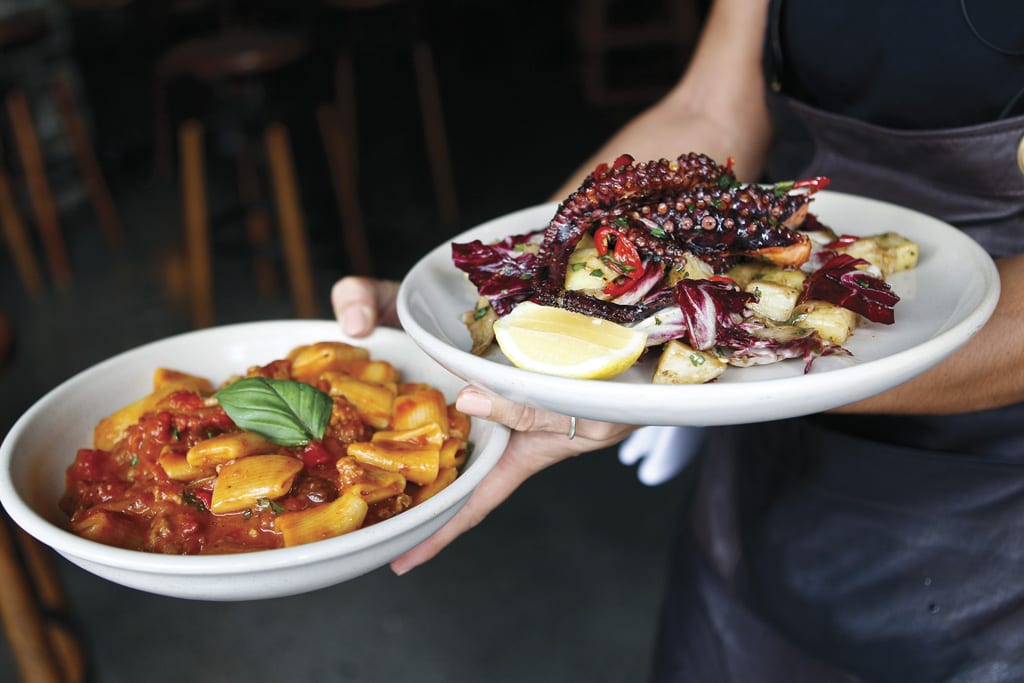 "We've visited Italy and experienced the different regional cuisines. Last year, we visited our pizza chef's home in Messina, Sicily, and the experience was exactly the same as growing up in Griffith.
"There are no wine glasses; you drink your wine from plastic cups."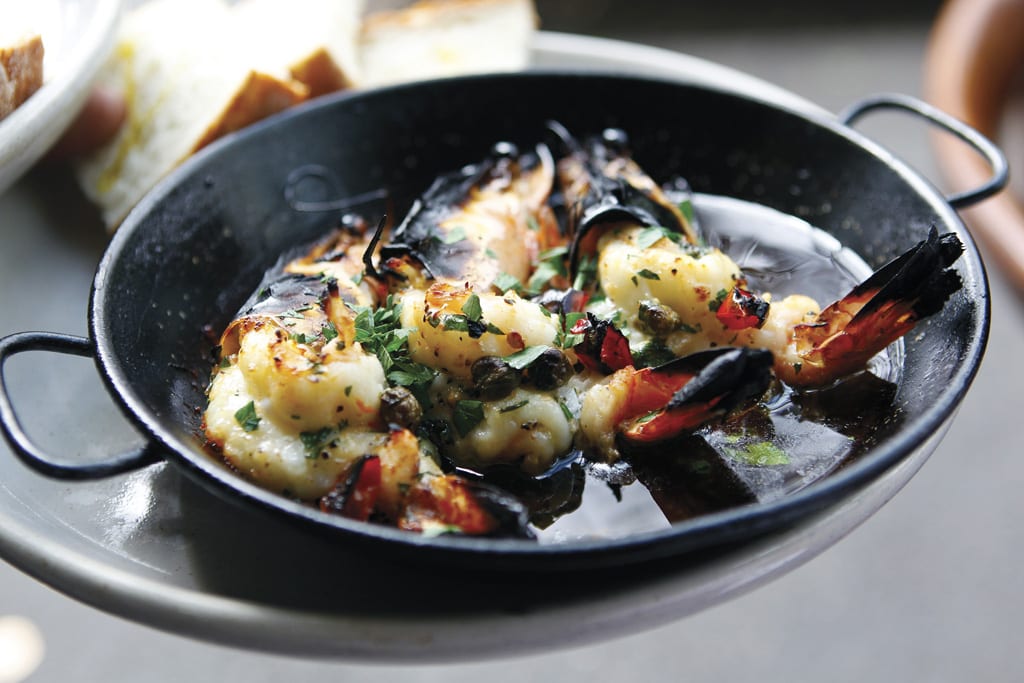 It's a strange authentic Italian quirk, but there's something comforting and unpretentious about it, a lot like the cuisine at Gemelli.
The Carneys' mum, Sue – 'an excellent cook' – family hails from the Abruzzo region east of Rome, stretching from the Adriatic Sea to the Apennine Mountains, and the brothers have made a pilgrimage to the area to sample its culinary delights.
"Abruzzo is not a big tourist hotspot like Tuscany, but it has some of the best food in Italy," James enthuses.
"It's well-known for its meat dishes, especially lamb, because of the mountains. We try to get to Italy as much as we can to visit the different regions and bring home recipes, flavours and ideas to share with our customers.
"Italian cuisine is very regional. You can travel two hours north or south from somewhere, and the food will have totally changed."
While the menu at Gemelli might change, the quality of its food and service remains a constant and will keep customers coming back for more.
And fear not, you won't have to drink your wine from a plastic cup!