A just cause for a Graduate Lawyer
WORDS: Jessica Nelson PHOTOGRAPHY Supplied
As a warm breeze swept through her apartment on the NSW North Coast, Angela Powditch smiled as her daughter continued sounding out the words from her school library book 'Amazing Australian Women'.
The two snuggled on the couch enjoying an evening of rest and connection, following a day of school, work, rushing to sports and dance classes, serving dinner and making sure lunches are packed, ready to do it all again the next day.
With the sound of the ocean close by, and muffled laughs from the neighbours' barbeque heralding the summer season, Angela turned the page to delve into the story of aviation pioneer Lores Bonney. A few days earlier, it had been Angela's birthday. Her eight-year-old daughter, Amelia, had spent the day before searching the school library for the perfect present to borrow for her mum.
"The fact that my daughter wanted to find the perfect book that she knew I would love made me smile knowing how positive her future will be with such a thoughtful approach. The book was about famous Australian women who accomplished amazing things, from women's rights advocate Mary Lee to Indigenous activist Tarenore, Mary Reibey and other amazing women and we loved reading it together. My daughter Amelia was named after American aviation pioneer and author Amelia Earhart and she definitely has that same tenacious, adventurous spirit."
When Angela reflects on the past six years, she almost doesn't recognise the woman who, just a short time ago, was staring down an uncertain future. After building a career as a successful marketing manager and a family life with two children, the thought of embarking on a new career and having to start over as a single parent when her marriage broke down was not in the original draft of her 'life plan'.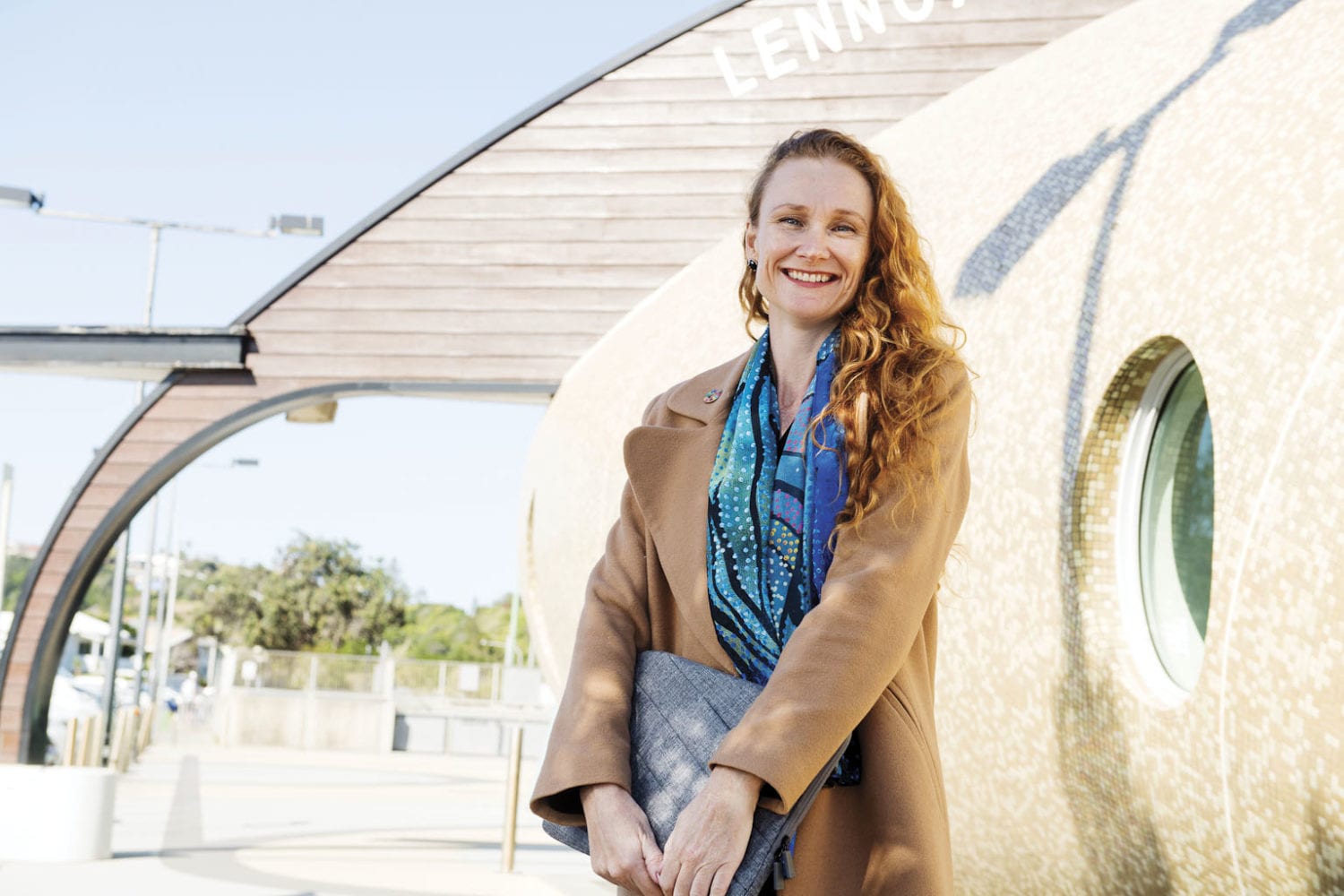 Angela has since graduated with a Bachelor of Laws (Honours) from Southern Cross University at the Gold Coast campus. During her degree, she addressed the UN on the Rights of Women and she is now an expert in-country contributor to the World Banks' Women, Business and the Law Report, using findings from her University thesis on economic abuse.
Angela works predominantly in the area of family law at Jensens Solicitors in Lennox Head, helping other families facing the circumstances she was all too familiar with five years ago.
"The day I knew my marriage was ending, it very quickly went from being a comfortable life for my children and I to a newfound vulnerability. I was thrust into the legal system without a roadmap and was dealing with really tough relational circumstances. Even though I never anticipated going through anything like it, I possibly would never have become a lawyer and been able to help other people fight for themselves and their children's rights had I not been exposed to the system.
"I'd previously worked in marketing in Sydney, London and on the Gold Coast, then studied a Master of International Health Management because I wanted to 'give back', but I only truly found my calling when I decided to study law."
Angela secured a full-time role with a Ballina law firm after graduation and continued her advocacy work. She spoke at events including the Universities Australia national conference and was interviewed for an award-winning international documentary on women released in 2020 and screened at the UN.
"In July this year, in the midst of all the restrictions, I received a call from a lawyer, Kirsten Miller, who had been following my story. She offered me a job at her firm in Lennox Head doing family law, which is the area of law I had always had the goal of practising in, so I wholeheartedly said yes and took the job. I am really loving the family law side and am now into my first lot of case hearings. I've been really honoured to receive feedback from clients who are just so grateful to have someone working for them who has personal experience of what it's like. Not only that, but my office is walking distance from home which is equally as important to me – being there for my kids and having that positive impact at home and in the beautiful community we live in. I'm also continuing advocacy work and studying again to further specialise in family law."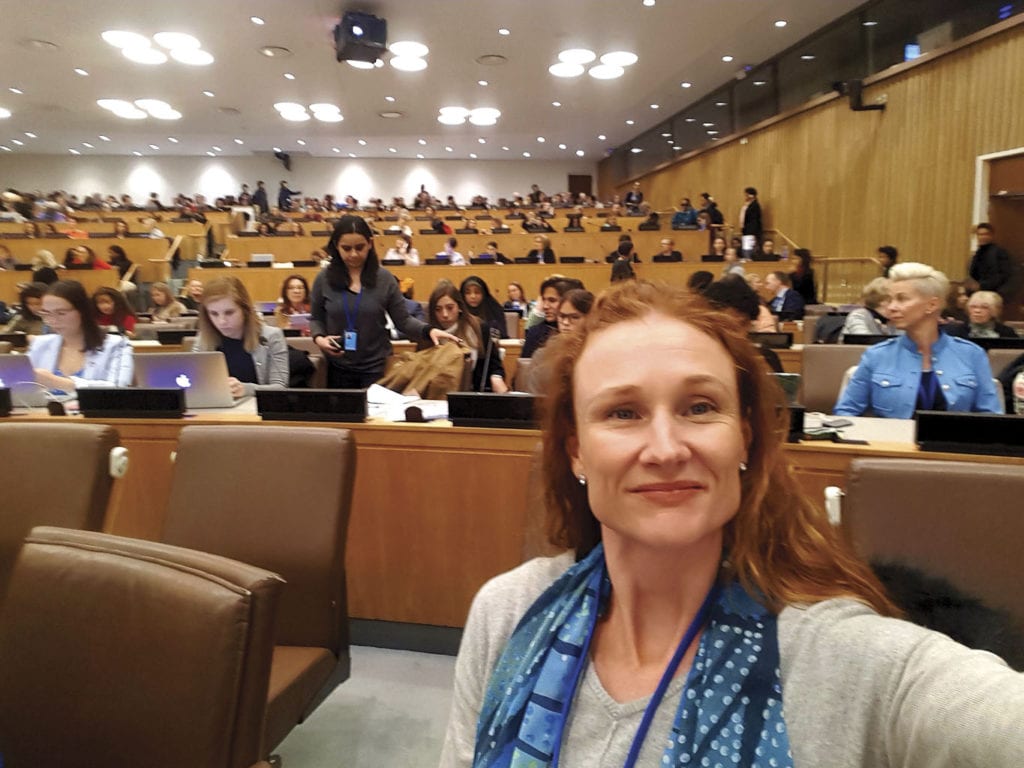 While studying at Southern Cross University, Ms Powditch represented women on the world stage as a delegate with the National Rural Women's Coalition and UN Women Australia at the United Nations (CSW62 & CSW63). She was one of 70 students from around the world invited to attend the prestigious Oxford/George Washington University International Human Rights Law Summer School, was selected for a competitive Telstra mentorship program and served as part of the Law Student Society.
Angela is now an Adjunct Fellow at Southern Cross University, joining the ranks of a prestigious group of lawyers and academics who deliver talks, public lectures and mentorship opportunities for SCU law students.
"It's such an honour to give back to the students. I have to remember to keep my calm about being an adjunct alongside people such as the Hon Michael Kirby AC CMG. It's a buzz receiving the emails and being involved in the exciting things happening at the University and in the sector. One of the people who mentored me during my studies at Southern Cross has also recently recommended me to join a panel for The Pennsylvania State University, which is focussing on legislation around domestic violence and coercive control.
"I've been closely following the Australian legislation in this space and will speak to that as part of the panel for Penn State this month with other lawyers and academics from around the world. I really admire the ongoing work of Hayley Foster, CEO of Women's Safety NSW, who also studied her Bachelor of Laws at Southern Cross University while working in the field. We did our Honours study together and she is an incredibly smart, well-spoken and passionate person. I watch closely the work distributed by the Australian Women Against Violence Alliance, in regards to laws around coercive control here in Australia."
Angela says sometimes it takes an unforeseeable situation in life to work out your inner strength and identify your true purpose.
"My painful experience with the breakdown of my marriage and interacting with the family law system made me realise I had to practise law. Not only have I secured a rewarding career that provides financial security for my children, but more than that I get to assist others navigating the family law system. I would encourage others out there with difficult personal circumstances to keep going. Sometimes when things seem bleakest, life can take a dramatic change for the better."
Angela has built a life she adores with her newfound love. This year, she and her partner, Luke Watson, have juggled the varied responsibilities of home-schooling their four children in lockdown with working full time to now working out a schedule that includes dance classes, sports events and meal prep. She wouldn't change a thing.
"I feel like we live in paradise and we are living the dream by helping others through our work and raising our blended families only a short walk from the water, from work and from school – I honestly feel grateful every day."
Angela says her biggest achievement is seeing her children grow and develop their own passions and thoughtfulness.
"My daughter is very thoughtful and caring and I was so honoured when she borrowed such a beautiful book for my birthday – about strong women we both look up to and admire. When I wasn't sure whether I could take on studying again it was my son who told me 'you can do it Mumma' and the support from Southern Cross has also been phenomenal. I truly wouldn't have been able to achieve what I have without their support."