2020 brings exciting changes to the GTR 230
WORDS: PHOTOGRAPHY
It's another glorious Gold Coast day on the Broadwater, and I was given the opportunity to let loose on the all-new 2020 Sea-Doo GTR 230 for review. I know… Someone has to do it, so I guess it's me since I have a love and passion for jetskis and anything with serious horsepower!
Built for performance-minded riders, the new GTR 230 will not disappoint. It looks fast even when turned off!
This new model has some new features, including the hull platform moving away from the traditional fibreglass model and, of course, the updated Rotax 1630 supercharged engine — an increase of 130cc.
Plus, there's a 4.5-inch digital display, which is amazing and clear when under full acceleration.
Sea-Doo's more playful sibling
We all know conditions can change dramatically when out on your ski; the morning compared to the afternoon can sometimes be like chalk and cheese.
Sea-Doo have thought of these things with their high-performance electronic trim system, which allows you to drop or raise the bow to alter the boat's running angle via a toggle adjacent to the left handgrip.
This enhanced version saves two presets for a rider's preferred positions and swaps between them with a no-look double-tap of the button.
So, in simple terms, if it's choppy on the way home then the ski can be raised for a smoother ride into chop. Very useful and a must-have, in my opinion.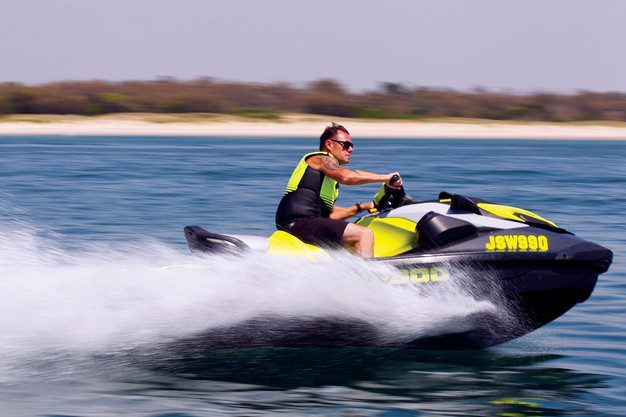 The new skis these days are so easy to ride and steer and, of course, safer than ever before. Intelligent Brake & Reverse? Of course! — iBR lets the craft start in neutral, easily switch between forward and reverse without you having to take your hands off the handlebars or eyes off the water, and puts out some serious stopping power when applied at speed if needed in an emergency.
The day was 10 out of 10, and I needed to get a feel for the ski. With no waves in the ocean, I decided to head east out through the Seaway for a play in the ocean.
I had the stereo pumping tunes, synced to my phone, which was locked inside the watertight compartment in the centre console, which has quick and easy access.
It was approximately three minutes into my access into the ocean that I came across three dolphins, which I sat and admired as they swam under and around the ski.
This made my day! Owning a PWC allows you to experience these amazing life adventures all only minutes from the mainland, but unachievable without a ski.
Simply stunning — and when I thought my day couldn't get any better, it did!
Performance for less $$$$
Performance has a price. However, with a craft like the Sea-Doo GTR 230, it's not quite the same hit on your budget, which means it's affordable for everyone — and the power is overwhelming.
The handling, performance, looks, and useability of this ski really does make it the perfect choice. Being a PWC owner and a family man myself, this is my personal choice of skis.
If you're in the market for a new Sea-Doo, talk to the team at JWS Powersports and they will be glad to help you. Visit 3 Ereton Drive, Arundel, or call 07 5529 2616.
Bottom of Form