140 Years Old, MISS MIDGLEY Is Born Again – Brisbane's Grand Old Lady Will Welcome You With Open Arms!
WORDS: Greg Pride PHOTOGRAPHY Supplied
Gold Coast and Tweed locals visiting Brisbane now have a charming "new", 140-year-old boutique accommodation establishment in which to stay and luxuriate.
Tucked away in New Farm, in the hip and happening shopping and dining district of James St, Miss Midgley's is a gorgeously intimate guesthouse for a weekend getaway to the River City, with a fascinating backstory.
Built-in the early 1880s, the two-storey stone terrace has variously been an orphanage, the grand home of a one-time Queensland premier and a school known as Miss Midgley's Educational Establishment.
It was originally known as Cairncross House and served as the Roman Catholic Orphan School from 1867 before being purchased by then-Premier Sir Arthur Hunter Palmer in 1872 and renamed St Claire – described at the time as 'one of the most substantially-built private residences in Brisbane'.
It was used as a private hospital in the 1890s before being sold to the Midgley family in 1903, with Annie Midgley opening her eponymous "Educational Establishment" there soon after, in response to overcrowding at New Farm State School across the road.
Tweed Coast businesswoman Lisa White and daughter Isabella, both graduates of the University of Queensland School of Architecture, stumbled upon the historic, character-rich building at the height of the pandemic in 2021 while scouting for a potential property project in their favourite suburb of New Farm.
The talented mother–and–daughter team set about gaining the necessary approvals to transform the then-apartment building into a stunning, high-end guesthouse that is giving Brisbane visitors and residents a unique and wonderful alternative to the big hotels – and a pet-friendly one at that.
"My extended family has been involved in tourism and property development for a long time," Lisa says, explaining how Miss Midgley's came to be.
"We love Brisbane, and we were looking to get a place back in New Farm. We were looking for a project and it seemed to fit the skillsets of both Isabella and me.
"It was great working with her on the project. It was a lovely mix of her youthful enthusiasm and my old skills."
Acutely conscious of the New Farm locals' passion for their suburb and its rich heritage, Lisa and Isabella erected signs with Instagram links on the front fence during the community consultation phase of the approvals process to show residents exactly what they intended to do with the beloved building at 135 James St.
"We worked extra hard on the community consultation," Lisa says.
"It's a much-loved building and we wanted to be very respectful, so we didn't expand the footprint. The interior had been modified many times, so it wasn't heritage-listed inside.
"In the end, we didn't have any objections at all for our development approval, which is quite amazing in New Farm because everyone's very sensitive to new development.
"We actually saved the building, I would say. It hadn't had a coat of paint for over 70 years. It was really derelict."
Less than a year after buying the property and embarking on the extensive renovation, Miss Midgley's opened in February last year to rave reviews and solid bookings.
The carefully restored property now has five self-contained apartments thematically named the Principal's Office, Drawing Room, Locker Room, Refectory and Assembly Hall, featuring original hardwood floors and stone walls with new brass benches and peachy-pink marble bathroom finishes. All apartments are air-conditioned with their own kitchens, private outdoor spaces and designated parking spots. The elegant bathrooms, replete with brass fixtures and marble benchtops, are stocked with botanical body care products by Australian company Leif.
Outside is a beautiful lap pool (heated in the cooler months) set amid lush, landscaped surroundings.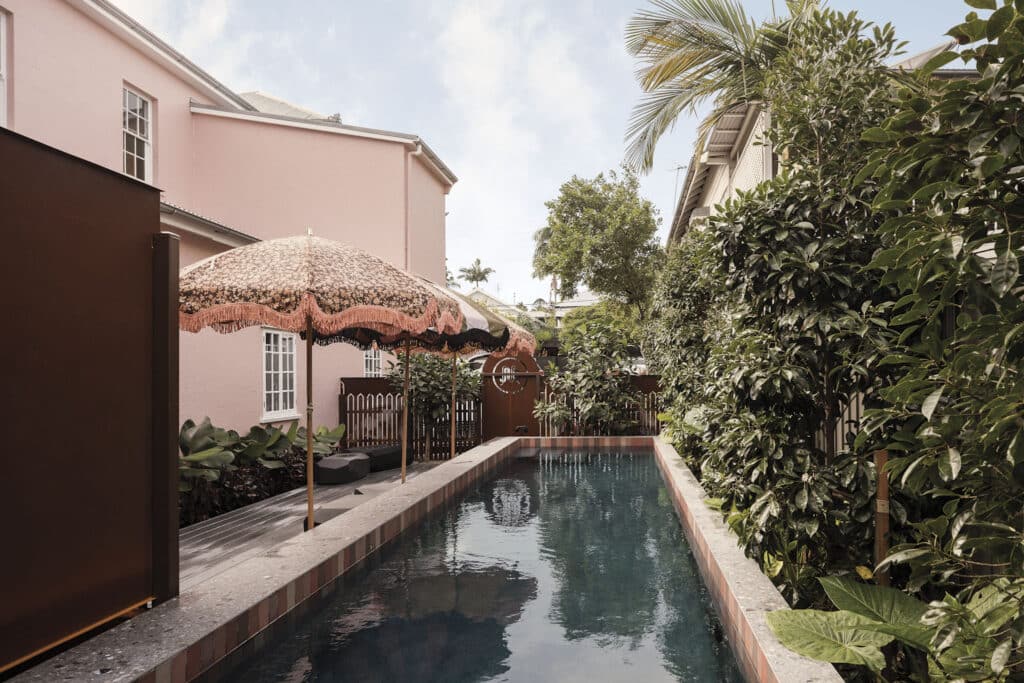 James, Miss Midgley's House Manager, is there to look after your needs but remote access security allows you to come and go as you please 24/7.
Even without the building supply chain issues brought about by the pandemic, Lisa says she and Isabella were determined to use Australian-made materials and products almost exclusively in the building's makeover.
"Everyone was a bit surprised that we didn't do heritage interiors, but we didn't want Miss Midgley's to feel like you were walking into grandma's house," she explains.
"The interiors were a response to the beautiful colours and historic aspect of the building. It's not a heritage interior, it's very contemporary and very modern. But we think that it sits very comfortably with the heritage components.
"We do have an old wooden school desk in each apartment as a nod to Miss Midgley and the building's history."
With their labradoodle Stella a much-loved family member and constant companion, Lisa was eager to offer Miss Midgley's guests the added attraction of pet-friendly accommodation in the three downstairs apartments.
"This is the most expensive dog kennel in Australia and Stella was our muse," she says with a laugh.
"But seriously, we know how people are attached to their dogs and how difficult and expensive it can be to get them looked after when you're going away.
"As dog owners and lovers, creating a pet-friendly accommodation offering was very important to us. People do tend to have pretty well-behaved dogs if they're coming away for the weekend. They tend not to be ruffians."
As very keen e-bike riders, Lisa and husband Steve also wanted to ensure guests could enjoy the many scenic bike trails around Brisbane, and the property has a safe area to lock and also recharge your bike.
"Our aim is to make Miss Midgley's a sustainable hotel so we're promoting bike riding, we're in the process of installing solar and of course, the entire building itself has been recycled and repurposed," she says.
Since opening, Miss Midgley's has emerged as a hot new accommodation option for Gold and Tweed Coast visitors as well as Brisbane locals wanting a staycation.
"We're getting people coming up from the Coast for shopping trips, concerts or just weekends away because New Farm is such a drawcard," she says.
"James St is now considered one of the world's leading retail and dining precincts because of the beautiful landscaping and quality of tenants and restaurants. The top five restaurants in Queensland are in James St so it's a wonderful foodie destination.
"We get visitors from all around the world coming to this precinct. It's definitely a beautiful, very elegant space."
With Miss Midgley's able to accommodate up to 18 people, Lisa says the property is also proving very popular for wedding groups.
"Interestingly I think since the pandemic people are looking for smaller, more intimate accommodation offerings," she says.
"We're getting a lot of people who used to stay at the bigger, high-end hotels in Brisbane coming and staying with us now because they don't want the high volumes of guests.
"The other thing people love here at Miss Midgley's is just being able to park the car and walk straight in."
With Isabella in charge of Instagram marketing, Miss Midgley's has also become something of a hotspot for photo shoots.
"We set out to create the sort of boutique accommodation that would appeal to us and a lot of other like-minded people, and we think we've achieved it," Lisa says.
"We didn't want fussy – we wanted to make sure that everything worked really well. It just feels very lush, super-spacious and super-comfortable."
To book your stay – www.missmidgleys.com.au