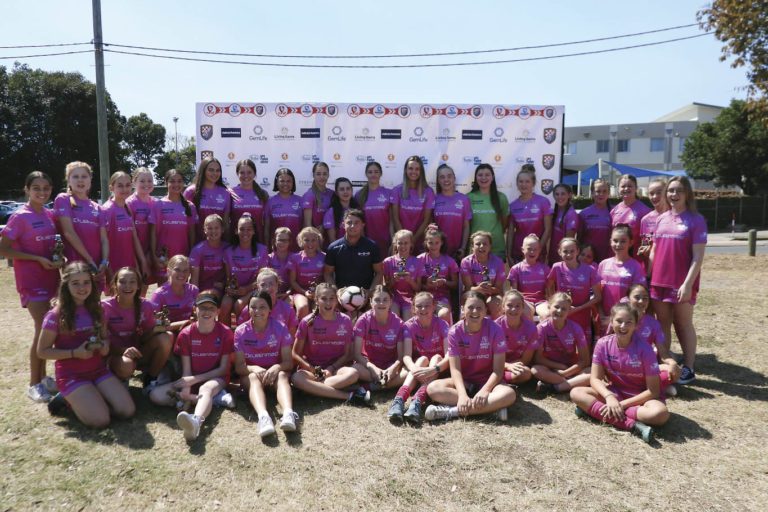 WORDS: PHOTOGRAPHY
What does The Magic Group bring to the community? I want to share our story so that community members may want to get involved further as more opportunities present themselves.
The Magic Group is made up of Total Football Academy (TFA), Magic United (Magic), and Gold Coast Knights FC (Knights).
TFA supplies many schools and colleges coaches to deliver their football programs for Year 3 to Year 12. TFA also delivers after-school programs for Prep to Year 4. From these programs, players are given the opportunity to progress to community Club Magic.
Magic play in the Football Gold Coast competition, and have girls' and boys' teams from Under-8s to Under-18s. Magic has an internal league for Under-5s to Under-7s. This pathway has been great to get girls and boys into club football.
The Gold Coast Knights play in Football Queensland's National Premier League (NPL) and offer players from the Gold Coast an opportunity to play NPL from U13s to seniors and a Skills Acquisition Program (SAP) for Under-9s to Under-12s.
Magic is well-known for what we do in terms of football development, but what we are seeing is something more happening around the training and games. We now have more parents wanting to be involved behind the scenes, whether that's as a team manager, games official, or getting involved in our social committee.
The clubs are bringing people from all different backgrounds together, and we're coming together for our kids' sport. We're creating new friendships and social opportunities.
When I arrived from Canada, my initial social network came from our kids' school and sport, and to this day those early friendships are still as strong.
We have a great culture and we plan to have more social opportunities and initiatives this year. The club represents a group of families who want their local community to be strong.
The coaches do a wonderful job in educating our children and keeping them engaged in the world's game; this opportunity gives us as parents and supporters the opportunity to gain new friendships, enjoy social experiences at and away from the club, and it gives business owners the opportunity to network.
I was fortunate enough to be involved in The Magic Group in Business when it was created in 2019m and I urge anyone who wishes to network on this level to get involved.
Put basically, the future is bright for football on the Gold Coast, developing community-conscious young boys and girls with a love for the game and their development.
I am eager to see where The Magic Group is in 10 years' time as we watch these good young people continue to grow into good young adults who will live, work, and lead in our local communities.
Players can still register for Magic United. For more information, please visit www.themagicgroup.com.au