Ultra is leading the way in the Anchor World…Super Model Looks and even better results
WORDS: PHOTOGRAPHY
When adding an anchor to any size vessel, for most boaties, it's about performance strength and holding power.
With the wrong anchor or one that simply doesn't perform you really are in for some sleepless nights and unsettling times ahead!
For many years, I just used whatever anchor has been on the boat from date of purchase; from plough anchors through to large size delta models.
All of these are okay, however, when you start to hit some strong winds and bad weather you really want the best there is to protect your pride and joy from coming unstuck and drifting onto the shore.
When given the opportunity to test the new 16kg hand polished stainless steel Ultra I was very skeptical for one reason only…
It was so good looking I really didn't think it could match its looks with results.
Well, as it turns out, I had to eat my words!

I'll admit I've been wrong before many times… but not this wrong.
Anchors have been around a long time; every boaties dream is to find the perfect anchor.
The Ultra is a new generation anchor and a handmade masterpiece of polished stainless steel. It is made suitable to most boats and ranges from 5kg-360kg (weight details are stamped into the shank clearly outlining the model and serial numbers).
The anchors unique hollow shank manufactured from Duplex Stainless Steel (four times the strength of regular stainless steel) allows the anchor to repeatedly land in the attack position and literally locks into position within the length of itself.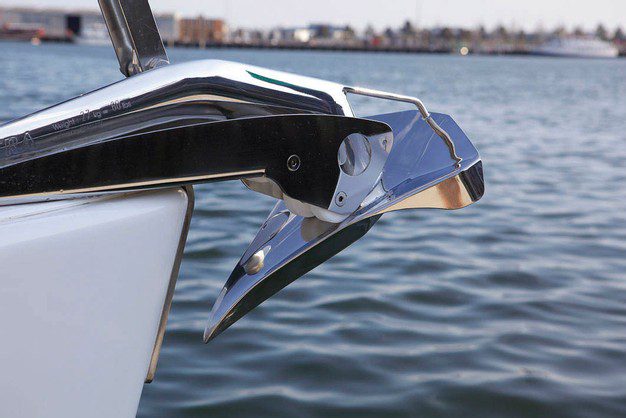 The tip is curved so it digs in and stays set even when rotating from a tide swing. That's thanks to the side wing plates that prevent the Ultra Anchor from being pulled sideways. These brilliantly engineered anchors are now standard inclusion for prestigious brands such as Grand Banks, Palm Beach, Ocean Alexander, Riviera and Horizon boats among others.
Ultra Marine also makes its own swivels, they are extraordinary and super quick to install. It connects the chain and the anchor without the need for shackles. It allows a 30-degree rotation and 360-degree swivel, so it can recover the anchor right-side up, and allows the anchor to enter the roller correctly time and time again.
Performance truths
So, the Ultra Anchor lands in the correct position consistently.
Put about a 45-degree angle on the rode from the roller and then put a strain on it. The Ultra Anchor digs in and holds instantly, usually within its own length.
The more pull, the more it digs in and the more I was loveing this new accessory on the front of my Searay.
My partner is a very light sleeper. For years she has always worried that our boat was moving and drifting with the change of tides which for most boaties makes you feel unsettled.
I can honestly say once this anchor set within 30 seconds of dropping it off Wavebreak I knew from the way the anchor locked in we were not going to move from this position.
The smile that came to my face was priceless…
Anchor Digs In
The Ultra Anchor gets its holding power from its ability to dig into the bottom and hold, even when being rotated due to a tidal swing.
Ultra Marine stands behind its anchor with a lifetime warranty against failure — the swivel is warrantied for five years.
What an amazing experience testing the Ultra Marine Anchor on my boat.
This anchor has been given a 10/10 for both performance and stunning looks. If you can't rate your anchor the same for both of these, you need to call David and the team at Ultra Marine at the Boatworks on 07 56441250 to discuss the perfect setup for your vessel.
Don't wait for the worst to happen to replace it with the best!
• Visit www.ultramarineproducts.com.au the home of Ultra Anchors.