Tugun: Community at the heart of perfectly placed beachfront gem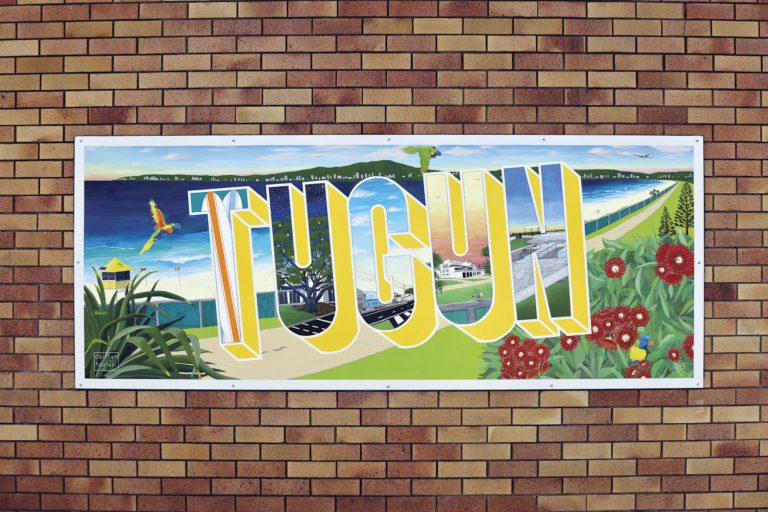 WORDS: Greg Pride PHOTOGRAPHY Brian Usher - www.usherusher.com
Tugun shrugged off its old Gold Coast dagginess to evolve into a hip and happening beachside village that thankfully, still retains its laid back charm.
ITS name is derived from an Aboriginal word for 'breaking waves' – apt for this once-sleepy suburb by the sea.
But Tugun has well and truly emerged from its slumber, shrugging off its old Gold Coast dagginess to evolve into a hip and happening beachside village that thankfully still retains its laid back charm. A buzzing cafe, restaurant and bar scene, together with a burgeoning medical and professional precinct, have helped make Tugun one of the Glitter Strip's latest lifestyle hotspots. It's prime location, straddling the Gold Coast Highway just a wax block's throw from the beach and with the M1 and Gold Coast Airport on its doorstep, has added to the suburb's appeal.
Known affectionately to locals as 'Tugz', Tugun stretches from Flat Rock Creek in the north to Bilinga in the south and west to the NSW border. The main drag through the suburb, Golden Four Drive, was named after the golden beaches of Tugun, Bilinga, North Kirra and Kirra.
Tugun's property prices are going gangbusters, with beachfront mansions fetching as much as $12 million and homes on the once unfashionable western side of the highway selling for well over $1 million. Trendy duplexes and apartments are springing up as the suburb becomes the latest on the southern Gold Coast to ride a wave of popularity, following in the sandy steps of Burleigh Heads and Palm Beach to the north.
It's a far cry from Tugun's working-class past, home to battlers and pensioners accustomed to the roar of planes flying into and out of the airport, and the whiff from the old Tugun tip wafting on the sea breeze. The opening of the Tugun Bypass in 2008 laid the foundations for the suburb's alluring village character, diverting rumbling semi-trailers off the Gold Coast Highway and on to the M1.
Cool cafes, restaurants and bars have opened in recent years while the suburb also boasts a complete range of retail outlets and services including two excellent bakeries, two fruit shops, the Bendigo Bank, veterinary surgery, barbers and hair salons, medical facilities, takeaway food outlets, IGA supermarket and an all-important pub, the Tugun Tavern. Division 14 Gold Coast City Councillor Gail O'Neill also has her office in Tugun. The popular Tugun Market is undergoing a major facelift, transforming it into a Ferry Road Markets/Capri on Via Roma-style food emporium with gourmet smallgoods, organic butchery, fromagerie, cafe and premium supermarket.
Meanwhile, in the neighbouring complex, Backbone Bar has recently relocated into larger indoor/outdoor premises in the building while a new health food shop, Health and Citrus, has opened in the space formerly occupied by Flannery's. Down Gold Four Drive, the Lucia Tapas Garden has recently been opened by the same young and vibrant team behind Maman restaurant and Naami Bar at Burleigh. Tugun also boasts one of the Gold Coast's premier surf clubs, complete with absolute beachfront takeaway coffee nook, along with the excellent Tugun Bowls Club and Tugun Seahawks Leagues Club.
In this issue, Ocean Road profiles some of the businesses that are helping put Tugun on the map as one of the Gold Coast's go-to destinations.
TOTAL BODY THERAPY
WITH more than 100 five-star Google reviews from tradies and mums through to elite athletes, Total Body Therapy's Craig Williams is seen by many as a guru in his field of pain and injury relief treatment.
'Miracle worker', 'amazing practitioner' and 'this man has a gift' are the titles of just a few of the glowing testimonials to Craig's incredible healing abilities. Some delighted patients have gone even further, likening the amiable, expert therapist to a deity. "Craig's name should be Jesus, he made me walk again," wrote one chronic pain sufferer after treatment at Total Body Therapy.
Craig began the practice several years ago after studying under acclaimed 'master bodyworker' Thomas Creevey, who has spent more than 50 years examining the human body and treating cases that were assessed as untreatable by the conventional thinking of western medicine and mainstream therapies. Brisbane-based Creevey developed a unique way of treating Injuries and structural integration throughout a long and distinguished career working with elite athletes across a multitude of sporting fields, as well as the general public.
A former personal trainer and gym owner, Craig was healed by Creevey after suffering serious injuries in a powerboat crash 30 years ago and begged him to become his mentor. He studied extensively under Creevey, learning the intricacies of rotational shifts and muscular stress caused by injury or structural displacement. Total Body Care's key point of difference, says Craig, is that the treatment usually only takes one or two visits after an initial 60-minute consultation to assess 'head to toe'  the patient's problems and determine the solution.
"I treat to fix my patients – I don't have them back," he says. "I'll spend over an hour on each treatment to resolve the issue and provide advice to help reduce the reoccurrence of the problem once and for all so they don't have to come back multiple times."
To complement and enhance his much-lauded treatment regime, Craig is opening a boutique recovery centre in the Total Body Therapy rooms at 419 Golden Four Drive in early 2022. Called 3R Recovery, (Restore, Recover and Rejuvenate), the centre will boast state-of-the-art, personalised hot and cold magnesium MiPods by iCoolsport, Sunlighten AirPod Revive hyperbaric oxygen and hydroxy chambers and Hyper Wellbeing infrared saunas.
"The recovery centre will be the perfect accompaniment to the treatments we provide at Total Body Therapy," Craig says. "A lot of my patients ask 'what is the best thing to do after treatment' and the benefits of hot and cold baths, hyperbaric chambers and infrared saunas for recovery and rehabilitation are very well-recognised. The combination of these therapies would be the most beneficial follow-on to my muscular and structural integration treatment."
Craig, had been previously operating Total Body Therapy between Brisbane and his home clinic for a number of years, says he's delighted to have made the move into the Tugun village centre.
"Tugun is absolutely booming and the place has just got this vibrant village vibe," he says.
"There's a burgeoning cafe and restaurant scene which is attracting an influx of locals and visitors, and with Tugun's proximity to John Flynn Private Hospital,  we're also seeing the emergence of a thriving health services hub with some of the best practitioners in their fields. There's plenty of parking and the beach is directly behind us – what's not to love about the place? It's just a great community to be a part of."
THE FOOT AND BALANCE CENTRE
PODIATRIST Adrian Pudlyk took over The Foot and Balance Centre in March 2020 and says he hasn't looked back. The family man and proud father of three had been working at the clinic, started 34 years ago, since 2011 and happily assumed ownership when founder Jo Byster decided to step back.
"The clinic has been at this location for 12 years," says Adrian, whose youthful appearance belies his two decades in the podiatry game. "We're the largest podiatry clinic on the Gold Coast and the second-oldest. We're a stand-alone podiatry clinic, which is pretty rare. A lot of clinics will be rooms in medical centres or attached to other practices. We do have satellite clinics at Miami and Surfers Paradise but this is the mothership! To have a big centre like this where you've got three treatment rooms is quite rare."
The Foot and Balance Centre has nine staff, including a team of mobile podiatrists who are on the road every day, seeing patients in their homes from northern NSW to Sanctuary Cove.
"A lot of podiatry clinics hug one area of podiatry, whereas I like to think of us as a one-stop-shop," Adrian says. "On any given day, we will see runners, local footballers and kids, perform surgery, make house visits and visit hospitals and nursing homes. People think podiatry is just about smelly feet but it's everything from the hip south."
The Foot and Balance Centre has close connections to the local community, providing podiatry services to the likes of the champion Tugun Seahawks rugby league club. The centre also holds information sessions at local gyms, fitness centres and dance studios.
Often spotted beachside with his family or pounding the Currumbin-Tugun Oceanway, Adrian says Tugun is the perfect place for business and pleasure.
"I love everything about it," he says. "The cafes and restaurants are great, the beach is beautiful and the lifestyle's chilled. It also feels like everyone in Tugun has each other's back – there's a real sense of community. I also can't think of another place, apart from Southport, where you have such an awesome range of health and medical-related services, with a medical centre, physio, psychologist, nutritionist … you name it. We're staying put in Tugun. We aren't going anywhere."
ARCHITECTURAL GLASS AND CLADDING
FROM its small, unassuming headquarters in Tugun, Architectural Glass and Cladding provides the high-end facades for some of Australia's biggest commercial and residential construction projects. The company has been established for more than two decades but relocated from Tweed Heads to Tugun two years ago.
"We wanted a convenient location with an atmosphere and Tugun has that in spades," says owner Brad Woods, who runs the business with his wife. "It's close to the airport, which is important because we travelled a lot prior to Covid, and the M1 is right there on our doorstep for when we have to go to Brisbane to see clients. I didn't want to go to Burleigh because it's just too busy. Here, you're not in that hustle and bustle and parking isn't a problem. Tugun just has that accessibility and atmosphere."
Originally from Sydney, Brad has been involved in the architectural cladding industry since the late 1990s and established Architectural Glass and Cladding in 2006.
"We primarily supply facades to large projects, whether it be high rise residential or commercial buildings. We do a lot of work with universities, airports and hospitals.
"We supply products Australia-wide and have also done projects in southeast Asia, the US, Europe and the Middle East."
Architectural Glass and Cladding cut its teeth on major highrise projects at Broadbeach and Surfers Paradise. The company's Australian projects have included The Star and Crown casinos, Australian Museum, Monash and Sydney universities and Brisbane's Westin Hotel.
Internationally, it has created striking facades for the King Abdullah University of Science and Technology in Saudi Arabia, the Oklahoma Science Museum and the Roca Barcelona Gallery in Spain, to name a few. Architectural Glass and Cladding has also won the contract for the facade of the new $723 million Tweed Valley Hospital currently under construction at Kingscliff.
"We work from the design concept with the architects and developers," Brad says. "We also work closely with consultants around sustainability, which is now a major focus in construction. The aim is to make buildings more efficient and less energy-intensive."
Brad and Amanda say making the move to Tugun has been a 'breath of fresh air' for them and their team.
"You've got everything here from hairdressers to cafes, and of course the beach, which is amazing," Amanda says. "We can go for a beach walk or a swim at lunchtime. Tugun has it all."
CHEMPRO TUGUN
EMILY Edwards is the young and attractive face of Tugun Chempro Chemist. The southern Gold Coast local took over the popular pharmacy four years ago and heads an almost all-female team. One of nine siblings, Emily completed her pharmacy degree at the University of Queensland in 2013 and interned at pharmacies in the state's north, including Mt Isa, before returning home.
"I chose to become a pharmacist because I saw it as the perfect occupation to combine my love for community healthcare with my goal to one day establish my own business," she says. "Deep down, I always knew I wanted to return to the Gold Coast to do it."
Emily says she settled on Tugun as the location for her first pharmacy because of its idyllic beachside location within a close-knit, village-style community.
"I come from a large family, one of nine kids, and in our own way, we were our own community," she says. "I couldn't have asked for a more loving and nurturing environment to grow up in. It fostered my personal belief that to prosper and grow, we need to support one another in our day to day life. I chose to join the Chempro family as I found their mission and goals were in line with my personal objectives that I wanted to achieve in my career. These included a drive to deliver premier health solutions to the local community."
Emily says she and her team strive to provide a friendly, community-focused pharmacy service and enjoy interacting with their customers, some of whom come from as far as Southport.
"Everything we do is about the customer," she says. "I feel we go the extra mile when it comes to customer service. For example, if the customer doesn't have their script with them, we call their doctor to get it. It's old-school pharmacy service and our customers appreciate it."
Tugun Chempro is conveniently located on Golden Four Drive next to the IGA, close to the Tugun Family Medical Centre, Sullivan Nicolaides Pathology, a dentist and periodontics clinic.
Open seven days, the pharmacy specialises in personal health plans, in-store vaccinations and dose administration aids. In-store, you can find a wide variety of health and beauty related brands including Blackmores, BioCeuticals, Nature's Own, Natio, MooGoo & Sukin as well as fragrances and weight management products. Services include blood pressure checks, health advice, local home delivery, medication reviews (MedsChecks), NDSS, medication packing (Webster), vaccinations, return of unwanted medication and the Chempro Rewards Loyalty Program.
BACKBONE BAR
HE'S  liked his local watering hole so much he bought it. Former builder, Gavin White is the friendly host at Backbone Bar, one of Tugun's liveliest venues. The ex-Melbournian turned Tugun local was a regular patron at Backbone, established in the suburb about five years ago. The bar was on the brink of closure when Gav, a salt-of-the-earth Aussie type who loves his AFL, decided to buy it.
"It started out as a hobby – somewhere to drink instead of the surf club or pub – but it's become a real labour of love," he says.
Backbone recently relocated from neighbouring premises at 496 Golden Four Drive into the former Red Rooster outlet, more than doubling its size from 100sqm to 250sqm. In a nostalgic touch, the fit-out included the old public bar and leather bar stools from the Kirra Hotel, demolished earlier this year to make way for a new luxury apartment development. The new premises includes a large, under-covered outdoor beer garden where patrons can enjoy live music on Sunday afternoons. Backbone's signature range of craft beers and authentic Japanese menu has been retained, with original head chef Megumi continuing to cook up a storm in the kitchen alongside two other Japanese chefs.
"We have 24 beers on tap, sourced from local southeast Queensland breweries including Black Hops, Currumbin Valley Brewing and Fonzie Abbott, as well as other Australian craft breweries like Moon Dog (Victoria) and Colonial (Western Australia)," Gav says. "Fonzie Abbott makes us our own signature beer, a mid-strength lager called Tugun Gold."
Backbone's extensive menu includes Japanese and Korean share plate favourites such as chicken karaage, gyozas, calamari, crab croquette, duck spring rolls, spicy edamame and lotus chips. There's also a range of mouth-watering bao bun options, larger plates and bowls, vegan and gluten-free options and $12 kids' combo meals, while the bar also has a takeaway fish and chip shop. Backbone's colourful decor includes two pinball machines and a beer 'vending' machine. The bar supports a range of sporting groups and charities, from the Coolangatta Blues and Palm Beach-Currumbin cricket clubs through to the Vanuatu Surfing Association. Gav says the bar attracts a wide range of clientele, from teachers to tradies, and is popular for functions.
"We strive to be a real part of the fabric of the local community," he says. "Without the locals, we wouldn't be here."