TRIM & TONE WITH TANIA
WORDS: PHOTOGRAPHY
With her many on-screen and off-screen achievements, TV presenter, actress, author and speaker, Tania Zaetta is an Aussie household name and inspiration to women around the world.
From television roles like Who Dares Wins and Baywatch to conquering Bollywood – the world's largest film industry, Tania has built an international name for herself, owing it all to her talent, drive and unwavering work ethic.
However, at the foundation of all her successes lie her philosophies on the importance of health, wellbeing and core strength to provide a strong body for a long and active life.
Working on the principles of how she lives her everyday life, Trim & Tone with Tania is an easy-to-follow handbook for every woman to learn how to achieve and maintain a healthy weight without the need for dieting or strenuous boot camp style exercises.
Whether you know a little, a lot, or nothing at all about eating right and how to get your body into shape – this complete fitness, nutrition and lifestyle guide is suitable for all ages and fitness levels.
"The way we look after our bodies in our twenties and thirties reflects in our forties and fifties. The great news is, it's never too late to start," she says.
With 20 years' experience, including a CIDESCO International Diploma in Natural Beauty Therapy, additional studies in health and nutrition as well as being a fully certified Pilates and Pilates-Barre instructor, Tania educates and motivates you towards creating a longer, leaner, stronger body, reshaping your figure and helping to free you of niggling aches and pains with her low impact Pilates, Barre and resistance-toning exercises, including her sought-after 'tight tummy, firm butt' exercises.
Packed with her personal nutritious and delicious low-calorie, low-sugar recipes for the whole family, realistic everyday meal guides and simple fat-burning tips, Tania provides all the health, fitness, lifestyle tools and inspiration you'll need to change your eating habits and body for the long term.
For further information, visit: www.tania.com.au
Breakout x 3
BARRE PILATES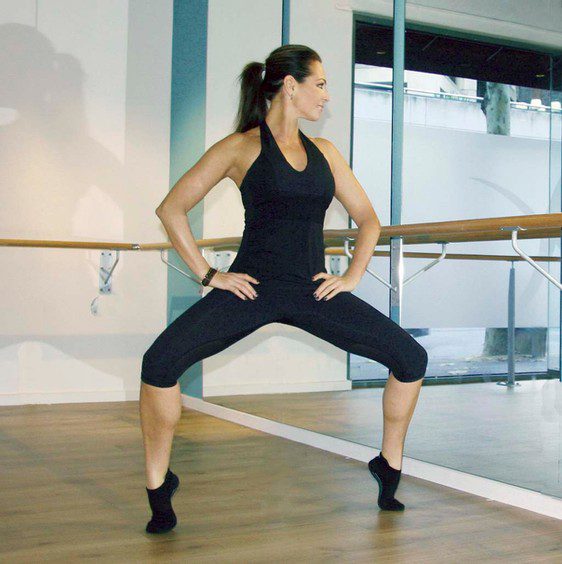 Barre exercises are ballet-inspired leg and arm movements that dancers use to stay in shape. They focus on isolated exercises by moving in a tiny range of motion to work a muscle to exhaustion.
You use your own body weight to fatigue a muscle, encouraging toning and strengthening while increasing your heart rate slightly, which gets speedier results. Your metabolism is also boosted for hours after your work-out helping to burn calories.
It involves standing work at a ballet barre (or at home with a chair) to work thighs, glutes and hips, including arm work with very small hand weights. It combines the 'core' strengthening of Pilates while adding a low-impact cardio element with extra leg-defining exercises and arm-sculpting strength-resistance moves. Pilates 'core activation' is maintained through all the movements, providing strength and support around the middle of your body which also works on flattening and toning your stomach.
TIP: Find 5 minutes today to hit the floor and do my butt toning and reshaping exercises. They can easily be done anywhere every day and you will see results quickly when you next slip into your skinny jeans.
CLAMP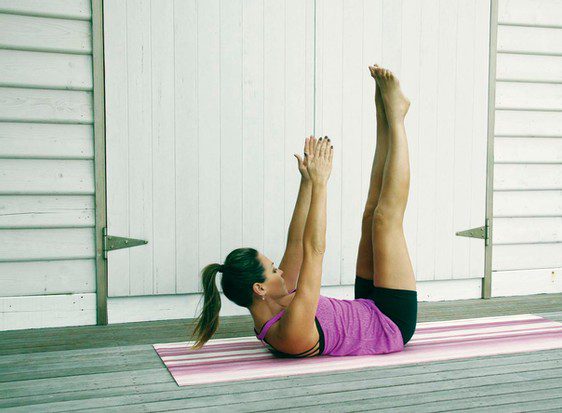 The clamp tones your abdominals, obliques, back, inner thighs, and outer thighs. Lie on your back with arms and legs extended upward, tummy in and contracted, shoulders down and back. Exhale, rolling your chin to your chest and lifting your head, neck and shoulders off floor. Inhale, simultaneously opening your arms out to your sides and open your legs 45 degrees. Keep your shoulders and chest lifted throughout so your core is connected. Return your arms and legs to start, scooping your belly, squeezing your palms together and legs together. Keeping your chin tucked slightly and shoulders off the floor, continue to open/close. Repeat 15–20 times, inhaling to open, exhaling to close.
TIPS: This is one of my all-time favourite tummy-flattening exercises. You can feel it working as you do it. To make it easier, lower your head and shoulders back to the floor after open/close movement.
GREEN SMOOTHIE WITH TURMERIC INGREDIENTS
2 cups water or coconut water

½ cup pineapple, mango or strawberries

½ frozen banana

3 kale leaves de-stemmed (or handful baby spinach)

3 broccoli florets

1 tbsp chia seeds

3 ice cubes

juice of half lemon

½ tsp fresh turmeric
METHOD
Blitz everything in a blender until smooth.
TIPS: Green smoothies can be made out of anything so get creative. Try 2 cups leafy greens, packed in tightly, 2 cups of fresh and frozen fruit or spice it up with cinnamon, ginger or chia seeds.