WORDS: PHOTOGRAPHY
He's known as 'Crusher' and he's one of the best-connected men in motorsport. But despite his no-nonsense nickname, track record as a 'Mr Fixit' and impeccable motor racing contacts in Australia and internationally, the feat he pulled off in May this year was nothing short of mammoth. Monumental.
With a credo of 'dare to dream' driving him on, Brett 'Crusher' Murray fulfilled his long-held ambition to field a car in the world's biggest and most prestigious motorsport race, the Indianapolis 500. The 100th anniversary of the Indy 500 no less.
Getting on the grid at the famed Indianapolis Speedway is an impossible dream for most Americans, let alone for an ex-journo from the Gold Coast. But get on the grid Murray did – and with one of the most famous names in world motorsport, Brabham, in his car.
"I'd always said to myself 'one day I'll have my own car in the Indy 500','' Murray, the long-time former media manager of the Gold Coast Indy race turned successful businessman, tells Ocean Road in a café near his Paradise Point home.
"It's an iconic event: the Holy Grail for anyone involved in motorsport. It's the biggest one-day sporting event in the world, with about 400,000 spectators, and the 100th race was always going to be special.
"I was sitting in my hotel room on a business trip to Sydney in the middle of last year and I thought, 'f… it, why don't I try and get a car in the centenary race? What's stopping me, apart from $1.3 million?''
Murray fired of texts to three respected business confidantes who, while they 'didn't have a spare million dollars', encouraged him to pursue his dream. It was all the motivation he needed.
"By the time I got to the airport to fly home to the Gold Coast, I was buzzing,'' he says. "These guys I text are very smart business people and they were very positive. It convinced me that this wasn't such a crazy idea after all.''
Murray had long been close to the Brabham family. Before motorsport legend Sir Jack Brabham passed away in 2014 at his Gold Coast home, Murray promised him he would do whatever he could to help his grandson Matthew, 21, advance his motor racing career.
'Crusher' had his driver in young Brabham but he didn't have a car. In November last year, he embarked on a two-week, 10-city US roadshow trying to drum up sponsorship for his Aussie entry in America's greatest car race. Among the companies he approached was Pirtek, an Australian brand which had been franchised around the world. Pirtek founder Glenn Duncan sold the US franchise about 20 years ago but had bought it back, and was looking for promotional and marketing opportunities stateside.
"About two hours before I boarded the plane home to Australia, I got a call from Glenn who told me: 'I'm going to make the flight home a little easier – we're in.''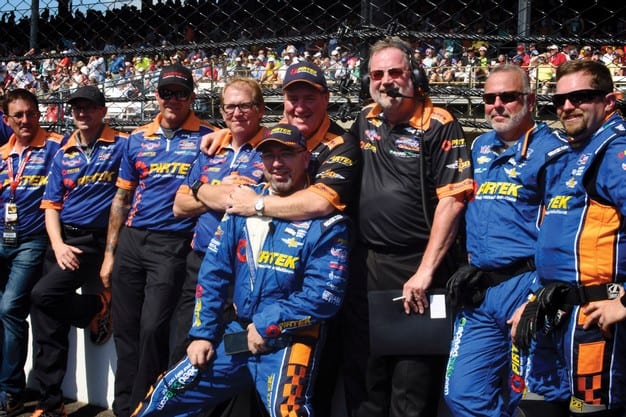 Even more heart-warming for Murray, Duncan added: "This is a business decision, it makes business sense. But we also want you to realise your dream, and we want to be there on the grid with you when you do.''
Murray was no slouch as a dealmaker. He saved the Gold Coast 600 race in 2009 when the A1GP cars failed to show up and had extensive motorsport contacts through his more than two decades as media manager for the event, as well as a year spent in the US with the PacWest Racing team.
"The reason I could pull it (the Indy 500 feat) off was because of the years I spent here (at the Surfers Paradise race) looking after people. People had no problems repaying favours that I built up over 25 years. Not too many people know the US market better than me."
Murray didn't tell Matthew Brabham and his parents, Geoff and Rosina, that he'd be driving in the Indy 500 until he got back from the US. "They were in tears," he said. "It was a special moment."
In racing at Indianapolis, Matthew would be carrying on a famous Brabham family legacy. Sir Jack started the rear engine revolution there in 1961 in the first of his four races at the famous track, while Geoff Brabham raced there 10 times, with a best result of 4th.
Crusher had his car and in Matthew Brabham – only the third third-generation driver to run at Indianapolis – he had his driver. Now all Pirtek Team Murray needed to do was qualify.
"If you don't qualify at Indy, you don't get your money back," he says. "That was one of the things that spooked potential sponsors. Fail to qualify and you do your dough."
But Crusher was able to persuade companies including Warner Bros and motorsport companies Bell Helmets, Sparco and Sign Event to come on board as team sponsors. His put his money and resources where his mouth is with his companies BAM and Speedcafe.com – one of the world's leading motorsport websites – also becoming team partners.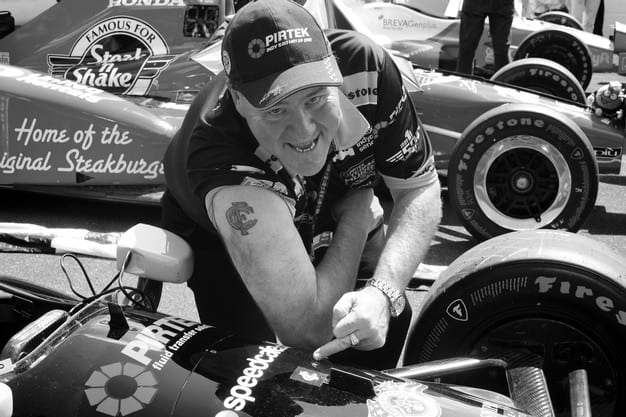 As well, Murray linked up with the Chris Kyle Frog Foundation as the team's charity partner. The foundation was set up in 2014 in honour of decorated Iraq war hero Kyle, the US Navy SEAL who penned the bestselling autobiography American Sniper which was adapted by Clint Eastwood for the film of the same name. Run by Kyle's wife Taya (Chris was murdered in 2013), the foundation assists returned servicemen and women, as well as first responders such as police, paramedics and firemen, deal with post-traumatic stress and other intense pressures of their job.
A celebrity in her own right, Taya is the sister-in-law of one of Murray's best mates on the Gold Coast, and Crusher has looked after the foundation's media since it was established. The relationship enabled what Murray describes a 'pretty cool' partnership, which saw him assemble a pit crew of military veterans and first responders from across the US. While a professional pit crew was used for the Indy 500 race itself, the Chris Kyle Foundation crew competed in the prestigious Pit Crew Challenge as part of the event. They were among 500 foundation guests Crusher and his team hosted during the 10-day Indy carnival. The foundation was also given Pirtek Team Murray's merchandise rights.
"The feedback and gratitude from Taya, the military veterans and first responders was something special," he says. "It just made it all worthwhile."
Fifty relatives and friends jetted to the US to cheer Team Murray on. Two weeks before the Indy 500, Crusher experienced the thrill of waving off the car in the lead-up road race, in which Brabham finished 16th. The following weekend, Team Murray duly qualified for the main event.
"I go every year but to be there for the 100th anniversary race, with my own team, was surreal," Murray says.
"It was sold out for the first time ever. There were 400,000 people there on the day, which would make it the biggest one-day sporting event probably in the history of mankind.
"To be there as a team owner was something pretty cool. I don't think people understand the magnitude of it."
On race day, Murray was up at 3am in order to beat the traffic to get to the track on time, under police escort.
"I always like to go down to pit lane as early as I can and watch the sun come up," he says. "Seeing your name on the side of the wall made it a bit different. It's a track with an amazing history and I've got a lot of respect for it. It's a place where, you know, heroes are born.
"It's one of those places you can walk in and it can be the greatest day of your life, or the worst day of your life."
Emotions collided for Crusher and his crew as the green flag came closer to dropping.
"You almost want it to be over at that point," he says. "One, you just want the car to start and then, they're out there on the warm-up laps. Then, they drop the flag and you're just holding your breath for the first two laps. These things are doing 400km/h.
"Then there's an accident and you're on the radio. It's only three or four seconds but it seems like an eternity before you identify it's not your car (in the crash). Then you have to worry about strategy.
"We called a (fuel) strategy late in the race which probably cost us a few spots but you roll the dice.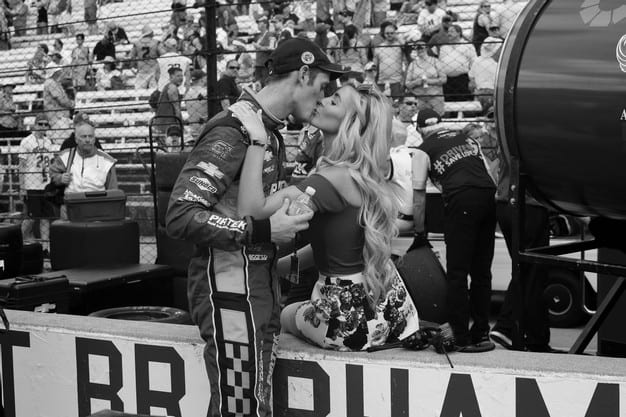 "The checkered flag drops, we're 22nd, the car's in one piece and I don't have to sell my house. But that's not the main emotion. The main emotion is the car comes into pit lane, the kid (Brabham) gets out and he's safe.
"If something had gone wrong, it would have been my responsibility because I made it happen. Just to see the kid get out of the car with a smile on his face and come up and thank me and give me a big hug … everyone was crying.
"We'd finished 22nd but we knew we'd achieved something amazing."
As the celebratory drinks flowed in Team Murray's hospitality trailer (the biggest in pit lane, of course), Crusher and his crew soaked up the enormity of what they had done. For Murray, one thing stood out.
"Just to see the way Matthew developed on and off the track, I knew I'd made the right decision," he says. "All the effort and money and everything that went with it had been repaid. He was very respectful, he was grateful. There was never any doubt that he would do the job despite the fact that it was his first race, and everything that went with it – the pressure of being a rookie, the pressure of being a Brabham. He knew that if he f…. up, it'd be harder to get another shot. He did everything absolutely to the letter."
Murray is now working on securing Brabham a permanent Indycar drive and is also hatching plans to do 'something great' on the Gold Coast.
"It'll be a two or three-year project and will have an international flavour," he says of the mystery project, adding that he will be talking with 'key players' over the next six months.
"If it comes off, it'll leave a bit of a legacy. The Gold Coast has been my home for 26 or 27 years and I'd like to do something great here."
Murray says his Indy 500 effort showed him that anything was possible.
"If you work hard at something, it ain't going to fail," he says. "From the day my son Max (now 15) was born, I always told him that he could do anything he set his mind to. I thought it was about time the old man practiced what he preaches."