TOUGH IS NOT ENOUGH HOW A JOURNEY THROUGH THREE CONTINENTS WITH A KAYAK CHANGED A CLIMATE WARRIOR – STEVE POSSELT Ebono Institute | 3 October 2019 | $32.99
WORDS: PHOTOGRAPHY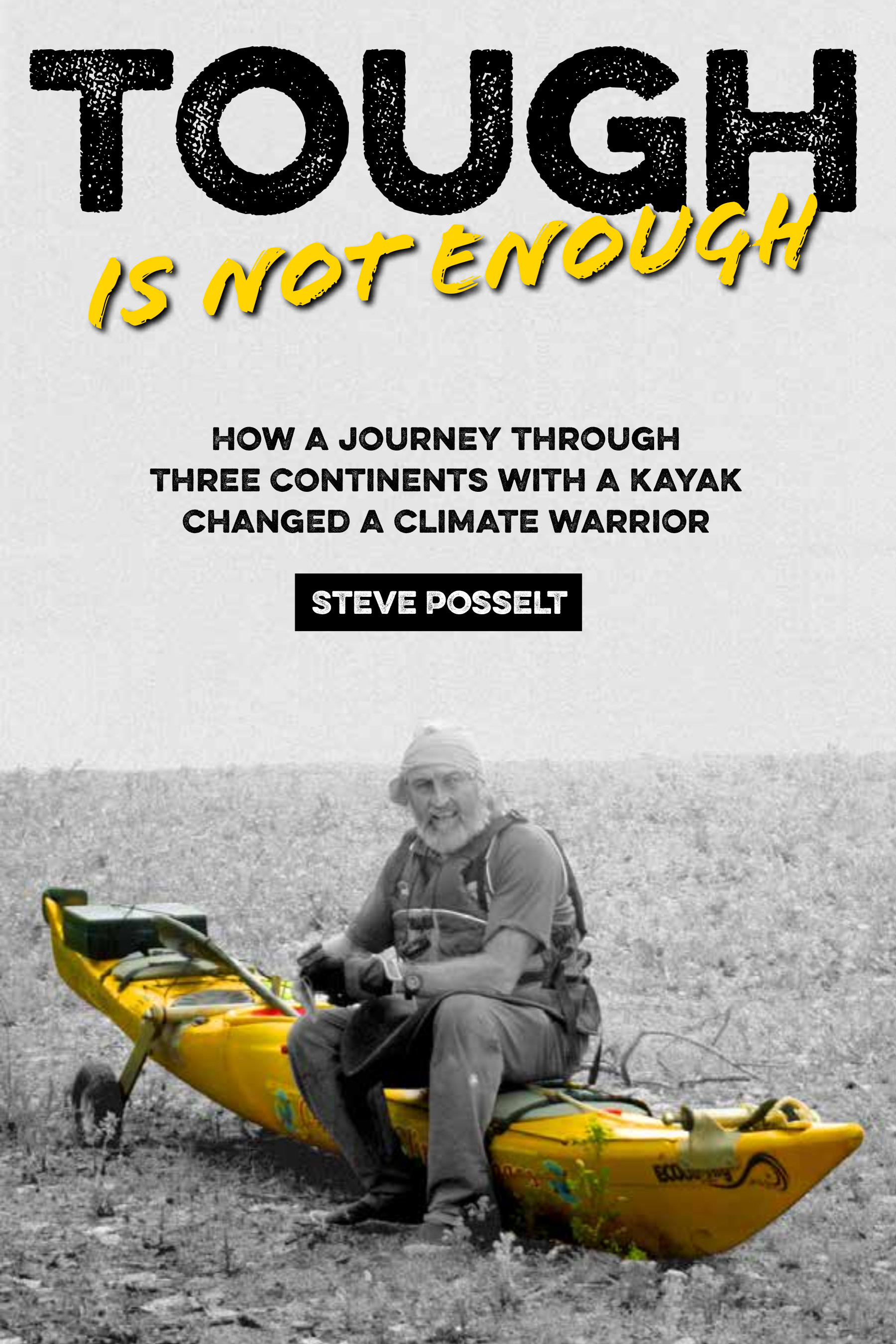 ABOUT THE BOOK:
Tough is Not Enough covers Steve Posselt's journey from Canberra to Sydney, New Orleans to New York, Portishead to Paris for COP 21, and then Ballina to Canberra, a trip spanning three continents over twelve months. It is the culmination of a decade of battling on the front line as a climate warrior. Join Steve on his last kayak trip, the trip he finally learns what climate change denial is, why our leaders will not respond to it, why many people don't care, and how to help those who do care.
Lovers of adventure will thrill at the task Steve Posselt set himself on the biggest Kayak trip of his life. Up the Mississippi, through the canals of the US and the UK, down the Thames, across the channel and up the Seine to Paris.
Crazy? Steve Posselt is a climate warrior, determined to raise the awareness of climate chaos and its impact on our daily lives. He set off from Canberra in January 2015 to drag his kayak through three continents and attend the Paris Climate Conference, COP21.
This is the story of what he learned about himself (and the environment and climate change) on the way. It's also the story of despair and redemption as a buoyant, enthusiastic movement embraced him when he finally returned home.
A must read for every adventurer, climate activist, so that we may all too Connect Climate Chaos and do something about it.
ABOUT THE AUTHOR:
Steve Posselt is a 66-year-old civil and water engineer, adventurer, and grandfather. He's a Fellow of Engineers Australia and has been a climate activist for well over a decade, using extremely long kayak journeys to promote awareness and education. Currently chair of the Sustainable Engineering Society he is working with Engineers Australia to come to grips with the urgency for climate change action. Old Yella, his wheeled kayak, has served him faithfully for 12 years over 12,000km, with almost 2,000km of that dragging it over land. Using his engineering knowledge his goal has been to alert people to the real risks that climate change presents and to put them into perspective against infrastructure risk calculations that we all depend on. Steve is passionate about doing whatever he can to provide a suitable world for his grandchildren. He is the author of Cry Me a River. Tough Is Not Enough is his second book. He lives in Ballina.